Moore: The 3 Totals Bets I'm Making for Warriors-Trail Blazers Game 3
Credit:
Kelley L Cox-USA TODAY Sports. Pictured: Golden State Warriors guard Stephen Curry (30) during the 2019 Western conference finals.
The Western Conference Finals shift to Portland for Game 3, with the Trail Blazers looking to even their series with the Warriors.
Matt Moore details how he's betting three different different totals on this game.
Blazers-Warriors has been fun, even if it feels inevitable.
The Warriors without Kevin Durant are slinging the ball like old times, hitting high energy 3's, playing with pace, and generally having fun out there. The Blazers are gamely trying to keep up, hitting timely shots to keep the game within reach.
The total for Game 3 is 220.5, with the team totals set for Warriors 109 and Blazers 111.5. I'm playing all three.
This seems like a waste of value, considering I could just go in on the total for more units, but I've learned in the playoffs that logic doesn't always pan out.
Let me explain.
What I usually try to do in a playoff matchup is take in all the likely scenarios and play off those. Here's what I know going into Game 3:
The Warriors without Kevin Durant are way more perimeter oriented, getting up 34 3-point attempts per 100 possessions relative to just 31 before Durant went down, and that's after getting up just 29 vs. the Blazers in Game 2 thanks to a sluggish first half.
Golden State is playing at a faster pace, relative to its opponents, since Durant went down.
The Blazers at home are 9.1 points better offensively per 100 possessions in the playoffs. They are just 2.6 points better defensively, still giving up a 109 defensive rating.
The Blazers are playing slower at home, nearly 3 possessions slower via NBA.com. That goes in the "concerns" pile.
The Blazers have no real answer for Steph Curry and Klay Thompson. Even on a bad night, Curry and Thompson combined for 61 points.
Damian Lillard still can't get loose vs. the blitz, which he's seen for three series going back to last year's loss to the Pelicans. He's making the right passes, but doesn't have the guys to finish with Jusuf Nurkic out. However, they continue to get good minutes offensively from the bench with Seth Curry and Rodney Hood, and CJ McCollum started to shake loose in Game 2 before going quiet in the fourth quarter, missing some good looks.
The Warriors' defensive rating on the road is 111.6, only slightly worse than their home defensive rating (We're going to have to talk about the Warriors' defensive issues at some point).
The Warriors' offensive rating on the road, though? Try 119.6, which is basically hotter than the surface of the sun.
Golden State has been superb on the road, going 4-2. They get amped to demoralize crowds.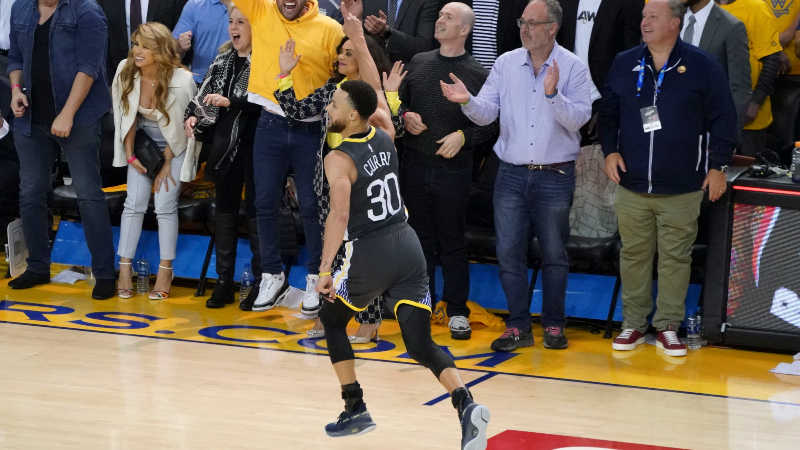 So what have we got here?
It's clearly an offensive-centric series, and the game should be the same. The Blazers' defense is bad at home, but their offense is tremendous. The Warriors' defense is bad on the road, but their offense is earth-shattering.
We've got a moderate-pace game between two teams who can't stop each other and their best opportunities are on the offensive side of the ball. Even the bench units are scoring in this series, despite both teams being short-handed through injuries and roster construction.
The over is 5-1 in Warriors road games this postseason, and 4-2 in Blazer home games.
Both teams hitting the over is likely, and I'm getting the same number (-110) on all three bets. The reason I want to take the three separate bets is what I've started to think of as the Raptors Corrolary of Danger. I'm controlling variables. Whoever wins this game is likely putting up a 115-plus figure, giving me 105 in legroom for the over.
But there's also the capacity for a blowout, in which one team has 110 with 4 minutes to play but is up huge, ensuring one over but as both teams deploy scrubs the offense grinds into nothing making for an infuriating sweat and a loss on the over.
By hitting all three markers I've got got the capacity to hedge against such a scenario without costing myself anything if the game turns into a barnburner. I'm paying the .10 per per unit cost anyway, so I want to hedge on whoever wins to put up over 111 with a strong possibility of a 120-115 type game.
My only real reservation is pace. This series has been at 98 possessions per game, and the Blazers are definitely the team looking to slow it down (which in turn hurts their offense, allowing Golden State to get into position vs. the only real two weapons the Blazers have).
If the Blazers go further down that approach trying to make this a grind, they could still put up a great offensive rating north of 107 and yet leave me with a big under.
Factoring all considerations, though, I'm tripling up on the over while hedging.