Enigmail: Wob's All-Star Weekend Mystery Blog
Welcome back. There's a reason you clicked on this for the first time or are coming back for seconds.
You're curious.
Since I posted the first one late at night, I'm going to repeat myself for those who heard me but weren't listening: Curiosity is a damning passion of the human mind.
Humans are flawed. We want what we can't have. We oftentimes willingly accept pain to quench the thirst of the unknown. Closure is a blessing and a curse.
By opening this blog, you're too late. You're going to read it to the end. You are a dog chasing cars, the thrill is in the chase and the worst thing that can happen to you is you actually catch up to it.
Listen, because the quietest person in the room is the one who's the loudest.
---
Davis Bertans not being in the 3-point contest is unforgivable. He not only has the league's best 3-point percentage, but he's also the only human being on Earth who could go toe-to-toe with Joe Harris in an open gym.
Speaking of Joe Harris, he has made like 12 of his last 13 threes. If he catches and shoots and there isn't a defender within a four-foot radius it is going in every single time. That is not an exaggeration.
It is unfathomable watching this guy shoot the ball (when wide open, I'm not trying to make Steph Curry comparisons here).
Give me Harris Saturday night. (He's 8-1 if you're into that kind of thing.)
---
I've always wondered something: What did Scott's Tots do after Michael said they weren't getting their scholarships?
---
I never had a chance with Meghan Markle to begin with so stop blowing this out of proportion.
Met Meghan Markle @ party in LA once.
Worked up courage to ask her if I could buy her a drink.
Amazingly she said yes.
Got distracted watching the Knicks.
When I came back she was gone.
I drank both drinks and went home to play GTA.
Now she's engaged to a damn PRINCE.
L.
The end.

— Rob Perez (@WorldWideWob) November 27, 2017
---
Since Dec. 1, Luka Doncic is shooting 42% from the field, 33% from 3, and 70% from the line.
In February: 41%/28%/68%.
---
Now that the Breaking Bad sequel movie is official, I'm willing to bet everything Walter White isn't dead. They never showed us a flatline for a reason.
---
They should have an All-Star event where they experiment with new rules.
5-on-4 power play basketball for one minute after a flagrant foul.
Penalty Box for technical fouls
4-point line
No goaltending
Referees award an advantage when teams take foul during breakaways, like soccer, and the offensive team can continue to try and score before the whistle blows.
But for real how funny would a penalty box be with DeMarcus Cousins sitting in it?
---
The Knicks keeping DeAndre Jordan through the trade deadline and declining to buy him out has me more excited about Kevin Durant coming to New York than anything.
You don't do that unless you know something and plan on re-signing him. They're best friends, if you didn't already know.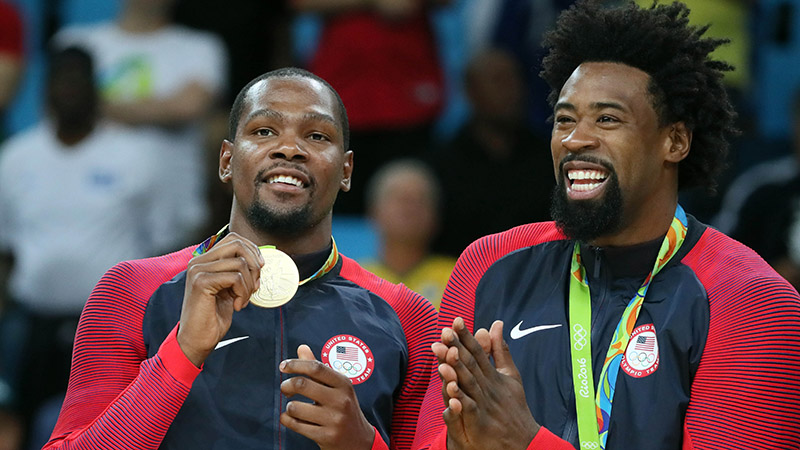 ---
The judges owe Dennis Smith Jr. the Dunk Contest trophy like voters owed Harden the MVP last year after getting skipped over for Westbrook.
---
Imagine if there are any actual life forms on Mars and they saw some robot rover descend on their planet? Real life Independence Day. I would be tripping.
---
If someone tries to interrupt LeBron and Wade's alley-oop on Sunday night, they should be banned from All-Star Games for the next decade.
---
Deadlines are the death of creativity.
---
Wade and Dirk being honorary All-Stars this year is kind of dope because you know the only time they touch the ball they are going to go at each other one-on-one one last time.
It's going to be so ugly but I don't care it's gonna look like a combination of 'Grumpy Old Men' with that scene from Lord of the Rings when Gandalf and Saruman fight each other in the tower but with basketballs.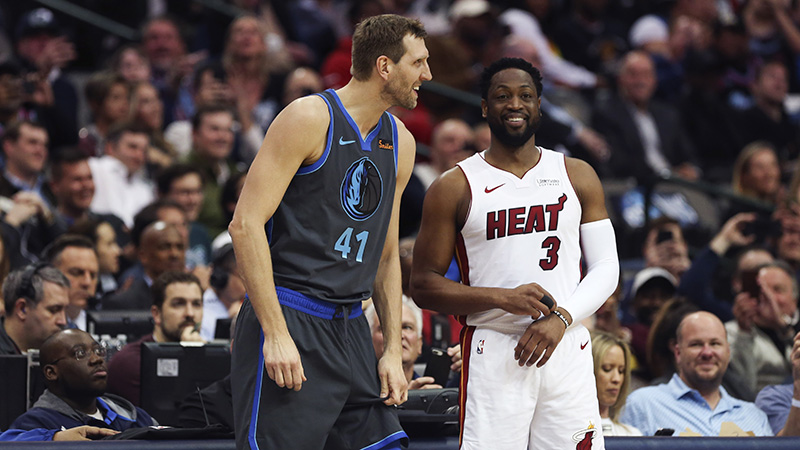 ---
I wish nothing but success on my enemies because you can't fall from grace if you're already on the ground.
---
Fredo is such an idiot. You knew Michael knew you were a traitor and you didn't book the first flight out of the country. And how did you not know you were going to get shot on the boat in the middle of the damn lake? You deserved to die for stupidity alone.
---
Luke Walton will be the coach of the Lakers through the end of the season no matter what happens. You can take this to the bank. I'm not naming sources.
---
Roombas are definitely spies pretending to be vacuums I just don't know for who yet.
---
Vernon Maxwell going into the crowd to punch a fan and just going back to the bench to listen to the play like nothing happened is still to this day the most underrated moment in NBA history
---
There are women out there who want to watch basketball six hours a day with you for the rest of your lives together, but they always live in different cities and nothing serious ever develops. I can't be alone experiencing this difficulty.
---
Do fish think they're walking through water and humans are swimming through air?
---
It's always weird meeting celebrities in person who have you blocked on Twitter and they don't make the connection there on the spot. Evan Turner has no clue whose hand he shook. Of course I'm not going to say anything about it, why would I?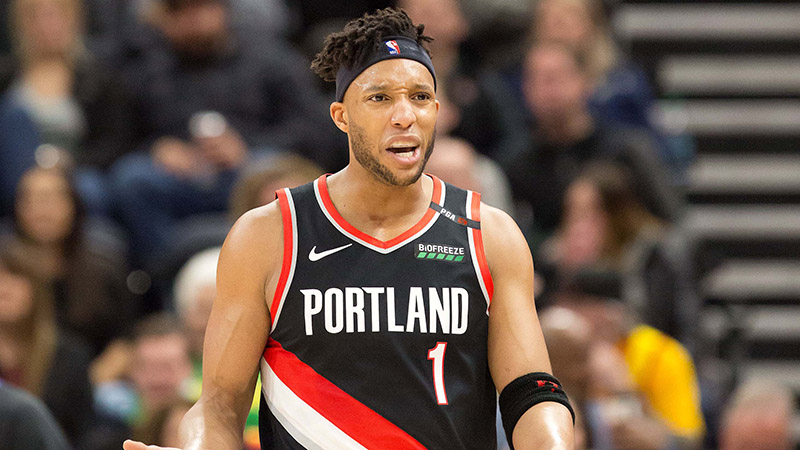 ---
I'm staying in an AirBnB in Charlotte for All-Star weekend. It's still so crazy to me we're cool with strangers just coming into your home like a hotel. Just opening up someone random's uber door and getting in like a taxi.
Technology happened so fast and the world just goes with it every time. Convenience always wins.
I will never, ever get into a self-driving car, though. Ever. How does it know if a drunk driver is coming at them? Or if a squirrel is about to run onto the road?
FOH I'll walk.
---
Speaking of Charlotte, it might be one of the nicer airports in the country. The entire atrium is filled with rocking chairs, charging stations, Chick-Fil-As, Bojangles, and live music.
Also, there's a lot of Duke slander.
Highly recommended for a layover.
---
If you were given $10 million but it came with the contingency that there is a snail that knows your location at all times and if it finds you and touches you you die the most painful incinerating death of all-time — would you take it?
The snail cannot be killed. It's a inch-crawling homing missile with you targeted for the rest of your life.
You could get on a plane and fly across the world and think you're safe. But what if the snail is on the plane too and you think you have more time?
You would have to pay for a security guard to always be looking out for the snail but then you're trusting them with your life.
Maybe you could try to trap it but then you're living the rest of your life thinking it can't get you.
Is peace of mind worth $10 million? No way.
---
Is Steven Avery guilty? I change my mind like every single day.
---
Russell Westbrook is going to ball hog again during the All-Star Game and it's going to be glorious. He plays point guard not pass guard.
---
Speaking of, what's the perfect ending to the game on Sunday? It has to be a buzzer-beater from Kemba, right? An exact replica of what he did at the Garden to that tall guy from Pittsburgh. Need it.
---
All-Star Game MVP picks — remember, usage and minutes are more valuable here than any other stat:
Kemba (+750)
Westbrook (+1500)
Lillard (+4500)
---
You know you're single when your thumb hurts from swiping right/left so much.
---
What was the first R-rated movie you saw? I snuck into American Pie at sleep-away camp when I was 12. It was the most tenuous 30 seconds ever tip-toeing past the usher and walking down the aisle with my roommate.
Sitting in the seat knowing we got away with it was the best moment of my life to date that I could actually remember. Thank you Shannon Elizabeth for making it worth it.
---
Who would win a full length NBA game: 3 Giannis Antetokounmpos or 10 Bobans?
---
The Orlando Magic might have been the most dominant franchise in pro sports if Nick Anderson makes just one of those free throws.
Shaq stays. Him and Penny go on to win a couple more titles. They eventually get McGrady and Grant Hill together healthy. The Doc Rivers/Tim Duncan plane mishap never happens and he signs there. They would be the Patriots of the NBA.
Damn.
---
I still haven't forgotten. I know you're reading this. I never will.
---
There's only one rule of Wob's Mystery Blog: Do not talk about Wob's Mystery Blog. Nobody knows when the next one is coming or what will be in it. This is our little secret. I will be watching. I am always watching.