2023 NCAA Tournament Picks | Stuckey's Favorite First Round Underdogs to Bet
Credit:
Tommy Martino/University of Montana/Getty Images. Pictured: Jubrile Belo of Montana State.
Merry Christmas to all. I hope Santa brings you all of the 3-point variance and winning bets throughout the tournament.
Here are my six favorite bets across first-round games on Thursday and Friday, starting off with an early tip on Thursday.
For what it's worth, first-half unders of 70 or less in these early tournament tips have hit at a 66% clip historically.
For reference, I would've included Drake as one of my favorite first-round underdogs below, but I didn't want to write about a stale line after any news comes out on Miami big man Norchad Omier.
The Bulldogs could certainly close as a favorite if Omier gets ruled out.
---
---
Thursday NCAA Tournament Picks
Thursday, 12:40 p.m. ET on truTV
Led by two fifth-year seniors — Jalen Slawson and Mike Bothwell — the Paladins run a five-out offense with five shooters on the floor at all times.
That's critical against Virginia's pack-line defense that teams must hit shots over the top against in order to have any success.
Furman does like to get out in transition, but that won't happen against a Cavaliers team that simply doesn't allow opponents to run. However, the Paladins are super comfortable running offense in the half-court.
Per Synergy, they rank in the 92nd percentile nationally in terms of points per possession on transition possessions. Well, they grade out even better in the half-court in the 98th percentile.
Furman also doesn't beat itself with turnovers or missed free throws. That's important for an underdog in the tournament, especially in a game that will have a limited number of possessions against the very methodical Hoos, who rank 360th in Adjusted Tempo, per KenPom.
I'm also skeptical of the ACC as a whole coming into the tournament. Plus, Virginia recently lost Ben Vander Plas to injury, which limits the ceiling of an already fairly limited offense.
That gives me more confidence backing a Furman team that does have holes on defense, which leave it susceptible to very athletic teams, especially ones that can bully them in the post.
That's not really Virginia.
I have a lot of respect for Tony Bennett, who I think is one of the best coaches in the country. However, we've seen his Virginia teams get upset by a No. 16 seed and No. 14 seed in the first round.
I wouldn't be shocked if that happens again here against a talented Furman offense that matches up very well with the Virginia defensive scheme.
Now, let's just hope the 'Dins don't have an off night from the perimeter.
---
Thursday, 7:10 p.m. ET on CBS
First things first, I think this line opened way too high. We are now starting to see it come down, but I still show value at +6.
Oral Roberts comes into the tournament with the nation's longest winning streak of 17 games.
The offense gets all of the pub — and rightfully so — with the electric Max Abmas — aka Midcourt Max — running the show along with his 7-foot-5 pick-and-pop partner Connor Vanover, who previously transferred in from Arkansas.
Vanover can really shoot it, which could cause issues for the Duke bigs that may be forced to guard away from the rim.
The Blue Devils also have struggled to defend a lot of the actions Oral likes to utilize to initiate its offense at the top of the key with Abmas.
Speaking of Abmas, he certainly won't have any fear of facing Duke after leading Oral Roberts to the Sweet 16 two years ago. (ORU became only the second No. 15 seed in NCAA tournament history to make it that far.)
And the team is more than just Abmas and Vanover.
The Golden Eagles have shooters all over the floor, which gives the offense elite spacing. On the season, Oral Roberts attempted 3-pointers at a top-20 rate nationally and finished with the 36th-highest 3P% at 37.0.
The Golden Eagles also don't beat themselves with turnovers or missed free throws, ranking in the top 10 in the country in both categories.
They are real and they are spectacular.
Now, I do believe Duke has improved over the past month or so, especially on the defensive end. It also obviously has plenty of talent.
The Blue Devils are capable of making a run, especially in a very wide open region. However, I don't think they've improved as the market is implying here.
Some of their success over the past month has been a bit of smoke and mirrors thanks to a very down year in the ACC. Plus, they benefited from facing a few teams that suffered key injuries down the stretch in addition to some shooting luck.
I could be wrong, but I just think Duke comes in overvalued after its ACC tournament title run last weekend.
Plus, I think Oral Roberts has a few matchup edges on the offensive end that should keep it in this game throughout.
And if it gets down big early, the Golden Eagles are never really out of a game with its ability to put massive runs on teams by getting white hot from beyond the arc.
I didn't hesitate to take the points here in a game I expect to come down to the wire, assuming Oral isn't ice cold from deep.
---
Thursday, 9:55 p.m. ET on TBS
I really like this matchup for the Nittany Lions.
Let's start with when Penn State is on offense. Texas A&M plays a very aggressive defense, characterized by over-helping and going under screens. In doing so, the Aggies generated a top-50 turnover rate on the season, but also gave up the 12th-highest 3-point attempt rate in the entire country.
Fortunately for head coach Buzz Williams, that doesn't usually come back to bite him in the SEC, where nobody can shoot. In fact, teams in the SEC had the lowest 3P% in league play of any conference in the entire country.
Well, that's not the case with Penn State, which ranks in the top-10 nationally in both 3-point attempt rate and percentage.
For the season, the Aggies allowed the 24th-highest frequency of unguarded catch-and-shoot jumpers, yet still ranked 82nd in 3P% allowed as a result of the paltry shooting across the SEC.
Conversely, the Nittany Lions rank in the 98th percentile in jump-shot efficiency, per Synergy.
Now, when Texas A&M is on offense, the Aggies primarily score in three different ways:
Offensive Rebounding (6th nationally)
Off Turnovers (42nd-highest forced turnover percentage)
Getting to the free-throw line (3rd-highest FT rate in country)
That might prove difficult against a Penn State team that does yeoman's work on the defensive glass (43rd nationally) despite its lack of size. The Nittany Lions also take care of the ball, with the seventh-lowest turnover rate in the land. Plus, they rarely foul (38th).
In what should be a very competitive game between two extremely well-coached clubs, I happily took the points with the most-experienced roster in the country that will have quite a few matchup advantages.
Let's just hope the open 3s are going down.
---
---
Friday NCAA Tournament Picks
Friday, 12:40 p.m. ET on truTV
I think Friday has the much friskier double-digit underdogs that are capable of pulling off an upset.
I wouldn't even be shocked if UCSB — led by a future pro (in my eyes), point guard Ajay Mitchell — took down Baylor, especially since the Bears' defense leaves a lot to be desired.
However, the Gauchos just missed out on my favorite three underdogs for Friday, since I like a trio of double-digit seeded pups a bit more at their current price level.
I'll start with Kennesaw State in the early noon slot
The Owls possess one of the most experienced rosters in the country, ranking second in minutes continuity coming into the season, per KenPom.
They have a number of upperclassmen who have been along for the wild ride with Amir Abdur-Rahim over the past few seasons, going from one win in 2020 to the Big Dance in 2023.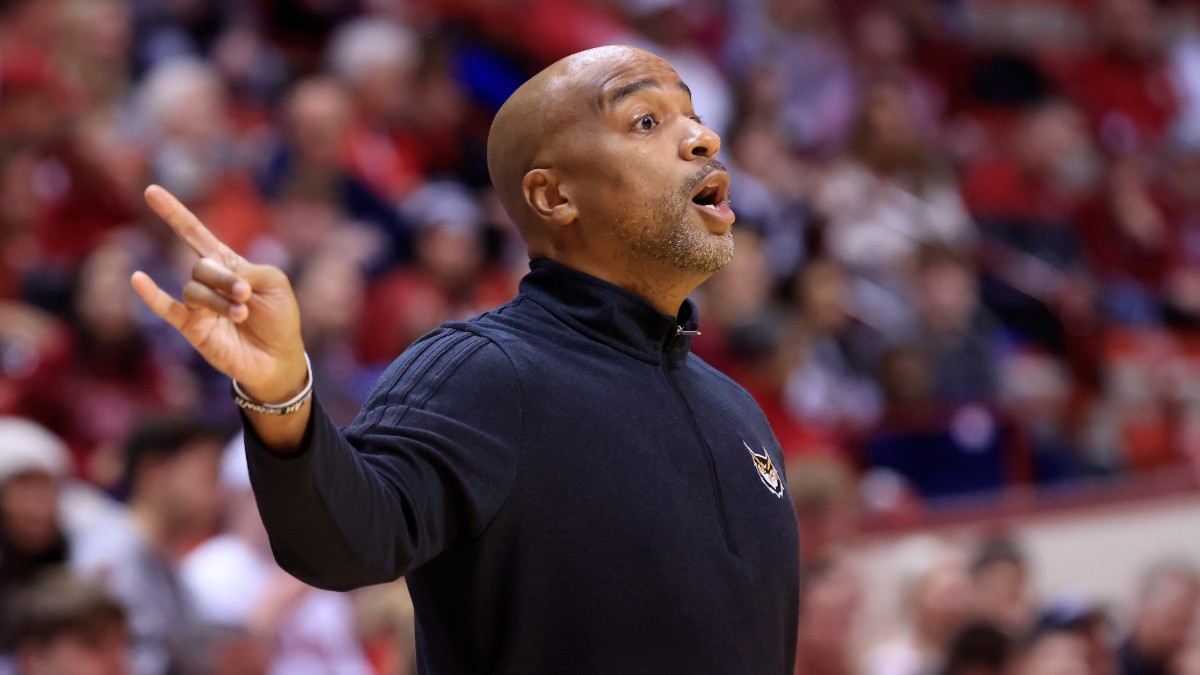 The Owls like to play at a quicker tempo, with star guard Terrell Burden creating offense via dribble penetration and a bevy of shooters on the outside.
Everybody in the rotation can shoot outside of 6-foot-8 big man Demond Robinson.
Defensively, they frequently switch up looks by utilizing man, zone and press, which can force opponents into quite a few turnovers. Most importantly, it keeps opponents on their toes, preventing them from getting too comfortable against the same looks.
The Owls also do an admirable job as a team on the defensive glass despite a severe lack of size.
From a matchup standpoint, the Owls probably don't want to press Xavier. However, they can potentially utilize a higher frequency of zone looks to get the Musketeers out of rhythm — considering X grades out poorly vs. zone defenses.
You can do worse things with your money than back a very experienced and well-coached team with good guards in addition to an abundance of 3-point shooting (37th in 3P% this season).
Kennesaw also just has greater raw talent and athleticism than your usual mid-major.
The Owls demonstrated they can compete with more talented teams earlier this season when they lost by 10 at Florida (when the Gators still had Colin Castleton) and were tied in Assembly Hall against Indiana (although no TJD) with 10 minutes to go before the Hoosiers pulled away.
They also lost by only 3 at VCU.
I don't think they'll be afraid of the stage or moment.
Plus, they've been a fairly reliable team, ranking ninth in consistency, per Haslametrics, which I think speaks to their experience.
Kennesaw also won't have to deal with Zach Freemantle, who's out for the year with an injury. That certainly helps. He would have provided some major matchup issues and raised the ceiling of this already potent Xavier offense.
Ultimately, I believe Kennesaw's guards can take advantage of Xavier's vulnerable perimeter defense. You must score to keep up with Xavier — and the Owls can certainly do just that.
---
Friday, 2:45 p.m. ET on CBS
Winners of 15 straight, Vermont is a very dangerous No. 15 seed that fits the profile of a team that can pull off a major upset, especially against a Marquette team that profiles more like a No. 3 seed.
The Catamounts are a very experienced and well-coached group with an abundance of ball-handers, which is key against Marquette's pressure defense.
They also play at a slow pace (314th in Adjusted Tempo) while taking (and making) a high frequency of 3s. That's the formula for an underdog in this tournament.
The Cats also tweaked their lineup and scheme midway through the season. That, in turn, led to a significant improvement on both ends that doesn't get fully captured in their full-season analytical profile.
Stopping Tyler Kolek in the pick-and-roll could prove problematic, but Marquette won't exploit Vermont's biggest defensive weakness of guarding the post.
Also, Shaka Smart reminds me a lot of Pittsburgh Steelers head coach Mike Tomlin, whose teams thrive as an underdog. Tomlin, a superb motivator, seems to have his teams playing with extra energy and a chip on their shoulder when they take an "us against the world" mentality.
That's similar to how Smart's teams have performed historically — and the ATS splits back up my theory here.
Including the postseason, Shaka Smart owns a ridiculously impressive 92-59-3 (60.9%) ATS record as an underdog. Only Tim Floyd has turned more profit for bettors as a pup over the past 20 years.
However, it's a different story when he's laying points.
As a favorite, Smart has gone just 134-156 (46.2%) ATS. It gets even worse as a double-digit favorite, as he has gone 43-63-2 (40.6%) ATS. That makes him the fourth-least profitable coach in that situation among 642 in our Action Labs database over that span.
I think Vermont hangs around here for a while and Marquette turns it on late to pull away — although, I wouldn't be shocked if the Catamounts pulled off a stunner if they are red hot from deep.
---
Friday, 9:40 p.m. ET on CBS
In last year's tournament, Montana State got absolutely smoked by Texas Tech in arguably the worst possible matchup.
The Bobcats want to create offense by working through Jubrile Belo in the post and via dribble penetration that allows them to either get to the rim or free-throw line.
That was simply an impossible task against that Red Raiders no-middle defense, and the Bobcats had no other recourse since they are a very poor outside shooting team.
Well, it's the same story this year for the Montana State offense, but with a much better matchup on paper.
Kansas State excels at guarding the 3-point line. Well, that strength gets wasted a bit in this particular matchup. You can also get to the rim and free-throw line against the Wildcats' defense.
The Bobcats own the nation's fifth-highest free-throw attempt rate, which could lead to an abundance of free points against a Kansas State defense that ranks 298th in foul rate.
Additionally, Montana State has a couple of excellent individual defenders, including Big Sky Defensive Player of the Year Darius Brown. The Bobcats have the personnel to actually match up with Kansas State's excellent backcourt.
Don't be surprised if the Bobs (top-75 forced turnover rate) can exploit Kansas State's turnover issues (299th in TO%).
Ultimately, Montana State got a pretty good draw against a Kansas State team that just hasn't played as well away from home this year.
I also believe the Wildcats are severely overseeded. They are a fringe top-25 team, per my latest power ratings, which really makes them about a No. 6 seed.
Plus, they just didn't have the same potency on the highway after dominating at home all season in front of great crowds. Not surprisingly, KSU ranks 357th in the country in Haslametrics' Away From Home metric.
Don't sleep on the inside-out duo of RaeQuan Battle and Belo, who's now fully healthy after battling an injury during league play.
The Bobcats also have a very underrated head coach at the helm in Danny Sprinkle. I expect he will have his kids ready for a team they match up fairly well with, so I gladly took the points.
---
---
How would you rate this article?
This site contains commercial content. We may be compensated for the links provided on this page. The content on this page is for informational purposes only. Action Network makes no representation or warranty as to the accuracy of the information given or the outcome of any game or event.