The 28 Most Important Returning College Basketball Players Who Withdrew from NBA Draft
Credit:
Jamie Schwaberow/NCAA Photos via Getty Images. Pictured: Drew Timme.
It's no longer May, which means we no longer sleep.
Jon Rothstein's sentiment was particularly true in the college basketball landscape this week, as the deadline for withdrawing your name from the NBA draft came and went.
College basketball journalists were busy converting texts from sources into tweets to followers about which players decided to withdraw from the draft and return to school. If you're a casual college hoops fan, it can be a blur keeping up.
Luckily for you, I've compiled the most important players withdrawing from the draft and heading back to the NIL-driven CBB landscape.
Let's talk a bit about the players returning, how they'll impact their team and any sort of betting value we can derive from that.
Note: This article is focusing solely on CBB players who entered the draft process and withdrew. This will not address any other major transfers that have happened this offseason.
---
The Biggest Names
Drew Timme, Gonzaga
The biggest moment of June 2 came at 11:14 p.m. EST:
College basketball's most efficient interior presence on college basketball's most efficient offense is back for his fourth year.
During Timme's legendary run anchoring the Bulldogs' offense, Gonzaga posted a whopping 90-7 record, earned three straight No. 1 seeds in the NCAA tournament and pulled off a perfect regular season in 2021.
I could go about the ridiculous numbers — Timme's averaged over 18 points per game over his last two seasons with a true-shooting over 64% — but you all know the story.
This move is significant for two reasons.
First, Mark Few is back. Just a couple of weeks ago, there was a chance there would be no major returnees from last year's Elite Eight squad. Instead, Timme joins Rasir Bolton and Julian Strawther to form three returning starters for 2022.
Second, Timme has picked up a new pick-and-roll partner in Chattanooga transfer Malachi Smith. Well, potentially. Smith is more of a pure scorer, and Gonzaga could still go to Bolton in those sets. But either way, Smith's deadly 3-point shooting (97th percentile in off-dribble 3-point efficiency) should space the floor more for Timme on the interior.
And what do you know, Gonzaga is the favorite to win the 2022-23 national title (+1000 at DraftKings) with Timme back in the fold.

Oscar Tshiebwe, Kentucky
Trivia time!
Before Big O this season, who is the last NPOY to return to school the following season? (Look at the bottom of this section for the answer).
Tshiebwe must be pissed following Kentucky's first-round exit from March's NCAA Tournament. Or he's eyeing a Big Blue Bonus to stay with the Wildcats for another season.
Either way, Tshiebwe is college basketball's premier rebounder (second in ORB%, first in DRB%), and Coach Cal wants to expand his game.
He'll have Sahvir Wheeler back as the leading guard, and look for Daimion Collins or Jacob Toppin in bigger wing roles to complement the big man.
Answer: Tyler Hansbrough for UNC in 2008

Trayce Jackson-Davis, Indiana
Once TJD announced his return to the Hoosiers, Indiana immediately dropped from as high as +7500 to win the title to as low as +4000 (FanDuel).
Although Timme and Tshiebwe are arguably better players, nobody in college basketball makes a bigger impact on their team than Jackson-Davis.
TJD is the best two-way forward in college hoops — an athletic freak who dropped 18 points per game while blocking over two shots a game. He's as complete of an all-around player as you'll find at the forward position, evidenced by his percentile chart:
Mike Woodson proved himself toward the end of last season, as Indiana made a deep run in the Big Ten Tournament and earned an NCAA tournament appearance.
Now, he needs to develop more consistent guard play from Xavier Johnson.
However, Woodson has pulled in the sixth-ranked recruiting class, per 247Sports, headlined by two four-star guards in Jakai Newton and Gabe Cupps. So, maybe consistency from Johnson won't be needed
Either way, this is a huge development for Hoosier country. Now, if Woodson could draw up some pick-and-pop plays for TJD…

Hunter Dickinson, Michigan
Speaking of Big Ten big men…
Dickinson and Jackson-Davis are probably the top-two favorites for Big Ten POTY.
And I'm leaning toward Dickinson.
The Virginia native is going to have to carry his Wolverines through the Big Ten this year. Juwan Howard has lost Moussa Diabate, Caleb Houstan, Eli Brooks and DeVante' Jones this offseason.
That's the other four starters from last year's team. Dickinson is going to be Michigan basketball this season — not that he wasn't already.
But there's one thing we know for sure: Dickinson is not scared.
I was impressed with Dickinson's offensive development last season. He's become a threat with his right hand and now can stretch the floor shooting 3s (34%).
And while he lacks the athleticism that Jackson-Davis possesses, there's not a singular more imposing interior presence in the Big Ten than Dickinson.

Jaime Jaquez Jr., UCLA
It's tough that Jules Bernard and Johnny Juzang are gone, but Mick Cronin is plenty happy to return Tyger Campbell and Jaquez.
I always thought Jaquez was the best player of the three Js. He's an incredibly gifted interior scorer, with a wide array of mid-range and paint moves. He shot the best from 2-point range of those three Js (52.2%).
Jaquez and Campbell provide Cronin a veteran core to pair with a top-10 recruiting class headlined by five-star prospects Amari Bailey and Adem Bona.
Right now, the starting lineup should look something like this:
Tyger Campbell
Amari Bailey
Jaylen Clark
Jaime Jaquez
Adem Bona
That's a top-10 team, and it's all thanks to Jaquez.

Marcus Sasser, Houston
Sasser was the Cougars' best player last season. Kelvin Sampson lost him — alongside Tramon Mark — in December and still took his team to an Elite Eight.
Imagine what the coach is going to do with Sasser?
Sasser's return solidifies Houston as a preseason top-five team.
Sasser led the Cougars in scoring during the early season, averaging 17.7 points per game while shooting 43.7% from 3. He was also a defensive menace on the perimeter, recording 2.2 steals per game in Sampson's hyper-aggressive defense.
In the end, Sasser is a top AAC player. Pair him with Mark, Jamal Shead and five-star prospect Jarace Walker, and we should see Houston waltz through the AAC.

Jalen Wilson, Kansas
Bill Self gets his guy.
Wilson might legitimately be the preseason Big 12 POTY. He scored 12 points per game last season with a 112.6 ORtg, and the only one standing in-between him and the rim this year is the opposing team, and TTU transfer Kevin McCullar.
Wilson is a surprisingly solid playmaker, an above-average rebounder and is adept at driving to the rim. As the Jayhawks did last season, they'll attack in transition and attack the rim — the Jayhawks ranked 29th in finishing at the rim frequency last season.
Unfortunately for Kansas, the Jayhawks have the NCAA's decision looming over their head. It seems improbable that the Jayhawks will be allowed to play in the postseason next year.
Withdrew from Draft to Transfer

Kevin McCullar, Texas Tech to Kansas
We know it's a team two-way effort in Lubbock, as McCullar was one of four guys to average between 10 and 14 points with the Red Raiders.
He'll be asked to do the same thing at Kansas, and he has the athleticism to run the floor and play second-fiddle to Wilson.
Again, the cloud above Lawrence remains, but McCullar is happy to play under Coach Self.

Kendric Davis, SMU to Memphis
I love this transfer. The disorganization and discombobulation that came from Memphis' poorly formed, oversized roster led to the nation's seventh-worst offensive turnover rate.
Davis is one of the nation's best floor generals. He dished out over four assists per game in 2022 while recording over 10 SQ Passing Points per Game. He also led the nation in assist rate in 2020.
He's an efficient shot-creator as well. He will immediately bring a much-needed veteran backcourt presence to Memphis.

Baylor Scheierman, South Dakota State to Creighton
Scheierman was just one of the cogs in Eric Henderson's Jackrabbit machine last season, but he's a 6-foot-6 wing who posted 54.5% / 46.2% / 80.2% shooting splits.
Greg McDermott's 12th-ranked defense (by eFG% allowed) will happily take his defensive versatility, and the Bluejays' offense needs his shot-making (30.8 3P% in 2021, 305th).
Kyle Lofton, St. Bonaventure to Florida

When remembering the St. Bonaventure Iron Five, we'll likely remember Lofton most. There's a good chance we remember his two missed free throws against St. Louis in the A-10 Tournament, but I hope we remember his other contributions more.
He'll likely slip right into the Tyree Appleby role (both have high assist rates on offense and high steal rates on defense), and I'm excited to see the two-man sets Todd Golden works up for Lofton and Colin Castleton.
Osun Osunniyi, St. Bonaventure to Iowa State

T.J. Otzelberger doubles down on defensive length and athleticism, grabbing the 6-foot-10 center who finished 15th nationally in block rate last season (12.1%).
Osunniyi theoretically helps the Cyclones' dreadful offense, but Otzelberger doesn't really need Osunniyi's offensive archetype. Tyrese Hunter leaving hurts more than this helps.
Matthew Mayer, Baylor to Illinois

It's tough to see Mayer leave Baylor without reaching his full potential. He's a mismatch nightmare, standing 6-foot-9 with the ability to dribble, drive and pull up.
But he was stuck on the bench during Baylor's championship run. While he had his moments, he never put it all together on a consistent game-to-game basis.
It'll be fun to watch Mayer cook alongside Coleman Hawkins in the Champaign frontcourt this season.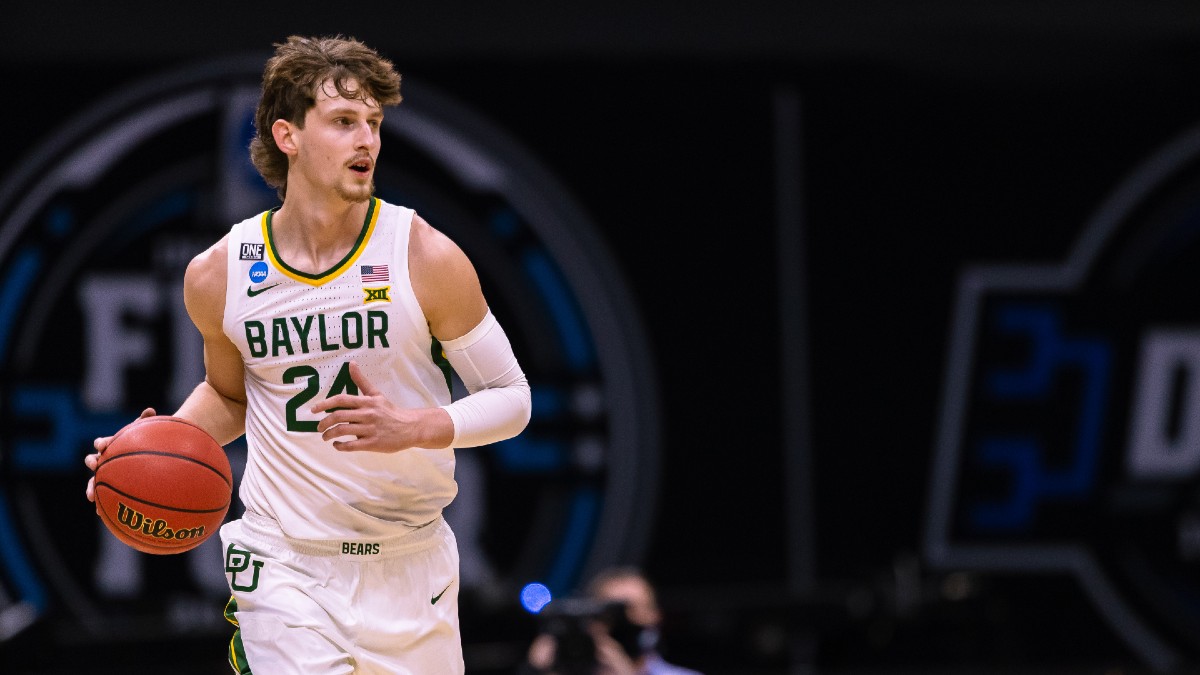 Nijel Pack, Kansas State to Miami

Pack will join Isaiah Wong in the Miami backcourt, and he should be a perfect fit for Jim Larranaga's transition style of play.
He also followed in Wong's footsteps from an NIL perspective, cashing out in his move to South Beach.
Withdrew From Draft to Transfer But Hasn't Decided Where

Keion Brooks Jr., Kentucky to TBD

Editor's Note: Per his Instagram page, Keion Brooks Jr. has committed to Washington.
It's a tough break for the Wildcats losing Brooks, who formed a nice wing rotation alongside Kellan Grady and Toppin.
Brooks made huge strides in 2021, posting a 111.1 ORtg while scoring over 10 points a night. He also posted solid rebounding numbers.
He'll be perfect for a team that needs help at the 3 or 4.
Last I saw Brooks was on tour visiting Tommy Lloyd and Arizona.
Arguably the nation's top-ranked 2023 prospect Kwame Evans Jr. has officially started his official visit to Arizona, he told @Stockrisers. Tommy Lloyd with a top junior and Kentucky transfer Keion Brooks on campus. Significant weekend.

— Jake (@jakeweingarten) June 3, 2022
Pete Nance, Northwestern to TBD

Nance should be a target for any major program. He's a 6-foot-10 stretch center who finished top-100 nationally in defensive rebounding rate while shooting a whopping 45% from 3.
He's sick and tired of losing underneath Chris Collins, so Nance should be motivated to help another program win.
North Carolina is said to be pursuing him, and he would step into Brady Manek's role almost seamlessly.
After making initial contact pre-combine, #UNC is still in pursuit of Northwestern transfer Pete Nance, per source

— Riley Davis (@Riley_Davis3) June 2, 2022
Major Mid-Major Contributors
Max Abmas, Oral Roberts

Everyone's favorite shot-happy Summit League point guard is back at ORU for his fourth season, and I'm hoping he's back in his rightful spot atop the nation's scoring leaders.
The Golden Eagles will be the same. They'll play an electric, fast-paced offense through Abmas and defend absolutely nobody.
Another shot-making big man like Kevin Obanor would make Abmas' role easier, but maybe he doesn't want it easy.
Khalil Shabazz, San Francisco

There's plenty of turnover for the Dons this offseason, with Golden heading to Gainsville and Jamaree Bouyea outliving his eligibility.
But Chris Gerlufsen has done a nice job with the roster, pairing Shabazz in the backcourt with Tyrell "Ghost" Roberts (Washington State) and Marcus Williams (Texas A&M).
San Francisco should play through its guards and launch 3s again (37th in 3-point rate last season), but nothing is guaranteed under new leadership. Shabazz should be a favorite for first-team All-WCC this season either way.

Sincere Carry, Kent State

Not only did Carry finish third in the MAC in points last season (609), but he also led the league in assists (162). That's quite impressive when you consider the Golden Flashes played at just the ninth-fastest pace in the MAC last year.
Ohio's Mark Sears is gone and Toledo's Ryan Rollins is heading to the draft, so Carry is officially the frontrunner for MAC Player of the Year. After the Flashes won the MAC East regular season last year, Carry should lead this team to the Big Dance for the first time since 2017.

Hunter Maldonado, Wyoming

With both Maldonado and Graham Ike back in the fold, Wyoming will be a force in the Mountain West again.
It also allows Jeff Linder to play the same offense. No team in the nation ran a higher percentage of plays through the post than Wyoming (28% frequency), because Ike was a post-up weapon and Maldonado also has a wide array of post moves (curious for a point guard).
The Best of the Rest

Jared Bynum, Providence

Bynum is back in an attempt to lead the Friars to back-to-back Big East titles.
Nate Laszewski, Notre Dame

Mike Brey is thrilled to have his big man back for his fifth year.
Drew Peterson, USC

The USC wing made some big shots in late-season contests and shot over 40% from 3 on the season.

Will Richardson, Oregon

Richardson will lead the Ducks' backcourt, and it allows Dana Altman to align a few less Rubik's Cubes this offseason.

Kris Murray, Iowa

He's not his older brother, but Murray has the skills to develop in Fran McCaffery's lights-out offense.

DeAndre Williams, Memphis

Alongside Jalen Duren, Williams became a steady force during Memphis' late-season push. Expect more of the same in 2022-23, especially with Emoni Bates gone.

Isaiah Wong, Miami

Wong got his money, and he will now try to run it back to the Sweet 16 with Pack by his side.
Terquavion Smith, NC State

With Dereon Seabron staying in the draft, Smith should up his production after scoring 16.3 points per game last year.
How would you rate this article?
This site contains commercial content. We may be compensated for the links provided on this page. The content on this page is for informational purposes only. Action Network makes no representation or warranty as to the accuracy of the information given or the outcome of any game or event.