How to Bet Ohio State-Purdue, Plus Virginia-FSU and Auburn-Texas A&M
Credit:
© Noah K. Murray-USA TODAY Sports
I took an early in-depth look at the enormous Big Ten game tonight between Purdue (-9.5) and Ohio State. I also added matchup analysis for the following two games.
Virginia at Florida State (+3)
Texas A&M at Auburn (-7)
Follow me on Twitter @jorcubsdan for in-game notes, injury updates, and second-half predictions.
---
Ohio State at Purdue (-9.5)
8:30 p.m. ET
Purdue will try to remain undefeated in Big Ten play in the conference's biggest game to date this season. The Buckeyes head to West Lafayette after having to rally against Illinois on Super Bowl Sunday. They eventually took over in the final six minutes to pull out an eight-point win. Both teams may have been looking ahead to this matchup last weekend, as Purdue looked a little shaky at Rutgers. The Boilermakers narrowly avoided a late collapse, but held on for a two-point victory, giving them their 19th straight win (sixth longest streak in Big Ten history). Their last loss came in the Bahamas to Western Kentucky on Nov. 23, 2017.
When Purdue has the ball
Purdue has one of the nation's most balanced offenses, as I discussed in-depth here.
With big Isaac Haas in the middle, Matt Painter runs his offense through the post at the third highest rate in the country. When he does, the Boilers rank second in efficiency. Opponents can't simply double the post as a remedy since Purdue scores 1.31 points per possession in those situations. The Boilers shoot the 3 at 42.8%, the second best mark nationally. That number has actually risen during Big Ten play to 44%.
Painter runs some of the best off-ball motion after the ball enters the post, and has a cast of lethal wings (Vince Edwards, Carsen Edwards, and Dakota Mathias) who can all shoot, pass and penetrate. The Boilers have a devastating offense that ranks third nationally in offensive efficiency rating at 1.24 points per possession.
Let's now look at how the Ohio State defense matches up with this juggernaut of a Purdue offense. Per Synergy, OSU grades out as an "excellent" post defense. Kaleb Wesson and Keita Bates-Diop limit teams to only .693 points per post possession. Ohio State coach Chris Holtmann typically leaves young big Wesson on an island in the post, but the Bucks hold offenses to just .59 points per possession when they do double the post.
The Buckeyes also have size and athleticism on the wings with Bates-Diop, Jae'Sean Tate and Musa Jallow to defend Purdue's motion. Painter uses double screens (known as "Iverson sets" in the Purdue universe) as much as any coach in the country. OSU has been particularly strong at defending that specific action, allowing just .732 points per possession off screens.
With the ability to both defend the post and utilize their long wings against Purdue's off-ball motion, the Buckeyes can at least slow down the potent Purdue offense. There's a reason why they rank No. 1 in the league in defensive efficiency rating, limiting opponents to .97 points per possession in Big Ten play.
OSU has struggled defensively at times when teams have exploited their sagging perimeter defense designed to over-help on penetration. See Penn State hitting 11 of 14 from 3-point range. That's a very real concern against Purdue. OSU has also defended poorly in transition, but Painter does not look to push tempo with Haas or even Matt Haarms on the floor.
When Ohio State has the ball
As for Ohio State's offense, they don't run anything overly complicated. Holtmann will use both Wesson and Bates-Diop in the post early, as I suspect he will try to get Haas in early foul trouble. Otherwise, the Bucks run some ball screen motion with non-stop weak side screening to free up their best player in Bates-Diop. The main focus is to simply attack the weakest defender on the floor with KBD or Tate, both of whom can use their versatility and physicality to create mismatches either off a ball screen or via the weak side off ball screening. This is where OSU might make some hay against the Boilers.
Per Painter, Mathias will defend KBD with Nojel Eastern likely spelling him when necessary. But Mathias has not been one of Purdue's best overall defenders. And he certainly hasn't had to defend someone who can back him down as effectively as KBD. Additionally, he struggles to defend in pick-and-roll situations. That's problematic against OSU.
Some pregame analysis will center around OSU being unable to stretch the floor without Kam Williams (suspended). But the Bucks didn't really "stretch the floor" with him. As the chart below of OSU's efficiency splits with Williams on/off the floor in Big Ten play illustrates, his impact on both ends has been negligible. And the Buckeyes actually shoot 3-pointers more frequently and successfully without him.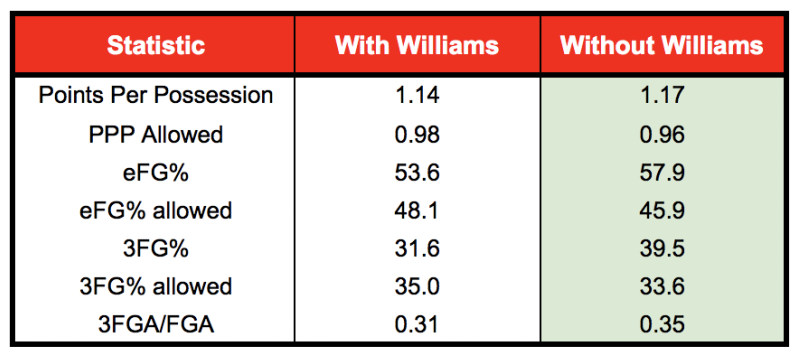 Neither team has excelled on the glass in Big Ten play. However, Purdue has had major issues on the defensive glass. In fact, Rutgers clawed back into the game on Saturday by exploiting this deficiency with putbacks. Wesson can take advantage, as his wide body allows him to carve out a lot of space underneath the rim. As a result, he grabs misses at the second highest rate in the conference.
Final Prediction
Ohio State can keep this close. Specifically, they can exploit mismatches with the athleticism and physicality of Tate and KBD at the 3 and 4. They can also have a meaningful advantage on the offensive glass. However, given Purdue's ability to generate offense from so many different positions (and sets), I can't see the Bucks pulling off the upset.
Prediction: Ohio State +9.5
---
Other Notes
Virginia at Florida State +3 (7:00 pm ET) The Noles actually have a two-game winning streak against UVA. However, they did not look impressive offensively in either against the infamous UVA Pack Line defense. Their best effort was 1.05 points per possession (still far more efficient than what the Cavs typically surrender). FSU has won two straight because of their versatile length and athleticism on the defensive end, which allows them to match up well with Tony Bennett's Mover-Blocker offense.
Essentially, Bennett has three shooting ball-handler/wings on the floor, with two bigs constantly setting screens along the two lane lines. This is why UVA is almost always dead last or near dead last in adjusted tempo. Their beyond methodical offense usually results in a shot for those wings or a post attempt if the bigs cheat off the screens early to hard hedge on those shooters. The FSU bigs have never had to double the post because they are typically much bigger and longer than UVA's frontcourt.
However, things are different this year. Hamilton doesn't trust 7-foot-4 frosh Christ Koumadje in the post defensively yet. But he has slowly turned into an offensive force since returning from a foot injury. He also still gets more than his fair share of weak side blocks. The primary problem for Leonard Hamilton is that primary post defender Phil Cofer has struggled this year, allowing 1.09 points per post possession, per Synergy. While FSU doesn't defend as well as a typical Hamilton unit, the Noles still have plenty of long athletic defenders (like Braian Angola) to chase Kyle Guy, Ty Jerome and Devon Hall off of screens.
No offense matches up well against a UVA team defending with historic efficiency. UVA basically doesn't allow post attempts with the ubiquitous quick double. And FSU's general philosophy of pushing in transition and breaking individual defenders down in isolation will simply not work tonight. However, FSU can find extra possessions on the offensive glass against the worst defensive rebounding team Bennett has had in Charlottesville.
If FSU was defending at a typical FSU level, I would love the Noles' chances of handing UVA their first ACC loss (and first loss overall since Dec. 5 at WVU). Offenses the Noles typically shut down (ball screen heavy Wake and Miami) have had significant success against FSU this year. That isn't a great omen for tonight against an offense they typically handle.
The PICK: Over 131
Texas A&M at Auburn -7 (9:00 pm ET) Bruce Pearl has managed to put one of the more tumultuous offseasons in the rear view mirror (for now). His Auburn Tigers look like perhaps the best team in the SEC. However, the few times Auburn has struggled this year, it has come against teams with length and against teams that can defend in pick-and-roll. Texas A&M checks both boxes. Auburn's two losses this year came against Temple and Alabama, the 30th and 26th tallest teams in the country respectively, per KenPom. The Aggies measure in as the sixth tallest team in the country and grade out in the 99th percentile nationally in pick-and-roll defense, per Synergy.
Billy Kennedy's squad has dealt with a plethora of injuries and suspensions, which have rendered the Aggies one of the country's more disappointing teams. However, with better health of late, it appears TAMU has somewhat righted the ship. (Though they still haven't shown they can defend on the road for 40 minutes, and they can still be slow to rotate on the perimeter.) Kennedy loves his morphing zone, which has worked of late, but it could backfire tonight against the SEC's best 3 point shooting team. Having said that, the Aggies' ability to limit Auburn in pick-and-roll, slow them down in transition, and defend without fouling should keep this close.
The PICK: Texas A&M +7
---
Wednesday Top Picks 
YTD: 394-369-7
2H: 39-27-1
Ohio State +9.5
UVA/FSU Over 131
Texas A&M +7