Big Monday Betting Guide: UNC-Notre Dame and TCU-West Virginia
Credit:
© Matt Cashore-USA TODAY Sports
The weekend is unfortunately over, but at least we can look forward to betting the following two Big Monday games:
Notre Dame at North Carolina (-10.5)
TCU at West Virginia (-7.5)
We will provide in-depth betting previews for both matchups to help you get through your Monday. We will cover the following sections:
Setting the stage
What's at stake
What the sharps are betting
Key trends
Situational angle
Scheme analysis
Matchup to watch
Who we like
---
Notre Dame at UNC (-10.5) | O/U: 151.5
7:00 p.m. ET | ESPN
The Setup
By Stuckey
Two programs ranked in the top 10 of all time college basketball wins meet in Chapel Hill on Monday night. The Irish will be seeking revenge for a one-point heartbreaking loss to UNC earlier this season in South Bend. If they pull off the upset, it would only be their second ever win in Chapel Hill. The first came during their most recent trip in 2015.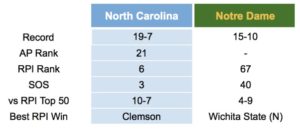 This will be the 30th meeting between these two schools. The first actually came in the 1957-58 season, when ND defeated a UNC team that was also the defending National Champion. The Irish have a history of beating defending National Champions, having done so five times in program history (UNC, UCLA twice, Indiana, and Marquette).
The Stakes
By Stuckey
UNC is soundly in the tournament, but Notre Dame is not. The Irish will be one of the most talked about teams on Selection Sunday because of the loss of Bonzie Colson. He should return in a few weeks, but ND could really use a marquee road win to improve their resume. A current RPI of 67 and a 7-10 record against the RPI top 150 can't give ND fans too much comfort.
Neither team has a shot at winning the ACC regular season, as Virginia looks like a virtual lock to take that crown. However, this game does have major implications for the ACC tournament. Considering the first four seeds get a double bye, the Tar Heels want to maintain their slim lead over a few teams close behind in the standings. A loss on Monday could ultimately cost them the chance of only needing to win three games for an ACC Tournament Championship. The Irish currently hold the 12th seed, but a win on Monday could give them a better shot at finishing with a 6-9 seed for a single bye.
Sharp Report
By PJ Walsh
Check back throughout the day for any significant line moves or market info.
Situational Angle
By Stuckey
I heavily favor Notre Dame in regards to the situational spot. The Irish should have extra motivation after how they lost their first matchup with UNC (on a late foul call). Plus, this game means much more for their postseason hopes. Additionally, this is one of the most difficult scheduling spots of the year for UNC, which will play its third game in five days.
Schematically Speaking
By Jordan Majewski
When UNC Has The Ball
Roy Williams is known for his secondary fast break and early-shot offense, but the most notable development this year has been his willingness to go to a "small" lineup since Cam Johnson became healthy shortly before ACC play started. Johnson has been UNC's best offensive player, and the Heels' spacing is much improved with his floor stretching capabilities. It has in turn opened up the court for Luke Maye, as evidenced by his ridiculous performance vs. NC State on Saturday (33 points, 17 rebounds) and his 18 and 11 stat line in the first meeting with ND. Maye's cuts to the rim are more effective when Garrison Brooks is off the floor, since May has more room to operate without a secondary big defender clogging the lane.
Williams has always been reluctant to go smaller because he places such a high premium on rebounding, particularly on the offensive end. With the "small" lineup (I use quotes since Johnson is still 6'8″), the rebounding has actually been a tick better, so it looks like it's here to stay. Last year vs. the Irish, the Heels snagged their misses at an unruly 49% rate. However, Notre Dame flipped the script in the first meeting this year, shockingly grabbing 20 offensive rebounds (a 46% rate). That almost allowed the Irish to pull off a stunner without Matt Farrell and Bonzie Colson. You can bet Williams hasn't let his team forget about that performance on the glass.
When Notre Dame Has The Ball
Mike Brey is known for his circle motion sets and cross pick-and-rolls, which he actually started running more of when his quarterback Matty Farrell missed time. Obviously, everything changes for the Irish with the return of Farrell, who was phenomenal on Saturday against FSU.
While Farrell is a lethal perimeter shooter, he's been particularly effective as a passer out of pick and roll. With Bonzie Colson still out, Martinas Geben has been the primary beneficiary. Geben has quietly scored a monster 1.415 points per possession in pick and roll. That should worry UNC, as Luke Maye has struggled to defend in pick and roll. Additionally, given Joel Berry's poor PnR defense and UNC's tired legs, I expect Brey to run a lot of PnR action. Although, without Colson and DJ Harvey in the lineup, Williams can move his best overall defender in Theo Pinson onto the ball without fear of repercussion at the rim.
Key Matchup Watch
By Bryan Mears
The battle of tempo. UNC, which has always pushed things under Williams, ranks 38th in adjusted pace and 14th in length of offensive possession this season. In contrast, Notre Dame ranks 322nd and 298th, respectively. The team that can control the pace will make things uncomfortable for the other.
I will also keep my eye on the rebounding battle. As Jordan mentioned, Notre Dame surprised in the first meeting by dominating the glass, but that may have been a bit fluky. Carolina ranks 28th in defensive rebound rate and third on the offensive glass. If UNC can control the tempo and glass, they should fight off potential fatigue and pick up another victory in Chapel Hill.
Getting Trendy
By Evan Abrams and John Ewing
In UNC home games against conference opponents since 2006, the Under is 41-26 with a total of 150 or higher. The total for Monday night currently sits at 150.5.
Over the past two seasons, only four teams have netted a $100 bettor at least $1,000 when wagering on them at home:
Bradley

North Carolina

Florida State

SMU
During that span, the Tar Heels are 27-2 SU at home with a 19-7-1 ATS (73.1%) record in the 27 games that had a line. They are also 11-4-1 ATS at home vs. opponents with winning records.
Notre Dame has covered its past five regular-season games against UNC by an average margin of 6.2 points (average spread of +7.2).
What's Your Favorite Bet?
Stuckey: ND should exploit UNC's perimeter defense. Notre Dame plus the points
Jordan: ND should have success running PnR all night. Notre Dame plus the points
Mears: Few too many points, given UNC's likely fatigue. Notre Dame plus the points
---
TCU at West Virginia (-7.5) | O/U: 154
9:00 p.m. ET | ESPN2
The Setup
By Stuckey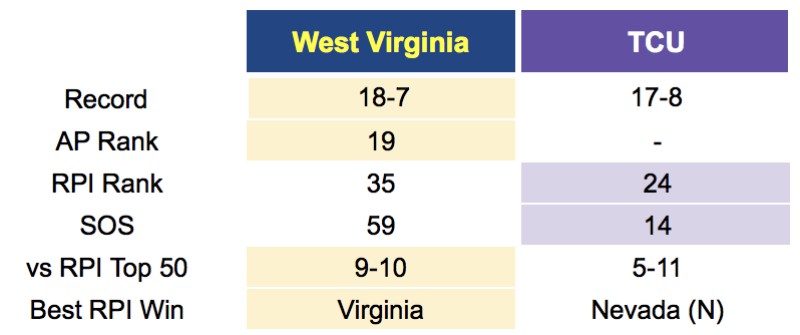 Expect WVU and TCU in the tourney come March, but both teams are trying to answer a number of questions about late-game execution. After winning 15 straight games, West Virginia has gone 3-6 (2-3 at home), as a result of a few late collapses. TCU currently has a Big 12 record of 5-7. However, six of the seven losses came by seven points or less. The Horned Frogs also lost recently by 3 at Vanderbilt in the Big 12-SEC challenge.
The Stakes
By Stuckey
This will be the second meeting between these two teams. On January 22, TCU defeated West Virginia at home by a score of 82-73. TCU will be looking to win its first game against a top 25 opponent on the road since January 19, 1998 at Hawaii. Yes, Hawaii.
This could finally be the year that Kansas doesn't win the Big 12 regular season, as Texas Tech currently sits all alone in first place. TCU obviously doesn't have a shot, but WVU still has a realistic chance. A home win on Monday would put the Mountaineers one game back of Texas Tech in the win column, with games against both the Red Raiders and Kansas left on their schedule.
In regards to the Big 12 Conference Tournament, teams want to finish in the top six to get a first round bye. Given how deep the Big 12 is, that could be the difference between a first-round exit and a championship. WVU would be in great position for that coveted first-round bye with a win on Monday. TCU is currently the six seed, but three other teams with the same conference record sit right behind them.
Sharp Report
By PJ Walsh
This game has seen significant action on the under, highlighted by a large percentage of dollars and three separate sharp moves. Read here for a full breakdown.
Situational Angle
By Stuckey
I have to give the edge to West Virginia playing at home with revenge after a bad home loss. Huggins should have his troops ready to go in front of a rowdy Monday night crowd in Morgantown.
Schematically Speaking
By Jordan Majewski
When West Virginia Has The Ball
The Mountaineers have issues within Bob Huggins' cut-and-fill motion offense, especially with half-court spacing. However, while TCU's offense is a model of efficiency, its defense has been sorely lacking. Some of the issues can be chalked up to bad luck, as Big 12 opponents have shot 43% from deep against TCU. However, the Horned Frogs have also struggled to defend at the rim, which you can't attribute to luck. TCU actually defends decently against pick and roll (its one redeeming defensive quality), but that's useless against WVU, which infrequently runs it with Jevon Carter.
WVU crashes the offensive glass as relentlessly as any team in the nation. The Mountaineers grabbed 17 offensive rebounds in the first meeting, which was actually a touch lower than their season offensive rebounding rate.
When TCU Has The Ball
Bob Huggins' full court pressure defense makes offenses react to what West Virginia does. Opposing coaches are more worried about beating the press than they are about running their offense. WVU is actually pressing less and with less effectiveness this year, but teams still must be physically and mentally prepared. Per Synergy, WVU presses on 34% of possessions, while allowing .76 ppp (38% and .67 ppp last year). In the first meeting, TCU only turned it over 15 times (an impressive turnover rate of just 20%). What's even better is that TCU attempted 11 more free throws than WVU. Can they repeat that performance in Morgantown? I would have said "no chance" a month ago, but the Mountaineers have dropped three of their past five at home since then.
TCU's offense has been outstanding all year, even after losing Jaylen Fisher. In fact, TCU has stayed on top of the Big 12 offensive efficiency ratings almost all year. With Fisher done for the year, Jamie Dixon runs more pick and roll with Alex Robinson as the primary point guard. The Frogs also still run Dixon's motion offense with point forward Kenrich Williams in the high post. Vlad Brodzianski has scored efficiently in the post and his mobility gave WVU shot-blocker Sagaba Konate issues in the first meeting.
Key Matchup Watch
By Bryan Mears
WVU has more balance, as it ranks in the top-30 in both adjusted offensive and defensive efficiency. TCU on the other hand has an elite O (fifth) but a mediocre D (130). The Horned Frogs can hang with any team with their offense, and should specifically have a nice edge on the perimeter on Monday. WVU ranks 11th in the nation in field goal percentage allowed at the rim, but it struggles against the 3-ball. The Neers allow opponents to take (38.6 percent) and make (37.5 percent) a high percentage of 3s. That's ominous against a TCU squad that ranks 12th nationally in 3-point percentage. The Horned Frogs' perimeter offense should keep this close.
Getting Trendy
By Evan Abrams and John Ewing
The Mountaineers lost 88-85 to unranked Oklahoma State on Saturday and play unranked TCU on Monday. Ranked teams off a loss facing an unranked conference opponent are only 460-552-14 (45.5%) ATS since 2006.
Over the past 20 years, TCU is 0-41 SU on the road against top-25 opponents. TCU only lost one of those 41 games by one possession, which came in a wild overtime game at West Virginia in 2015.
What's Your Favorite Bet?
Stuckey: I like how TCU matches up, but spot favors WVU. Pass
Jordan: Lean toward a pissed off West Virginia squad at home. Pass
Mears: TCU's offense is too good to get blown out. TCU plus the points
---
Editor's note: The opinion on this game is from the individual writers, and is based on their research, analysis and perspective. It is independent of, and may not always match with, the algorithm-driven Best Bets from Sports Insights.