Handicapping a First-Place Valley Matchup and Other Mid-Major Tilts
Credit:
Peter G. Aiken-USA TODAY Sports
Today I'll take a look at big games in the Valley, Summit, SoCon and Mountain West. Each of these should go a long way in determining regular season winners in those leagues. Follow me @jorcubsdan on Twitter for injury updates and second half info.
---
Loyola Chicago (-2.5) @ Drake
8 p.m. ET
The Ramblers head to Des Moines to take on Drake in an MVC first-place battle that would have been inconceivable in October. Drake hasn't lost at the Knapp Center all year, but Loyola has won three straight Valley road games.
Missouri State's Alize Johnson might be the most talented player in the Valley, but Loyola Chicago point guard Clayton Custer is unarguably the most important. The Ramblers have a 14-1 record with Custer and just a 2-3 record without him. His on/off efficiency splits via Hooplens reflect his immense value to Loyola.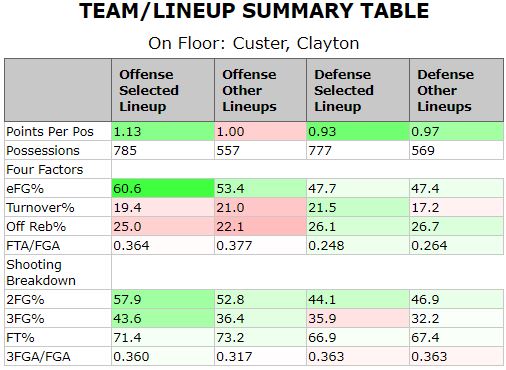 Loyola is 17 points per 100 possessions better with Custer on the floor. While Custer unquestionably improved the offense, the return of perimeter defensive stalwart Ben Richardson has also helped tremendously. Loyola has a 9-1 record with him, and his on/off efficiency splits are nearly as dramatic as Custer's.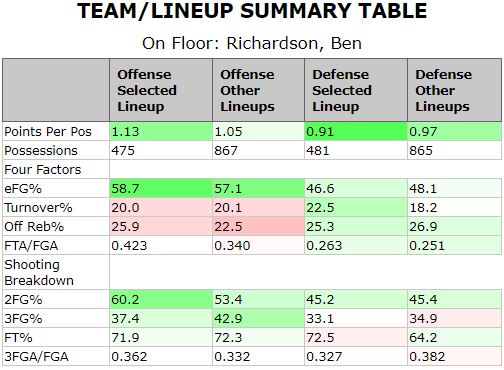 Richardson's defensive prowess is essential against Drake's four-out motion offense installed by first-year head coach Niko Medved. Medved came to Des Moines from Furman, where he quickly turned the Paladins into SoCon contenders. He inherited the perfect roster for his motion offense that eschews pick-and-roll with a proliferation of scissor cuts and back doors to exploit defenses that overplay against sharp shooters Reed Timmer and Graham Woodward. However, Loyola can match the constantly screening and cutting Drake offense with their versatility and length. Aundre Jackson, Donte Ingram, Lucas Williamson and Marques Townes all run between 6-foot-4 and 6-foot-6 and can switch onto any of Drake's four guards. All four excel defending in motion.
As a result of the four-out offense, Drake runs extremely small, with 6-foot-2 CJ Rivers at the 4. Medved has countered this by double and even triple teaming nearly every post touch. Big man Nick McGlynn can block some shots, but Medved collapsed down on Missouri State star Alize Johnson every time he touched the ball in the paint. Johnson finished without a field goal en route to the worst offensive performance of his Valley career. Drake will need that swarming post defense again tonight, as Loyola has recently run more offense through freshman big man Cam Krutwig, who has responded with three straight monster efforts. While Moser typically sends everyone back in transition defense after misses, he has unleashed Krutwig on the offensive glass in MVC play. Krutwig has grabbed his teammates' misses at the third highest rate in the league. He should exploit a Drake team that struggles on the glass, a byproduct of their small lineup.
While Drake's swarming post defense was problematic for Johnson and Missouri State, it could prove fatal tonight. Krutwig and Jackson both excel passing out of double teams, and the Ramblers lead the Valley in 3-point shooting at 41%. Doubling Johnson worked because Missouri State shoots sub-30% from deep and hit just 5 of 17 in Des Moines. With Krutwig and Jackson both owning extremely high assist rates for big men, they will find Custer and Ingram wide open on the perimeter if Medved continues to drop down multiple help defenders on the block. A gamble that paid dividends against Missouri State could seriously backfire against Loyola
The Pick: Loyola -2.5
---
Other Quick Hitters
Furman at UNC Greensboro (7 p.m. ET): A pivotal SoCon battle between Furman and UNCG takes place tonight in Greensboro. Furman PG Dev Sibley should play tonight with a dislocated finger. His status is key against the 1-2-2 full-court zone press of UNCG. With Sibley on the floor, the Paladins score in the 87th percentile nationally in press offense, per Synergy. Defensively, Furman struggles at the rim. But that hardly matters against a UNCG offense that revolves around running Franc Alonso (one of the country's best pure shooters) off a million screens. He torched Furman on their home floor last year, shooting 7-11 from deep. However, Daniel Fowler is typically a good defender, and Furman's defense goes over screens and "downs" 3-point shooters. With UNCG's slowdown zone press and deliberate screening offense, this should turn into a possession by possession half-court battle.
The Pick: Furman/UNCG under 133.5
Nevada at Wyoming (11 p.m. ET): Nevada is clearly the class of the MWC again. They have won 14 straight league games, including seven straight on the road, which is quite an achievement given the often difficult travel conditions of the Mountain West. However, that road winning streak will be in jeopardy against Wyoming, as every MWC coach has openly shared his contempt of traveling to Laramie. They don't call the Pokes' homecourt the Dome of Doom for nothing. Both teams have fully embraced the NBA style of pace-and-space basketball and invert their bigs frequently. In the first meeting between these teams in Reno, Nevada simply played Wyoming's transition-heavy brand of basketball better. That game featured a brisk 84 possessions, which would typically favor a Wyoming team that ranks 11th in transition rate per Hoop-math.com. However, Nevada scores 1.11 points per possession while limiting opponents to .76 ppp in transition. A potential wrench in Nevada's plan is the health of Cody Martin, who might not be 100% yet. Martin's offense is key, but he also completely took Hayden Dalton out of the game in the first meeting. This is a tough spot in the schedule for the Pack, as they make the league's worst travel in between big home games against Boise State and thorn-in-the-Pack's side Fresno State. However, they just play Wyoming's game more efficiently.
The Pick: Nevada -4
South Dakota State at South Dakota (8 p.m. ET): Last year, South Dakota State won the series with rival South Dakota 2-1, but the three meetings were decided by a combined six points. Ultimately, SDSU took the only game that mattered, pulling off a stunning comeback in the Sunmit League tournament semis over top seeded USD. South Dakota has reinvented themselves since losing defender Carlton Hurst. Head coach Craig Smith has turned to frosh Tyler Peterson in Hurst's place, giving USD's efficient motion offense three point guards that can play off each other. This poses a problem for SDSU, which lacks perimeter defenders. On the other end, SDSU will need to contain Mike Daum. Smith will double opposing posts, but Daum is as effective facing the basket as he is posting up. He is also an efficient passer who's surrounded by a lethal slasher in David Jenkins and a stretch shooter in Reed Tellinghuisen. USD center Tyler Hagedorn has excelled in post defense, allowing just .43 points per post possession per Synergy. However, he allows an absurd 1.34 ppp to rollers in pick-and-roll. Simply put, he can't guard Daum away from the rim. With each offense sporting an advantage (USD backcourt and SDSU frontcourt), we should see points.
The Pick: Pass (lean over)
---
Wednesday's Top Picks:
YTD: 318-302-6
2H: 27-16
Chattanooga -2
Richmond +2
Furman/UNCG under 133.5
Loyola -2.5
Temple +14
Nevada -4