Big 12 Odds, Third State of Conference Betting Report: What's Wrong With Texas?
Credit:
Photo by David Buono/Icon Sportswire via Getty Images. Pictured: Christian Bishop (Texas)
If there's one word to summarize the start of Big 12 play, it's chaotic.
Texas Tech has yet to win a conference game and while Kansas has started off hot, it sits atop the standings with two other teams not named Texas or Baylor. Rather, it's Kansas State and Iowa State at 5-1.
Those two teams were projected by many as the bottom two teams in this conference, and while it's still early, both have been incredibly impressive in the early going. They are inside the AP Poll top 15.
Now that we're two weeks into conference play, I'm keying in on a few storylines that have stuck out to me, including two spots to keep an eye out for on Saturday.
---
Sell Kansas State
The most shocking development of Big 12 play has been the rise of Kansas State. Projected to finish last in this year's conference by many, the Wildcats are atop the conference standings after an overtime win against No. 2 Kansas.
Jerome Tang has done a fantastic job in his first season as head coach. A team littered with transfers — and 5-foot-8 Markquis Nowell — has quickly turned into a top-25 roster.
Kansas State has lost just two games this season and have taken down preseason heavyweights Texas, Kansas and Baylor. Its lone loss in Big 12 play came against TCU, but a 16-2 start is impressive nonetheless.
The Wildcats aren't a deep team — 330th in bench minutes — and return just Nowell and Ismael Massoud from last year's squad, yet there hasn't been any hiccups.
This is a fluid offense that is top-10 in assists per field goals made. Nowell nearly averages a double-double (16.4 points, 8.4 assists) for this KSU offense that likes to attack early and often.
The Wildcats draw fouls at a high rate and rank inside the top 100 in both 2-point and 3-point offense. Turnovers have been an issue at times, but the Wildcats like to push in transition and use their athleticism and physicality to finish at the rim.
Keyontae Johnson has been a revelation in his senior season. His future looked bleak after collapsing on the floor, but he's managed to work back onto the court. He leads Kansas State in points (18.7), rebounds (7.2) and is shooting 39.3% from 3. He's also inside the top 100 in eFG%, too.
Defensively, this is a disruptive group. The Wildcats are 40th in turnover rate and 24th in defending the perimeter.
Nowell has not only established himself as the facilitator of this offense, but his quickness and ability to break up passing lanes has led to a team-best 2.3 steals per game.
Despite its ack of size, Kansas State's defense has been strong.
I'm wary of the Wildcats sustaining long-term success, but this is an experienced bunch that clearly has chemistry. They are 3-0 in overtime games and are undefeated in games decided by under three possessions.
KSU's next test comes against Texas Tech, which is still looking for its first win in Big 12 play. I'll be looking to play the Red Raiders at +5 or better.
---

Buy Texas Tech?
Kansas State's hot streak leads me right into my next point. Is now the time to buy Texas Tech?
The Red Raiders have lost all six Big 12 games, but I think they're undervalued in the current market.
For starters, five of the six losses came within seven points. They've only been blown out by Iowa State on the road.
The key for this Texas Tech team is Fardaws Aimaq. He missed the first 16 games of the season due to injury, but has returned and averaged 12 points and 7.0 rebounds across 26.5 minutes.
Aimaq was a dynamic scorer at Utah Valley and cleaned the glass with ease. He's a good passer and provides Texas Tech with a second big that can command the paint.
Daniel Batcho has taken a huge step forward in his sophomore season and averages seven rebounds and nearly two blocks per game.
The Red Raiders are top-20 in 2-point offense and draw fouls at an extremely high rate. Their biggest issue on the offensive end has been turnover woes — 294th — and they average 14.5 giveaways per game.
Pop Isaacs has been a great point guard in his freshman season and is connecting on a 38.6% clip from 3, while Kevin Obanor leads the team with 15.1 points per game.
Mark Adams' squad has struggled at times defensively, which is unlike the Red Raiders' identity. Opponents take over 40% of 3s, and TTU sits just inside the top 150 in 3-point defense.
The Red Raiders do force a lot of turnovers — 41st — and stay out of foul trouble, but their defense has taken a step back in conference play.
That being said, this Texas Tech team is pretty undervalued.
It went wire-to-wire with Texas on the road and despite several injuries, nearly beat Oklahoma. The Red Raiders draw Kansas State on the road before returning home against an also-struggling West Virginia squad.
I'll be looking to back Texas Tech with Aimaq now back and slowly adjusting to a full-time role. Over the next few weeks, there will be plenty of opportunities to back this Red Raiders squad that entered the season inside the Big 12 top-five.
---

What's Up With Texas?
The firing of Chris Beard has left the Longhorns in disarray. Entering conference play, Texas sat as the favorites. But it's had a rollercoaster start, including double-digit losses to both Kansas State and Iowa State.
Texas has flirted with danger, though. It barely eked out wins against TCU and Texas Tech at home — late pushes lifted it to victory — and its defense hasn't been the same disruptive self it was under the tutelage of Beard.
Through conference play, Texas is seventh defensively in eFG%, eighth in defending the perimeter and ninth in offensive rebounding rate. The Longhorns still sit top-25 in turnover rate, but fouling has also been an issue.
Offensively, this is a talented squad that thrives on the interior. Texas is 10th in 2-point offense, as both Christian Bishop and Dillon Mitchell have been aggressive and efficient around the rim. Both shoot 62.9% on 2s or better.
Aside from Marcus Carr (40.9% from 3), the Longhorns struggle from the perimeter. Brock Cunningham has been efficient but it's come in limited opportunities. Their other guards — Sir'Jabari Rice and Tyrese Hunter — have not been as dominant as they were early in the season.
Texas is an interesting team, and the talent is there. It's extremely experienced and deep, but is without a true coach.
If Rodney Terry can sort things out through the madness that has been Beard's departure, the Longhorns will be a dangerous team in March.
But there's a lot to be addressed, especially on the defensive end.
---

Keyonte George Willing Baylor
There are few players that have been as impressive as Keyonte George in his freshman season.
Baylor goes as George does, and he's become the key to its success. The 6-foot-4 guard takes 33.5% of shots while on the floor — No. 1 in the Big 12 — and draws 7.5 fouls per 40 minutes.
He's efficient at the line and has been lights out from the perimeter (39.1% in Big 12 play).
After the Bears stumbled in Big 12 play — starting 0-3 — they have won three straight. This isn't the same dominant team as years past, but Scott Drew has a superstar on his hands.
George is the team's leading scorer at 17.7 points per game, and he's even added 4.8 rebounds and 3.4 assists. He's as well-rounded as it gets and has scored 20+ points in four of his last five games.
Physicality is key in the Big 12 and George has no shortage of it. His ability to knock down 3s at a high rate makes him even more dangerous.
In road wins against Texas Tech and West Virginia, the freshman phenom went 10-for-20 from 3.
While Baylor's defense as a whole has been terrible — dead-last in conference play in eFG% — its offense ranks No. 1 in adjusted efficiency and both offensive rebounding and turnover rate.
George is a big reason behind that.
---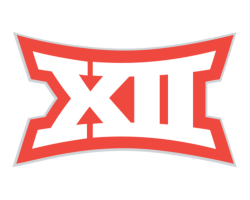 Favorite Saturday Situational Spots
There are a few games I have circled for Saturday.
Let's start with TCU vs. Kansas.
No. 14 TCU vs. No. 2 Kansas
---
KenPom currently has this game at a nine-point Jayhawks win, and I'd love to catch 10 points. But anything +7.5 or better is a play for me.
You want to play TCU as an underdog, and its defense will keep it in contention throughout.
Damion Baugh has turned this Horned Frogs team into a live underdog at all times.
They hover around the top 25 in offensive rebounding, perimeter defense and eFG%. They force a ton of turnovers — 18th in country — and love to push transition.
This is a long and athletic team that should disrupt Jalen Wilson and Gradey Dick en route to a close game in Lawrence.
Texas Tech vs. No. 13 Kansas State
---
I think the Red Raiders are a bit undervalued with Aimaq still fully adjusting. Meanwhile, the Wildcats are in a perfect letdown spot after winning their biggest game of the season.
If Texas Tech can limit its turnovers, Aimaq and Batcho should control the offensive glass and find success inside with ease.
The Wildcats' weak point is interior defense and fouling, and that sets up well against the TTU bigs and Obanor, who is a physical forward inside.
Kansas State has turnover issues of its own and while Adams' defense has been about average defending shots, it's top-50 in turnover rate and should continue to push transition.
I expect a close game throughout in Manhattan, so I would play Texas Tech at +5 or better.
How would you rate this article?
This site contains commercial content. We may be compensated for the links provided on this page. The content on this page is for informational purposes only. Action Network makes no representation or warranty as to the accuracy of the information given or the outcome of any game or event.