How To Build A March Madness Bracket with Contrarian Picks By Crowning Kentucky As Your Champion
Credit:
Getty Images. Pictured: Kentucky's TyTy Washington Jr.
It's that time of year again.
There are a myriad of ways to go about building your March Madness bracket — you can pick a bunch of upsets, you can go with the chalk, or you can even pick your favorite mascots.
My strategy is simple: Try to win money.
That may seem obvious, but not everyone thinks about these contests in the same way — winning money and getting the most picks right are not the same thing.
If you want to get the most picks right, you would take Gonzaga to win the championship in every bracket — the Zags are the most likely to team to win it all, so picking them would be maximizing your odds of getting the championship pick correct.
But by picking the most likely champion to win it all, you're competing against what is likely to be the widest pool of bracket entries, applying more pressure to get your picks for all the other games right — and they are very difficult to predict.
In large pools with big prizes for first place, I want to take the path less traveled.
What I'm trying to do is maximize leverage and benefit most when the majority of ESPN bracket entries are overconfident in a singular matchup or team. By using Action Network's projections powered by our Director of Predictive Analytics, Sean Koerner, I can quickly see which teams are providing that leverage for each round.
---
---
How To Build A Contrarian March Madness Bracket
1. First, Pick A Champion
Since most scoring systems double the amount of points you can earn in subsequent rounds, your championship pick carries the same amount of weight as picking half of the first-round matchups correctly.
Gonzaga is the favorite to win the 2022 NCAA Tournament, and 30% of ESPN brackets are taking them to win it all as of writing, which is right in line with our projections. The same is true of Arizona, which is being taken in 12% of ESPN brackets, which again lines up with the projections.

In fact, there isn't a single championship pick that has more than a 2.5% edge over the field of entries. Perhaps the average bracket entry is getting smarter — or perhaps the parity of college basketball is going to naturally even out the odds of which teams can win.
My pick is going to be the third-most likely team to win it all: Kentucky. I'm not getting the amount of leverage I was hoping for with the Wildcats, but I can't force other entries to make bad picks.
I'll attempt to gain more leverage with my remaining Final Four picks.
---
2. Then Pick Your Final Four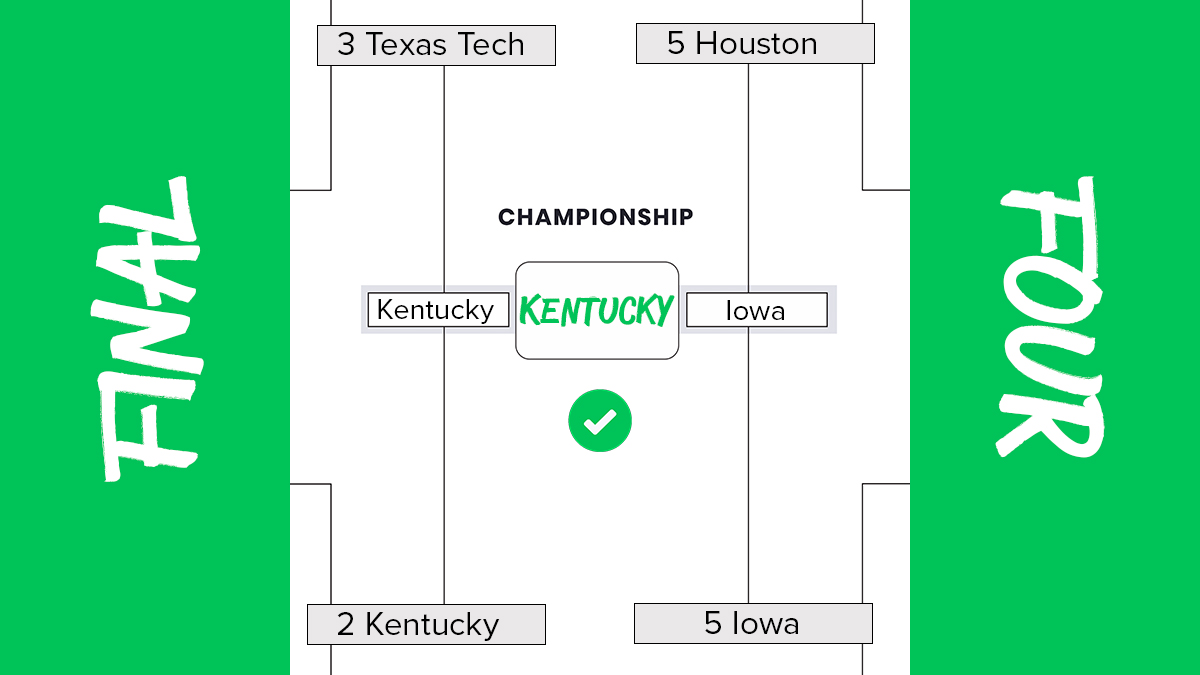 This is a unique Final Four with no No. 1 seeds that should be replicated only once in every 5,000 brackets or so.
Texas Tech offers a modest 2.4% edge, while Houston and Iowa are a bit juicer than 6.2% and 6.9%, respectively.'
---
3. Finally, Pick Round 1 Through Elite Eight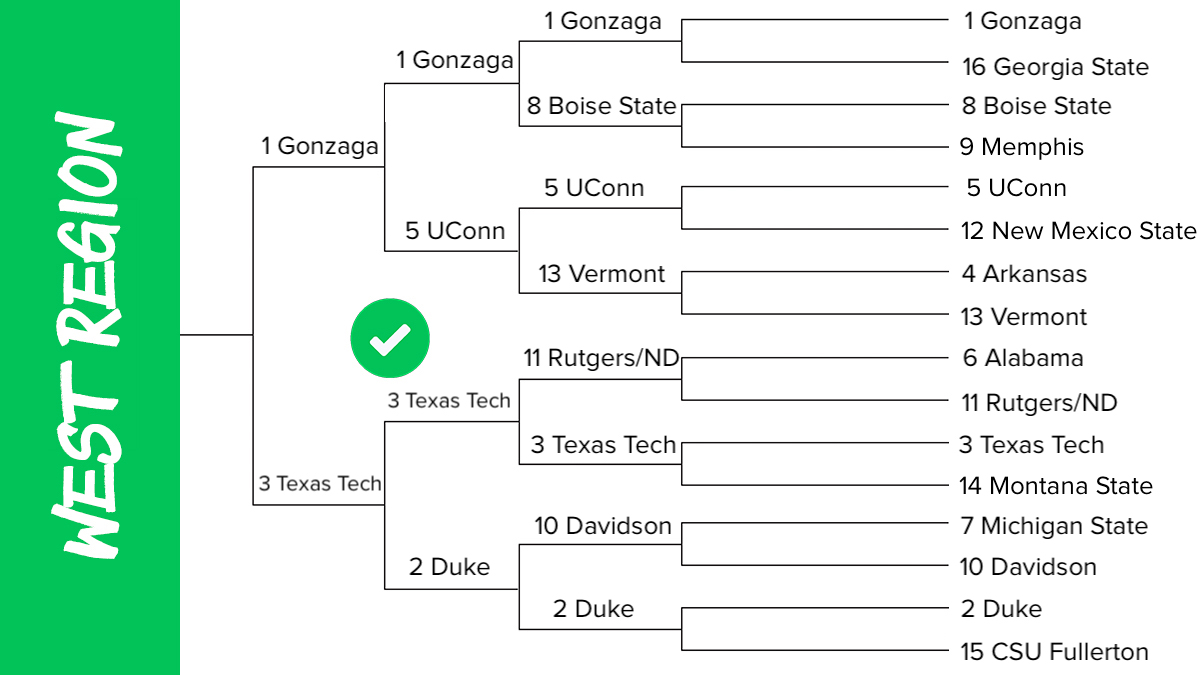 Even though I am "fading" Gonzaga, there is no reason to go crazy and have them losing in the opening weekend.
The winner of the Rutgers vs. Notre Dame play-in game along with Davidson, Vermont and Boise State all offer enough contrarian value for me to take the upsets in those matchups.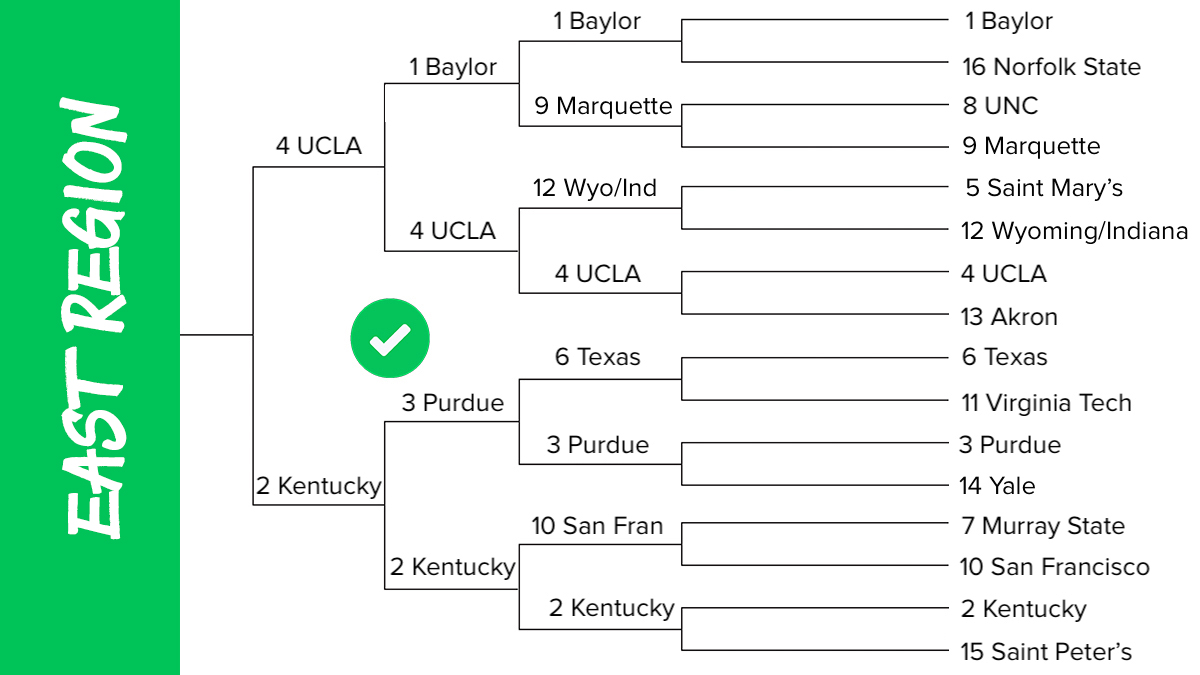 UCLA was definitely a contender to win the East, and if you do multiple entries and want to differentiate, I like the Bruins' value in this region.
San Francisco offers the best value of any first-round matchup. You can see the spread from our downloadable bracket shows it's close to a toss-up, but 72% of ESPN brackets are taking Murray State as of writing.
Texas is the rare favorite value as a majority of brackets are taking Virginia Tech, most likely with the ACC Championship fresh in their minds.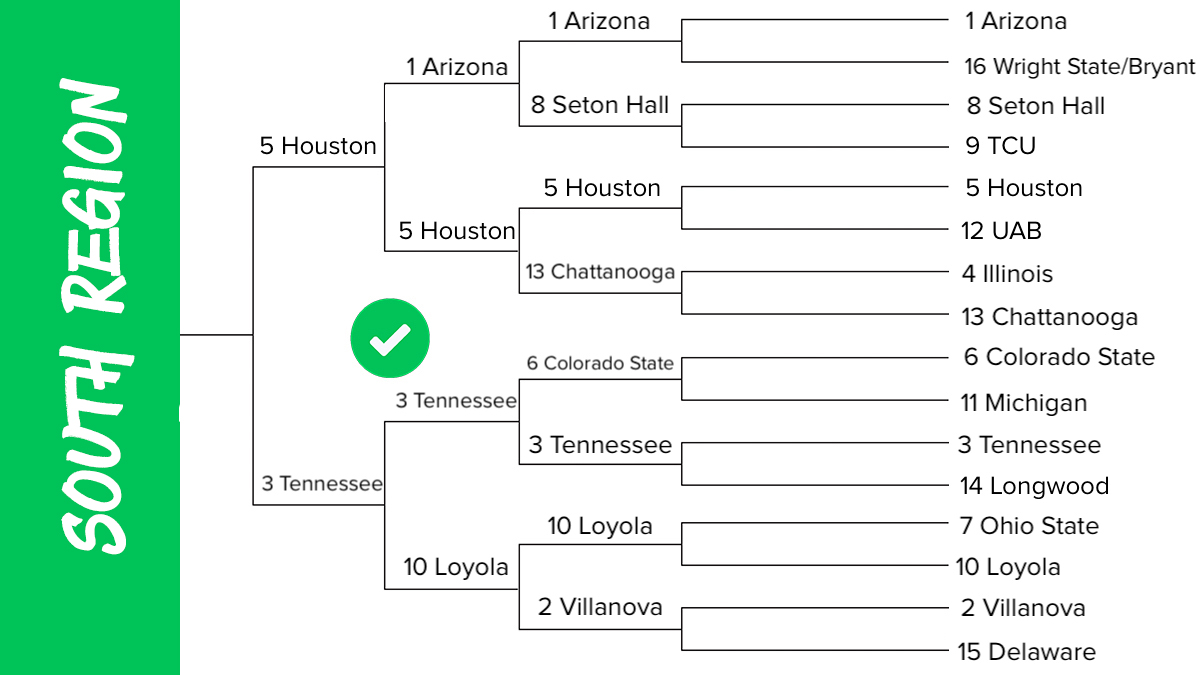 Chattanooga is one of the bigger upsets in my bracket with our projections giving the Mocs a 29% chance of winning, but only 15% of ESPN brackets willing to take a chance on them.
Loyola Chicago is an easy upset as the Ramblers are slight favorites, but 55% of ESPN brackets are taking the more well-known Ohio State. I like pushing that edge even further and taking the Ramblers to get to the Sweet 16.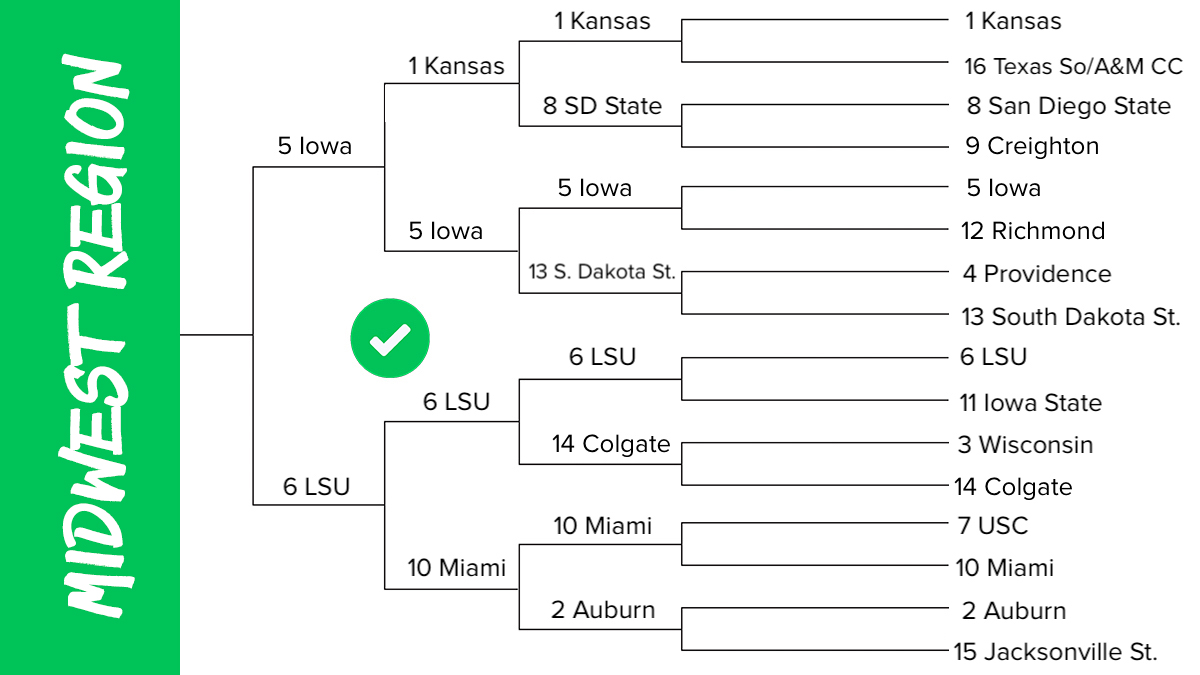 The Midwest feels like the most chaotic of the four regions.
Wisconsin is a vulnerable 3-seed and I like taking Colgate as an upset with only 10% of ESPN brackets willing to do the same. That opens the door for LSU to make a deep run, especially if you pick Auburn to get upset early as I did here.
How would you rate this article?
This site contains commercial content. We may be compensated for the links provided on this page. The content on this page is for informational purposes only. Action Network makes no representation or warranty as to the accuracy of the information given or the outcome of any game or event.