College Basketball National Title Contenders: How to Bet Alabama, Arkansas & UNC
Credit:
Wesley Hitt/Getty Images. Pictured: Brandon Miller (24) of the Alabama Crimson Tide.
On the third Thursday of January, we're officially two months from the start of the NCAA Tournament.
Teams are firmly into conference play, and there's a lot more meaningful data to sift through. Resumes are being built both for teams that may end up on the bubble and teams battling on the top line for No. 1 seeds.
There are a couple of teams that may have what it takes to cut down the nets in Houston and one team that you may want to stay away from.
According to Action Network's Ryan Collinsworth, teams qualify as National Championship Contenders by achieving three metrical thresholds, each sourced from KenPom.
Adjusted Offensive Efficiency (AdjO) of 114.0 or higher.
Adjusted Defensive Efficiency (AdjD) of 96.2 or lower.
Adjusted Efficiency Margin (AdjEM) of 23.81 or higher
With that in mind, let's take another look at the national title picture.
---
Statistical Profile
Last year, I thought Alabama was worth a flyer as a longshot contender to win the national title. It proved capable of beating anyone with wins over Gonzaga, Baylor, Houston, Tennessee and LSU.
It also proved capable of losing to anyone, finishing 19-14 and bowing out of the NCAA Tournament with a loss to Notre Dame in the first round. This season, Alabama has shown its upside again with wins over current No. 1 Houston, Memphis, Michigan State and Kentucky.
However, this season is much more viable to cut down the nets. It starts on the defensive end. Last season, Alabama ranked 92nd in adjusted defensive efficiency. This year, it ranks sixth.
Alabama has one of the longest frontcourts in the country with 6-foot-9 Brandon Miller, 6-foot-10 Noah Gurley and seven-footer Charles Bediako.
Gurley and Bediako make things particularly difficult for opponents on the interior. Alabama ranks third nationally in 2-point percentage defense. Bediako also averages 1.9 blocks per game, ranking 40th nationally and fourth in the SEC.
Alabama also sits third nationally in effective field goal percentage defense and seventh in 3-point percentage defense.
When the Tide make stops, it fuels their offense and allows them to get out and run. Alabama plays at the third fastest pace in the country, but it's also efficient.
Bama ranks 12th in adjusted offensive efficiency, and while it ranked 16th last year, it shot just 30% from 3-point land.
This year, the Crimson Tide are up to 35% this year, and Miller is a big reason why.
The sweet-shooting freshman is hitting 46% from beyond the arc in addition to averaging 20.1 points and 8.3 rebounds per game this season. Ohio transfer Mark Sears is averaging 14.5 points and shooting 40% from deep.
By ranking top 20 in both adjusted offensive and defensive efficiency, Alabama fits the profile of a typical national champion.
It also has a coach that can take it there.
Head coach Nate Oats is a rising star in the coaching industry — if he isn't already a genuine star. In fact, Oats already took Alabama to the Sweet 16 in 2021 for the first time since 2004.
The Crimson Tide have never made the Final Four. However, if they keep up this level of play, Nick Saban may not be the only head coach bringing national titles back to Tuscaloosa.
---
Statistical Profile
North Carolina very nearly won the national title last season as an 8-seed.
It brought back the core of that team with guards Caleb Love and RJ Davis, forward Leaky Black and center Armando Bacot. It also brought in forward Pete Nance from Northwestern to replace Brady Manek.
The Tar Heels began the season as the preseason No. 1 team at +800 to win the national title on Caesars this season.
Personally, as a UNC fan, this confused me. Why, you might ask?
North Carolina's run last March may have caused some to forget that it lost nine games in the regular season. Sure, veteran teams with tournament experience tend to take a leap, but entering the season, I wondered which version of UNC we would get.
Thus far, the version from the last regular season. North Carolina is 13-6 overall and just 1-4 away from Chapel Hill.
However, talent has never been the issue. The Tar Heels are just maddeningly inconsistent.
No player epitomizes that more than Love. The junior guard will take ill-advised shots at times, and he's shooting just 38.5% from the field and 27.1% from 3-point range.
However, when he gets hot, he can carry UNC for stretches that can last games — like last March. Love averaged 18.8 points in UNC's six tournament games and scored 23 or more in three games while hitting several timely and clutch buckets against UCLA and Duke.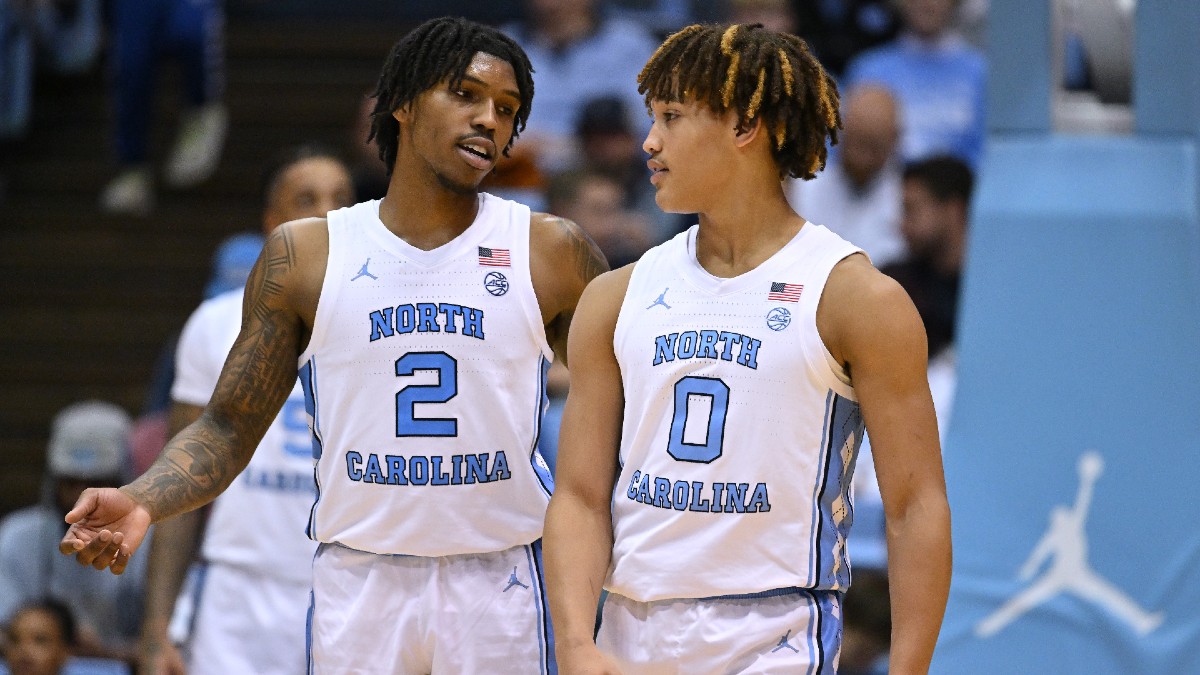 With a player like that who has proven he can carry his team in March, UNC suddenly looks a lot more appealing at +4500.
The Tar Heels also boast another big shotmaker in Davis, who's averaging 16.3 points per game this season alongside Love.
However, the key for UNC will be keeping Bacot healthy and involved. The senior center is averaging 17.6 points and 11.2 rebounds and is a nightly double-double threat.
Defensively, UNC is 63rd in nationally in adjusted efficiency, so it's unlikely to crack the top 20 this season.
However, it's third in the ACC in conference games and finished 35th last season. The more freshman guard Seth Trimble plays, the more UNC will climb in that area.
However, UNC ranks 18th in adjusted offensive efficiency. That's what will carry it if it's going to make another deep run come March.
North Carolina sits at +4500 at FanDuel compared to +3500 at DraftKings and +2500 at BetMGM.
While the Heels may not meet Collinsworth's threshold, this looks to be quite the value for a reigning national finalist with much of the same team back.
---
Statistical Profile
After consecutive Elite Eight appearances, expectations were high in Fayetteville this season.
Arkansas brought back Davonte Davis as a key contributor from last year's team while also reeling in the nation's No. 2 recruiting class that included five-stars Nick Smith Jr., Anthony Black and Jordan Walsh.
It added transfers Trevon Brazile, Ricky Council IV, Jalen Graham and twins Makhi and Makhel Mitchell, as well.
For all the talent the Razorbacks brought in, they have not played much together.
Brazile was emerging as an NBA prospect but played just nine games before suffering a torn ACL. Smith missed time to start the year with an injury to his right knee and has played in just five games this season. Now, he's out due to knee injury management.
Arkansas is 12-6 but just 1-5 in SEC play after suffering another tough loss at Missouri last night. In fact, Arkansas is off to its worst conference start since joining the SEC in 1991.
Despite the slow start in conference play, I'm not concerned about the Razorbacks making the NCAA Tournament just yet.
Four of Arkansas' five conference losses have come on the road, and the other was to Alabama. It will have a chance to string some wins together with three of its next four at home.
However, Arkansas needs Smith back in the lineup if it's going to be a viable national title contender. In the three full games he has played this season, Smith is averaging 19.7 points.
He's expected to be re-evaluated in February, but there's also speculation that Smith's career as a Razorback is already over.
Let's assume Smith does come back. The question then becomes when.
Reinserting a volume scorer like him back into the lineup will take some time to get everyone comfortable in their roles. If he returns in the last week of February, that will be a week before the SEC Tournament and two weeks before the NCAA Tournament.
It will be difficult for Arkansas to get any continuity by then. Additionally, if the Hogs don't pick things up soon, they'll be trying to play their way off the bubble.
Arkansas' price is appealing now at +5000 at FanDuel, +4000 at DraftKings, and +3000 at BetMGM.
But is there any real value there if it can't develop any continuity as a team?
How would you rate this article?
This site contains commercial content. We may be compensated for the links provided on this page. The content on this page is for informational purposes only. Action Network makes no representation or warranty as to the accuracy of the information given or the outcome of any game or event.