College Basketball Odds & Picks: Betting Guide to Myrtle Beach Invitational, Including Oklahoma, Davidson & More
Credit:
Photo by C. Morgan Engel/NCAA Photos via Getty Images
Very few sporting events are better than early-season basketball tournaments.
We have a treat with the Myrtle Beach Invitational.
From the Ivy League to the Big 12, eight teams will play 12 total games from Thursday until Sunday, hoping to crown a Myrtle Beach champion. The last winner of this event (2019) went on to win the National Championship the following season (Baylor).
Although I can't predict that will occur again, I can predict the tournament will be highly entertaining. More so for gamblers, with games starting at Noon and lines begging to be wagered upon.
Here are both sides of the bracket for the tournament.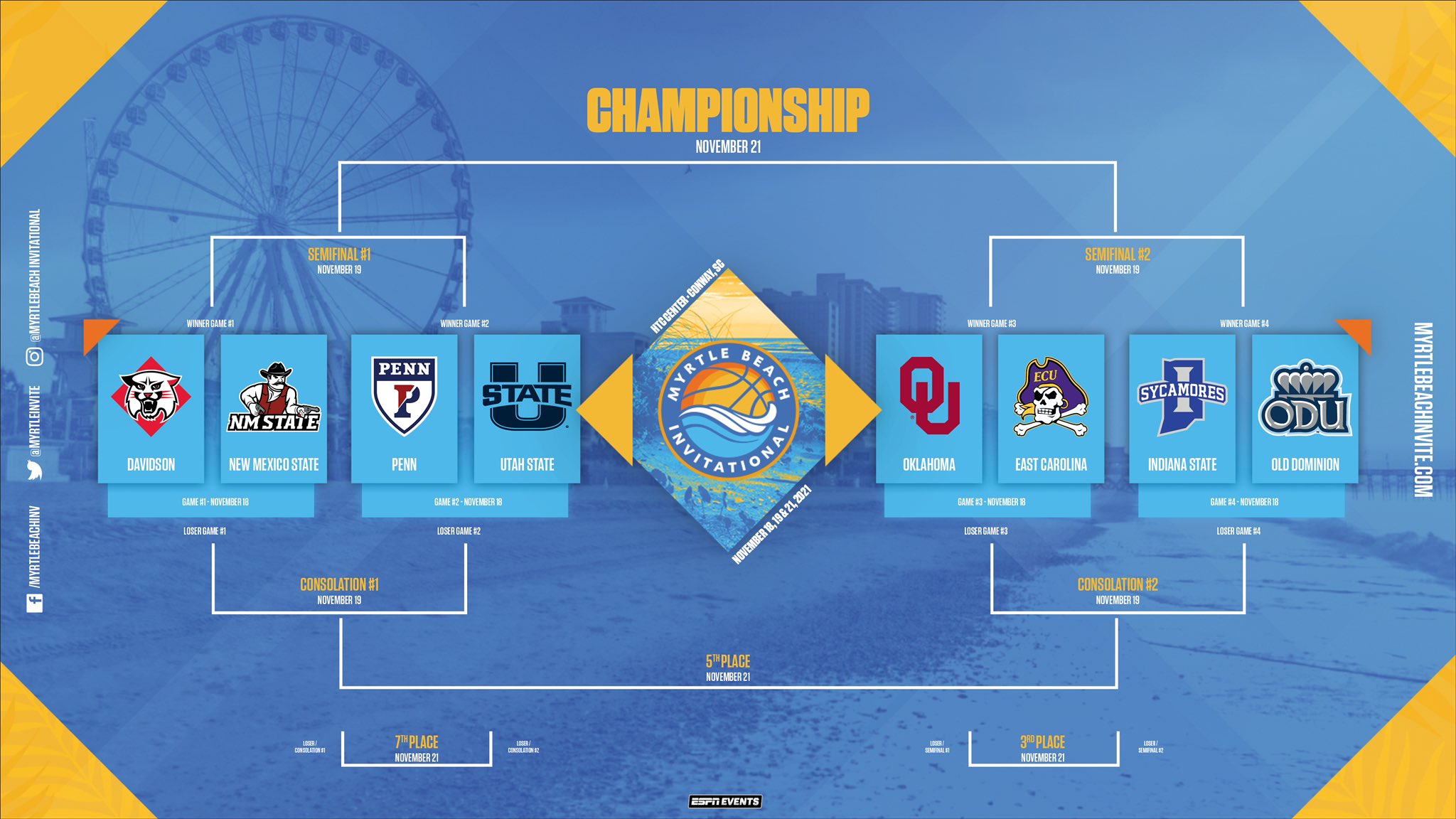 Let's introduce all the teams playing and preview some different ways to bet the tournament.
---
---
The Favorite
While they haven't faced any stiff competition, the Sooners are off to a hell of a start, specifically on the offensive end.
Loyola-Chicago coaching hero Porter Moser and Eastern Washington transfer Tanner Groves currently lead an offense that's fifth nationally in eFG% and second in 2P%.
Oklahoma couldn't cover against Northwestern State, winning by 16 as a 27.5-point favorite, but it smoked UTSA, winning by 48.
I'd be careful blindly laying the points with Oklahoma in this tournament. The Sooners are still working under a first-year head coach, have returned only 31% of their minutes from last season and haven't played a top-tier team yet.
But so far, the Sooners are playing good basketball.
---
The Other Top-100 Team
Long gone are the days of Steph Curry running-and-gunning. Bob McKillop's squad has finished outside the top 300 in tempo in four consecutive seasons and the Wildcats currently rank 321st in that stat through two games.
Personally, I love teams like Davidson. The Wildcats will play slow trying to grind you down, and they're frisky catching points as a result. Davidson's 2-0 against the spread (ATS) this season, including covering +6.5 in a five-point loss to San Francisco.
Despite their slow pace, the Wildcats are ruthlessly efficient on offense, currently ranking 20th in eFG%.
Keep an eye on Michigan State transfer Foster Loyer, who's averaging 17 points through his first two games.
---
The State Aggies
Utah State is on the up-and-up after taking down Richmond as a 6.5-point dog. Senior forward Justin Bean got hot, dropping 30 points on 11-for-16 shooting and 3-for-4 from 3.
Justin Bean‼️

The Utah State forward scores a career-high 30 points to go with 14 rebounds and 3-of-4 shooting from deep to help the Aggies knock off Richmond.pic.twitter.com/tynTJAwPB3

— Heat Check CBB (@HeatCheckCBB) November 13, 2021
Utah State is basically UMBC West. Ryan Odom brought his UMBC staff and his two best players to Logan with him.
Two questions arise as a result.
First: how will the new UMBC players mesh with the other 44.6% of returning minutes?
Second: how will the former America East stars perform in their new league?
So far, Brandon Horvath has had no issues fitting in, averaging 18.5/5.5/1.5 in his first two games. RJ Eytle-Rock is struggling slightly more.
Although Neemias Queta is gone, the Aggies still have plenty of size in the frontcourt. That should serve them well in this tournament.
---
Meanwhile, New Mexico State has worked its way to two defensive-minded victories. Like Davidson (its first-round matchup), NMSU plays at a very slow tempo. Chris Jans likes his team to be ruthless on the defensive end.
NMSU only returns one starter from last season, but Jans shuffled his lineup a lot last season. So, while he only retained five players, he managed to bring back his team's top two scorers (Jabari Rice and Donnie Tillman).
Moreover, coach Jans added five D-I transfers. Newcomers include Teddy Allen, who averaged 16.5 points per game with Nebraska last season, and Nate Pryor, who played with Washington.
NMSU has reloaded and while there are a lot of new players in the fold, there's a solid amount of returnees that will provide leadership and experience.
---
The Other Two
We've identified a Myrtle Beach theme: slow tempo. Old Dominion currently ranks 327th in tempo this season and it has never cracked the top 215 in nine seasons underneath Jeff Jones.
Jones generally has the Monarchs playing their best basketball late in the season. Last year, ODU won eight of its final 11 games before falling in the C-USA Tournament quarterfinals to eventual champion, North Texas.
This year, he's hoping for more of the same because the Monarchs just lost outright to James Madison.
ODU will be frisky on defense but will continue to lack reliable scoring options. The Monarchs also are one of the worst 3-point shooting teams out there, but most of their shots will come from Kalu Ezikpe on the interior.
---
Meanwhile, East Carolina was cruising last season, sitting at 7-1 come Christmas. Then the Pirates got ravaged by COVID-19 and it completely crushed the program for the rest of the season.
They finished with an 8-11 record and with no offensive rhythm.
However, this team could be primed to climb out of the basement. While they lost their top scorer and rebounder in Jayden Gardner, they return four other starters from a team that led the nation in assist-to-field goal ratio.
ECU has gotten off to a pretty good start, as its 3-0 on the season and 2-1 ATS.
Generating offense and making shots might be an issue. But the Pirates play solid defensively and limit mistakes.
---
Bottom of the Barrel
Indiana State is my least favorite team in this tournament.
Although the Sycamores are 2-0 ATS, they have a new head coach who returns only 24.5% of their minutes from last season. They also have played poor defense early this season, although some of that is skewed by playing Purdue.
Josh Schertz managed to convince the Sycamores' leading scorer (Tyreke Key) and third-leading scorer (Cooper Neese) from last season to come back for this season. But I still think the turnover — and Key's season-ending injury — puts a lid on the Sycamores' ceiling for this upcoming season.
---
Penn, meanwhile, is a complete mystery. Sorting out the Ivy League is chaotic, given the conference's decision not to play basketball last season.
In the case of Penn, there are only two players on the roster who played significant minutes for the Quakers in 2019-20.
However, the team has talent and they've already improved their biggest weakness from the 2019-20 season — free-throw shooting. After finishing last in the Ivy in FT% that season, they've shot 82% through four games.
Penn could be frisky this tournament, as its won and covered in its last two games. Maybe that has helped them build momentum.
I'll pass on the Quakers' first-round matchup with Utah State and target/fade them in the next round.
---
Betting Insights
As you could maybe tell from the preview, at least every first-round matchup will have one team that plays at a slow tempo.
Therefore, we're going to be looking at lower-scoring, grinder games. In these rock fights, teams catching points are going to have a huge advantage ATS.
Moreover, in early-season tournaments and in early-season college basketball in general, experience and minutes continuity becomes very important.
With that in mind, I'd avoid Indiana State, which has the least amount of roster experience (325th nationally) and the lowest percentage of returning minutes (24.5%) of any team in the tournament.
I think Davidson and NMSU both have excellent cases in this tournament. They both return over 60% of their minutes from last season and, as mentioned, play at a very slow pace. Unfortunately, they play each other in the first round.
If Oklahoma flies through East Carolina and Indiana State/Old Dominion, I love either Davidson or NMSU in that championship matchup — both ATS and from a futures perspective (if you find a book offering lines on the winner of the Invitational).
However, one of my favorite Myrtle Beach bets is ECU in its first-round matchup against Oklahoma. KenPom has the Pirates projected to be nine-point underdogs, and there's a good chance they're catching double-digits.
If so, ECU has the edge in minutes continuity (four returning starters) in what should be a slow-paced game (Oklahoma is 304th in tempo).
Plus, the Pirates have the interior defense (16th in 2P% allowed) and size (starting center Ludgy Debaut is 7-foot-0) to compete with an Oklahoma team that won't shoot a lot of perimeter shots under Moser.
---
Tournament Summary
Bet East Carolina ATS vs. Oklahoma
Davidson and New Mexico State are two teams worth betting, especially if either faces Oklahoma in the championship
Target underdogs ATS in slow-tempo matchups
Be wary of Indiana State due to its inexperience and discontinuity
How would you rate this article?
This site contains commercial content. We may be compensated for the links provided on this page. The content on this page is for informational purposes only. Action Network makes no representation or warranty as to the accuracy of the information given or the outcome of any game or event.