College Basketball Odds, Picks, Futures: 2022-23 Patriot League Betting Preview
Credit:
Pictured: Ryan Moffatt. (Photo by Patrick McDermott/Getty Images)
At the close of the 2010s, the Patriot League was dominated by Bucknell, and there was little reason to think the Bison's grip on the conference would end any time soon.
The Bison nabbed four straight regular season conference titles and also claimed a pair of conference tournament titles.
However, in 2019, Bucknell finished tied atop the conference standings with Colgate, in what now looks like a seminal moment in the conference.
Colgate used that shared conference championship as a changing of the guard and claimed the Patriot League Tournament title shortly after. Colgate has now won or shared three of the past four regular season championships and has taken the conference tournament in three of the past four years.
Because the 2020 Patriot League Tournament ended before the COVID shutdown, Colgate claims the past three automatic bids to the NCAA Tournament for the conference, and has been the league's best team via KenPom for four years running.
The Raiders appear to be the best club in the conference again, yet there's plenty of chasers hoping to unseat Colgate from the throne in 2023.
---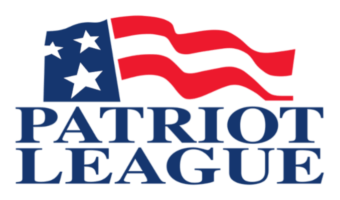 2022-23 Patriot League Futures Odds
---
---
The Favorite
Colgate Raiders
It's a little crazy that Matt Langel is still coaching at Colgate after the run he's led the Raiders on. Sooner or later, a bigger program needs to recognize what he's built in upstate New York.
Until then, his Raiders seem poised to run through the Patriot League again. Do-everything guard Nelly Cummings transferred to Pitt, but he leaves behind plenty of capable, experienced players in the lineup.
Four of Colgate's expected starters are in their fifth year with the program, including big man Keegan Records.
He may not have the athleticism to always hang with power-conference big men, but once Patriot League play settles in, Records will be a tall task for opposing defenses.
He's flanked by a duo of absolute dead-eye shooters. Ryan Moffatt and Oliver Lynch-Daniels combined to shoot 204 3s last year and sank 100 of them (49%).
Cummings was the dynamic offensive-attacker who allowed Colgate to hang around with more imposing teams, such as the Syracuse squad it beat on the road and the Wisconsin team it scared in the NCAA tournament.
Without that element, Colgate is likely a dominant Patriot League team, but nothing more.
---
The Contenders
Navy Midshipmen
Last year, Navy sat in a tier of its own behind Colgate. The Midshipmen were clearly the second-best team in the conference, yet couldn't pull off the upset of the Raiders in three tries.
Navy's 60th-ranked defense was the highest-ranked Patriot League defense by KenPom since 2013. Ed DeChellis' club lacked size, but made up for it with athleticism and scheme.
With a host of returning members on the roster, there's some expectation that Navy will once again have the best defense in the league.
However, having lost two seniors who were named to the conference's All-Defensive Team, it's a stretch to expect Navy to be as dominant on that end this year.
With some lingering questions about finding scoring on the offensive end, it's safe to say Navy will remain a step behind Colgate, if not be passed by some of its fellow Patriot League foes this season.
---
Boston University Terriers
It's all about experience for the Terriers.
Start with BU's best player, Walter Whyte. The Breaking Bad sound-alike started his first season in Beantown in the fall of 2017.
This summer, he turned 24 years old.
He returns off a third consecutive all-conference season in which he averaged more than 12.5 points per game. He'll be in the running for the league's major awards.
Beyond Whyte, BU brings back four more seniors, three of which were also born before the turn of the century. That might not sound like a big deal, but in the world of the transfer portal, an experienced and well-developed team can go a long way at the lower levels of Division I hoops.
The Terriers have another key piece of experience — a win over Colgate. BU topped the Raiders last season, Colgate's only loss between January 10 and the NCAA tournament.
Even more importantly, Whyte was one of three current Terriers who led BU to a win in the 2020 Patriot League title game at Colgate, before COVID-19 stole the Terriers' tournament dreams.
How's that for motivation?
---

Lehigh Mountain Hawks
The only other Patriot League team to beat Colgate last season was the Lehigh Mountain Hawks, which certainly registered as a surprise.
Lehigh was coming off a single-digit win over a D-III school and a two-point win over lowly American before shocking the league champs.
Some of that is due to Lehigh's high variance style of play. Lehigh loves to hit 3s and will fight like hell to prevent them on the defensive end. No team in college basketball allowed a lower ratio of 3-pointers-to-2-pointers made defensively last year than the Mountain Hawks.
Lehigh wants you working for 2s so it can top you with 3s. The Mountain Hawks made 3s at the ninth-best percentage in the nation.
Keep that trend in mind this season when Lehigh is offered as an underdog, especially at home.
---

Army Black Knights
If you're planning a conference championship for the Cadets from West Point, it'll start with Jalen Rucker, who averaged more than 17 points per game last season.
He's flanked by two more returning starters from a team that started strong at 7-3 in conference before a six-game losing streak doomed the Black Knights' season.
Army was better than its record showed.
If Army is going to be a factor in the Patriot League, we may know by Thanksgiving. The Black Knights play a good Princeton team in London, England on turkey day.
If Army is undefeated (or close to it) entering that game, and gives the Tigers a tight one, seek out Patriot League futures and eye Army's odds.
---
The Middle of the Pack
Loyola (MD) Greyhounds
There's a world where Loyola (MD) is not just competing with Colgate, but dwarfing Colgate's expectations entering this season.
Two years ago, sophomore Santi Aldama left Loyola for the NBA draft, an eventuality for which no low-major coach prepares for. This summer, 19 point-per-game scorer Cam Spencer entered the portal and wound up in the Big Ten (Rutgers).
If both Aldama and Spencer were on the roster, Loyola might be thinking beyond the Patriot League and dreaming of an at-large bid.
Alas, that is not the reality of this season. The Greyhounds bring back some contributors from an up-and-down 2021-22 season, yet not enough to compete for the league title.
---
Lafayette Leopards
It's not often you associate Michael Jordan and feeling pressure on the basketball court.
Well, in this case we don't mean ­that Michael Jordan. I'm talking about new Lafayette head coach, former Penn star Mike Jordan, who is taking over for the legendary Fran O'Hanlon, who retired after 27 years leading the Leopards.
A first-year coach could present an under-valued opportunity if he's able to quickly find some secret sauce. That's less likely with just one senior on the roster and no double-digit scorers returning.
---
The Stragglers
Holy Cross Crusaders
The Crusaders enter year four under head coach Brett Nelson, who is still looking for his first campaign with double-digit victories. Though the roster returns four starters from last year, it's hard to see Holy Cross building much momentum this season.
After all, we're talking about returning four starters from a team that lost six of its last seven games and finished with a bottom-10 offense in the nation last season.
---
Bucknell Bison
Remember all the fanfare about Bucknell in the intro to this preview? Well, that's all in the past.
After winning or sharing the conference title for five straight years from 2015 to 2019, Bucknell has cratered back to Earth. The Bison started conference play with seven straight losses last season and ended their year with a 28-point drubbing at the hands of Colgate.
Oddly, this collapse has all occurred under the supervision of the coach that led them to their high points last decade, Nathan Davis.
With a lower-caliber of recruit on campus, his program's troubles have snowballed. After another down season, both Davis and the Bucknell administration might be eyeing a change of scenery.
There's some hope — with St. Joe's transfer Jack Forrest joining the Bison — but he's not enough to change the course of the entire program.
---
American Eagles
If you squint, you can see a glimmer of hope for American down the road.
Johnny O'Neil was the 2021 Patriot League Rookie of the Year and has a chance to break out and become an all-conference level performer. Elijah Stephens was on the conference's All-Rookie Team last year and performed well as a 5-foot-9 point guard.
When you pull back from that squint, things look shaky for this season. There's a major lack of depth and size, even in a conference like the Patriot League.
Unless O'Neil's leap is monumental, the Eagles won't compete with the better teams in the league.
---
Patriot League Futures & Picks
There's nothing fun about betting a favorite with less than even odds to win a low-major conference, but if you want to be smart with your futures bets, that's the move.
Take Colgate to win the conference regular season, but keep an eye on the teams that play the Raiders tough and could give Colgate hell in the conference tournament (if the Raiders' shooters run cold one night).
I'll repeat my only other possible bet further down the board: If Army is undefeated on Thanksgiving and looks good against Princeton, pull out your phone at the family dinner table and drop a small sum on the Cadets at anything higher than +600.
How would you rate this article?
This site contains commercial content. We may be compensated for the links provided on this page. The content on this page is for informational purposes only. Action Network makes no representation or warranty as to the accuracy of the information given or the outcome of any game or event.