Middle Tennessee vs. FAU Odds, Picks: NCAAB Betting Guide
Credit:
Pictured: MTSU Blue Raiders guard Jestin Porter (3). (Photo by David Kirouac/Icon Sportswire via Getty Images)
Middle Tennessee vs Florida Atlantic Odds
Middle Tennessee Odds
Spread
Total
Moneyline

+9.5

-110

135.5

-110o / -110u

+340
Florida Atlantic Odds
Spread
Total
Moneyline

-9.5

-110

135.5

-110o / -110u

-450

Boy, Conference-USA has taken a big step forward in recent years as there's talk about C-USA being a three-bid league this year.
And then there's Middle Tennessee and Florida Atlantic, two of the most underappreciated teams in the nation over the past two seasons.
Even by oddsmakers.
MTSU was the best ATS team in the nation last season (26-8-1), while FAU is the top ATS team this season (14-3-1).
So, how do we handicap a game between the two most undervalued teams in college basketball? Let's look at the odds and find out.

---
MTSU is lengthy and athletic, bothering opponents with pressure and boasting the 25th-best defensive turnover rate in the nation. The Blue Raiders also protect the rim as Teafale Lenard spearheads a defense with the nation's third-highest block rate.
Offensively, the Blue Raiders pressure the rim with a similar combination of length and athleticism. As expected, they like to get downhill, either in transition or during off-screen and cutting sets.
MTSU is the most efficient rim-scoring team in C-USA, but the Blue Raiders sacrifice spacing and shot-making. That's true on both sides of the court as MTSU is horrendous against both catch-and-shoot and off-the-dribble 3s.
However, the Blue Raiders have been surprisingly efficient at creating open looks from the corner. Most recently, they knocked down 7-of-12 corner 3's in a 17-point win over Louisiana Tech.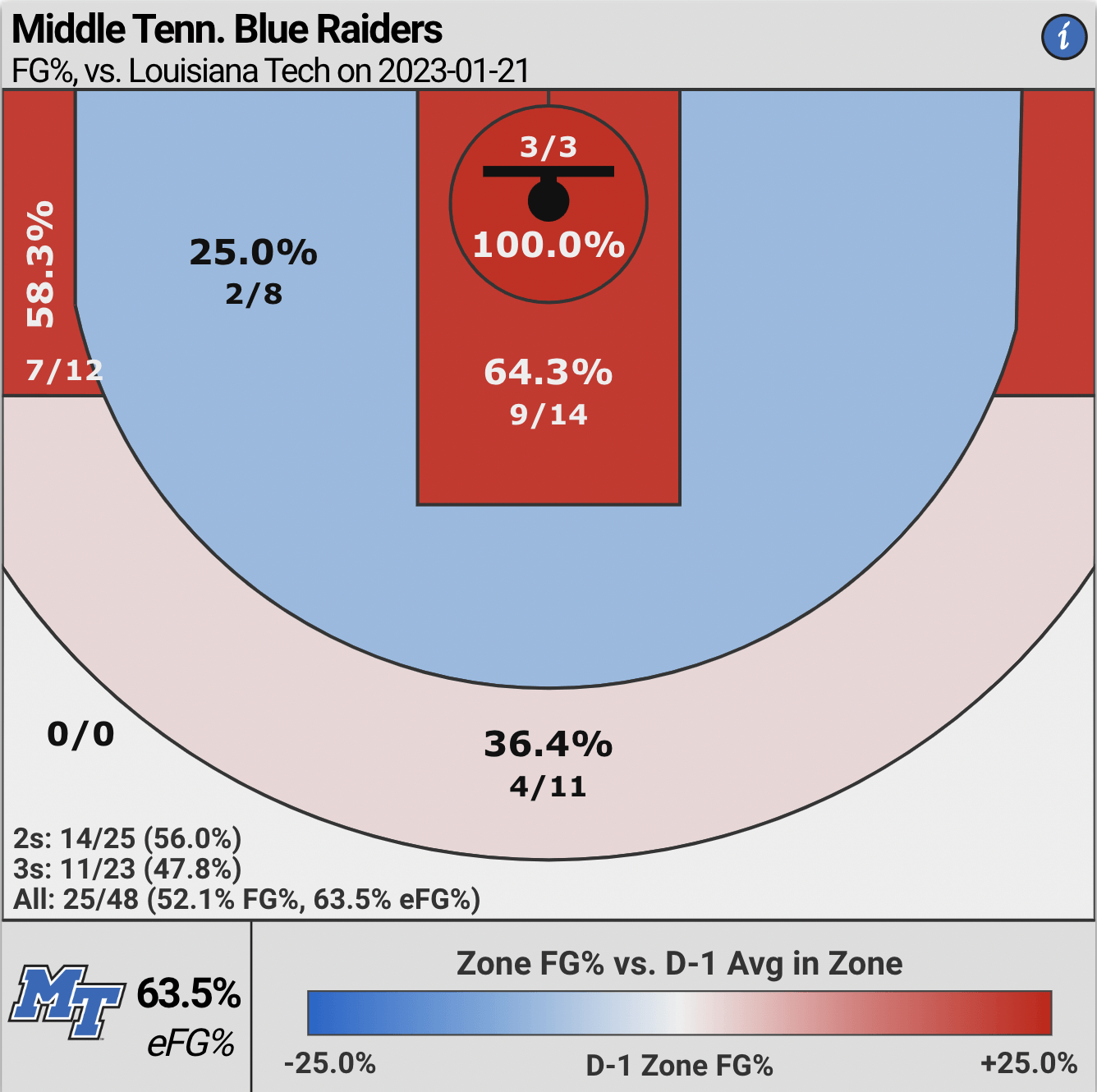 Image credit: CBB Analytics
But I do think Nicholas McDevitt's team has been a bit fortunate. The Blue Raiders are on a four-game winning streak, but three of those games were graded as analytical losses by ShotQuality.
MTSU has been a little lucky, but FAU is a complete luck box.
The Owls beat UTSA by 19 as 16.5-point favorites, North Texas by four as three-point favorites, Northern Kentucky by 15 as 13-point favorites and Detroit by 11 as 10.5-point favorites.
Like MTSU last season, FAU is a covering machine, but I'm not sure either deserved to cover as many games as it has.
ShotQuality projects the Owls for a monstrous amount of negative regression, specifically at the rim (45% FG allowed, 57% SG FG allowed). That's likely because the Owls allow 19 FGA at the rim per game, but less than 50% have fallen.
Part of that is a rim-funneling scheme (the Owls are an excellent pick-and-roll defense, especially against the roll man), but Vladislav Goldin is not the world's greatest rim protector, and more opposing layups should fall going forward.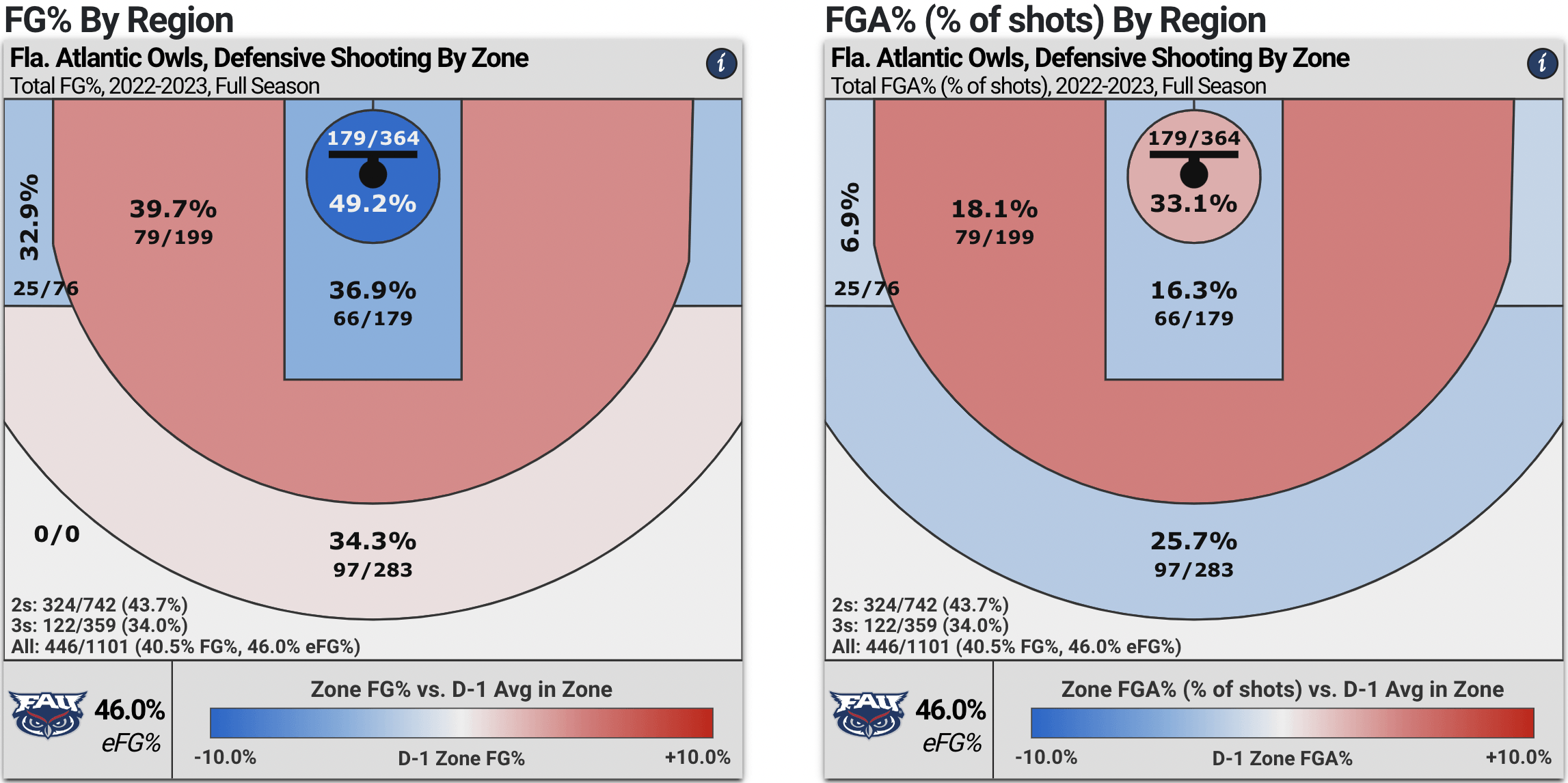 Image credit: CBB Analytics
Offensively, FAU is due for much less regression. ShotQuality calls for almost no regression, mostly because FAU is an excellent pick-and-roll team, and Goldin is an elite roll-man, so the Owls create plenty of excellent looks off those sets.
That said, an inordinate amount of mid-range and 3-point shots have been falling for the Owls, covering up for surprisingly inefficient paint shotmaking.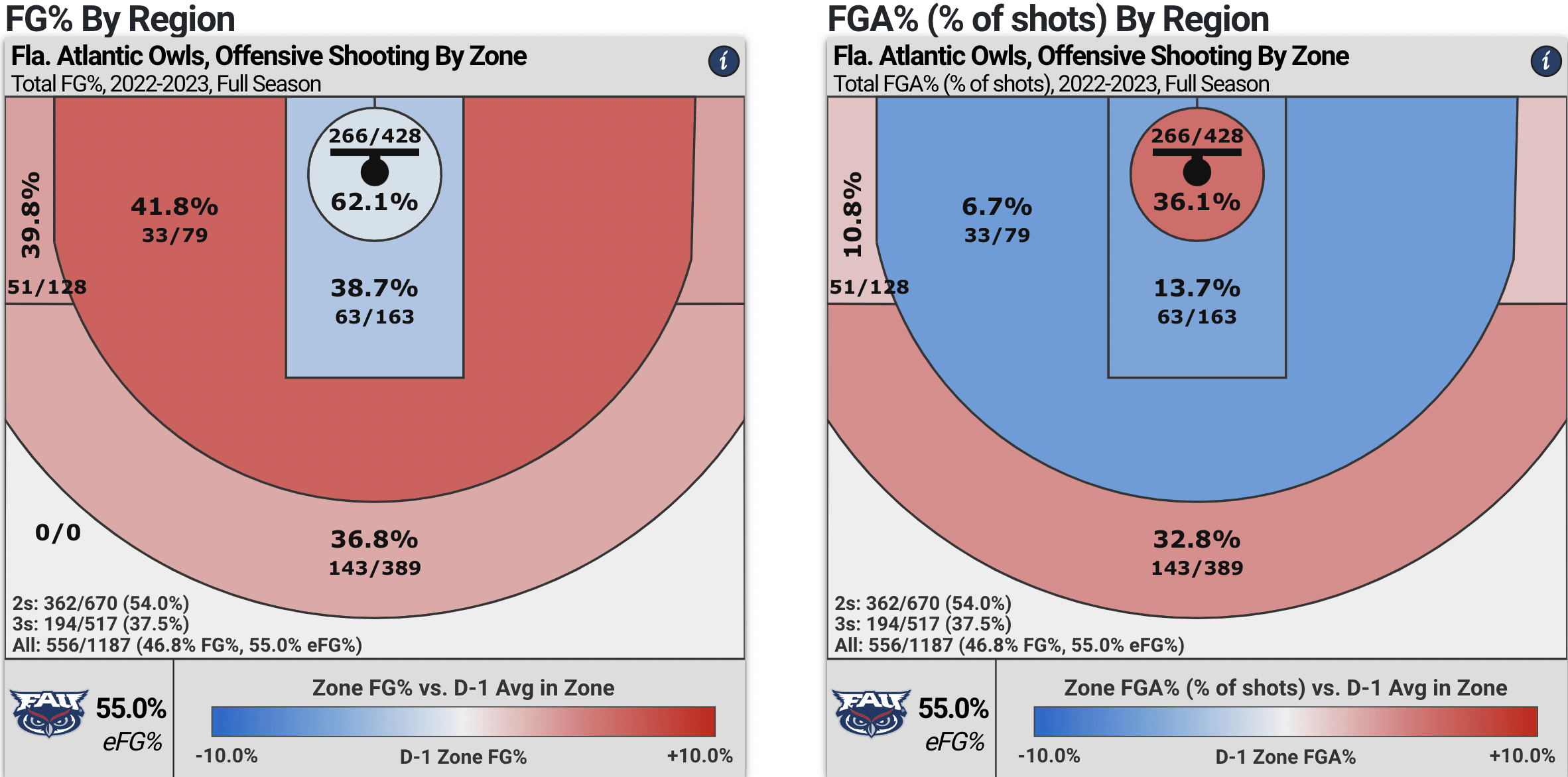 Image credit: CBB Analytics
Now, all this regression talk aside, the Owls have succeeded because of their two-way depth. FAU is 16th nationally in bench minutes, and every player is a plus-defender and an elite 3-point shooter.
Additionally, FAU owns the glass and runs guys off the 3-point line.
The Owls are overperforming, but we can't ignore the true-talent level of the team, which is a first-round March Madness upset.

---
Middle Tennessee vs Florida Atlantic Betting Pick
It's ironic I started this article with a bit about how both teams have been consistently overvalued, only to end it with a bit about how both are overvalued.
Alas, the negative regression due for both teams is a wash.
Both teams boast surprisingly effective transition defenses, so I expect to see this game being played mostly in the half-court. Additionally, I expect rim-pressuring offenses through ball-screens and off-screen action.
If that's the case, I like MTSU's chances. FAU's rim defense is due for so much negative regression, and the Blue Raiders are perfect for forcing that. Meanwhile, MTSU is the top defense in the league in ShotQuality post-up PPP allowed and rim PPP allowed.
The worry is FAU will shoot MTSU out of the gym, especially with how many good looks the Blue Raiders allow.
However, I'm still projecting some negative shooting regression for FAU, and I'm hoping some extra Owl jumpers rim out in a single-digit home victory.
ShotQualityBets makes this spread FAU -4.2, so I think there's good value with the Blue Raiders down to around +7.
Pick: MTSU +9.5 (-114) | Play to +7 (-110)
How would you rate this article?
This site contains commercial content. We may be compensated for the links provided on this page. The content on this page is for informational purposes only. Action Network makes no representation or warranty as to the accuracy of the information given or the outcome of any game or event.