Final Four Player Prop Picks for Baylor vs. Houston: Targeting Rebounding Totals for Quentin Grimes, MaCio Teague & More (April 3)
Credit:
Trevor Brown Jr/NCAA Photos via Getty Images. Pictured: Quentin Grimes of Houston.
Final Four Player Prop Picks
No. 1 Baylor vs. No. 2 Houston
5:14 p.m. ET on CBS
The Final Four is here at last, and we've got a good one to tip off our Saturday as the 1-seed Baylor Bears and 2-seed Houston Cougars face off in a battle of Texas teams with just five combined losses all season.
Both teams feature top-five offenses in the nation and outstanding defenses. Baylor loves to bomb threes and leads the nation at 41% while Houston leads the league in field goal percentage allowed at 37% and just 28% on threes. Baylor also plays sticky pressure defense and is one of the best in the nation forcing turnovers. Houston doesn't turn it over much, but that was true of Wisconsin and Villanova too, before they faced the Bears.
The biggest battle of the game may come on the glass. If Houston wants to hang with Baylor, the Cougars will need to dominate the glass like they've done all season. Houston ranks third in the nation in offensive rebounding percentage, while Baylor is bottom 100 in defensive rebounding. If Houston can pound the glass, the Cougars can make up for some of those extra possessions they lose on turnovers, perhaps enough to pull the upset.
The rebounding battle will be key in this one, and both teams know it. That's why all three of our props in this game will come on the boards.
---
---
For those who are new to this article, we'll be using the Action Labs Player Prop tool to compare our NCAAB projections to the props posted at a variety of sportsbooks. Each bet is then graded on a scale from 1-10, with 10 being the best possible grade.
Our props went 42-19-1 through the first two weekends of games, with an impressive 69% hit rate and an incredible 33% return on investment.
Below, I have laid out three prop bets that I'm playing from Saturday's NCAA Tournament first Final Four matchup, the case for each bet and the best books to find odds on those player props.
---
Note: All photos below are via Getty Images.
---
Justin Gorham, Houston
(1) Baylor vs. (2) Houston, 5:14 p.m. ET on CBS
---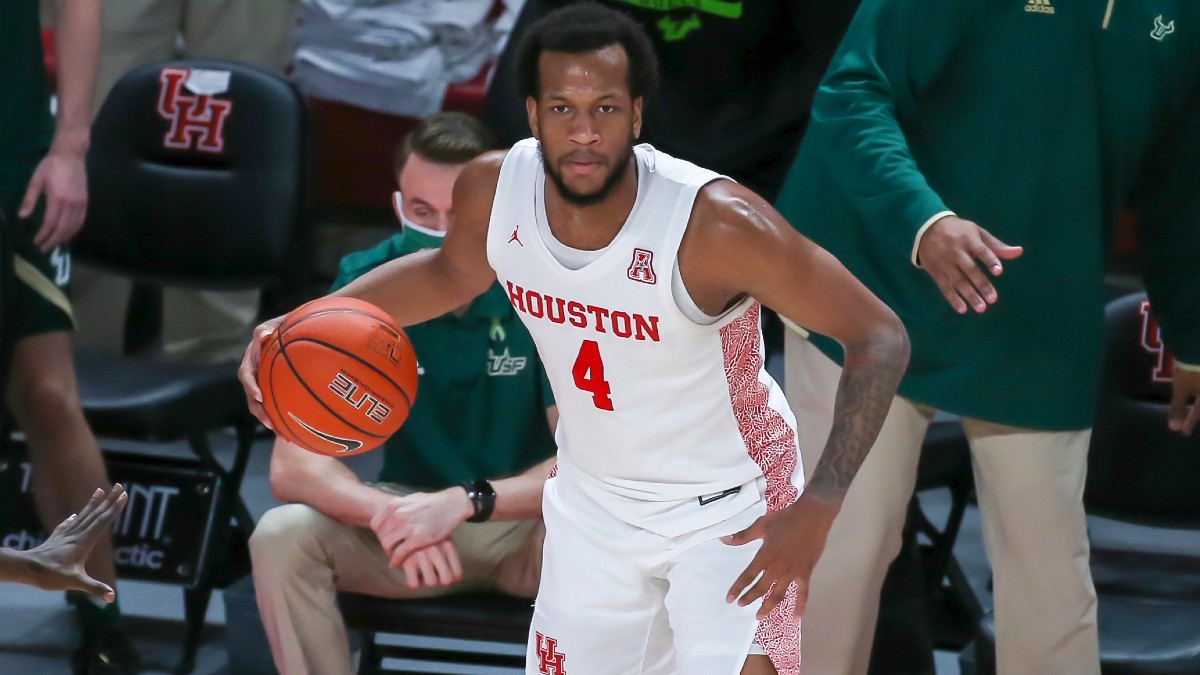 Justin Gorham over 7.5 rebounds (+118)

---
If the rebounding battle is the key to this game, then Justin Gorham is the most important player on the court.
Gorham is unquestionably Houston's finest rebounder and toughest boardman in this game, and the Cougars need a huge game on the glass from their man in the middle. Gorham had 10 rebounds against Oregon State in the Elite Eight, plus another 10 against Syracuse in the Sweet 16. But he had only four and two in the first weekend games, so what gives?
Gorham is super aggressive on the glass, but his aggression tends to get him into foul trouble. He's had four or more fouls in seven games this season, including both of those first two Houston games. The Cougars played Gorham 36 minutes against Oregon State and will certainly need him out there as much as he can handle against Baylor.
If he does stay out of foul trouble, Gorham could have a monster game on the glass, especially on the offensive end. Remember, that's the key battle here since Houston ranks third in the nation at offensive rebounding and Baylor can be susceptible on that end. Gorham had four and five offensive rebounds in last weekend's games, and that's not unusual. He's had at least four offensive boards in 16 of his 30 games this year — over half. He averages 10.8 RPG in those games.
We just need Gorham to stay on the court long enough to get them. Gorham has gone over 25 minutes 16 times this season, and many of those unders are because Houston won a blowout, which shouldn't be a problem here. In those 16 games, he's gone over 7.5 boards 12 times, hitting the over 75% of the time and averaging 10.7 RPG.
We've certainly got our formula: 25 minutes, 4+ offensive rebounds, and a likely double-digit game on the glass. We only need eight, and we're getting significant plus juice. I'd like this over 8.5 if need be, and I love it over 7.5, especially at plus juice.
Let's put it this way — if Gorham doesn't go over 7.5 rebounds, you should probably just bet on Baylor.
---
Quentin Grimes, Houston
(1) Baylor vs. (2) Houston, 5:14 p.m. ET on CBS
---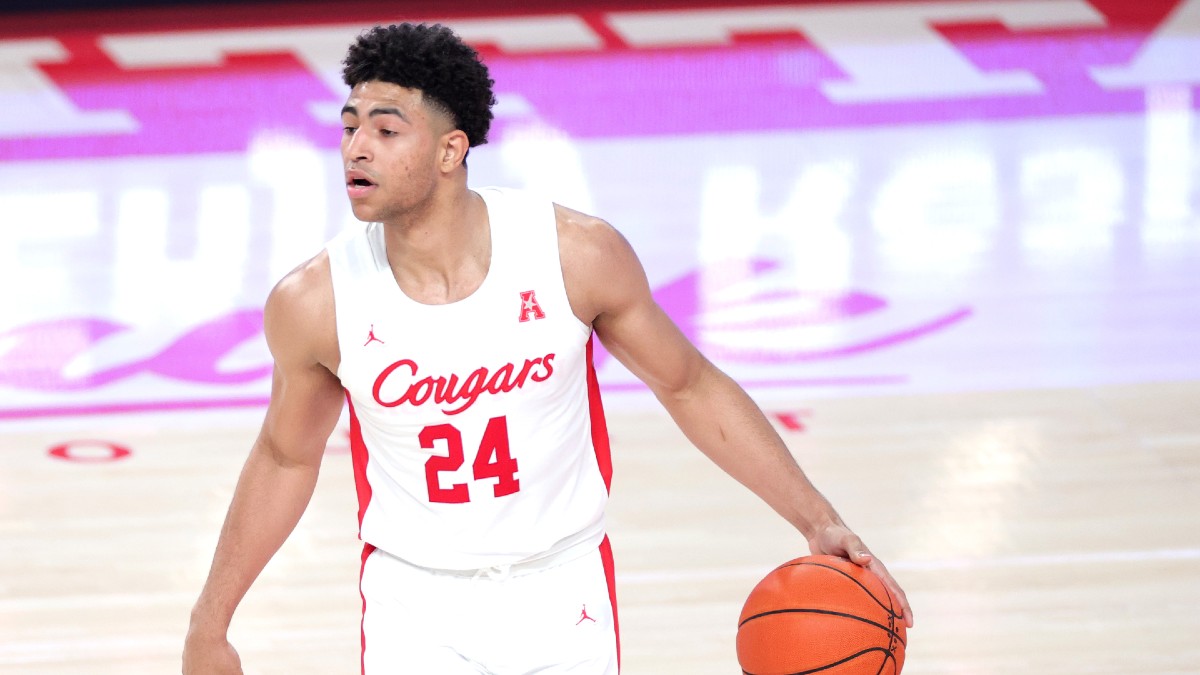 Quentin Grimes over 4.5 rebounds (-115)

---
Gorham isn't the only Cougar we're looking to for rebounds, and he certainly won't be the only one crashing the glass. Houston averages more than 14 offensive rebounds and over 40 overall as a team. Junior guard Quentin Grimes is second on the team in both stats.
Grimes is a big, physical guard at 6-foot-5, and he won't be overwhelmed or intimidated by Baylor's guards, in part because he already played against these guys two years ago while he was at Kansas. While Gorham is Houston's best rebounder, Grimes is the Cougars' best overall player, and Kelvin Sampson has already shown he will play Grimes nearly every minute in close games.
There's not a huge sample, but take a look at Houston's only five close games played in 2021, and check out how many minutes Grimes played in each:
Mar 29 vs Oregon State, 67-61 win, 36 minutes played
Mar 21 vs Rutgers, 63-60 win, 40 minutes played
Mar 13 vs Memphis, 76-74 win, 38 minutes played
Mar 7 vs Memphis, 67-64 win, 38 minutes played
Feb 18 vs Wichita State, 68-63 loss, 39 minutes played
Notice a theme? When Houston actually has a rare close game, Grimes plays nearly every second. With everything on the line, it wouldn't be a surprise at all to see him play all 40. More minutes mean more rebounding opportunities.
Grimes averages 5.8 rebounds per outing, and that's in 32.7 minutes per game. That's over 7.0 rebounds per 40 minutes, and we only need five to hit our over. Grimes has played at least 35 minutes 16 times this season. He averages 6.6 RPG in those contests and has gone over 4.5 boards in 12 of them, hitting this over 75% of the time.
Gorham can't win the rebounding battle on his own. He'll need help from his teammates, and Grimes should be out there battling nearly every minute. We project him at 6.1 boards, and I'll play this over as high as -140.
---
MaCio Teague, Baylor
(1) Baylor vs. (2) Houston, 5:14 p.m. ET on CBS
---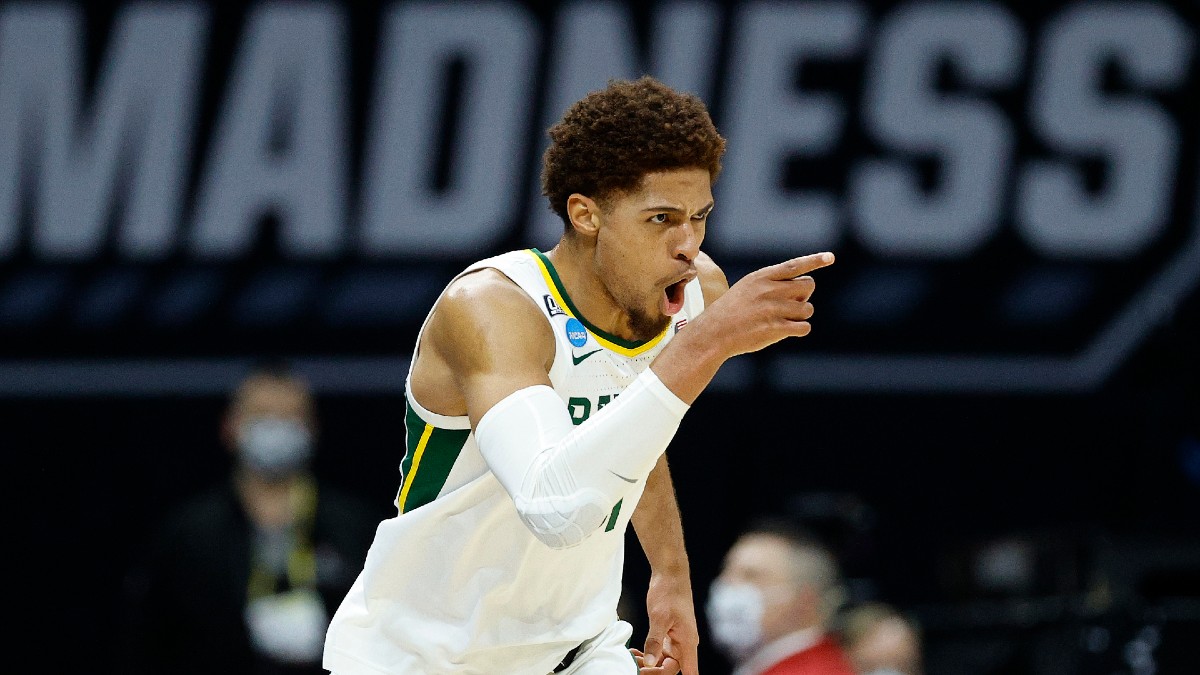 MaCio Teague over 3.5 rebounds (+100)

---
Well, Houston can't get every rebound.
The argument for MaCio Teague going over is very similar to Quentin Grimes. Baylor needs Teague out there for heavy minutes, and he's the best rebounding guard on the team.
Teague is third on Baylor in rebounds at 4.1 per game, and he's grabbed those boards in 31.8 minutes per game. He's gone over 3.5 rebounds in four of Baylor's last five games though, and that number is edging up to 4.3 RPG over the last 10 games.
That's not the only number on the rise. Teague is playing more down the stretch when the games matter most and Baylor leans more heavily on its starters. Teague is up to 34.6 MPG over the past 10 games, and he's played at least 33 minutes in every one of them other than the first-round blowout win over Hartford.
Teague has played at least 33 minutes now in 13 Baylor games this season. He's averaging 4.7 RPG in those games and has gone over 3.5 boards in 10 of the 13, hitting our over 77% of the time and coming only one board away in two others.
We project Teague at 4.6 rebounds, and some books like FanDuel list Teague's rebounding line at 4.5 with plus juice on the over. I prefer the safer bet since he's had at least three boards in all but six games this year, so we should have a strong chance of hitting the over 3.5. I'll play to -125.
---
---
How would you rate this article?
This site contains commercial content. We may be compensated for the links provided on this page. The content on this page is for informational purposes only. Action Network makes no representation or warranty as to the accuracy of the information given or the outcome of any game or event.