North Carolina vs. Florida State Basketball Odds & Pick: Back the Heels To Pull Off Upset Saturday
Credit:
Grant Halverson/Getty Images. Pictured: R.J. Davis.
Florida State has won nine of 10 and sits atop the ACC standings.
North Carolina just lost by double-digits to Marquette, but may have an advantage against the Seminoles.
College basketball betting analyst Stuckey breaks down why the Heels can pull off the upset against a short-handed FSU team.
North Carolina vs. Florida State Odds
---
Florida State Odds

-2.5

North Carolina Odds

+2.5

Moneyline

-120/-105

Over/Under

151

Time | TV

Saturday, 4 p.m. ET | ESPN

Odds as of Friday night and via PointsBet.
Currently atop the ACC standings in first place, Florida State would most likely be looking at a No. 3 seed in the NCAA Tournament if the season ended today.
The Seminoles are certainly trending up, however, with a 9-1 record this calendar year, including a recent drubbing of second-place Virginia.
Meanwhile, North Carolina is probably safely into the tourney but is by no means a lock, especially after suffering a bad home loss against Marquette last time out. I'm fairly certain the Heels now regret adding that game with almost no upside to their schedule. However, a win against Florida State on Saturday would go a long way in punching their ticket to the dance.
Can UNC get the job done in Chapel Hill against a red-hot FSU team? Let's take a closer look.
Team DNA
First, I do want to show some love for the Seminoles, who I think are extremely dangerous. They are part of my futures portfolio at 38-1 and are one of the few teams in the country that I think could realistically take out Gonzaga or Baylor.
This is a vintage Leonard Williams squad with length and depth for days.
On defense, the Noles can switch everything in the half-court and are one of six teams in the country that press on over 33% of possessions this year. They're also elite when it comes to defending at the rim and forcing tough 2-point jumpers (13th in 2-point percentage).
On the other side of the ball, FSU generally dominates the offensive glass (12th in OREB%). Add in the fact that FSU has excelled at the line (74%) and from 3 (39.1%),  and you get a team ranked eighth in Adjusted Offensive Efficiency, per Kenpom. Oh, and they have a freshman sensation in 6-foot-9 wing Scottie Barnes, who continues to get better with each game around an otherwise very experienced roster.
Moving over to UNC, the Heels have been very inconsistent this season, primarily due to an inexperienced backcourt that relies on five freshmen at the two guard spots. Their primary issue is a lack of shooting. Kerwin Walton is really the only reliable outside shooter.
As usual, UNC has an elite interior with a stable of excellent big men who defend the paint at a high level and dominate the offensive glass (No. 2 nationally in that category). Overall, the defense has been extremely efficient in the half-court.
By design, UNC gives up a ton of 3-point looks and wants to crash the defensive glass to get out in transition. However, the Heels have performed poorly when they do get out and run, ranking in the 9th percentile in points per transition possession, per Synergy.
Betting Analysis & Pick
I do think this is a best-effort spot for UNC after an extremely careless effort against Marquette.
The Heels looked lazy and disinterested throughout. I expect Roy Williams to have his troops ready. Since 2005, Williams is 66-45-3 ATS (59.5%) after a loss, covering by over two points per game. That ranks fifth out of 775 coaches in our Action Labs database.
FSU also may have some overdue 3-point regression coming. In conference play, the Notes are shooting a ridiculous 41.7% from deep and are at an insane 1.34 points per possession on contested jump shots. For reference, the second-best team in D-I sits at 1.24. I don't think that's sustainable.
And while the Heels can't shoot, they've been snake-bit on wide-open jumpers. We could see a minor positive bump in that department down the stretch.
Additionally, FSU might be shorthanded. Starting point guard MJ Walker missed last game with a nagging injury, although FSU just won back-to-back road ACC games with zero points from Walker. That speaks to its absurd depth.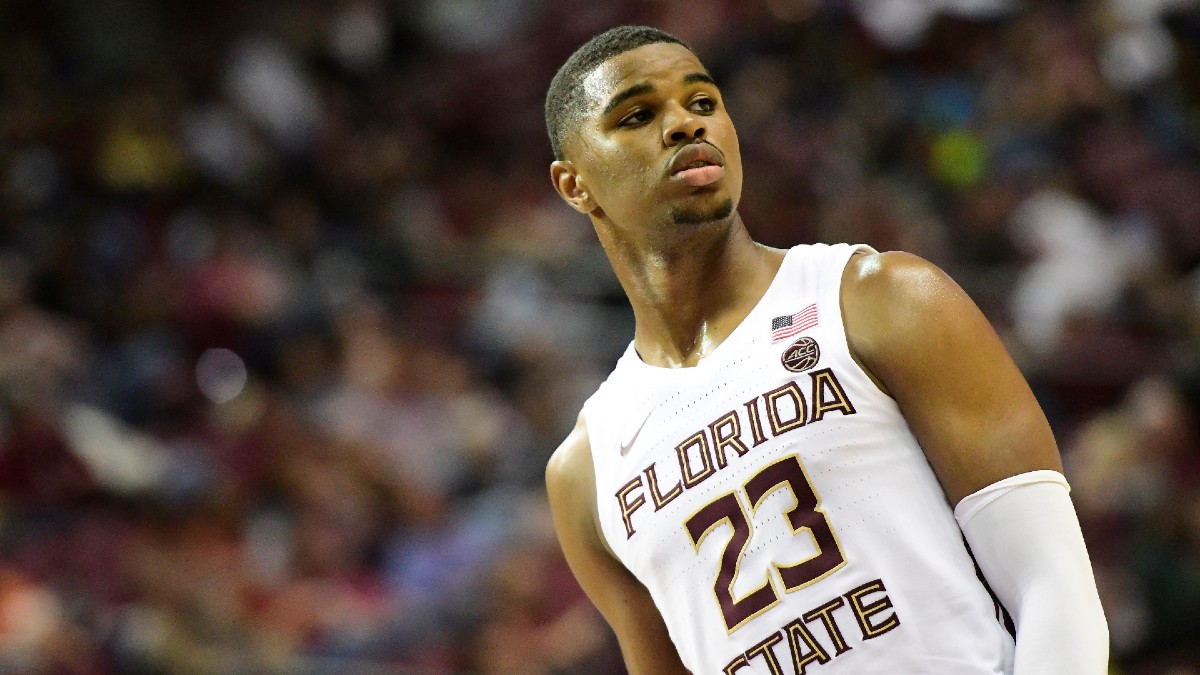 That depth could be lacking, however. Tanor Ngom also missed the last game with a nagging injury, although the 7-foot-2 big man doesn't play a ton of minutes. More importantly, junior Malik Osborne, who plays about 50% of minutes at the four spot, left last game after rolling his ankle.
In the interest of full transparency, I do have some concerns.
UNC will likely not be able to get out in transition as much as it prefers against a rock-solid offensive rebounding team. I also worry about the young UNC backcourt and its ability to break down the long, experienced FSU perimeter off the dribble. UNC also struggles to defend in transition where FSU can slice and dice teams with its athleticism.
That said, UNC is one of the few teams with the size to match up with FSU. I think the Heels come out with an inspired effort and win the battle of the boards by a decent margin, which is very rare against FSU.
When these two teams met last month in Tallahassee (where FSU is nearly unbeatable), UNC at least made it semi-competitive despite FSU shooting 50% from deep and 26-of-27 from the stripe. (I should note Barnes didn't play.)
I'm using a bit of intuition here, but I like the desperate home dog against a potentially shorthanded FSU team. Maybe we also get a semi-flat effort from the Noles, who have dropped two of their three road games against potential tourney teams (Georgia Tech, Clemson).
Pick: North Carolina +3 or better.
How would you rate this article?