Kentucky vs. Texas Tech Odds, Picks, Predictions: Is Wildcats Offense Rounding Into Form?
Credit:
Andy Lyons/Getty Images. Pictured: Keion Brooks
Kentucky vs. Texas Tech Odds
Odds: Texas Tech -4
Total: 132.5
Time: 6 p.m. ET
TV: ESPN
Location: Lubbock, Texas
[In New Jersey, Pennsylvania, Indiana or West Virginia? Bet Kentucky vs. Texas Tech now at FanDuel]
It's SEC vs. Big 12 Saturday — a January tradition — and Kentucky vs. Texas Tech may be the best of the bunch.
The Wildcats head into Lubbock with a young group that's much improved after some early season woes, while the Red Raiders counter with a young team of their own that's stellar defensively.
Who has the edge in this game? Let's dive in.
How Odds Moved for Kentucky-Texas Tech
Betting action has been split on this game, with Kentucky getting 56% of the bets and 49% of the money as of Saturday morning. The line hasn't moved much, opening at Texas Tech -4 across the market and staying there, though DraftKings did open +4.5 overnight. — Steve Petrella
When Kentucky Has the Ball
The Wildcats will need to take advantage of the opportunities beyond the arc against Texas Tech, which just allowed TCU to shoot 8 of 20 (40%) in a 65-44 home win.
Kentucky only ranks 245th in 3-point shooting this year at 31.6%, but have been much improved in conference play. They rank second-best in SEC play with a 37% team average from deep. Both Nate Sestina (39.4%) and Immanuel Quickley (39.5%) need to convert from 3P to open the interior offense.
Kentucky will also need to limit turnovers against a Texas Tech team that ranks first in Big 12 play in defensive turnover percentage.
As one of the youngest teams in the country with an average of 0.97 years of experience (341st), the pressure of a road game in Lubbock could rattle the inexperienced Wildcats.
Junior forward Nick Richards (13.7 ppg, 7.8 rpg) has come alive offensively, averaging 16.4 ppg and 8.4 rpg over Kentucky's last five contests. He has also been a force defensively inside, with almost three blocks per game over that same time span.
If the game is close, Kentucky can rely on their superb free throw shooting, ranking 22nd overall with a 76.9% average from the charity stripe. — Mike Randle
When Texas Tech Has the Ball
Despite losing key pieces after last season's Final Four run, Texas Tech's defense hasn't missed much of a beat in 2019-20.
But the Red Raiders are relying on five underclassmen to lead the offense, and rank 98th in adjusted efficiency as a result.
Tech's offense doesn't do anything particularly well but shoot free throws, ranking 97th or worse in each of the four factors — effective field goal percentage, turnover rate, offensive rebounding rate and free throw rate.
The Red Raiders move the ball incredibly well but don't use that to their advantage when shooting 3-pointers. They rank 187th in 3-point percentage and 234th in points generated from distance. — Steve Petrella
Kentucky Picking Up the Pace
Kentucky's season-long offensive metrics have been dragged down by some horrific performances against Evansville and Utah early on, but the Wildcats are rounding into form. They've averaged more than 1.0 points per possession in their last seven games after doing it in only six of 11 games to start the year.
Kentucky's pace has also been on the rise since SEC play started in earnest.
The plot points below are possessions in each individual game, and the dashed line is Kentucky's five-game moving average for pace (via BartTorvik.com). — Steve Petrella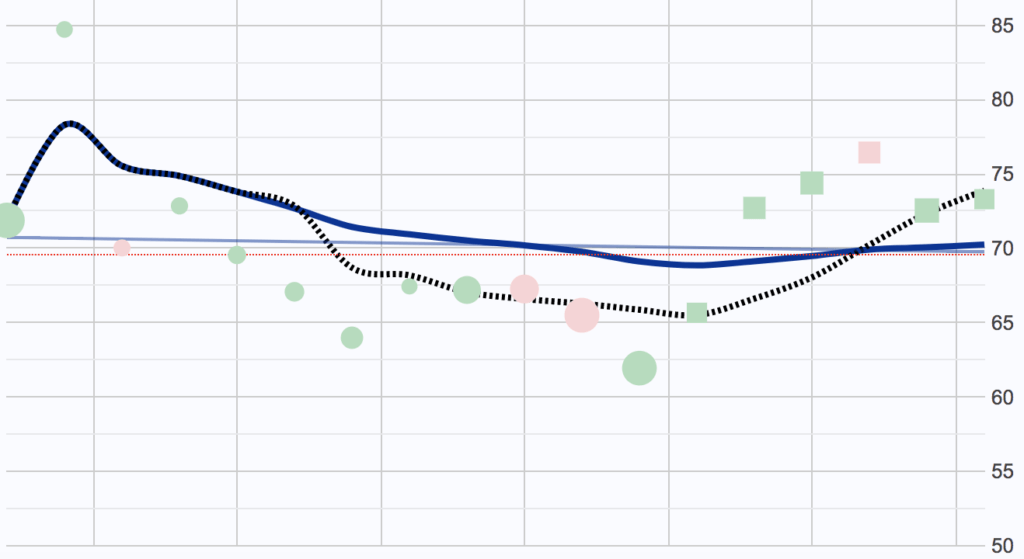 Stuckey's Angles
This line and total is spot on for me but I do worry about an inexperienced Kentucky team on the road against a young Texas Tech team that has looked a lot better in Lubbock as you'd expect. What exactly has Kentucky done away from home this year?
Well, it won its season opener against Michigan State on a neutral court but I put almost no stock into those early November results. It then went 0-2 in Las Vegas against Utah and Ohio State and those losses look a lot worse now.
As far as true road games, the Cats are 2-1 on the year with a loss at South Carolina and two late rallies against Georgia and Arkansas. Not the most impressive road resume you'll ever see.
Coming off a loss at TCU in which they melted down in the 2H, I'd expect Chris Beard to have his troops ready for this one. There's not much value here as I said above with the side and total spot on to my numbers but if I had to bet something in this game, I'd look at Tech 1H. — Stuckey
Our Bets
Despite neither team shooting particularly well, they both hit their free throws, and Kentucky's offense is a little better than the market is giving it credit for given those early struggles.
The Wildcats have actually improved their shooting from deep over the last few weeks and I think this total is just a tad low if you put more weight on recent performance, which you can at times for a young team like Kentucky.
Over 132.5 for me — Steve Petrella
Pick: Over 132.5
How would you rate this article?