Kentucky-Wofford Bad Beat: 2 Late Free Throws Swing Bets, Including $110K Wager
Credit:
Matt Stamey-USA TODAY Sports. Pictured: Tyler Herro and guard Keldon Johnson
The spread for Saturday's Kentucky-Wofford NCAA Tournament game opened UK -6 and closed with the Cats as 5-point favorites.
Kentucky sunk two free throws with four seconds left to take a six-point lead and ultimately cover.
Saturday's Kentucky-Wofford NCAA Tournament game was the most-bet game of the day. Kentucky closed as 5/5.5-point favorites depending on the book — and pretty much every spread wager was impacted by the final seconds.
With the Terriers down four and under 10 seconds left, Wofford's Fletcher Magee, the NCAA's all-time leading 3-point shooter, missed a shot from deep and fouled Kentucky's Tyler Herro with 4 seconds remaining.
As Herro was walking to the free-throw line, the announcers proclaimed he was one of the best players in the NCAA from the charity stripe. And they're right: At 94%, Herro ranks second to only Louisville's Ryan McMahon.
Herro predictably swished both, bringing Kentucky's lead to 6. Wofford bettors would need a miracle heave at the buzzer, which predictably did NOT swish.
The free throws were felt in Vegas and around the world. One unlucky bettor lost $110,000 on the late swing of fortune, according to The Action Network's Darren Rovell.
William Hill's sportsbooks lost money as a result of the free throws (82% of the cash was on the Wildcats at its shops), but the South Point came away a big winner, mostly because that's where the $110K bet was placed.
How uncertain was the result? With 18 seconds left, when Wofford got the ball down 4, the Terriers had an 84.9% chance to cover, according to the Cover Probability metrics in our app.
Here's the full cover probability graph directly from the app (notice how it falls off a cliff on the far right):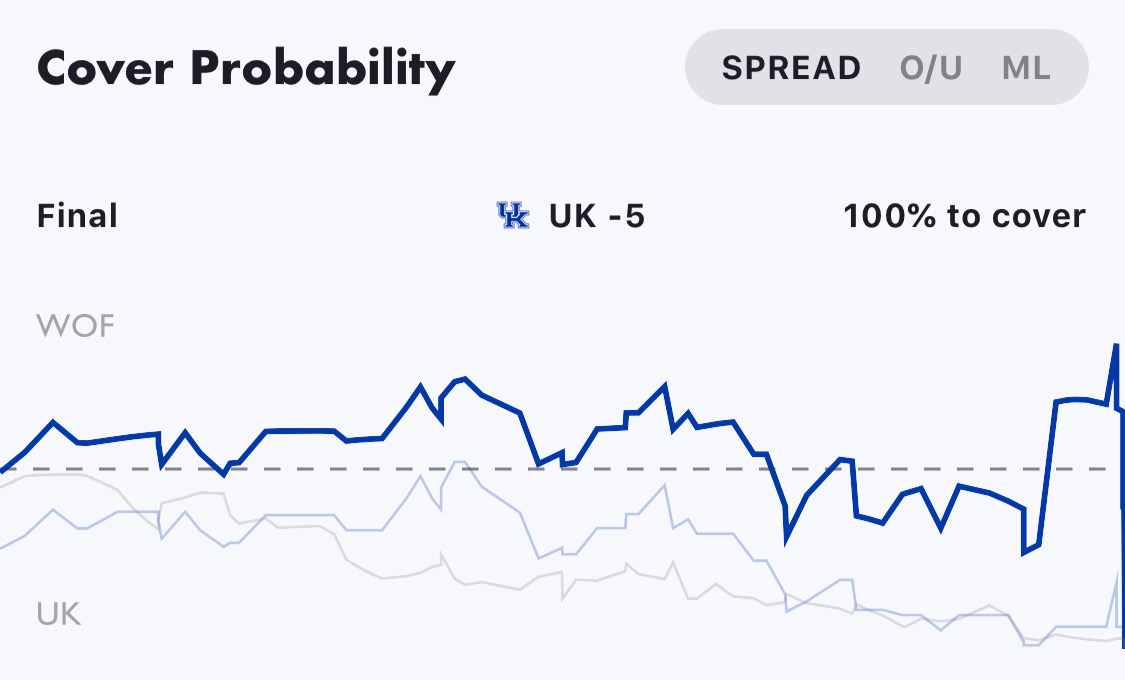 Oof.
Couple the late sequence with Magee's uncharacteristically poor night — the NCAA's all-time 3-point leader went 0-of-12 from deep — and Wofford bettors won't soon forget that beat.