NCAA Tournament 2021 Bracket Pool Picks & Predictions: Koerner's Blueprint for All 63 Games
Credit:
Getty Images. Pictured: Corey Kispert, MaCio Teague
Leverages NCAA Tournament model projections and public bracket pick percentages to find an edge in your pool.
Sean Koerner's bracket finished in the 99th percentile in 2019 using this method.
Learn more about his process and get his full bracket as an Action PRO subscriber.
It's great to have March Madness back.
It's been two years since the last NCAA Tournament, but the 2019 version of my Mega Bracket Breakdown resulted in a 99th percentile bracket. I'll be using the same strategies in this year's version — hopefully with the same degree of luck — as well as debuting my March Madness Bracket Builder so you can create your unique bracket.
March Madness Bracket Picks
The best way to gain an edge against the field is to compare the projected chance for a team to win against how many ESPN and Yahoo brackets that team is picked in. This is called Leverage — i.e. the percent difference between the two — which we use to bet on outcomes that are more likely than the public realizes.
A sound bracket strategy takes advantage of these discrepancies while also knowing when to forego Leverage for the more likely outcome. You can see how I try to find that balance in my game-by-game breakdown below, but you can use my Bracket Builder to calculate Leverage by round based on different possible outcomes.
Here's a quick key to the rest of the Bracket Builder:
Chance to win (Win%): My projected chance of that team winning a matchup.
Chance to advance (Adv%): My projected odds of that team advancing past that matchup (factoring in previous games).
Brackets Taken In (Users%): The percentage of users on Yahoo and ESPN that are taking that team to advance to the next round.
The Round of 64 matchups in the builder are set, but as you work through different possible outcomes in later rounds, you can compare how the Leverage changes.
You can download the tool by subscribing to Action PRO or, if you're already a subscriber, by clicking here.
Here's a preview of the West: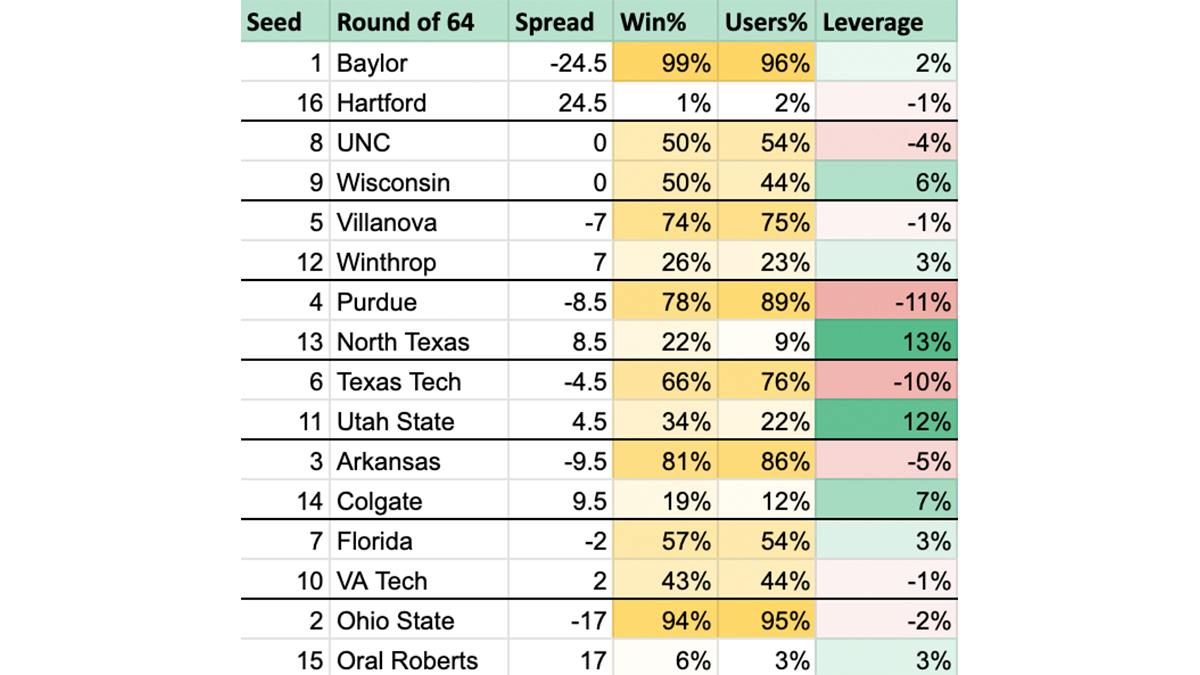 I also explain various strategies you can implement based on round-by-round Leverage here, but for now, let's dive into my bracket.
March Madness Bracket Breakdown
It's critical to always think ahead to later rounds when making any decisions in your bracket.
No decision is more important than selecting your champion, the second-most important decision is to correctly predict the two finalists, and so on. Bracket scoring system makes it that way — failing to predict the few upsets in the first round can be offset by getting the champion right.
With that in mind, let's dive into Version 1 of my 2021 bracket — you can find more versions of my bracket on Action Labs.
---
---
West Region