The $1,000 March Sadness Bracket Challenge: Round of 64 Results
March Madness will not start as planned on Thursday, but that didn't stop us from throwing our own Bracket Challenge.
Our selection committee of one (Stuckey) set the bracket on Sunday and you all signed up in droves for what we're calling The $1,000 March Sadness Challenge.
At this point, you should've received an email that assigned one of the 64 teams to you. (If you didn't, reach out to feedback@actionnetwork.com.)
Now the fun starts: Each day starting on Wednesday and through Monday, we'll reveal our simulations for the next round of games. Reminder: The team that covers the spread is the team that advances in the March Sadness bracket.
If your team makes it all the way to the end, that's when you'll be entered into a random drawing will all the other entrants who also have your same team. The winner of that random drawing, gets the $1,000 cash.
Below we'll detail the game-by-game results, but we won't judge you if you want to skip the words and go straight to the printable bracket, which also contains spreads for the Round of 32 matchups.
Good luck!
---
EAST REGION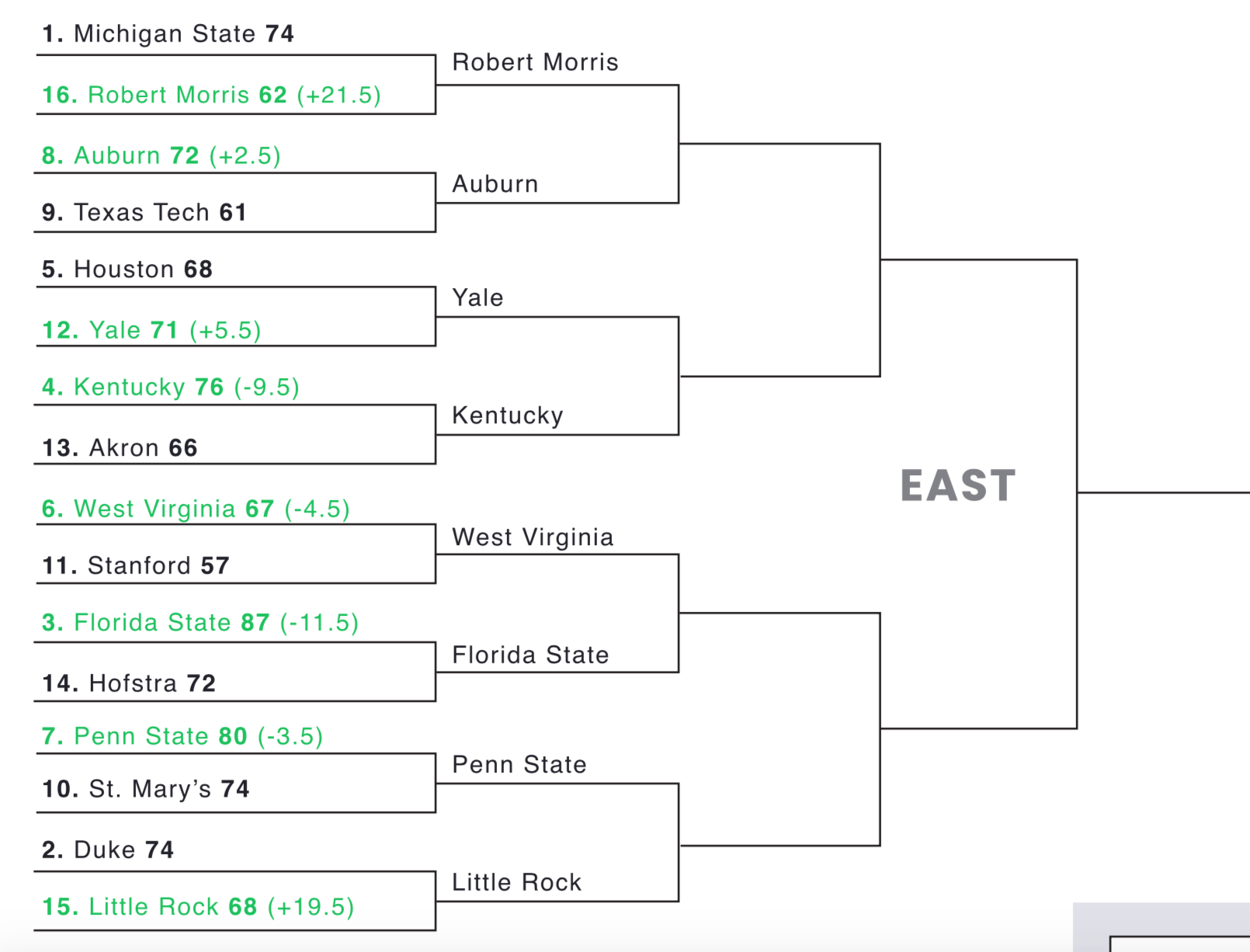 1. Michigan State vs. 16. Robert Morris
Spread: Michigan State -21.5
Score: 74-62 (MSU wins, RMU covers)
It doesn't matter if you win in this bracket. Cover and advance which is just what Bobby Mo did with a late 12-2 run in the final minutes to take out No. 1 seed Michigan State.
8. Auburn vs. 9. Texas Tech
Spread: Texas Tech -2.5
Score: 72-61 (Auburn wins, Auburn covers)
Auburn gets revenge for the national title matchup it almost had last year against Texas Tech.
5. Houston vs. 12. Yale
Spread: Houston -5.5
Score: 71-68 (Yale wins, Yale covers)
The ol' 12-5 upset strikes again as the underdog Eli take out Houston with an outright win.
4. Kentucky vs. 13. Akron
Spread: Kentucky -9.5
Score: 76-66 (Kentucky wins, Kentucky covers)
The hook matters. Big Blue Nation advances … barely against Akron. That elite Kentucky FT shooting came in handy late.
6. West Virginia vs. 11. Stanford
Spread: West Virginia -4.5
Score: 67-57 (West Virginia wins, West Virginia covers)
Country roads! West Virginia uses its suffocating defense to spring a 17-2 2H run en route to a win and cover.
3. Florida State vs. 14. Hofstra
Spread: Florida State -11.5
Score: 87-72 (Florida State wins, Florida State covers)
Another favorite advances in the bottom half of this bracket, with the 'Noles cruising to a no-doubt win and cover.
7. Penn State vs. 10. St. Mary's
Spread: Penn State -3.5
Score: 80-74 (Penn State wins, Penn State covers)
Penn State controlled the tempo and Lamar Stevens was too tough for the Gaels as the senior finished with 28 on the night.
2. Duke vs. 15. Little Rock
Spread: Duke -19.5
Score: 74-68 (Duke wins, Little Rock covers)
See ya Duke! While we've seen Duke lose outright to a 15-seed before (Lehigh), this time it was a close win that ended its season. Little Rock, which never trailed by more than 11, moves on.
---
WEST REGION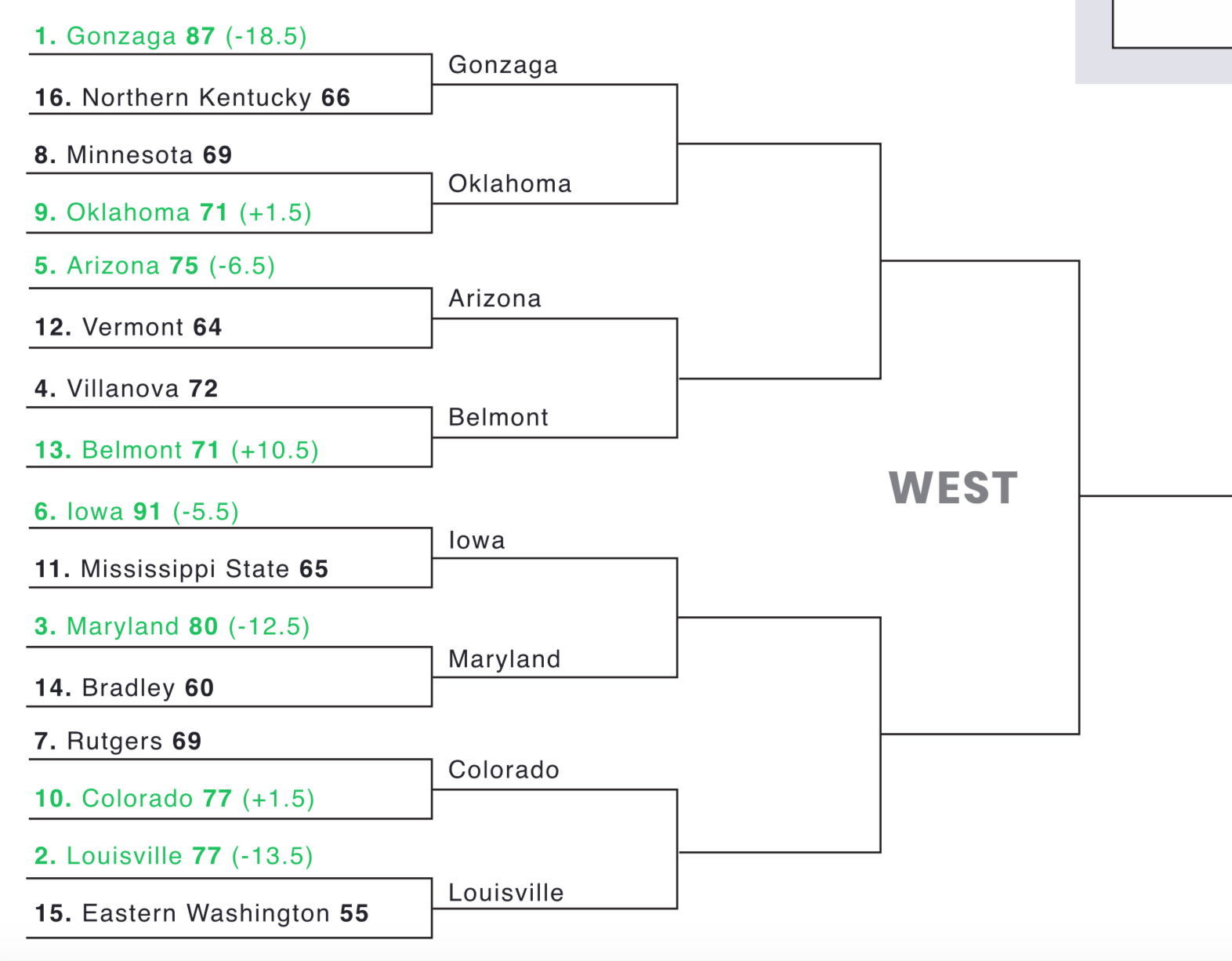 1. Gonzaga vs. 16. Northern Kentucky
Spread: Gonzaga -18.5
Score: 87-66 (Gonzaga wins, Gonzaga covers)
Zags roll early and hold on late for the cover as the Norse had no answer for Gonzaga's high-flying offense.
8. Minnesota vs. 9. Oklahoma
Spread: Minnesota -1.5
Score: 71-69 (Oklahoma wins, Oklahoma covers)
Our first buzzer beater of the tourney. Down 1 in the final seconds, Austin Reaves banks in a 3 to give the Sooners the win and cover.
5. Arizona vs. 12. Vermont
Spread: Arizona -6.5
Score: 75-64 (Arizona wins, Arizona covers)
Anthony Lamb went for 32 for Vermont but it wasn't enough against the young and talented Wildcats, who won comfortably by 11.
4. Villanova vs. 13. Belmont
Spread: Villanova -10.5
Score: 72-71 (Villanova wins, Belmont covers)
Another top seed is gone in the two-time recent champ Villanova Wildcats. Belmont moves on with an easy cover in a game that went back-and-forth for 40 minutes.
6. Iowa vs. 11. Mississippi State
Spread: Iowa -5.5
Score: 91-65 (Iowa wins, Iowa covers)
An absolute massacre as Iowa beats Mississippi State by 26 to move on. After going for 34 points and 15 rebounds, Luka Garza is the frontrunner for tourney MOP after the Round of 64.
3. Maryland vs. 14. Bradley
Spread: Maryland -12.5
Score: 80-60 (Maryland wins, Maryland covers)
You play to cover the game in this tourney and that's exactly what the Terps did in an easy 20-point blowout.
7. Rutgers vs. 10. Colorado
Spread: Rutgers -1.5
Score: 77-69 (Colorado wins, Colorado covers)
Rutgers' first tourney appearance since 1991 was short lived as Colorado finally put it all together away from Boulder.
2. Louisville vs. 15. Eastern Washington
Spread: Louisville -13.5
Score: 77-55 (Louisville wins, Louisville covers)
'Ville had no sweat in this romp over EWU.
---
MIDWEST REGION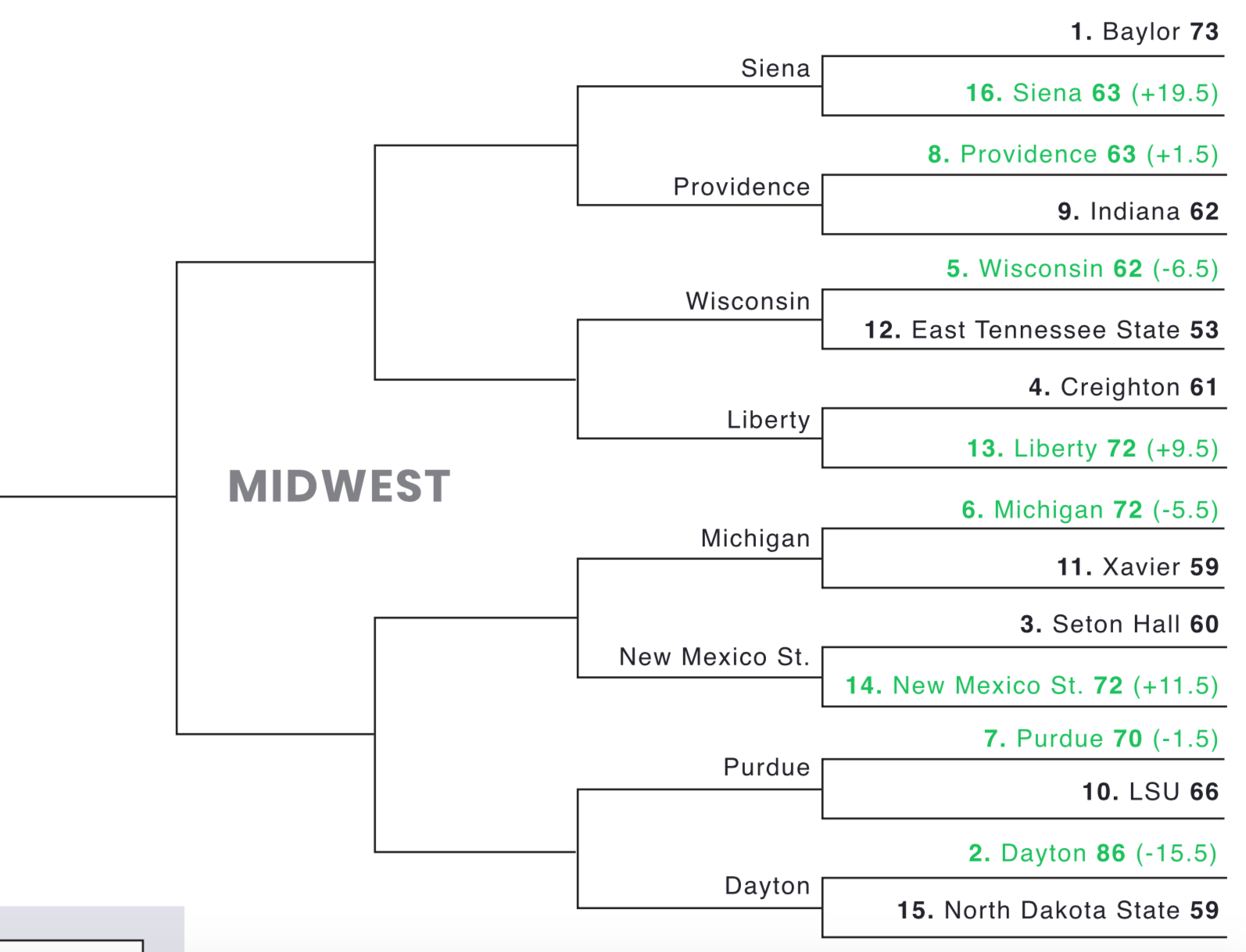 1. Baylor vs. 16. Siena
Spread: Baylor -19.5
Score: 73-63 (Baylor wins, Siena covers)
Down goes another 1-seed as the Saints go marching to the second round.
8. Providence vs. 9. Indiana
Spread: Indiana -1.5
Score: 63-62 (Providence wins, Providence covers)
In one of the most dramatic games of the first round, Indiana had the ball with 20 seconds left and down 1. The Hoosiers elected to take a 3 at the bell which would've given them the win and cover but Devonte Green came up just short.
5. Wisconsin vs. 12. East Tennessee State
Spread: Wisconsin -6.5
Score: 62-53 (Wisconsin wins, Wisconsin covers)
Horrible matchup for ETSU. Wisconsin grinded this one down and sealed the cover at the line late.
4. Creighton vs. 13. Liberty
Spread: Creighton -9.5
Score: 72-61 (Liberty wins, Liberty covers)
One of the surprises of the first round here as the senior-laden Flames roll past a cold-shooting Creighton team.
6. Michigan vs. 11. Xavier
Spread: Michigan -5.5
Score: 72-59 (Michigan wins, Michigan covers)
Too many scoring droughts and free-throw misses for X as Michigan moves on.
3. Seton Hall vs. 14. New Mexico State
Spread: Seton Hall -11.5
Score: 72-60 (NMSU wins, NMSU covers)
Nobody saw this coming. After dominating the WAC all season, a team many didn't know much about had no issues shutting down Myles Powell & Co.
7. Purdue vs. 10. LSU
Spread: Purdue -1.5
Score: 70-66 (Purdue wins, Purdue covers)
Purdue led by 4-8 throughout much of this game. LSU could just never get over the hump and even missed a 3 at the buzzer to cut it to 1 which would've given the Tigers the cover.
2. Dayton vs. 15. North Dakota State
Spread: Dayton -15.5
Score: 86-59 (Dayton wins, Dayton covers)
No sweat for Dayton in a rout.
---
SOUTH REGION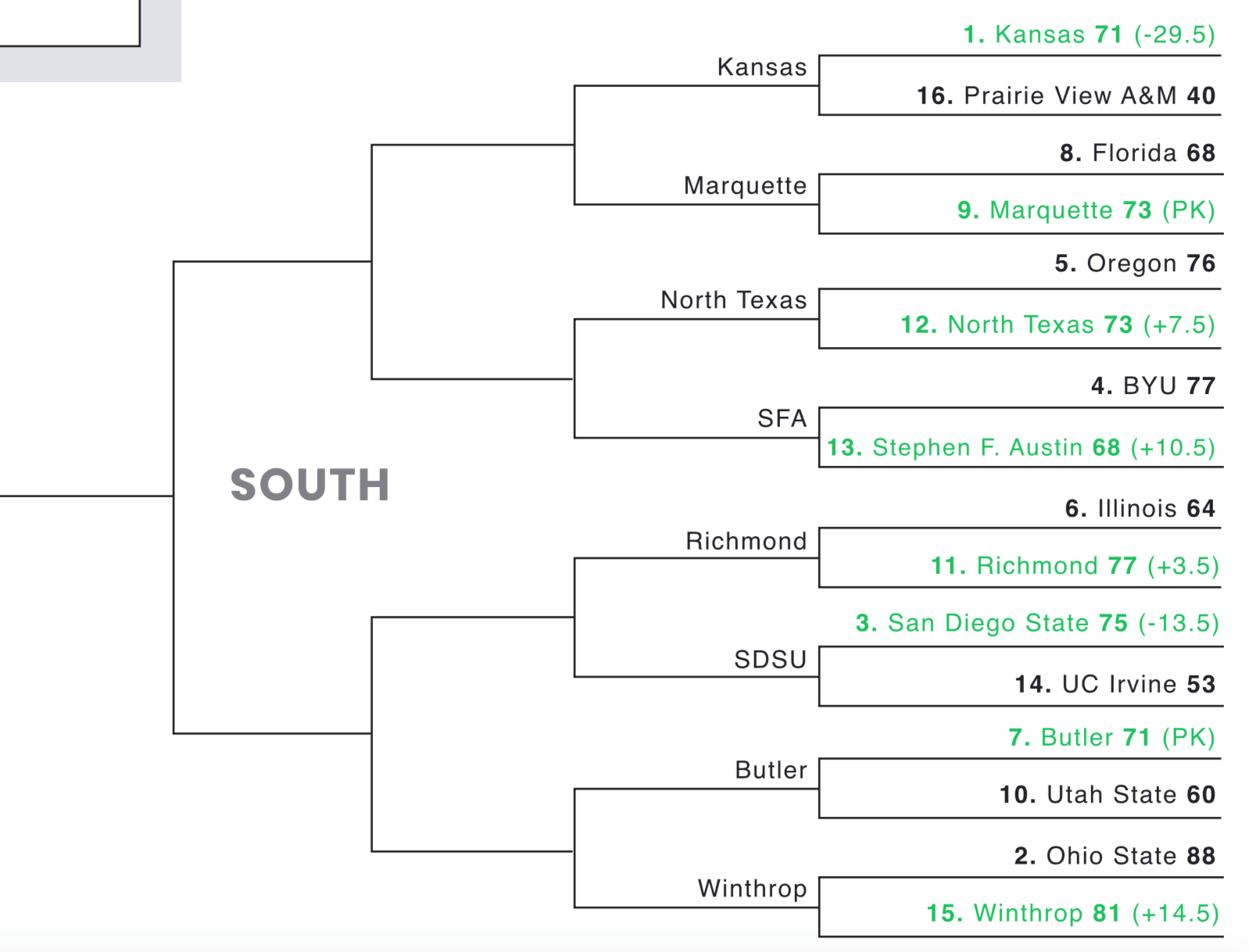 1. Kansas vs. 16. Prairie View A&M
Spread: Kansas -29.5
Score: 71-40 (Kansas wins, Kansas covers)
Overall No. 1 seed survives a late heave by Prairie View as time expired that would've given the 16 seed the backdoor cover.
8. Florida vs. 9. Marquette
Spread: Marquette pick'em
Score: 73-68 (Marquette wins, Marquette covers)
Florida controlled most of this game but Markus Howard went bonkers late and sealed the win at the line for Marquette.
5. Oregon vs. 12. North Texas
Spread: Oregon -7.5
Score: 76-73 (Oregon wins, North Texas covers)
Mean Green Covering Machine. Oregon goes home in Round 1 after failing to put away North Texas.
4. BYU vs. 13. Stephen F. Austin
Spread: BYU -10.5
Score: 77-68 (BYU wins, SFA covers)
Backdoor baby! Stephen F Austin puts back an offensive rebound to cut the lead to 9 in the final seconds.
6. Illinois vs. 11. Richmond
Spread: Illinois -3.5
Score: 77-64 (Richmond wins, Richmond covers)
A play-in-game team many said shouldn't have gotten in always seems to get hot. First, Richmond beat defending champ UVA in Dayton and then followed that up with a statement win over Illinois. Arachnophobia for the rest of the region?
3. San Diego State vs. 14. UC Irvine
Spread: SDSU -13.5
Score: 75-53 (SDSU wins, SDSU covers)
No repeat upset this season for the Eaters as SDSU cruises.
7. Butler vs. 10. Utah State
Spread: Butler PK
Score: 71-60 (Butler wins, Butler covers)
The Butler did it. Move the Bulldogs through.
2. Ohio State vs. 15. Winthrop
Spread: Ohio State -14.5
Score: 88-81 (Ohio State wins, Winthrop covers)
Ohio State led by 28 at one point but Winthrop never quit and ended up with a relatively easy cover after a huge 2H run.
How would you rate this article?