NCAA Tournament Picks & Predictions: The Action Network & Three Man Weave's Best Bets for Saturday (March 20)
Credit:
Rich von Biberstein/Getty Images. Pictured: Jay Huff of Virginia.
The second full day of action in March Madness gets underway on Saturday, and The Action Network and Three Man Weave teamed up to break down their best bets.
The crew is specifically targeting action in four different games across the day.
They provide their six best NCAA Tournament bets based on their betting analysis below.
Collin Wilson, Mike Randle & Stuckey join forces with Jim Root, Ky McKeon & Matt Cox of Three Man Weave to deliver their College Basketball Six Pack of Picks via The Action Network Sports Betting Podcast for Saturday's Round of 64 slate.
There is a lot of value to be found throughout March Madness with plenty of mid-major teams having an opportunity at pulling off a Cinderella story. It all starts in the Round of 64, which finishes up on Saturday.
Our six experts broke down each of their favorite bets on The Action Network Podcast.
Mike Randle: Colorado vs. Georgetown 
Tip: 12:15 p.m. ET
Good metrics plus clunkers means soft, and that's exactly what Colorado is. They've done very well this year, but how many of those wins came at home against teams in the altitude? I don't trust Colorado in the tournament and it doesn't help that Evan Battey has looked injured to me.
Meanwhile, Georgetown is hot. They're doing it from beyond the arc and inside the paint. Jahvon Blair has been great from 3, and I just think they continue to roll here. I know the metrics love Colorado. There's more than meets the eye there. They beat USC three times, congratulations. But Georgetown is a better all-around team right now than the Trojans.
With Qudus Wahab inside, Blair from 3 and Dante Harris' fantastic freshman season, I see Georgetown continuing to roll. I'll take the points and even think they win the game outright.
The pick: Georgetown +5.5
Matt Cox: Colorado vs. Georgetown
Tip: 12:15 p.m. ET
I'm going to get a little bit cute here and narrow the scope of the game to the first half. You're avoiding any of that endgame mess. We're looking at the first half for Colorado. The Buffaloes play Georgetown off that magical carpet ride of a run at Madison Square Garden. Every media outlet is writing about the Patrick Ewing story and hey, we're here for it. It feels good, we love what he did and think he's building something there for the long term.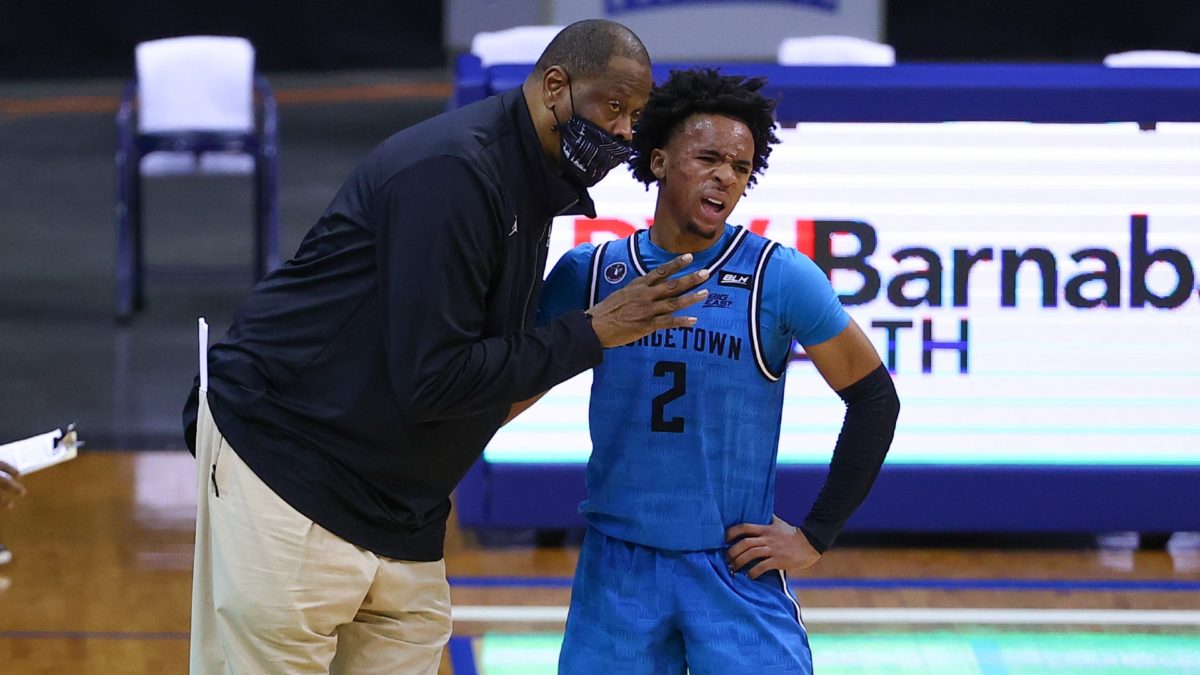 But I don't care about the long term. I'm looking at the here and the now. What Colorado has done this year in the first half has been impressive. They are 22nd in average scoring margin in the first half, outscoring their opponents by six points a contest. Here, you only need to cover 2.5 to 3 depending on the sportsbook. I think Georgetown has a little bit of that fog and a hangover off that awesome run.
Expect them to come out a little bit slow. They're notorious for those second-half comebacks we've seen them do multiple times this season. Hone in on Colorado first half and take that out of the equation.
The pick: Colorado 1H -3
Jim Root: LSU vs. St Bonaventure
Tip: 1:45 p.m. ET
I'm going with St. Bonaventure as slight dogs here. LSU is a public darling. They're super talented and showed out really well on Selection Sunday playing Alabama in a tight game. But if you give Bonnies head coach Mark Schmidt a week to prepare for anybody, I'm usually going to side with him.
Here he's got another shot at preparing for a Shaka Smart assistant two weeks in a row. Last week it was VCU and Mike Rhoades in the A-10 title game. This time it's Will Wade of LSU. I like Bonaventure here. I am a little worried about foul trouble since St. Bonaventure doesn't have much depth, but they're a talented team with a great starting five. I think they'll control the tempo and are very well coached. Give me the Bonnies
The pick: St. Bonaventure +1.5
Collin Wilson: Creighton vs. UC Santa Barbara
Tip: 3:30 p.m. ET
Creighton doesn't really do anything except shoot 3s. They're 293rd in free-throw rate and only shoot 64 percent, which is almost dead last in the country. I'll even stick on the narrative street of what's going on with this team after the Greg McDermott comments.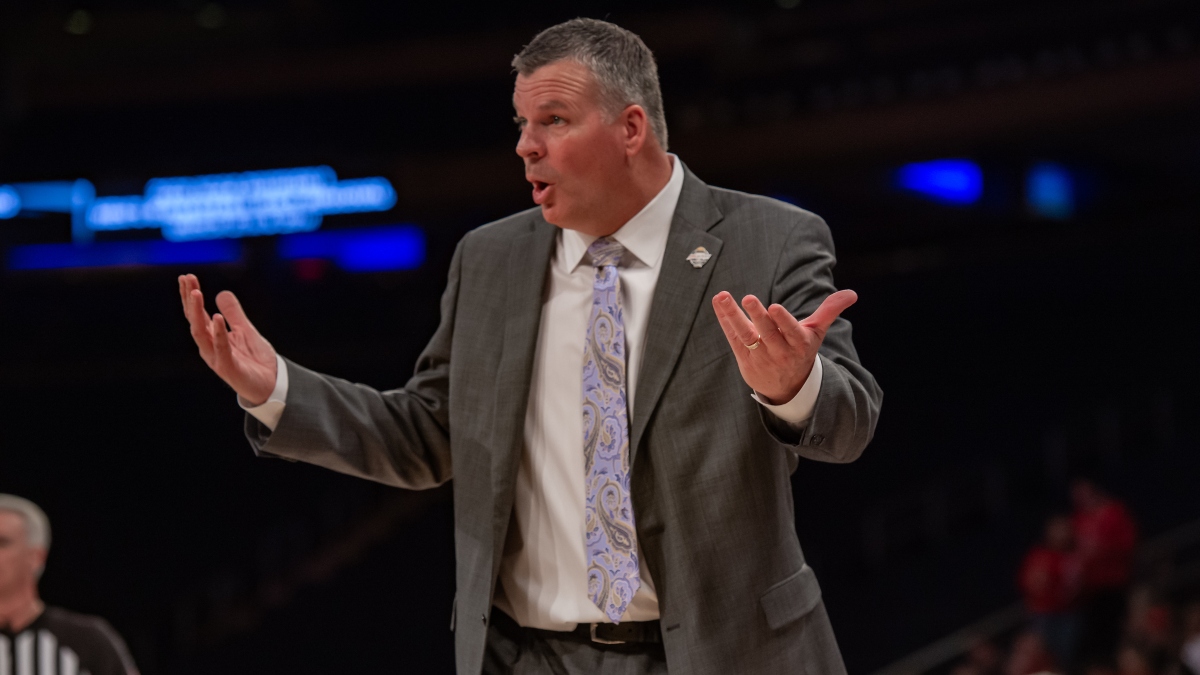 But more importantly, one thing that we haven't mentioned about UC Santa Barbara is that they play in a conference where they saw a ton of 3s. The Big West sits among one of the highest rates in the country, so they're going to be prepared against a Creighton team where all they do is hang out at the perimeter.
Despite seeing a barrage of 3s in conference play, UC Santa Barbara has won 18 of their last 19. Yeah,  Ajare Sanni is doubtful, and he's a big contributor in points, but at the same time they had no problems finishing off UC Irvine when he suffered his injury after playing just nine minutes. This group is good. Give me the Gauchos.
The pick: UC Santa Barbara +7.5
Stuckey: Virginia vs. Ohio
Tip: 7:15 p.m. ET
I have so much Ohio exposure. As soon as the line came out I tweeted the play. Virginia is not even practicing yet and are going to have one unnamed player out. Meanwhile, Ohio is peaking at the right time.
We know how Virginia is going to play. They have one of the slowest tempos in the country and are not going to get any offensive rebounds. They'll get back and prevent transition offense and won't let you get any offensive rebounds because of their pack-line defense. This Virginia defense is not the same as it's been in year's past. Yes it's still good, but it's 33rd in adjusted efficiency. In the past seven years they've been No. 7 or better. There's weaknesses on the interior and on the perimeter. Ohio can exploit that.
The Bobcats have an excellent offense. They're a fun team to watch. Jason Preston is an NBA level guard, a great distributor and shoots 40 percent from 3. This team has the guards and shooters to break down and beat the pack-line. Their defense, which is questionable metric wise, is playing better as of late.
I could end up being really wrong on this game, but it's going to be a low possession game. If Ohio is ice cold and Virginia is making all their 3s, Virginia is going to win by 10-plus. But Virginia hasn't been practicing and they're dealing with COVID while Ohio is peaking at the right time. I just think there are advantages all over the court for the Bobcats. They have all the momentum and all the confidence. I think Ohio has a good shot at winning this game. Welcome to the Jason Preston show.
The pick: Ohio +7.5
Ky McKeon: Virginia vs. Ohio
Tip: 7:15 p.m. ET
I am fading the Virginia COVID issues and rolling with the MAC champions. The Cavaliers are coming off a long layoff, and just one shootaround six hours before tip does not bode well against a Bobcat team that has been practicing all week and are a top-30 offense in adjusted efficiency.
Ohio is led by Jason Preston who does not shy away from big moments. Remember, he dropped 31 against Illinois in a two-point loss on the road earlier this season. The Bobcats like to push the tempo, attack the paint and can light it up from beyond the arc. They should be able to break down Virginia's pack-line defense.
This is a game where I can see Virginia starting off flat because of the long break. Head coach Tony Bennett is going to keep the Cavaliers in this game, and their offense does rank 12th in adjusted efficiency. But this is too many points for a red hot Ohio team that has won nine of its last 10 and has the personnel to compete down the wire with Virginia.
The pick: Ohio +7.5
How would you rate this article?