North Carolina vs. Auburn Betting Guide: Bruce Pearl Says Take the Over…So Should You?
Credit:
USA Today Sports. Pictured: UNC guard Cameron Johnson, Auburn guard Bryce Brown
#1 North Carolina vs. #5 Auburn NCAA Tournament Betting Odds
Spread: North Carolina -5
Over/Under: 164.5
Location: Kansas City, Mo.
Date: Friday, March 29
Time: 7:29 p.m. ET
TV: TBS
---
>> All odds as of Thursday night. Download The Action Network App to get real-time odds and live win probabilities on your bets.
---
Rarely in college basketball, where gambling is so taboo and point-shaving has been a problem historically, does a coach discuss sides and totals. But Bruce Pearl did just that, joking (or not?) in an interview on ESPN, saying that people should take the over when his Auburn Tigers play North Carolina in the Sweet 16.
The steam on the total may be completely independent of that story, but the fact remains the over has gone up from 160 to 164.5, whether motivated in any way by Pearl or not.
With everyone in the game and out of it expecting a specific type of style, where does value lie? Is there any on the total at all? Let's take a look.
North Carolina's Major Advantage Is…
The Tar Heels will have one incredible offensive advantage in this game. It's the same advantage they had against Washington, but exists here in a different fashion: offensive rebounding. The metrics basically screamed at us that this would be problematic for the Huskies because of their zone, and it was. North Carolina had 15 offensive rebounds, and out-rebounded Washington 48-24.
Auburn doesn't play exclusively zone like Washington, but it still ranks 334th in offensive rebounding percentage allowed, and it's because it plays basically zero size. When Austin Wiley plays, he's the one big body the Tigers have, but he also doesn't play very much.
Rather, Auburn is willing to sacrifice that aspect of its play in order to run and spread out the opposing team at the other end. But Carolina should have an absolute field day on the glass here. The statistic will be eye-popping at the end of the game. There's almost no way it's not.
Carolina's offense isn't predicated on the 3-point shot (usually because the Heels getting so many wide-open 2s), but they make a high percentage (and have one extremely elite shooter). That's something both of Auburn's opponents couldn't say coming into their games.
Kansas barely took any 3s all season, and New Mexico State barely made any, despite taking a ton. This will be a new problem for Auburn, and UNC's 3-point shot keeping the Tigers' defense honest and spread out across the court will be valuable because the Tar Heels have such an advantage inside it's almost comical.
One thing Carolina has to watch out for is turnovers.
Against Iona, the Heels were just straight-up sloppy for parts of the game, possibly because of the total talent mismatch they had. Against Washington (and the zone), they had 15 turnovers, and it was really the only thing they didn't do well.
Auburn doesn't force turnovers in the same way Washington does, but the Tigers are prolific at it, and it helps generate their offense. This hasn't been an issue for North Carolina in general this year, but in the tournament so far, it has been.
When Auburn Has the Ball
OK, so Auburn is gonna have a really hard time stopping a lot of things Carolina does, but what about the other way?
Well, the Tigers are sacrificing certain skills at the defensive end to thrive here. They have won twice essentially because of tempo and shot-making. They've attempted 62 three-pointers, and 57 two-pointers. They start four players who can score from outside, and put an athletic rim-runner in Anfernee McLemore roaming the paint.
Against Kansas, they could not miss. Against New Mexico State, they were a little shakier and almost (read: probably should have) lost.
But Auburn can do some things here. First off, Carolina can catch teams off guard because of its desire to push the ball off makes or misses (or turnovers, or stoppages, or concession-stand sales). The "secondary break" can really tear apart unprepared opponents.
But the Tigers should love the pace of this game, and I would imagine are perfectly happy to run up and down, jacking a ton of 3s and trying to beat Carolina down the court the other way. When Bruce Pearl says to take the over, it's probably because he understand his team wants to play as fast as Carolina does, which almost no one wants to do, ever.
The Heels' 3-point defensive numbers may look OK, but they were No. 9 in ACC play in 3-point field goal percentage allowed (despite being top-100 overall). Iona hit everything against them in the first half last weekend. That's a bit concerning when you're about to face a team that may shoot 40 threes in this game.
Naturally, when one team is committed to shooting from the outside that much, it definitely provides some volatility in the range of scores this game can provide. It's why underdogs that possess that skill are capable of upsetting a better team in the tournament.
The Heels' one significant advantage defensively is that they don't allow offensive rebounds, but I honestly think you'll see Auburn just abandon the glass altogether in the half-court, take 3s and sprint back on defense whether they go in or not. Why even crash in a game like this?
The Pick
After all of that, you may be salivating to bet the over,  but if Auburn isn't making 3's, this becomes a blowout REALLY fast, and then Carolina will be more than content to grind the pace down in the second half when it is up substantially. You need such a specific set of conditions (and continual pace) for a total in this range to hit in a tournament game, where so much is at stake and teams can micro-manage periods of the game even more.
There are so many forced stoppages in these games, and so much strategy given to clock-running in the final 10 minutes of the second half, that there are just a ton of natural impediments to a track meet. That's before I even mention that this is a new arena for both teams, and may take some getting used to. Can the over happen? Sure. Is it a lock, as Bruce Pearl may have you believe? Doubtful, so I won't be betting it.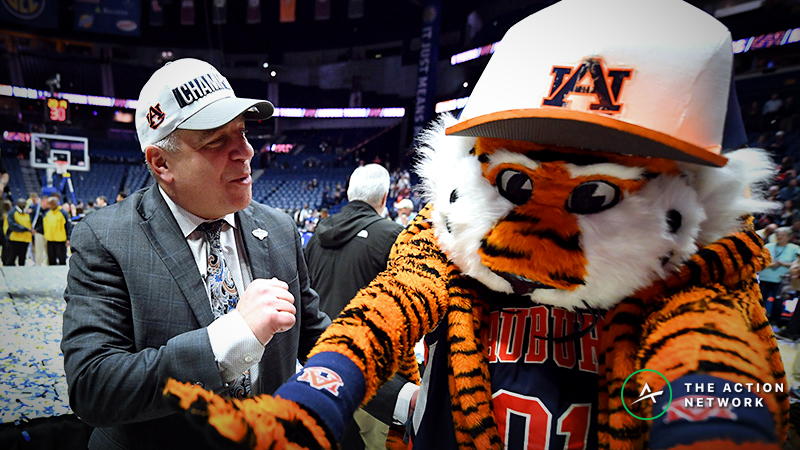 As for the side, we can so easily fall victim to the last time we saw a team, and with Auburn, the lambasting of Kansas makes the Tigers seem like a desirable option. But this was a team that probably should have lost to New Mexico State, and completely folded down the stretch just a week ago. Whatever comfort level they had shooting with the back-drop in Salt Lake City may not carry over to Kansas City as well, and they are more reliant on the 3 than any team in the country.
I like Carolina in this game at -5, and think the staggering number of possessions in this game will give the Heels ample opportunity to pull away.
If they are able to get back on defense against the Tigers, they should be able to guard enough — they do, after all, have a huge defensive efficiency advantage in the game.
I make it UNC -7, as well, but I totally recognize that with a team like Auburn, its shooting profile can turn any single game on it's head.
Ken's Pick: UNC -5
Our Projected Odds: North Carolina vs. Auburn
These ratings were built by Sean Koerner, our Director of Predictive Analytics, a former oddsmaker and FantasyPros' most accurate in-season fantasy football ranker from 2015-2017.
Spread: North Carolina -4.5
Total: 159.5
Proj Score: North Carolina 82 | Auburn 77.5
Win Probability: North Carolina 66% | Auburn 34%
---
Editor's note: The opinions on this game is from the individual writer and are based on his research, analysis and perspective. They are independent of, and may not always match with, the algorithm-driven Best Bets from Sports Insights.
How would you rate this article?