National Championship Betting Odds, Predictions: Our Pick for Kansas vs. North Carolina (Monday, April 4)
Credit:
Getty Images. Pictured: Ochai Agbaji (left) and Armando Bacot (right).
Kansas vs. North Carolina Odds
Kansas Odds
Spread
Total
Moneyline

-4.5

-105

151.5

-110o / -110u

-200
North Carolina Odds
Spread
Total
Moneyline

+4.5

-115

151.5

-110o / -110u

+165

By: Jim Root
So, what do you say after that epic Saturday night clash? After Kansas took care of Villanova in business-like fashion, the expectations for a terrific nightcap between arch-rivals UNC and Duke could not have been higher.
Fortunately, we got the classic we hoped for — though, the victor may have been surprising to many.
For Tar Heel fans, the elation that comes with slaying the Coach K giant on this grandest of stages may be incomparable. For the players and the coaches, that was merely a (rather large) step in the climb to the top of the sport's mountain.
Refocusing and reenergizing is likely a bigger challenge for the crowd than it is for the players — it's the national title game. I cannot envision a true letdown effect.
More daunting is the challenge of facing a Kansas team that looked like a juggernaut in Saturday's game. The Jayhawks completely obliterated a stout Villanova defense to an absurd degree:
KU scored 1.398 points per possession — the highest mark against Villanova's defense in the last five seasons — while scoring zero fast-break points. It's the first game all season the Jayhawks didn't score in transition.

— Jesse Newell (@jessenewell) April 3, 2022
Foremost in that effort were David McCormack and Ochai Agbaji, the two senior leaders.
McCormack was everywhere, unleashing some rim-rocking dunks and finishing with deft touch on the block. When he's that active and engaged, he's unstoppable.
Agbaji, meanwhile, started the game 6-for-6 from beyond the arc, sparking the inferno that scorched the Wildcats to a crisp.
Many storylines linger as we head to the season's finish line. Which McCormack will show up? What about Remy Martin? And will Armando Bacot's ankle limit his mobility and effectiveness?
Let's dive in!
---
By: Ky McKeon
Kansas' path to the Final Four was arguably (and really not arguably) the easiest of the New Orleans quartet.
The Jayhawks started with Texas Southern, then got a Creighton squad missing its starting point guard and center.
Providence was next, the "luckiest" team in the country and an overseeded 4-seed by analytics.
Then came Miami (FL), a 10-seed that knocked out the mighty Auburn Tigers for KU.
In the Final Four, KU faced Villanova, a terrific team, but one that was without star guard Justin Moore, who tore his Achilles against Houston in the Elite Eight.
Making the national title game is never easy, but it was a fortunate path.
Having said that, Kansas deserves to be in this game. The Jayhawks are undisputedly one of the top teams in the country, and they've looked scary good at times in this tournament.
The key for KU against UNC will be on the interior, where 6-foot-10 McCormack roams. Why is he so important? Because if Big Dave can get Bacot in foul trouble, UNC is in deep trouble.
The Tar Heels have zero depth and can't get away with defending McCormack — heck maybe even Mitch Lightfoot — with Brady Manek or Puff Johnson at the 5. Bacot is essential to UNC's success, and I'd wager he's targeted early and often via McCormack post-ups.
Keeping Bacot and the Heels off the glass will also be crucial. Bacot grabbed 21 boards against Duke, and the Heels as a team yanked down 39.5% of their misses on the offensive end. KU has the size to keep UNC at bay, but it needs to have the discipline to consistently box-out, as well.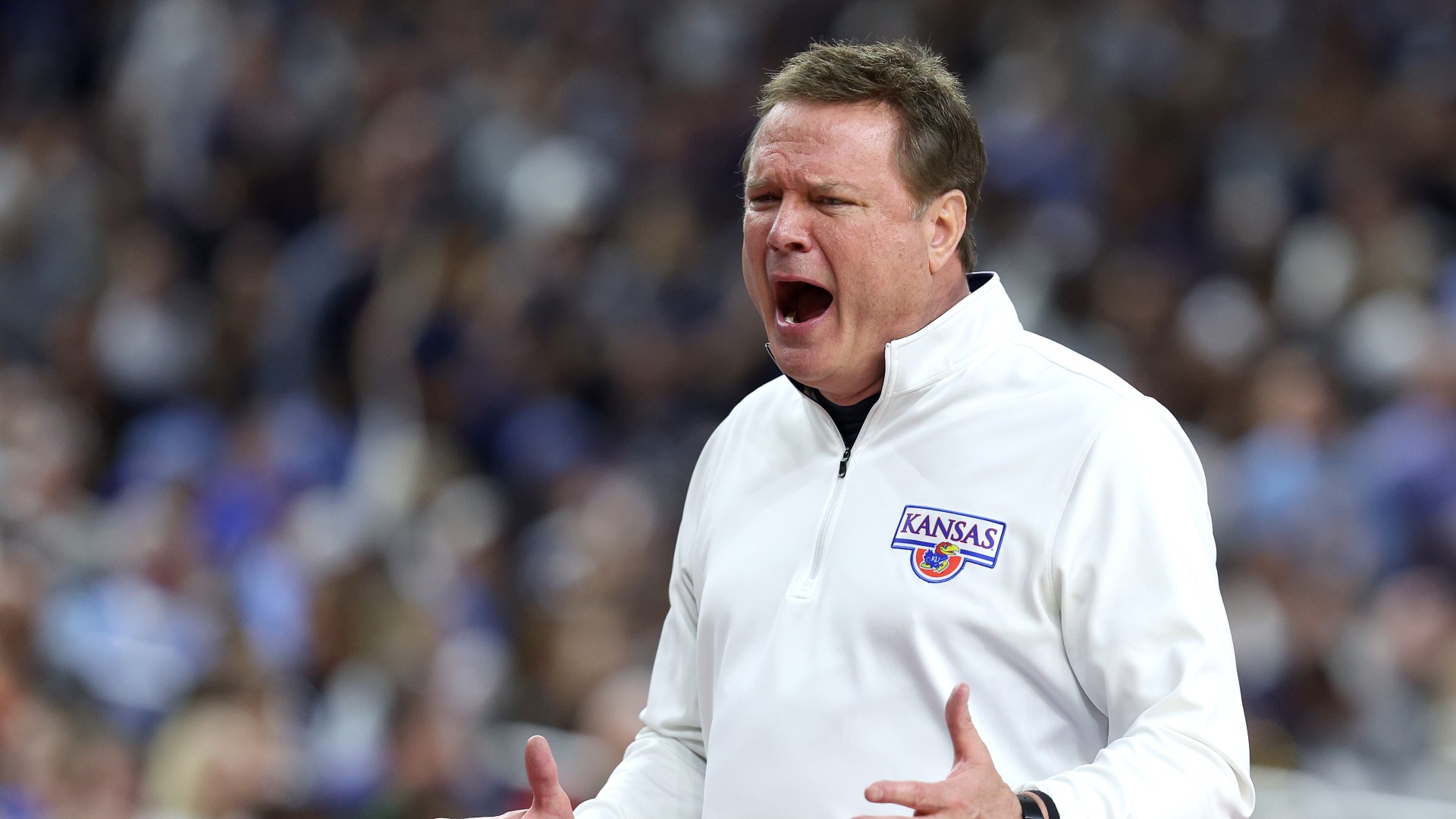 The guard battle will be another point of intrigue. UNC's backcourt duo of Caleb Love and RJ Davis can be the best in the country on one night and among the worst the next.
Erratic shot selection has been a theme all season for the Heels, even during their recent impressive winning streak. KU's guards — specifically Dajuan Harris Jr. and Martin — are playing their best basketball right now.
Harris is a cool customer at the point of attack, and Remy is a dynamo who can score against anyone off the bounce. Whoever wins the guard battle likely wins the game.
KU's trump card is First Team All-American Agbaji who shook off any potential "slump" inklings with a 21-point performance against Villanova on Saturday.
There is nobody on UNC quite as dynamic or as star-studded as Agbaji. Manek can get his, but Agbaji has another level. UNC's Leaky Black — touted as one of the best defenders in the nation — likely gets the assignment, but I'd take Agbaji in that matchup despite Black's defensive prowess.
Transition is key for both squads, as both love to run in the open floor and have the athleticism and speed to be successful there. Both teams primarily push the pace off of defensive rebounds, making the glass battle all the more crucial.
KU scores 1.105 points per possession (PPP) in transition, an excellent mark per Synergy. UNC allows 1.043 PPP in transition, a below-average mark.
On the opposite end, UNC, too, excels in transition offensively (1.12 PPP), but Kansas is very good at stopping it (0.947 PPP allowed).
To boot, the Jayhawks allow far fewer transition chances than the Tar Heels. Per Hoop-Math, KU ranks 73rd in initial FGA% allowed in the open floor, while UNC ranks 223rd.
Expect an up-and-down, high-scoring affair with the Jayhawks holding slight edges in several key areas.
---
By: Matt Cox
There's a common trend surfacing amongst teams making deep tournament runs: as the stakes rise, the bench shrinks. The momentous, high-leverage moments are simply too precious to risk not having your best five on the floor at all times.
These Tar Heels are no exception.
Per KenPom, UNC ranks 346th in bench minutes used this season, and Hubert Davis' selective bench usage has held throughout the tournament.
Look no further than last night. Davis trotted a hobbled Bacot back out on the floor late in the game after he seriously turned his ankle. Bacot could barely walk down the stairs after the post-game press conference.
With Coach K's swan song in the rearview, Bacot's health is the prevailing headline heading into this national title game. Davis, jokingly, guaranteed the big fella will be out there Monday when Pete Thamel asked about Bacot's diagnosis.
Still, a less than 100% Bacot will demand more playing time from backup Johnson, who was thrust into the limelight unexpectedly last night. The 6-foot-8 southpaw held his own against Duke, but he'll face an even bigger challenge Monday: checking McCormack, who's been unstoppable down the stretch.
Davis may consider alternative lineup combinations to protect his ailing big man. A smaller look with Manek as the de facto 5-man is one such option.
Pivot Analysis' on/off splits paint an ominous picture of how porous UNC's defense is without Bacot.
Since the beginning of February, UNC's surrendered 1.24 points per possession with Manek on the floor while Bacot sits. Manek is a killer in pick-n-pop offense, but he can be attacked on the other end, as Duke did with Paolo Banchero Saturday night.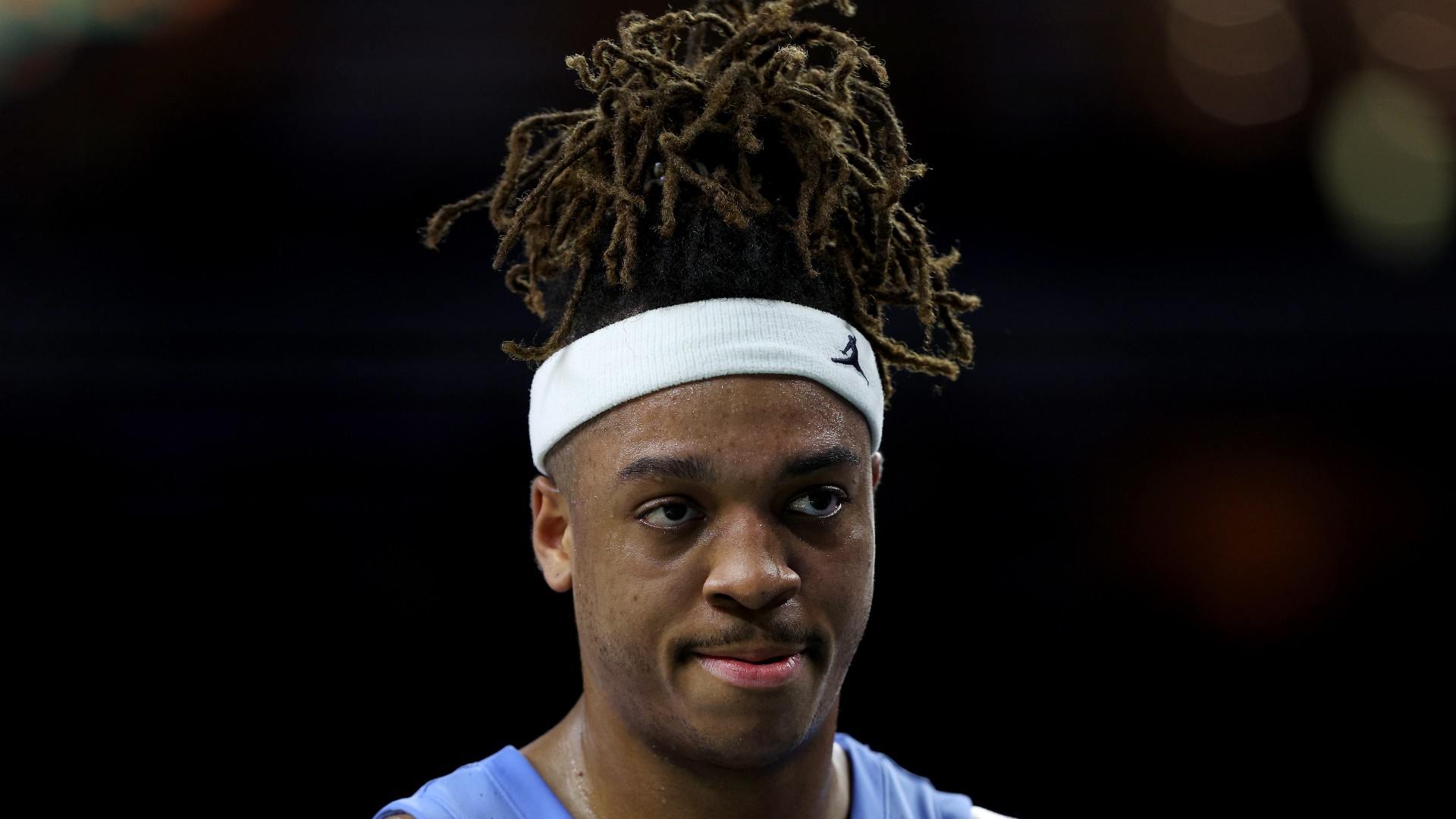 There's another concern specific to the impending Kansas matchup. The Jayhawks can easily counter with a basic matchup realignment due to Leaky Black's shooting ineptitude (though, he did hit two huge 3s in the semis).
Self managed this brilliantly against Miami (FL), another team with an inverted forward combination — a true stretch forward at the 5 (Sam Waardenburg) and a non-shooter at the 4 (Jordan Miller).
KU simply flipped its matchups by slotting McCormack on Miller and Wilson on Waardenburg. The Jayhawks can replicate this matchup by throwing McCormack on Black and Wilson on Manek.
That said, North Carolina's burgeoning backcourt could render those frontline worries moot on Monday.
Once upon a time, we scorned Love and Davis for being too Jekyll and Hyde. However, there's a double-edge sword to their irrational confidence. When the game tightens up, this duo is immune to pressure. They take, and make, big shots in big moments time and time again.
In general, this duo is starting to co-exist like yin and yang. Their scoring styles fit together like a glove.
Davis has blossomed into a mid-range assassin, while Love is doing his damage at the extremes: at the rim and from long distance.
Even in March, Love has shown signs of growth in terms of shot selection. As a career 37% shooter from inside the arc, Love is starting to pick his spots. Over his last three games, he's 17-for-28 on 2-point field goals. The four games prior? 3-for-25!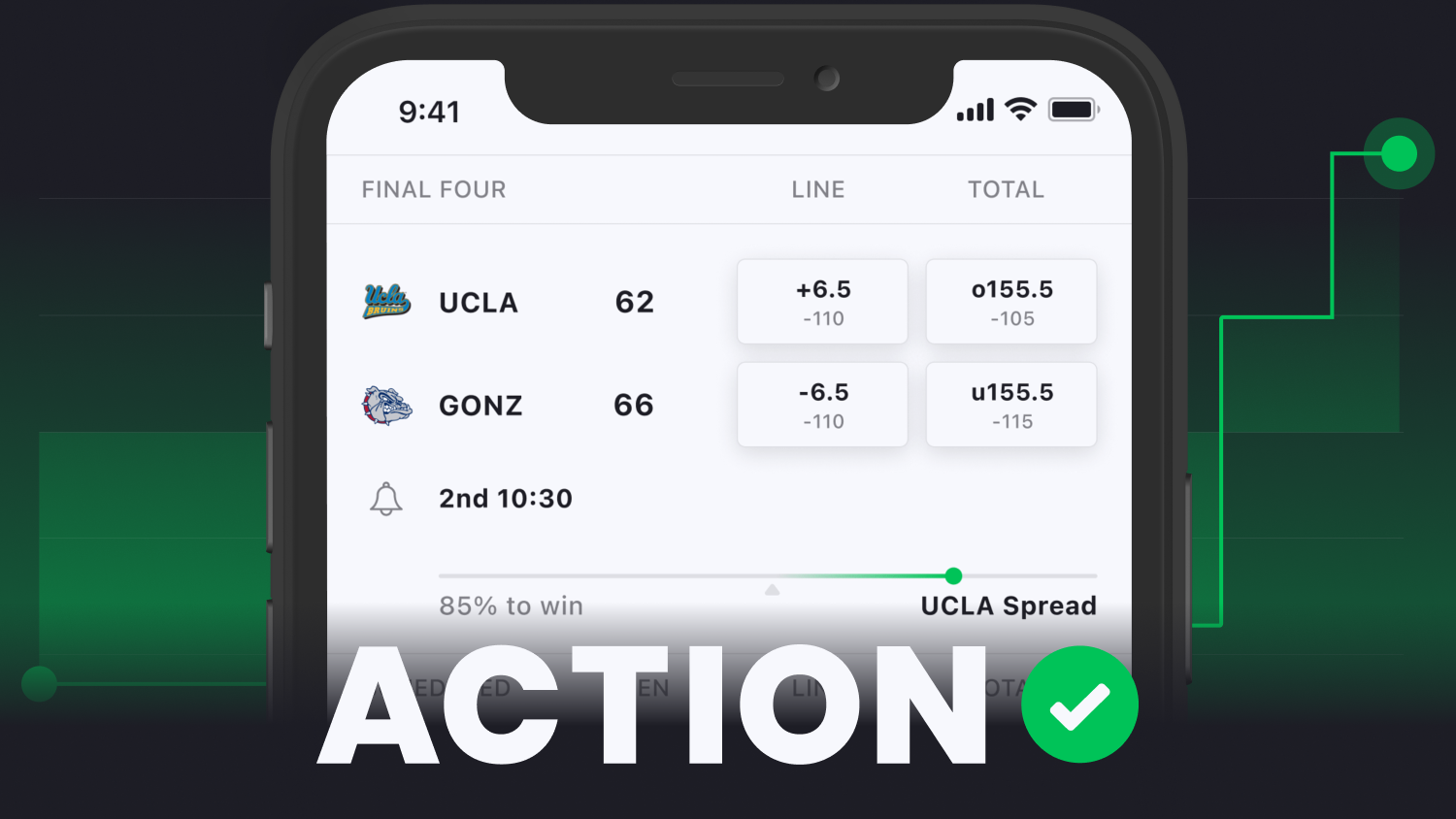 The must-have app for college basketball bettors

The best NCAAB betting scoreboard

Free picks from proven pros

Live win probabilities for your bets
---
Kansas vs. North Carolina Betting Pick
By: Stuckey
If both favorites won in similar fashion on Saturday without any injuries, I would've made the Duke-Kansas line right around a PK.
Well, Duke was just a 4-point favorite against UNC. By that logic, Kansas favored by 4 here sounds about right after both teams had impressive efforts in the Final Four.
However, there are two lingering questions surrounding UNC. Is there any emotional hangover from that monumental win over Duke that some may be talking about longer than any potential national title? I personally think that's probably nonsense after the first few minutes, but it's worth mentioning.
The much more important factor is Bacot's health after injuring his ankle late on Saturday against Duke. Davis expects him to play, but who knows how sore or swollen it may potentially be by game time.
A potentially limited Bacot will really hurt UNC in multiple ways, but this is especially big on the glass. The Heels rank second in the nation in that category in large part due to the rebounding machine that is Bacot.
That's critical in this particular matchup against a Jayhawks team that thrives on the offensive glass. Plus, on the other end of the floor, UNC can take advantage of a fairly weak Kansas defensive rebounding team if Bacot is a full-go.
Kansas looked super impressive against Nova on Saturday, but it simply couldn't miss a shot from the outside. You're going to look pretty good when you shoot 13-of-24 from distance. Plus, the Jayhawks were playing an undermanned Nova team.
The Jayhawks have certainly benefited from a much easier path to the championship than the Heels, but give credit when credit is due for getting the job done. And this is undoubtedly a top-five team in the country.
That said, the pregame line looks about right. There's just more uncertainty on the UNC side.
I'll personally wait to see how Bacot looks before getting involved here. If he looks okay, I'd like UNC +6 or 7 after a potential slow start — although I'm sure there will be plenty of opportunities in a game that should have many points and runs.
Pick: UNC +6 or +7 live (If Bacot looks good)
How would you rate this article?
This site contains commercial content. We may be compensated for the links provided on this page. The content on this page is for informational purposes only. Action Network makes no representation or warranty as to the accuracy of the information given or the outcome of any game or event.