Ohio State vs. Rutgers College Basketball Betting Odds & Pick: Back Scarlet Knights In Piscataway
Credit:
Benjamin Solomon/Getty Images. Pictured: Jacob Young.
Ohio State heads to New Jersey on Saturday to take on Rutgers in a Big Ten showdown.
The last time these two teams met, Ohio State pulled off a 16-point comeback to win by 12, but Tanner McGrath doesn't see the same result playing out Saturday.
Check out McGrath's full preview and betting pick for Ohio State-Rutgers below.
Ohio State vs. Rutgers Odds
---
---
I love Big Ten basketball.
The conference is total anarchy. You never know what's going to happen on any given night, and we have no idea who is going to win the conference.
KenPom has four Big Ten teams ranked in the top 10 in Adjusted Efficiency. Meanwhile, Tom Izzo's very talented Michigan State squad is 11th in the conference standings right now.
Outside of Nebraska, there are no bad teams in this conference. That includes the two involved in Saturday's matchup between Ohio State and Rutgers.
Ohio State is 2-3 in conference play while Rutgers is 3-3. The last time these two teams met, Ohio State pulled off a 16-point comeback to win by 12.
I'm not so sure the Buckeyes will pull off a repeat performance.
---
Ohio State Buckeyes
Ohio State has been up and down this season, but one thing is clear — the Buckeyes haven't played well on the road.
They've dropped their last three road games and failed to cover in any of them, losing by seven to Purdue, one to Northwestern and 17 to Minnesota.
The Buckeyes are giving up 72 points per game at home this season, which is 278th in the country. In their home loss to Minnesota, they allowed five Gopher players to score in double digits. In their home loss to Purdue, they allowed four Boilermaker players to score in double digits.
Offensively, Ohio State has been efficient. It's 10th in the country in offensive efficiency, per KenPom. However, that's largely due to low turnover numbers and high free-throw percentage, because it isn't shooting great from the field.
While Ohio State is shooting over 50% from inside the arc, it's shooting just 27% from 3-point range. That ranks last in the Big Ten and 233rd in the nation. The Buckeyes have three guys averaging over 10 points per game, but combined they are shooting less than 45% from the field and less than 30% from 3.
Rutgers Scarlet Knights
While I believe Rutgers is one of the best teams in the country, the Scarlet Knights have struggled recently.
Rutgers has dropped three of its last four games, including a road game to Ohio State. It only lost to Iowa by two but followed it up by managing only 45 points in a road loss to Michigan State, by far the Scarlet Knights' worst performance of the season.
After missing the game against Purdue with an ankle injury, one has to wonder if Ron Harper Jr. is feeling 100%. After scoring 20 or more in five of his first seven games, he scored just 13 in each of the past two on a combined 10-for-27 shooting.
That's a big issue because Harper is far and away Rutgers' most important player. I cannot overstate how important he is to this team.
The Scarlet Knights rely heavily on their defensive prowess, and they have a very talented defense. However, Harper is their go-to guy in big situations and at the end of games. Harper scored 19 second-half points in the Dec. 14 win against Maryland, and then scored 19 second-half points, again, in their win against Illinois.
Whenever Rutgers needs a bucket, the ball goes to Harper. If he has another lackluster game Saturday, it'll be tough for Rutgers to win.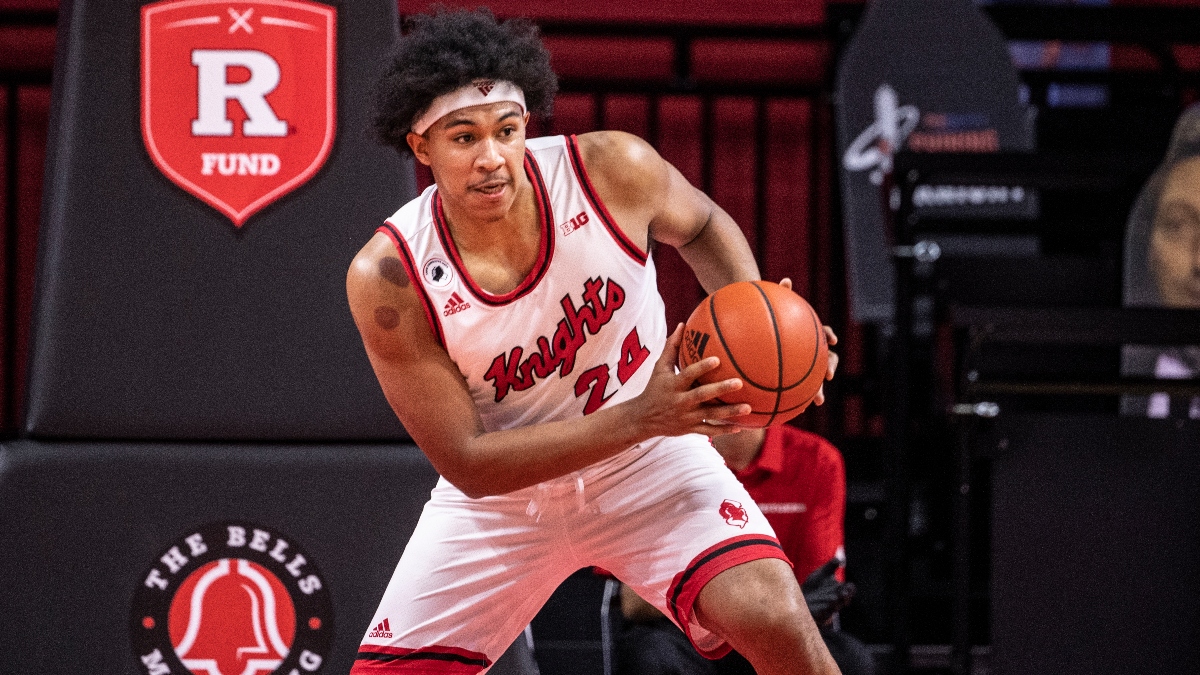 What to Watch For: Ron Harper Jr. and the Scarlet Knight Defense
There are two factors that will decide the outcome of this game.
First: Ohio State's shooting against Rutgers' defense.
The Scarlet Knight defense, while struggling in recent outings, has a very high ceiling. At times, their defense has been incredibly adept, like when they held the Iowa Hawkeyes, who are averaging 94.2 points per game, to just 77 points.
As mentioned above, Ohio State's shooting numbers have been questionable. However, in the Buckeyes' victory over the Scarlet Knights, they shot 23-for-39 from 2-point range and 22-for-29 from the stripe.
Rutgers needs to get back on track defensively, and Ohio State needs to shoot more efficiently.
Second: Ron Harper Jr.
As mentioned before, the Scarlet Knights win when Harper plays well. When Harper is playing at 100%, Rutgers becomes really difficult to beat, because it pairs a great defense with a player who can win tight games.
If Harper scores less than 15 points on poor shooting again, I expect Rutgers to suffer its third straight loss.
---
Betting Analysis & Pick
The line for tonight's matchup opened at Rutgers -1.5, but at the time of this writing, it's quickly shifted to -3.5.
I'm buying the line movement in tonight's matchup.
Ohio State is 0-3-1 ATS on the road this season and 1-4 SU in its last five road games overall. As I mentioned, the Buckeyes haven't been playing well on the road this season, and the RAC is not an easy place to play.
Rutgers is 4-2-1 ATS at home this season. Plus, it's covered three straight games at home, against Illinois, Purdue and Iowa.
Finally, the Big Ten is notorious for home-court advantage. This season isn't much different. Per our SportsInsight Database, home teams in the Big Ten are 20-14-2 ATS this season.
I believe Harper and the Scarlet Knight defense will bounce back against Ohio State. I'm trusting the betting movements and line trends and believe that Rutgers -3.5 is a smart play.
Pick: Rutgers -3.5.
How would you rate this article?