Stuckey: How I'm Betting Both Final Four Games
Credit:
Denny Medley-USA TODAY Sports. Pictured: Texas Tech head coach Chris Beard
The 2019 Final Four tips off at 6:09 p.m. ET on CBS with Virginia vs. Auburn and ending with Michigan State vs. Texas Tech (8:49 p.m. ET)
Stuckey gives his full breakdown of each game and details how he's betting the spreads, along with a bonus player prop.
Tres. Trois. Zwei. No matter which language you are speaking, we only have three college basketball games left in the season. Cherish every single one of the 120 games minutes left. Hey, maybe we'll get some free minutes with an overtime … or two … or three
We have a tough act to follow after an excellent Elite 8, but both Final 4 games have classic potential. Let's take a closer look at each individual matchup. I will give which side I like in each in addition to my favorite player prop on Saturday night.
---
#1 Virginia vs. #5 Auburn: NCAA Tournament Betting Odds
Spread: Virginia -6
Over/Under: 131
Location: Minneapolis, MN
Date: Saturday, April 6
Time: 6:09 p.m. ET
TV: CBS
By now, most should know I'm an enormous Auburn fan since I have three separate national title futures. However, I have hedged where necessary and will profit some regardless of the outcome this weekend (although a lot more if Auburn cuts down the nets in Minneapolis).
That said, those futures are a completely separate entity, as I will look at this game through its own lens and bet where I see value.
The key to the game will be transition opportunities. While Virginia's defense does almost everything at an elite level in the half court, it is actually very vulnerable in transition. Virginia allows transition opportunities on just over 10% of its possessions but it struggles to defend those chances.
The Cavaliers rank 317th in the nation in transition Points Per Possession allowed, per Synergy. That could spell trouble against an Auburn team that loves to push it when given the opportunity (one of 36 teams that gets out in transition at least 20% of the time) and does so successfully, ranking in the top 40 in that same PPP category.
The UVA defense is nothing short of elite the other 90% of the time it is not in transition so the Tigers would be smart to  speed this game up whenever they have a shot (after live ball turnovers and long rebounds). If Auburn can get in the ballpark of 20% transition opportunities, I think it easily covers.
While Auburn will miss Chuma Okeke, it still has two guards capable of exploiting the pack line in seniors Jared Harper and Bryce Brown. They both can exploit UVA in transition and off the dribble in the half court.
I think Brown and Harper, in particular, can exploit freshman guard Kihei Clark on both ends. The 5-foot-9, 155-pound Clark will really be the only freshman playing in this game and while he plays extremely hard and disciplined defense (he rarely ever fouls), it's hard not to be a liability at his size.
Players can easily shoot and pass over him without much disruption. Look no further than UVA's on-off splits per HoopLens, which show that UVA is almost 8 points better per 100 possessions when Clark is off the floor. His lack of shooting ability makes him a gaping hole on the offensive end. (He's shooting less than 35% from the floor on the season. Yes, the floor, not just from 3.)
But for whatever reason, Tony Bennett has increased Clark's minutes this tournament as he has tightened up his rotation. Clark is averaging more than 32 minutes per game in this tourney and I think there is a direct correlation between that and the unexpected success of UVA's opponent 3P%.
In four games this tournament, teams have shot 40-of-102 from beyond the arc. That's nearly 40% — more than 10% higher than its season average.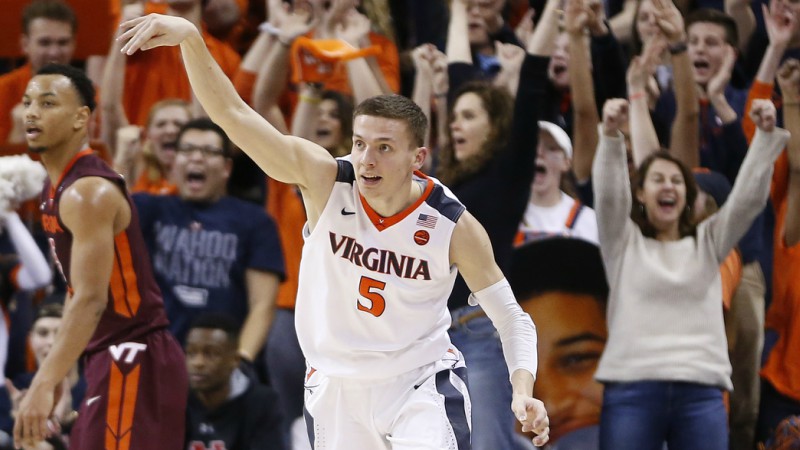 Additionally, Clark owns UVA's highest turnover rate at 19.7%, per KenPom, which could play right into the hands of an Auburn defense that leads the nation in turnover percentage. The Tigers force a turnover on an absolutely absurd 24.9% of opponent possessions, which also allows them to get out in transition.
I will say that UVA has been running bad on the offensive end from 3 and you could argue partially bad on defense, as well. A lot of that has to do with Kyle Guy's shooting woes. If he can get it going, UVA is a different team, as his late-shot-clock 3s are daggers with UVA's grind-it-out style.
But there's just something about this Auburn team. The Tigers are playing as well as anybody in the country, having won 12 straight overall, including seven against the KenPom top 25. Bruce Pearl has this team believing and the Tigers have the senior guards to get out in transition and break down UVA off the dribble when necessary in the half court.
Don't count this Auburn team out.
With the news of some Auburn players being under the weather, I think this line may continue to rise, so I'd wait it out before pulling the trigger if you fancy the underdog. These are college kids playing in the Final Four, so I don't expect the third day of an illness to be a huge hindrance.
The Pick: Wait out as long as possible on Auburn; no feel on the total
---
#2 Michigan State vs. #3 Texas Tech: NCAA Tournament Betting Odds
Spread: Michigan State -2.5
Over/Under: 132.5
Location: Minneapolis, MN
Date: Saturday, April 6
Time: 8:49 p.m. ET
TV: CBS
This game is really tough to call, which isn't surprising to me since I make this line Michigan State -0.5. I think it has the potential to be the best basketball game of the tournament and fully expect it to come down to the wire.
It's a true clash of elite offense vs. elite defense.
Texas Tech has the nation's best half-court defense. Chris Beard's aggressive, switch-everything, mostly-man-to-man defense suffocates opponents. Per Synergy, TTU only allows 0.73 points per possession in the half court, which leads the nation. Only three teams had a single-season PPP lower since the 2013-14 season:
Meanwhile, Michigan State runs some of the country's best half court offense. There's a reason Sparty leads the nation with a 26.6% assist per possession rate. (Only one other team in the country sits over 25% and that's Belmont).
Star point guard Cassius Winston runs the show with shooters on the perimeter and a plethora of bigs inside. Tom Izzo's bunch runs beautiful motion and always makes the extra (and usually right) pass. This is a veteran team that is mentally unflappable, as it has consistently shown all season. Look no further than Sparty's three comeback wins against Michigan.
Something has to give between these two elite units. TTU's switching ability, length and lane-clogging tendencies should make it tough for MSU to run its stuff, but MSU should get plenty of opportunities on the offensive glass.
The wild card here is what Beard can cook up. He is an absolute prep wizard, both pregame and in-game via 2H adjustments.
TTU's offense is no slouch either, led by star forward Jared Culver, who's having a monster tournament. The ball-handling can get a little shaky as we saw late against Gonzaga but Michigan State doesn't force turnovers. However, Sparty is also elite otherwise on defense.
No matter which way you slice it, this should be an absolute war on both ends. I simply keep coming back to this being a coin flip, which is right on my number. I'd love to get a 3 but 2.5 would also have value per my numbers.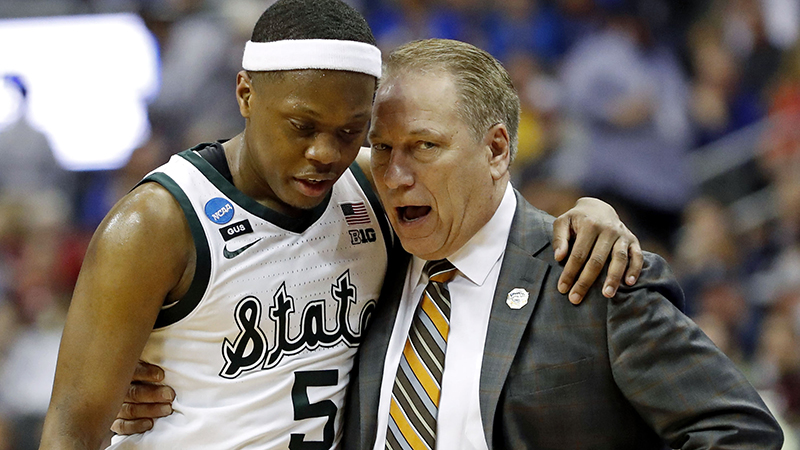 In regards to the total, I initially loved the under in a game featuring the top two 2P defenses in the country playing in a football stadium. However, I think Tom Izzo will want to push the ball in transition as much as possible to avoid facing the spectacular Texas Tech half court defense.
Also, historically, Final 4 games have played faster than both the Elite 8 and Championship rounds from an Adjusted Pace perspective. The hypothesis is kids play a little looser after reaching their Final Four goal (explains the tightness in the Elite 8) and then they tighten every screw back up in the title by valuing every possession. So, after looking a little deeper, I will avoid the total here.
The Pick: Texas Tech +2.5
---
Favorite Player Prop
Let's stay with the Texas Tech-Michigan State game for my favorite player prop. I have to give credit to my colleague Matthew Freedman for pointing this one out: Cassius Winston Over 2 three pointers made (+110).
Not only does Winston average more than two a game, he is playing significantly more minutes this tournament, as you might expect. I wouldn't be shocked to see him play 37-38 minutes tonight against Texas Tech.
I think Winston will take a few 3s out in transition and also be forced to throw up some late in the shot clock when Sparty has to run their half court stuff against a Texas Tech defense that excels at defending the paint area.
In a game where I expect six-plus attempts from deep, I will gladly take over 2 at plus money for a guy shooting north of 40% from beyond the arc on the season.
How would you rate this article?