Virginia-Duke Betting Preview: Can Tony Bennett's Defense Handle Zion & Co.?
Credit:
USA Today Sports. Pictured: Tony Bennett and Zion Williamson
Betting Odds: Virginia Cavaliers at Duke Blue Devils
Spread: Duke -3.5
Over/Under: 137.5
Time: 6 p.m. ET
TV: ESPN
---
>> All odds as of Saturday at 9 a.m. ET. Download The Action Network App to get real-time NCAAB odds and track your bets.
---
Betting Market
This line opened Duke -3.5 on Friday evening. Within a half-hour it was down to -1.5.
But by Saturday morning, Duke money had slowly found its way into the market, causing the spread to perk back up to where it opened: Duke -3.5 (see live betting data here).
Our line predictor over at SportsInsights thinks it'll jump up to Duke -4.
The Cavaliers are a popular underdog, getting 69% of the betting tickets and 52% of the money at the time of writing.
The under is getting the vast majority of the action (64% of tickets), causing it to move from an opener of 140 down to 137.5. — Scott T. Miller
Trends to Know, Part 1
In regular season matchups of top-five teams, the underdog has gone 32-19-3 ATS since 2005, per our Bet Labs data.
In conference games, the underdog has gone 21-7-2 (75.0%) ATS in these scenarios. — John Ewing
No. 1 Duke lost to Syracuse on Monday as a 17-point favorite. Top-five teams that lost their previous game and then are favored in their next game have gone 83-108-4 (43.5%) ATS in the regular season since 2005. — Ewing
A loss today would mark the Blue Devils' second consecutive home defeat. Over the past decade, Duke has only lost two games in a row, both at home just once in 175 games (Jan. 18, 2016 against Notre Dame and Syracuse).
Since losing those two consecutive games to Notre Dame and Syracuse in 2016, Duke has won eight straight home games by a margin of 18.3 PPG when they are coming off a straight up loss. — Evan Abrams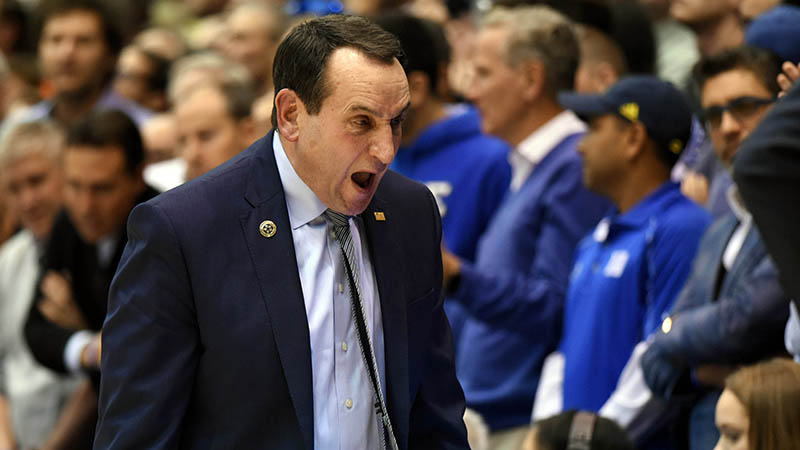 How the Sharps Are Betting Virginia-Duke
For just the second time this season, Duke is drawing fewer than 40% of bets in a game (Dec. 18 vs. Princeton). Undefeated Virginia has picked up 69% of bets in what could be the biggest matchup of the year.
While there was plenty of uncertainty as to where this line should open (opening numbers ranged from -1.5 to -4.5), just about every sportsbook had Duke at -2 or lower during the overnight hours.
Since then, the Blue Devils have moved to 3.5-point favorites despite their minority backing.
Two Sports Insights Bet Signals were triggered on Duke Saturday morning, causing the most recent line move of -3 to -3.5.
Duke is showing off a strong bet vs. money discrepancy. The 31% of bets on the Devils have accounted for 48% of actual dollars, meaning the Blue Devils are attracting the bigger, sharper bettors.
Stuckey's Angles
This game basically comes down to turnovers for me.
In almost any year, you are doomed if you turn the ball over in Cameron. That's especially true this season against an elite Duke transition offense that thrives off turnovers.
Duke is forcing 17.44 turnovers per game — which ranks in the top 20 nationally — but more impressively, the Blue Devils are scoring a ridiculous 1.3 points after a turnover.
Well, bad news for Blue Devils: Virginia doesn't turn the ball over.
UVA only averages 8.9 turnovers per game, which leads the nation. And if you want to go by turnover percentage of offensive plays (a more accurate measure that accounts for pace), Virginia still ranks in the top five.
And even more impressive, the Cavaliers rank No. 1 in the nation in turnovers per offensive possession on the road at a miniscule 10.7%.
Plus, Duke's ability to create turnovers takes a hit with the loss of Tre Jones, who leads the team with 2.06 steals per game (42nd in the country) but will miss Saturday's game with a shoulder injury.
Speaking of Jones, his loss will also impact that uber-efficient transition offense, in addition to the Blue Devils' half-court offense. Jones' 5.69 assist-to-turnover ratio is the third best in the nation.
Another factor worth considering is free throw shooting: Virginia shoots 77.7% from the stripe, seventh-best in the nation, while Duke is at 67.7% (246th in the nation).
I like UVA at any dog number. Virginia has been on a mission all year long and I think it continues against a Duke team that doesn't match up well, especially without Jones. — Stuckey
Biggest Mismatches
When Virginia has the ball: UVA's efficient 3-point shooting vs. Duke's 3-point defense
Before this season, the most efficient offensive team in the Tony Bennett era at Virginia was 2016.
That Cavaliers team earned a No. 1 seed in the NCAA Tournament and steamrolled Hampton, Butler and Iowa State before blowing a 14-point halftime lead in the Elite 8 to Syracuse.
The Cavaliers will bring the nation's fourth-best offense to Cameron Indoor Stadium on Saturday night, which will cause a defensive nightmare for Duke.
First on the list for the Blue Devils: Find a way to defend the 3-pointer.
Virginia is shooting 46.3% from deep in their four conference games, two of which came on the road. While Duke ranks 28th best against the three-pointer on the season, they are only 11th within ACC games allowing conference teams to shoot 35%.
Virginia's Kyle Guy, Ty Jerome and De'Andre Hunter are all hitting 40% or better from beyond the arc this season. Since Duke will be without Jones, a talented perimeter defender, this is the primary concern for head coach Mike Krzyzewski's defense on Saturday.
Another underrated concern: Getting defensive boards. Duke ranks third in the country with an average of 44.2 total rebounds per game. However, the Blue Devils allow their opponents a shocking 10.4 offensive rebounds per game (321st).
In their four ACC conference games, the Blue Devils rank 13th out of 15 teams in opponent offensive rebounding. Against Bennett's disciplined team, this presents a clear mismatch. — Mike Randle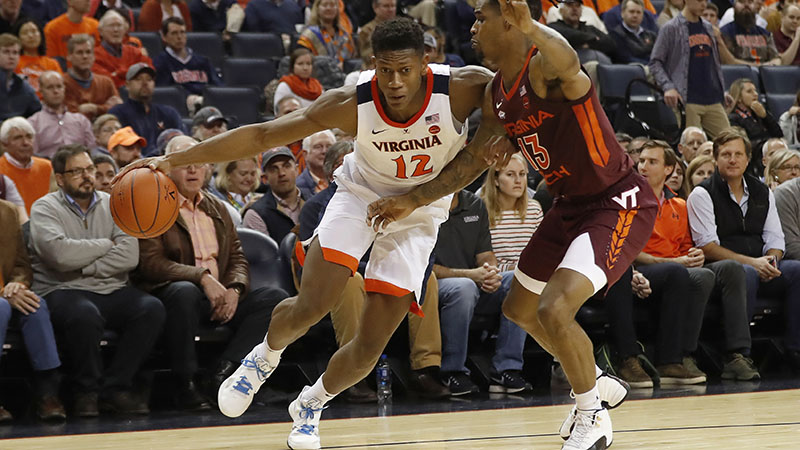 When Duke has the ball: Although the Cavaliers' vaunted pack line defense has yielded the 19th-lowest opponents' two-point percentage (44.3%) in the country, they've also allowed 53.7% of their opponents' scoring to come from inside the arc — the 49th-highest rate in the country.
Even minus Jones, the Blue Devils can still attack the paint often with RJ Barrett as their lead guard.
Duke is also manufacturing 55.5% of its scoring via two-pointers, good for the 28th-highest percentage. Zion Williamson and and Barrett should have success in the low-post and via the dribble drive, respectively, breaking down the pack line before spreading it out to the perimeter.
Williamson's matchup against De'Andre Hunter will be a critical factor, as the 6-foot-7, 285-pound freshman presents a physical challenge down low for the 225-pound Hunter.
The Blue Devils also collect the sixth-highest offensive rebounding percentage in college basketball.
Williamson, Javin DeLaurier and Marques Bolden all need to make a major dent in that department to create second-chance opportunities and to keep Virginia from controlling the pace at its snail-like tempo.
Winning the battle on the offensive glass would also create open looks for Cam Reddish, especially if UVA's defense is a little discombobulated.
He's shooting 46.6% on 3s over his past two games. — Eli Hershkovich
Trends to Know, Part 2
Duke is 14-2 this season and one of the best teams in the country no matter who is on the floor. But under Tony Bennett, Virginia has dominated great teams against the spread.
The Hoos are 50-29 (63.3%) ATS when facing teams with a win percentage of 75% or better under Bennett, profiting bettors 18.2 units (per our Bet Labs data).
Bennett is the second-most profitable coach in this spot, behind only John Calipari, who is 58-34-5 (63%) ATS and +20.6 units. — Abrams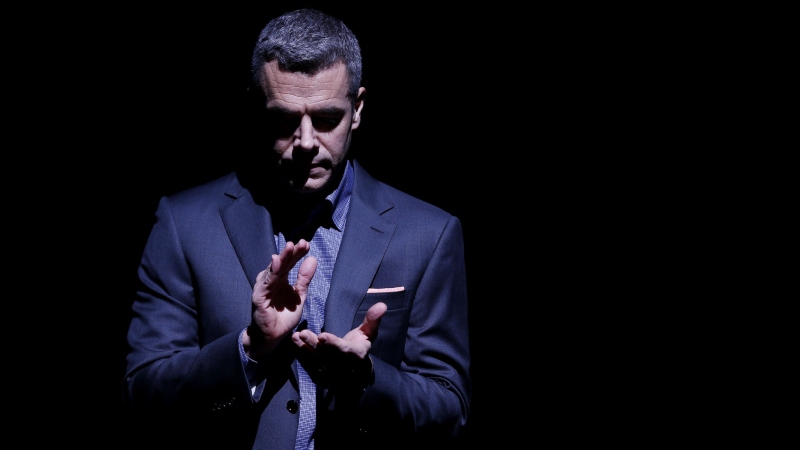 Bennett is 5-0 ATS (+4.8 units) at Cameron Indoor in his UVA career but 1-4* (-2.2 units) on the moneyline with the lone straight up win coming last season.
*Virginia fans are quick to point out that had Grayson Allen been called for a travel at the conclusion of the 2016 meeting, the Hoos would be heading to Durham riding a two-game road win streak against the Blue Devils. — Connor Nolte
How much has the UVA basketball program improved under Bennett? In his first game at Cameron Indoor, his Hoos were 21.5-point underdogs.
Today they're only +3. — Nolte
Bets to Watch
Stuckey: UVA as a dog. See above for rationale.
Mike Randle: Virginia +3. An inexperienced freshman-laden Duke team minus their starting point guard will not beat a veteran Hoos team playing with a chip on its shoulder.
Eli Hershkovich: Virginia +3. No Jones will limit the Blue Devils' transition opportunities tremendously, especially against such an efficient UVA offense. Even if Duke's offense exceeds expectations in half-court sets, it won't be enough.
Ken Barkley: Virginia +3. As impressive has Duke has been all season, let's pause for a moment and call the Blue Devils "Team X," because when we think about Duke and Zion and R.J. Barrett and allllllllll the hype, it can cause wacky overreactions.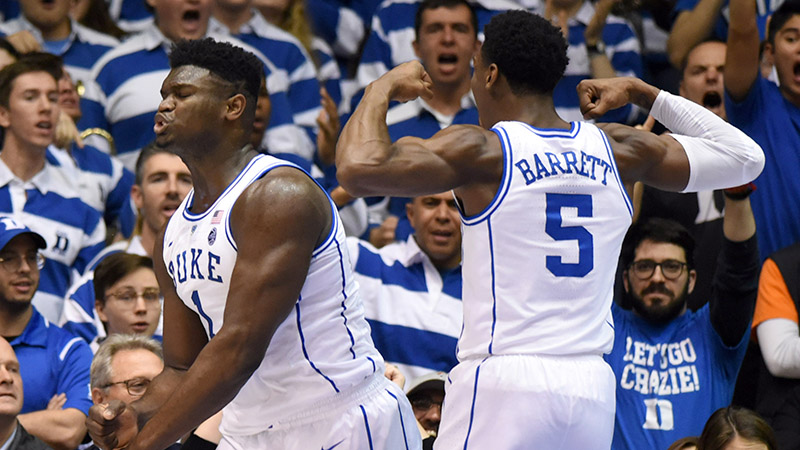 Team X ranks top-five in KenPom offensive and defensive efficiency, which is outstanding. Team X has two losses. It is 6-2 vs teams the KenPom top 50, so it has played a lot of "test" games.
The way in which Team X scores its points is straightforward — through raw talent advantages, but mostly in transition and off of stellar athletic defensive plays.
Team X is top-two in the country in steal percentage and block percentage, which is outrageous, and as a result, it's shooting well from 2 (third in the country), because a lot of its shots are easy.
Team X on Saturday is playing without its starting point guard, against a better-rated team, and an opponent that thrives in not turning the ball over. (Reminder: Team X's potent offense is, in large part, fueled by turning defense into easy buckets.)
In a strictly half-court game without its point guard to run the offense, Team X should struggle.
That doesn't mean it will definitely lose, but in its current situation, Team X should not be a favorite — even at home.
I like Virginia + anything, and would bet UVA small at pick'em.
When you stop saying Duke, Zion Williamson, RJ Barrett and Cameron Indoor Stadium, it can help make things clearer.

---
Editor's note: The opinions on this game are from the individual writers and are based on their research, analysis and perspective. They are independent of, and may not always match with, the algorithm-driven Best Bets from Sports Insights.