Notre Dame vs. Clemson Odds & Pick: Where is the ACC Championship Betting Value?
Credit:
Tim Warner/Getty Images. Pictured: Ian Book.
Notre Dame vs. Clemson Odds
The ACC Championship game is a rematch of an overtime Clemson loss at Notre Dame Stadium on Nov. 7.
Trevor Lawrence sat out that game due to COVID-19, allowing D.J. Uiagalelei to start the first game of his career. Clemson was also without starting linebackers James Skalski and Mike Jones Jr. due to injury. The Tigers roared back into the game after trailing 23-10 early, leading 33-26 late in the fourth quarter.
The luck of the Irish came through in an eight-play, 91-yard drive led by quarterback Ian Book to send the game to overtime. The Notre Dame defense came up strong in the second overtime with two consecutive sacks of Uiagalelei before incompletions on third and fourth down with 24 yards to go.
Both teams finished with similar overall Offensive Success Rates and numbers of explosive drives.  The Tigers' undoing came in two early turnovers that resulted in 10 Notre Dame points.
Clemson Tigers
The Tigers have played just two games since the loss to Notre Dame, bringing hellfire and brimstone to Pitt and Virginia Tech with a combined 97-27 margin.
While those scores look lopsided, the Hokies found plenty of success in the first half before an injury to multiple quarterbacks in a scoreless second half. Virginia Tech gained close to seven yards per play with a second-quarter Success Rate of 62% against Clemson.
Despite the injuries under center, Virginia Tech posted a 53% Success Rate in standard downs against Clemson.
The Tigers boast one of the best defenses in the country, but the weakness comes in giving up chunk yardage in early downs. Clemson ranks 91st defensively in standard downs Success Rate, meaning any opponent that takes a home run swing on first or second down may have a big payoff.
After ringing up 400 yards through the air on Pitt, Lawrence was pedestrian in freezing temperatures against Virginia Tech. Clemson posted a lukewarm 40% Success Rate in passing plays while Lawrence threw 12-of-22 for less than 200 yards and an end-zone interception.
---
Notre Dame Fighting Irish
The Irish have been on cruise control since their victory over the Tigers. Notre Dame has not allowed an opponent to finish within two possessions of it in three games since.
The most impressive of those games came against the explosive North Carolina offense. Tar Heels quarterback Sam Howell led just one explosive drive in 11 offensive possessions, as the Irish's defense held North Carolina to a 21% Success Rate in the fourth quarter. Of 24 rushing attempts by the Tar Heels, the Notre Dame defense stuffed 15 of them at a 62% clip.
To put the domination in perspective, North Carolina is sixth in Overall Success Rate and explosiveness on offense. Specifically, North Carolina is fourth in passing downs Success Rate and was completely shut out in money downs, going 2-for-11 on third downs with an average distance of 9.8 yards to go. This was defensive coordinator Clark Lea's best performance and the reason he is the new Vanderbilt head coach.
Betting Analysis & Pick
Notre Dame offensive coordinator Tommy Rees only breaks out the passing playbook when needed. For the season, the Irish have run the ball at a 60% clip, but that number has been closer to 50% in games against Clemson and North Carolina.
Clemson vs. Notre Dame Matchup Matrix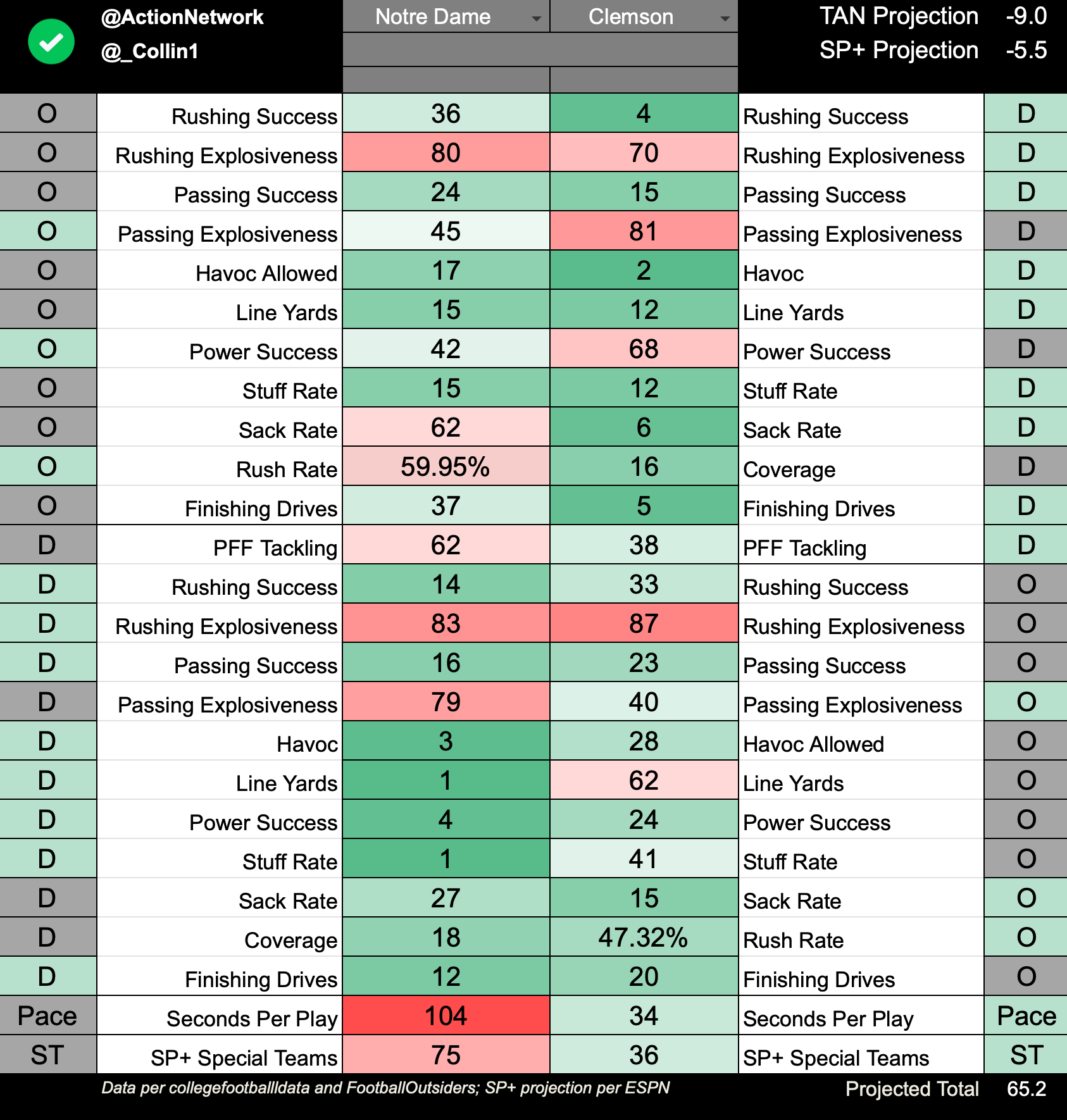 The return of Skalski is paramount to the success of Clemson's defense. As linebacker Jake Venables exits the season with injury, Skalski returns in the ACC Championship to take back his role as the captain of the defense. He and Jones are the highest-graded pass coverage defenders on Clemson, and their absences were felt in the first meeting between these teams.
Clemson has developed a strong balance between the run and the pass, but that changed against Notre Dame despite starting a freshman quarterback. The Tigers threw 46 times for a 52% Success Rate, averaging 9.2 yards per play.
The strategy is two-fold, as Notre Dame is the best run-stopping unit in the country and Clemson has no explosiveness on the ground in 2020. This may not be a great combination for the Tigers after the Irish shut down the prolific passing attack of North Carolina.
Notre Dame has played its best defense in standard downs, ranking seventh in Success Rate. The best place to take advantage of the Notre Dame defense is in passing downs, as the Irish are just 40th in Defensive Success Rate and 39th against explosiveness. Clemson may do just enough to win the game, but both defenses should keep this close.
The Tigers and Irish's most impressive stats come in the defensive drives splits. Both units rank top-eight in FBS in drives of two minutes or less and in the top 13 in drives of six plays or less.
Look for this game to stay under the total and for any Notre Dame number higher than The Action Network projection of Clemson -9.
Pick: Under 60 or better | Notre Dame +10 or better.
How would you rate this article?