College Football Bowl Game Betting Odds, Picks, Predictions: How to Bet 4 Bowls (January 1, 2020)
Credit:
Photo by Samuel Stringer/Icon Sportswire via Getty Images. Pictured: Oregon Ducks quarterback Justin Herbert
Bowl games roll on Wednesday with four contests, including Oregon vs. Wisconsin in the Rose Bowl and Georgia vs. Baylor in the Sugar Bowl.
Wisconsin should control the trenches against Oregon, while Georgia is missing some of its most key pieces against Baylor.
See our bowl game picks and predictions for all four Thursday contests below.
There's nothing like ringing in the New Year with a full day of college football betting. It's a traditional unlike many others.
Wednesday offers four bowl games, starting with Alabama vs. Michigan in the Citrus Bowl and finishing with Georgia vs. Baylor in the Sugar Bowl.
Here's how we're betting all four New Year's Day bowls.
Bowl Game Odds & Picks
---
Odds as of Wednesday morning and via FanDuel, where Action Network users get a risk-free bet up to $500.
---
Alabama vs. Michigan
Odds: Alabama -7
Over/Under: 58
Time: 1 p.m. ET
TV: ABC
Location: Orlando, Fla.
Collin Wilson: Will Alabama Be Motivated? 
Normally, a handicapper can rely on the data and information to make an investment. In the case of the 2020 Citrus Bowl, the most important part of the handicap can't be quantified.
How motivated will Alabama be for this game?
This is the first time since the advent of the College Football Playoff that Nick Saban will not coach Alabama in the national semifinal. Saban has coached Alabama in three bowls without national championship implications, going 1-2.
Alabama will also have to make due without a few key players in their secondary. That's not a recipe for success against Michigan's offense, which features two dynamic wideouts in Nico Collins and Ronnie Bell.
Additionally, quarterback Shea Patterson and offensive coordinator Josh Gattis are familiar with Alabama, as the Patterson played at Ole Miss and Gattis coached in Tuscaloosa in 2018.
Alabama quarterback Mac Jones hasn't played enough to give us an idea of the difference between him and Tua Tagovailoa, but Jones didn't look great when he was under pressure against Auburn. That spells trouble against a defense that ranks 12th in sack rate.
Our projected spread for this game is Alabama -5, so I am happy to back a motivated Michigan team looking for a season-changing win over an SEC blue blood.
Pick: Michigan +7 or better
Stuckey: Can Michigan Keep Up?
I also think there's value fading the Tide in this game and make the line closer to Alabama -5. I think the drop off between Tagovailoa and Jones is larger than the market indicates.
There were some questions about a number of Alabama players sitting out for this bowl but it looks like almost everyone on the offensive side of the ball (with the exception of Tua) will suit up and the Tide could get TE Miller Forristall back.
However, two of its best defensive players in cornerback Trevon Diggs and outside linebacker Terrell Lewis won't go. Plus, it looks like another starter in freshman DT DJ Dale will sit out with an injury. That will certainly hurt an Alabama defense that has been nowhere close to as dominant as in years past, especially in the front 7 due to a plethora of NFL departures and preseason injuries.
I ultimately think Michigan can have plenty of success moving the ball. This is an offensive unit that has improved drastically on the offensive side of the ball as the season has progressed, which you would expect for a team with a brand new scheme. You'd also have to think that the extra time off and preparation ahead of this bowl will only help the offense.
There are also real concerns about Bama coming out a little flat in a game the Tide aren't used to playing. The last time Alabama played in a non-college football playoff bowl was in 2014 when it lost 45-31 as a 17-point favorite against Oklahoma.
Something also worth mentioning is the edge Michigan should hold on special teams. Alabama's third phase has been pretty putrid this year, particularly when it comes to punting and field goals. And we all saw how important special teams were in Alabama's loss to Auburn to end the season.
You can buy this to 7.5 on the cheap which I fancy here.
Pick: Michigan +7.5
Auburn vs. Minnesota Odds
Odds: Minnesota -7
Over/Under: 54
Time: 1 p.m. ET
TV: ESPN
Location: Tampa, Fla.
Minnesota's magical season came up a little bit short with late-season losses to Iowa and Wisconsin.
But the Gophers still had their best season by far under PJ Fleck and get a date with Auburn in the Outback Bowl.
Minnesota will have to play this game without offensive coordinator Kirk Ciarrocca, who is off to Penn State. He had one of the best offenses relative to recruiting talent in the country this season.
Can the Gophers get past Auburn's stingy defense? Let's dive in.
---
Odds as of Tuesday night and via FanDuel, where Action Network users get a risk-free bet up to $500.
---
Can Auburn Stop Big Passing Plays?
The Tigers had one of the toughest schedules in the country and true freshman quarterback Bo Nix held up well enough.
But the defense was the story as Auburn finished with a top 20 defensive rank in rushing success rate, passing success rate and havoc.
The biggest key to the Outback Bowl will be if Auburn can stop deep passing plays. The Gophers are No. 8 in passing success rate with one of the more explosive attacks in the nation. Wide receivers Rashod Bateman and Tyler Johnson have combined for 131 receptions and 22 touchdowns.
Auburn has a senior-laden defensive back field that ranks 12th in passes allowed over 20-plus yards.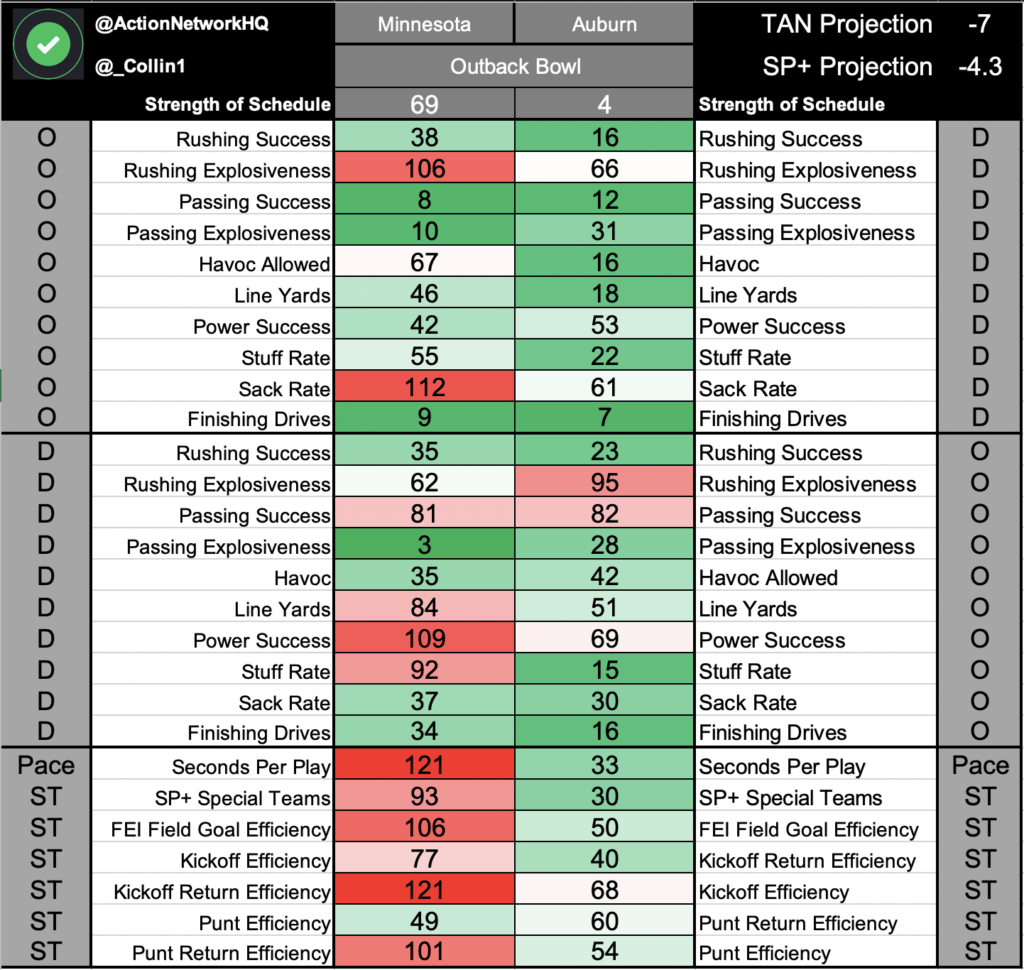 On the other side of the ball, Minnesota has been just as good keeping opposing quarterbacks from going deep. The Gophers rank No. 8 in allowing opponents to complete passes over 20-plus yards.
The Action Network projection is in line with the current market at Auburn -7. The total has taken movement to the over after a few operators opened below 50.
Our totals projection is 56. Considering the quality of each defense to stop explosive passing, a small investment on the under is how I'm going. — Collin Wilson
Pick: Under 55 or better
Stuckey: Finishing Drives Paramount for Gophers
I think this line is pretty spot on for two teams that match up pretty well with each other. It's strength on strength when Minnesota has the ball and the weaker unit of each squad when Auburn is on offense.
Auburn has one of the best front sevens in all of college football — a unit that leads what I have graded as a top 5 defense in the nation. Now, the loss of Nick Coe (who won't play) will hurt a bit but this is still an elite defensive front, led by the dominant Derrick Brown.
What might determine this game is how Minnesota finishes drives. The Gophers, who I have graded as a top 10 offense overall, are led by two dynamic receivers in Tyler Johnson and Rashod Bateman, who both should play at the next level.
Those two and QB Tanner Morgan have been dynamite when it comes to finishing drives when they get to opponent's territory, ranking ninth overall inside the 40 and 19th inside the 20. The Gophers have scored touchdowns on 40 of 55 trips inside the redzone.
They will certainly face their toughest test of the year against Auburn when trying to finish off drives with points. The Tigers defense ranks in the top 10 in finishing drives inside both the 40 and 20.
This is where I think both the spread and total will be decided. If Minnesota is able to finish off drives with 6s, Minnesota likely covers and the game more than likely goes over the total. If not, you probably see an Auburn cover and an under. — Stuckey
Where Does Auburn Have Edges?
It's also a double-edged sword for Minnesota if its getting stopped on third downs inside Auburn territory since its kicking situation has been so dreadful this year. The Gophers really miss kicker Emmit Carpenter, who graduated last year as the school's all-time leading field goal kicker by percentage. This year, they rank 106th in FEI field goal efficiency and hasn't made a kick from 40-plus yards all year.
Besides special teams, the other areas Auburn may have the advantage: the trenches on both sides of the ball and coaching. Auburn should be able to move the ball on the ground with its power running and hit a few explosive runs via design, as the Tigers use their speed and motion in the running game as well as any team in FBS. Plus, you have to account for the fact that Nix has improved as the season has progressed.
I do expect both teams to come out highly motivated for this one and for Gus Malzahn to have a few tricks up his sleeve with the extra preparation. Don't forget about Auburn eviscerating another Big Ten team (Purdue) last year in its bowl game.
Plus, there are some unknowns with Minnesota in regards to play-calling with offensive coordinator Kirk Ciarrocca leaving for Penn State. PJ Fleck has been interviewing candidates over the past few weeks, so it could also be taking away some of his prep time.
Lastly, while Morgan and his two star receivers run the show on offense for Minnesota, it will be without starting tight end Jake Paulson and also potentially right tackle Daniel Faalele.
Paulson's absence doesn't hurt much in the passing attack but they will miss him for his run blocking ability. The loss of both could hurt running back Rodney Smith's production against this stout Auburn defensive line.
This is a pregame pass for me at -7 but I may look Auburn live if it gets behind early. — Stuckey
Oregon vs. Wisconsin Odds
Odds: Wisconsin -3
Over/Under: 51.5
Time: 5 p.m. ET
TV: ESPN
Location: Pasadena, Calif.
Badgers. Ducks. Granddaddy of Them All.
It doesn't get much better than this.
Big Ten runner-up Wisconsin and Pac-12 champion Oregon will meet in the 2020 Rose Bowl on Wednesday afternoon, the third game on a four-game slate.
The Ducks boast a much-improved and balanced defense, while Wisconsin will as always rely on its ground attack and disruptive defense to lead the charge.
Who has the edge in the Rose Bowl? Let's break it down.
---
Odds as of Tuesday night and via FanDuel, where Action Network users get a risk-free bet up to $500.
---
How Rose Bowl Lines Have Moved
Wisconsin-Oregon opened as a pick'em, but it immediately moved in the Badgers' favor to -2.5, then later to -3. Almost 60% of bets have landed on the Ducks since.
The total has risen from 49.5 to 51.5 thanks to 96% of money hitting the over.
Trench Test for Oregon
The difference in the Pac-12 Championship game was Oregon's ability to shut down Utah on fourth down. The Ducks were successful against the Utes in all four attempts at fourth and short, an amazing feat considering Oregon was defensively ranked 50th in stuff rate and 29th in power success.
And those statistical categories are of most importance against the Wisconsin rushing attack.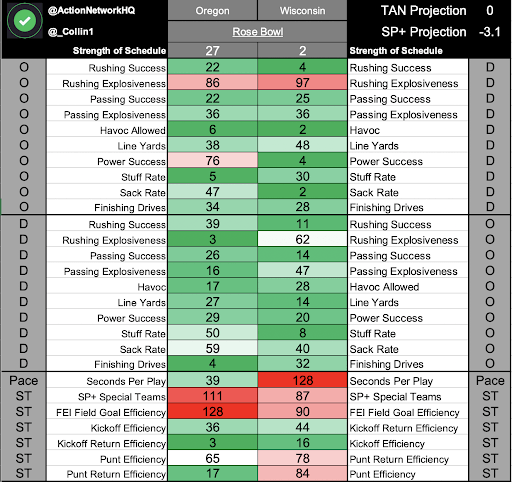 Running back Jonathan Taylor has been a Heisman hopeful the last two years for the Badgers thanks in part to a stellar offensive line. Wisconsin is 11th in rushing success rank highlighted by a top 20 rank in line yards, stuff rate and power success.
Oregon has had a tremendous uptick in defensive numbers thanks to new defensive coordinator Andy Avalos, but the Wisconsin trench is the best Oregon defenders have seen all season. — Collin Wilson
Early Pace Will Be Key
Our Action Network projections make this game a pick'em, which does point to a little value on Oregon. But I'm looking at the total instead.
Offensive coordinator Marcus Arroyo will call the plays for Oregon even after he accepted the head coaching job at UNLV.
Arroyo is a conservative play caller, with a limit on passing plays during standard downs. Oregon is 26th in standard downs rate with an explosiveness rank of 65th.
The Ducks offense is one of the best in passing downs, a clear correlation to having one of the best quarterbacks in the nation with Justin Herbert. The Ducks improve to 13th in passing downs success rate and 23rd in explosiveness.
Wisconsin has elected to pass in standard downs in recent games, but a seconds per play rank of 128th along with strong offensive ground numbers indicate this game could be low scoring to start.
Quarterback Jack Coan is capable of picking up the pace, but the Badgers should establish the rush and use the pass only in trailing situations.
Look for a first half under while live trading both Wisconsin and Oregon outside of +3 in live wagering.
Pick: Under 1H 24.5
Georgia vs. Baylor Odds
Odds: Georgia -4
Over/Under: 41
Time: 8:45 p.m. ET
TV: ESPN
Location: New Orleans, La.
Georgia and Baylor both ended their seasons with conference title game losses, but they couldn't have felt more different.
The Bears rallied to take Oklahoma to overtime, but just two years removed from a 1-11 campaign, 2019 feels like a massive success.
Georgia entered the season with high expectations as always, but the Dawgs offense never got it together, and they were blown out by LSU in the SEC title game.
Which team will be ready for the Sugar Bowl? And will the Dawgs be any more ready than they were in this game last year, when they lost to Texas as a big favorite?
Let's break it down.
---
Odds as of Tuesday night and via FanDuel, where Action Network users get a risk-free bet up to $500.
---
How Sugar Bowl Lines Have Moved
Georgia opened north of a touchdown favorite, and has fallen all the way to -4 with continued news that many of its best players will sit this game out.
Still, more than 55% of bettors are backing the Bulldogs.
How Motivated Will Georgia Be?
From a motivational perspective, I have serious questions about a Georgia team that had dreams of making it to the College Football Playoff while avenging its collapse in last year's SEC Championship Game.
The Bulldogs achieved neither and now find themselves in the same bowl game against a Big 12 team once again. And we all know how that ended last year against Texas.
On the other hand, I'm confident that Baylor will be fully motivated here to take on an SEC team in the Sugar Bowl on New Year's Day. This is an enormous game for a program that is just two years removed from winning one game.
This is also a spot where Baylor coach Matt Rhule thrives against the spread. Just take a look at these two nuggets:
29-15-1 ATS on the road or neutral site
33-15 ATS as an underdog
In fact, Rhule is the second-most profitable coach as an underdog since 2005 among 527 coaches in our Bet Labs database. He will have his troops ready for this one.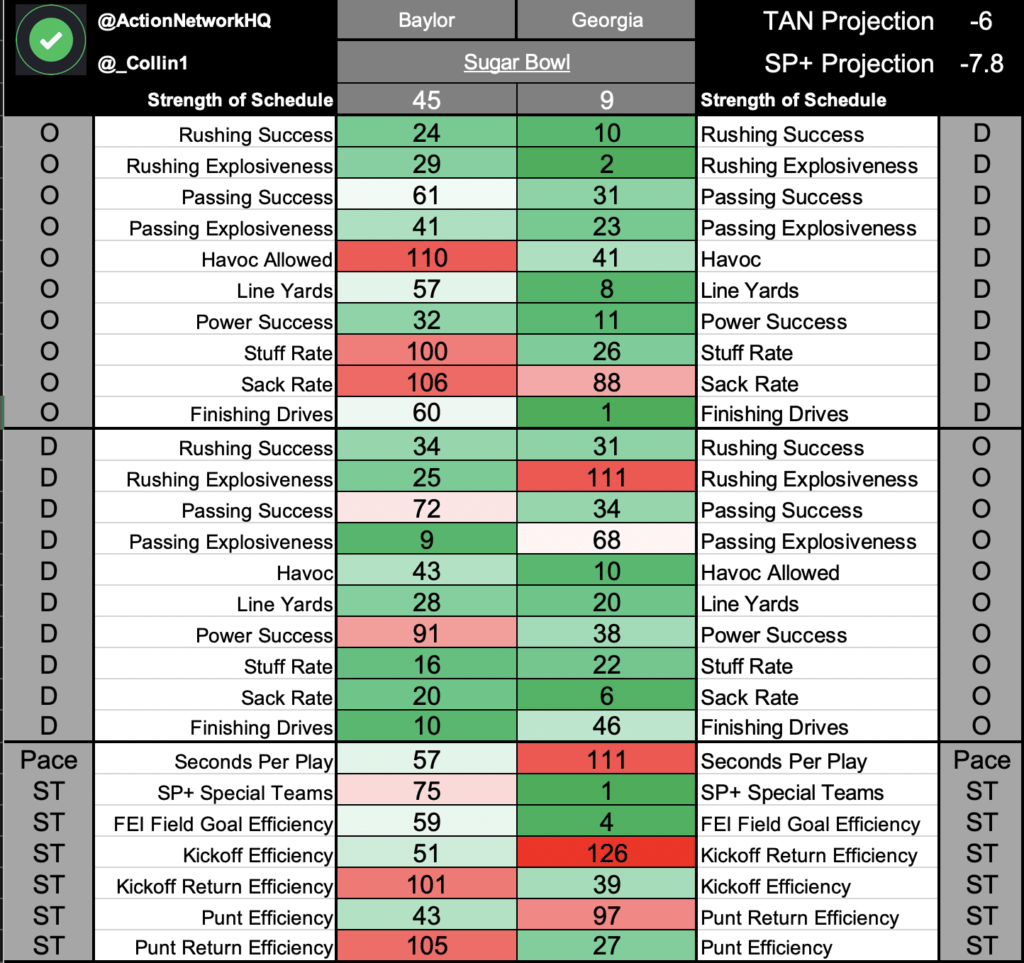 All-American LT Andrew Thomas not suiting up for Georgia in preparation of the NFL Draft, where he will likely go as a first-rounder. Well, Georgia's starting RT Isaiah Wilson then followed suit. Oh, and it doesn't end there as starting guard Ben Cleveland was ruled academically ineligible.
Kirby Smart's bunch will also be without its top two receivers as Lawrence Cager and Dominick Blaylock had season-ending injuries toward the end of the season.
How about the running back position? Well, Georgia may not have two of its top five backs, including leading rusher DeAndre Swift, who has been dealing with an injury and could skip the game for the NFL Draft. Also, we may see a suspension announced in regards to James Cook, who recently got pulled over with brandy and a gun in his car.
To me, all of this news adds up to Georgia as a whole not really caring about this game.
The Georgia defense will still make life difficult for Baylor, but I trust Charlie Brewer to make enough plays to give Baylor a really good shot to pull this one out in what should be a low-scoring affair.
Stuckey's Pick: I grabbed some +7.5 last month but would play Baylor at anything 4 or above. I'll also be sprinkling some on the moneyline.
How would you rate this article?