8 College Football Coaching Changes The Betting Market Needs to Account For
Credit:
Matt Bush-USA TODAY Sports. Pictured: Mark Whipple
Kyle Miller digs into the coaching and coordinator changes that matter in 2019.
Some blue blood programs are opting to modernize their offenses this year, while some Group of 5 programs whiffed on coordinator hires.
When handicapping college football, you must consider what a team is trying to do from a scheme perspective. Some teams want to push the tempo while others prefer to chew clock. Some air it out and some run the ball on almost every play. With 130 teams in FBS, you're sure to find many different philosophies among coordinators.
Below are some coaching changes that I think matter most in 2019, and how they might affect the betting market early on.
Mike Uremovich, Temple
Temple made one of my least favorite coordinator hires of the offseason when new head coach Rod Carey brought his offensive coordinator with him from Northern Illinois to Philadelphia.
Mike Uremovich oversaw Husky offenses that ranked 51st, 112th, and 117th in his three years at the helm. That's a very disturbing trend and one that doesn't inspire much confidence in Temple's already weak offense moving forward.
The weirdest thing about Uremovich's Northern Illinois offenses is that they all ranked in the top-15 in adjusted pace. So he had a run heavy offense that moves very quickly, is inefficient, and lacks any semblance of explosiveness.
That's certainly not what I would be looking for in an offensive coordinator. Carey choosing to sign up for more Uremovich after seeing the last two years should be categorized as gross negligence.
Look to play Temple unders as the run game won't be good, but you know Uremovich will try and force it anyway.
Josh Gattis, Michigan
Jim Harbaugh decided to join the rest of college football in the realm of up-tempo, spread offenses this offseason. Josh Gattis comes to Ann Arbor after serving one season as co-Offensive Coordinator and wide receivers coach at Alabama. He's also spent time as an offensive assistant at Penn State under James Franklin and Joe Moorhead. On paper, he seems like the perfect hire to get Michigan to the College Football Playoff for the first time.
That Gattis has never called plays before does worry me just a little. I'm also concerned about Michigan's bigger bodied wide receiver group fitting with a spread style offense. There's really no way to tell exactly what kind of offense it'll be until we see a few weeks of film.
If anyone can coach up receivers in today's game, it's Gattis. Last year he coached the best receiving corps in the nation with Jerry Juedy, Henry Ruggs III, and Jalen Waddle. He's also coached bigger targets like Allen Robinson and Jordan Matthews, so I trust him to find creative ways to use his guys.
I'll be comfortably seated on the Gattis hype-train as his modern offense will finally get Michigan a Big Ten Championship.
Graham Harrell, USC
USC was just 65th in pass attempts in 2018, so a jump to top-10 in that category may cause some growing pains early in the season under new coordinator Graham Harrell. I'm a believer in Harrell's offensive coaching, but Clay Helton isn't going to get the buy in he needs from his players to have a big season.
The NCAA record book is littered with mentions of Harrell. The former Texas Tech QB ran Mike Leach's Air Raid offense better than anyone and now has taken to coaching the system. After a couple of years under Leach at Washington State, fellow Air Raid disciple Seth Litrell brought him to North Texas to be his offensive coordinator.
Harrell took the Mean Green offense from 128th in S&P+ to 65th in just two years. His run/pass split isn't as extreme as Leach's, but North Texas had the 10th most passing attempts in the nation last year. He'll run it a little and he'll also use more tempo than Leach.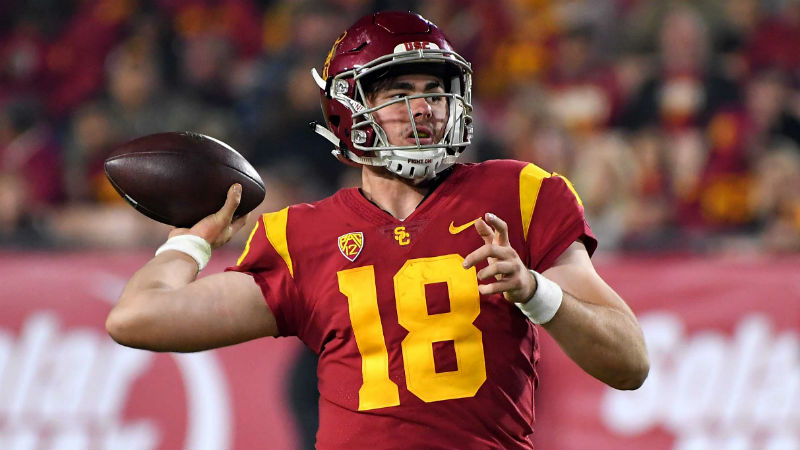 Harrell inherits a Trojan offense that has the tools for a break out in his system.
Former 5-star QB JT Daniels had an up-and-down true freshman season but he has weapons galore. Star receivers Michael Pittman Jr and Amon-Ra St. Brown are joined by a host of former top receiver recruits.
Harrell's specialty is spreading the ball to many different targets and he has plenty to work with.
I believe with Harrell's Air Raid system, both Daniels and an embattled offensive line will find a lot of success. One concern is the drastic amount of change going on, and it may not be perfect right away.
Kendal Briles, Florida State
There's no way to describe Florida State's 2018 offense nicely. The Seminoles ranked 95th in S&P+ offense, surrounded by fellow blue bloods Liberty and Old Dominion.
All jokes aside, this unit was crushed by the worst offensive line in the Power 5, leading to FSU's worst season in over 40 years Willie Taggart's first year.
Insert Kendal Briles, author of four straight top-30 offensive rankings in his first four years as a coordinator. Briles uses his father's pace and space spread offense to gash defenses with a balanced run/pass split. The combination of balance and tempo forces a defense to make quick, uninformed decisions.
By the time the ball is snapped, Briles' offenses already have an advantage on the defense.
Quarterback James Blackmon looks like a nice fit in a Briles offense, and former 5-star running back Cam Akers managed to average 4.4 yards per carry despite his line ranking 125th in stuff rate.
The receiver corps features ultra-explosive Tamorrion Terry and a slew of former 4-star prospects. If new offensive line coach Randy Clements can field a merely average line, Florida State is going to take a massive step forward in 2019.
Matt Wells, Texas Tech
In his six seasons as head coach, Kliff Kingsbury's offense never ranked worse than 33rd and only one (his first year) of his defenses ranked better that 70th,
Not being able to field a competitive defense ultimately lead to his demise. So the era of high-scoring, track meet-on-turf football in Lubbock is dead with the departure of Kingsbury, right? Not so fast.
Matt Wells was hired from Utah State to follow the polarizing Kingsbury as the Red Raiders head coach. Wells has an offensive background but always had solid defenses at Utah State, likely making him an attractive option to Texas Tech brass.
He brings his offensive coordinator, David Yost, with him from Utah State. Yost took the Aggies' offense from 95th to 22nd in S&P+ rankings during his one season in Logan. That incredible turnaround proves that Yost will have no problem with his offense, led by sophomore QB Alan Bowman. I mean how can you not love this guy:
So the offense shouldn't be an issue but what about that much maligned Texas Tech defense? If Wells is going to last in Lubbock he'll need to prove he can field average defenses.
He's bringing Keith Patterson, his 2018 defensive coordinator, with him to solve Tech's problems. Patterson uses an attacking style that paid huge dividends at Utah State last year. He inherits a defense that was just 77th in defending explosiveness in 2018 and loses it's top safeties.
We're going to have at least one more year of high scoring Texas Tech football games. Despite his typical solid defenses, Matt Wells was 46-33 to the over in his six seasons at Utah State.
Phil Longo/Jay Bateman, North Carolina
I'm really not sure why North Carolina decided to bring Mack Brown back after he'd been in an ESPN booth for six years. He was clearly losing steam at the end of his reign at Texas and he left that program in a bit of a mess. Brown did manage to go out and make two very good coordinator hires, though.
He brought in Ole Miss offensive coordinator Phil Longo to bring some excitement to Chapel Hill. Longo manufactured back-to-back top-10 offenses for the Rebels using a pass heavy attack and quick tempo to keep defenses on their heels. He'll be playing with a freshman quarterback in his first season at North Carolina, though, so expectations should be tempered.
New defensive coordinator Jay Bateman comes from Army, where he helped lead a massive resurgence in West Point. His Army defenses did a nice job of limiting explosiveness and stopping opponents on passing downs. He's very highly thought of in the coaching community and seemingly has a bright future.
Bateman will have his hands full in 2019 though as North Carolina ranked just 95th in S&P+ defensive rankings and gave up a ton of explosive plays. My biggest concern with Bateman is that he hasn't worked with an up-tempo OC since his Ball State days in the early 2010's.
Working with Longo will be a massive adjustment from Army's triple-option offense. I do think this coordinator duo will be effective in the future but year one might be a struggle as Bateman's defense spends a ton of time on the field.
Mark Whipple, Pittsburgh
Pat Narduzzi has one of the most established identities of any head coach in the country. He had a defensive background and he wants to run the football.
That may be changing this season after he brought in Mark Whipple to run his offense. Pitt has been one of the best teams in the country at running the ball the last few years but the transition to Whipple comes at a perfect team as they lose two 1,000 rushers and a good portion of a strong offensive line.
Whipple's second tenure at UMass didn't go the way he planned but his teams could move the ball through the air. He's got the personal to implement his passing attack in 2019 with quarterback Kenny Pickett and receivers Taysir Mack and Maurice Ffrench.
Whipple has been an NFL quarterbacks coach, so he's sure to get the most out of Pickett.
How about those Pittsburgh Panthers? A wild 54-45 win against Duke. Pitt improves to 4-4 (3-1 ACC).

Here's the game-winning touchdown pass. Kenny Pickett to Maurice Ffrench: pic.twitter.com/qevZ0Br06q

— Josh Kurelac (@JoshKurelac) October 28, 2018
It will be unusual to see Pitt move away from a run-heavy offense but with the players this offense has now, I think they'll improve upon their ranking of 71 in S&P+ offense from 2018.
I do however have a bet on Virginia -2.5 against Pitt in Week 1 because this drastic of a transition might be a bit bumpy at first.
Joe Brady, LSU
There are certain things that college football bettors have come to count on and LSU having a boring offense is one of them. Thankfully for Tigers fans, the defense being elite is another constant in Baton Rouge so they still remain a premier program.
Ed Oregeron seems to have realized that it's time to modernize things a bit on the offensive side of the ball, bringing in New Orleans Saints assistant Joe Brady. Brady will be the pass game coordinator for LSU, working with offensive coordinator Steve Ensminger to liven up the offense.
All you have to do is look at LSU's performance in the Fiesta Bowl against UCF last year to see what opening up the passing game can do for them. Quarterback Joe Burrow threw for 394 yards and four touchdowns as LSU put up 40 points in the win.
It was easily Burrow's highest passing total of the year and it sounds like the Tigers will be leaning on the pass game even more with the addition of Brady. He has talented targets like Justin Jefferson, Ja'Marr Chase, and plenty of former top recruits to spread the ball to.
I'm very excited about this LSU team and what they can do with a modern offense and a loaded defense. They'll be sure to keep things ultra conservative in Week 1 against Georgia Southern so as not to tip their hand to Week 2 opponent Texas.
That has me looking at the under in their Week 1 matchup with the Eagles.
How would you rate this article?