College Football Futures: Examining the Next Playmakers for Alabama & Ohio State
Credit:
Credit: Getty Images. Pictured, from left: Ohio State running back Master Teague III, Alabama quarterback Bryce Young (9), Alabama wide receiver John Metchie III (8).
With the 2020 college football season coming to a close, it's time to turn to the future. And there's no better place to start looking than these two championship teams.
Alabama's season got off to a slightly delayed start, but once it started at the end of September, there were few roadblocks on its path to the championship game.
The most notable one, however, was the injury to star wide receiver Jaylen Waddle.
Still, the Tide defeated five top-25 teams and won their 12 games by an average margin of 29.2 points.
After the Big Ten delayed the start of football to Oct. 24, the Buckeyes had just eight weeks to play eight regular-season games.
They lost three games due to COVID-19 issues, but the Big Ten opted to change their minimum game requirement, and they were allowed in the Big Ten Championship game before cruising past Clemson in the Sugar Bowl.
Finding Value with Futures
With the 2020 Heisman Trophy already sorted, odds have come out for the 2021 Heisman. I took a look at five books to find the best odds for these teams, and seven players appeared with some consistency.
Alabama's Heisman Hopefuls
Bryce Young (odds ranging from +400 to +1100) is the projected starting quarterback for Alabama with Mac Jones expected to depart for the NFL following this season.
As a senior in high school, Young completed 71.9% of his passes with over 11 yards per attempt, and while his senior season was easily his best, he also eclipsed 3,000 yards passing as a sophomore and junior.
Adding to his potential production upside, he rushed for 357 yards and 10 touchdowns in his final high school season. Assuming that Young is named the starter, he's the safest pick to be a Heisman finalist from this group. Shop around on this play to find the best odds.
Jase McClellan (+3300 to +8000) averaged 10.7 yards per carry as a freshman and finished with 245 yards and two scores.
The Crimson Tide will lose their two leading rushers and will likely transition to a more mobile QB. However, the former top RB prospect from the class 2019, Trey Sanders, still remains, and he had more carries this season than McClellan.
I'd expect McClellan to lead the team in production in 2021 but also for Sanders to cut into his workload enough to keep him out of the Heisman finalist bunch.
Ohio State's Heisman Hopefuls
Master Teague (+2800 to +6000) averaged 5.0 yards per carry this season and had 449 yards and six touchdowns entering the National Championship game.
Teague started to lose some work to Trey Sermon as the season progressed but was still the starter for the Big Ten Championship game before suffering a concussion, which led to Sermon's breakout.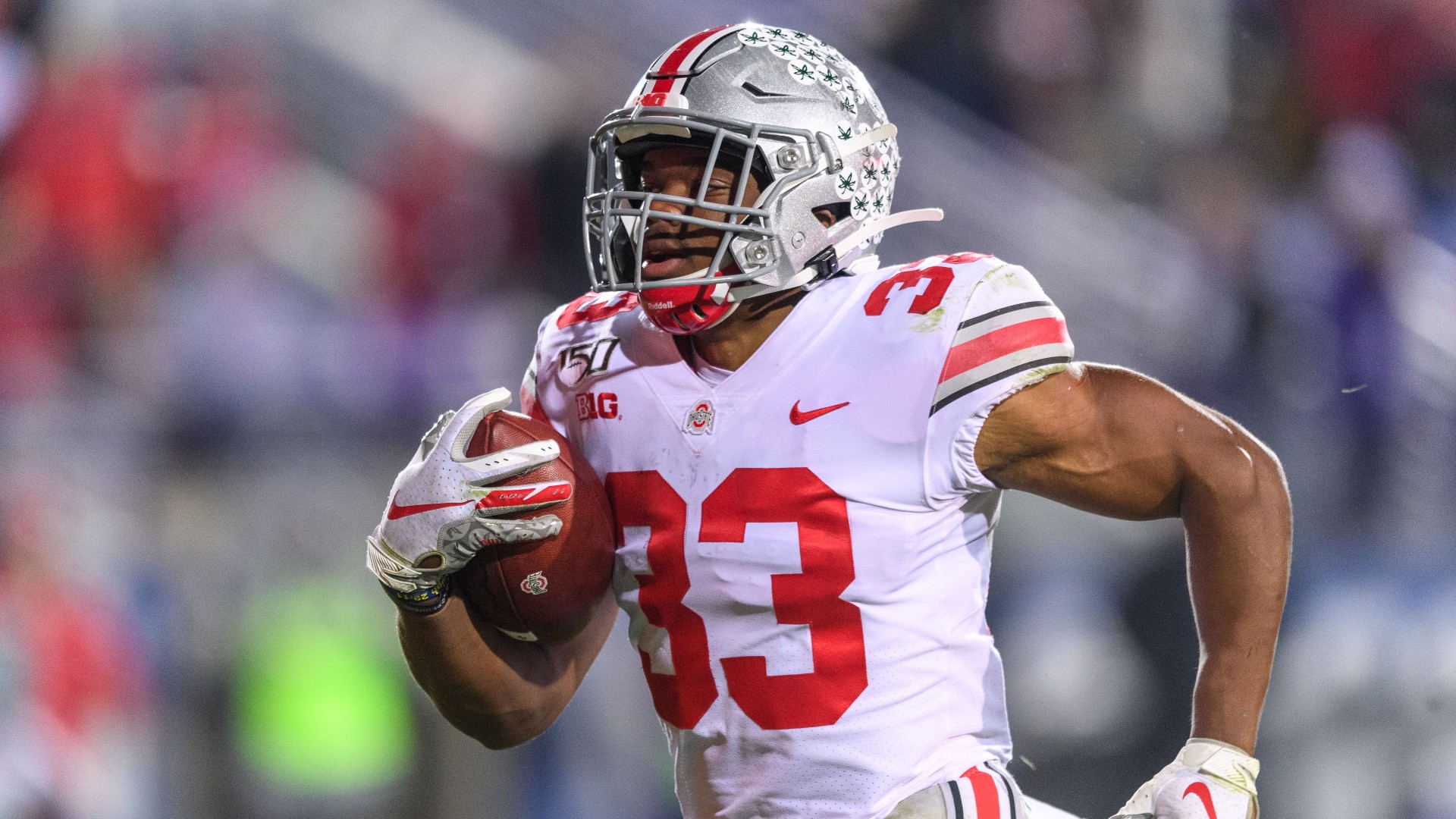 Teague will open the season as the team's starting back, but with Ohio State bringing in two highly-touted recruits, there's likely too much risk at this price, particularly considering the award's likelihood of going to a quarterback.
If CJ Stroud (+5000) and Jack Miller ( +1600 to +2500) played for different teams, they'd likely both be decent value plays, but since they'll be competing for playing time, it's likely that only one will have any value come August.
Stroud is a former Elite 11 winner and was a high four-star prospect. Based on reports from various Ohio State beat reporters, he's the current backup to Justin Fields, so he's the safest bet to start next season as the Buckeyes' starter.
But this will be a competition to watch.
Since Ryan Day joined the program in 2017, Ohio State quarterbacks have averaged 293 passing yards per game, which would equate to just over 3,500 yards in a normal 12-game regular season. Whoever wins that job will have value as a flier, and I'd project Stroud as the early favorite to start.
John Metchie (+5000 to +8000) and Garrett Wilson (+10000) are the two early favorites to lead these teams in usage for 2021.
Both are likely to be featured during the awards weekend and be mentioned as potential All-Americans, but even with DeVonta Smith winning the Heisman this year, the WR position isn't a great bet. If I play either, it's the longer odds with Wilson, who has already proven that he can handle a 35% share of his team's yards.
Picks: Bryce Young (+1100 on FanDuel) and CJ Stroud (+5000 on FanDuel).
Fantasy Perspective
Both of these teams are loaded with future NFL talent and future fantasy contributors.
Rookie Drafts
For dynasty leagues, there will be an influx of talent into upcoming rookie drafts from players in this game.
Alabama Skill Players Heading to NFL
Smith's 46.5% dominator rating will push him up draft boards, but he's going to start fights across the dynasty community due to his late breakout.
However, the slightly nuanced approach to scouting Smith requires a modified look at market share due to wide receiver room competition. In his prior seasons, Smith had to compete with three first-round WR prospects. When he was put in a similar situation to most WR prospects, he flourished.
And because his dominant final season will likely lead to a high draft capital, Smith ranks as my WR2 in the class of 2021 and likely a top-six pick in all league formats.
Waddle's production is going to raise eyebrows among analytics-based scouts. His best season before 2020 was a 17% market share of receiving yards and a 15% dominator rating, and he missed the majority of his final season.
Prior to his injury, he'd accounted for 35.4% of Alabama's receiving yards and 33.3% of this passing touchdowns. For me, his final season dominance, the fact he only had to compete with one other first-round WR, and his draft capital places Waddle as a top-five WR in the class.
Najee Harris' decision to return for his senior season was heavily questioned at the time, but it's fair to say he raised his draft stock.
Harris rushed for 1,387 yards and 24 scores with an average of 6.1 yards per carry. And it's possibly even more notable that he improved his profile as a receiver. He averaged 3.0 receptions per game and accounted for an 8.2% market share of team yards. Before testing, he's my RB1 for the class.
Jones passed for more than 4,000 yards and 36 touchdowns while only throwing four interceptions, and he might be the least exciting QB prospect in the class.
His 11.3 yards per attempt ranks highest among qualified passers, and his 12.8 adjusted yards per attempt ranks second and was higher than any Tua Tagovailoa season.
Jones ranks as my QB3 for the class because his floor appears to be the highest of my non-top two QBs.
Ohio State Skill Players Heading to NFL
Fields received plenty of criticism this season after entering the year as a Heisman favorite and the expected QB2 behind Trevor Lawrence.
His performances against Northwestern and Indiana were the two worst of his career and caused some NFL Draft scouts to push Fields to QB3 behind Zach Wilson.
Fields was a decorated high school prospect, ranking as one of the top 10 recruits in the history of the 247Sports composite.
He followed it up by completing 69.4% of his passes and averaging 246.6 passing yards per game in his two seasons as a starter. Adding in his 1,066 career rushing yards, it's clear to see why his ceiling is high.
Even if he's drafted as the third QB in the NFL Draft, Fields is locked in as my QB2 and is closer to Lawrence than the rest of the pack.
Chris Olave missed a game and will still finish with a dominator rating over the breakout threshold of 30% using non-adjusted numbers. Olave has had a knack for finding the end zone, as he averaged a touchdown per 4.7 receptions over his final two seasons.
After the top three prospects, there seems to be a large grouping of prospects who could be first-round NFL Draft picks, and Olave is considered to be a part of that group. If he received top-50 overall draft capital, he should be considered for a first-round pick in rookie drafts.
Devy Drafts
For devy leagues, there are a few prospects that you should be watching for the next few seasons.
Returning Alabama Skill Players
Young, a freshman, entered Alabama as the No. 2 overall player in the class of 2020, tied for the highest-rated recruit in Alabama's history, and was expected by some to challenge Mac Jones for playing time.
Young attempted just 22 passes during the seasons and completed 59%. I have high hopes for the decorated prospect entering this season. He would rank as one of my top two QB prospects for the class of 2023, but the offensive coordinator hire for Alabama may have an impact on his production profile.
McClellan was a small contributor in his first season with Alabama, but he made waves with his 10.7 yards per carry average.
McClellan was a top-50 overall prospect and was the sixth RB in the class of 2020. If he can separate from Sanders on the depth chart, McClellan could be one of the better prospects in his draft class.
But the class of 2023 appears to have several strong RBs that may keep his acquisition price down. Because of his limited freshman production, he is outside of my top 36 overall players in devy drafts but will likely see his stock price rise if it becomes clear that he's the starter.
John Metchie, a sophomore, saw his role increase when Waddle went down with his injury.
Entering the National Championship game, he was second in receiving yards and touchdowns. His 835 yards represent a 19.9% market share of the team yards, and paired with his six TDs, he has a dominator rating of 0.18.
Based on the expected exits of Smith and Waddle without a clear replacement, Metchie is the safe bet to lead the team in receiving yards in 2021.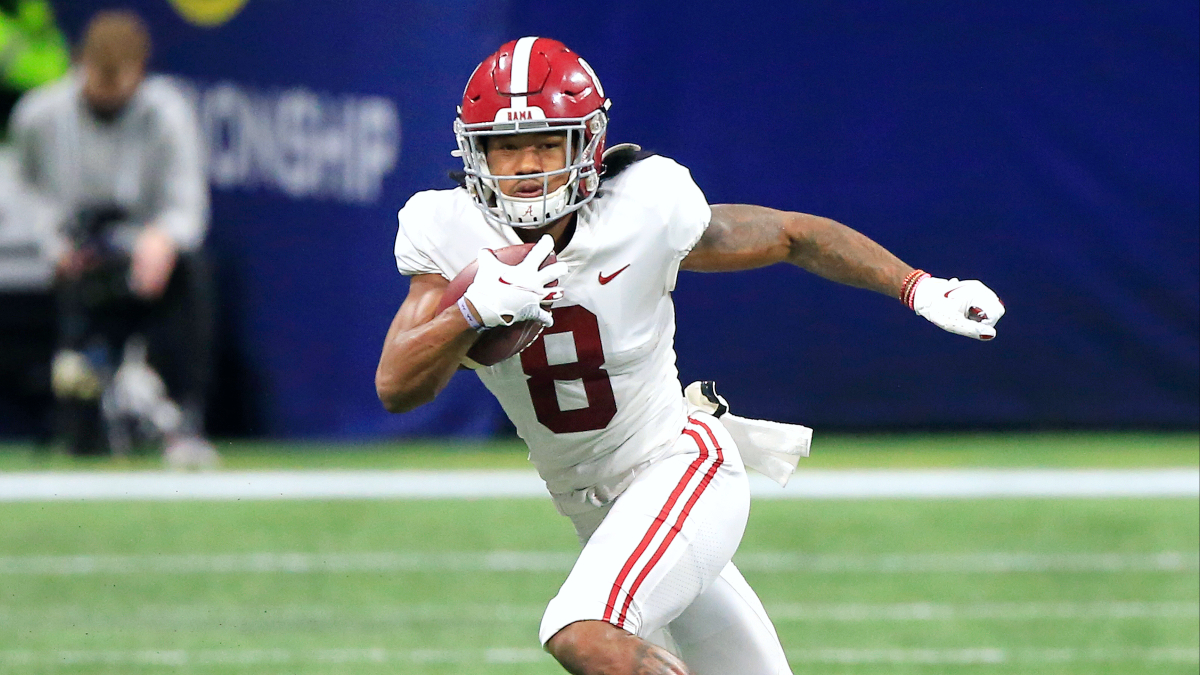 From a fantasy perspective, Metchie is entering his third season without a true breakout season. Additionally, the biggest production concern for Metchie requires a look at his 2020 game log.
While he immediately broke out for seven receptions and 151 yards in the Tennessee game when Waddle left with an injury, that was his only 100-yard game for the remainder of the season.
Metchie's 17.8 yards per reception demonstrates a future potential to be a field-stretching receiver, which increases his value. But with his limited production, he's not a player to reach for early in devy drafts, and his average draft position will likely rise through the offseason.
Returning Ohio State Skill Players
Stroud and Miller have competed this season for the primary backup role. But with Justin Fields likely moving on to the NFL, the QB competition that will happen in the spring will likely determine which of these two players immediately becomes a top devy target and which will enter the transfer portal.
Reports indicate that Stroud had a slight lead for the backup role during the season, so he'd be the slight favorite, but they're both intriguing prospects.
Stroud threw for 3,878 yards and 47 touchdowns as a senior in high school, which along with his Elite 11 performance, elevated him from a three-star prospect ranked 811th in January 2019 to the 42nd overall prospect in August 2020, according to the 247 Sports composite.
Miller was ranked as a high prospect in 2017 but saw his ranking slip due to missed time. He was a freshman starter in high school and threw for more than 3,600 yards and 53 touchdowns. But he failed to eclipse 2,500 yards in any of his three remaining seasons.
A minor concern for Miller is his career 56.7% completion percentage, but the biggest concern for him as a prospect out of high school was his injury history that caused him to play in just seven games as a senior.
Stroud would be my preferred prospect of the two and ranks as my early QB3 in the class of 2023, but if Miller transfers to a program where he'll have a chance to play, he'll become a great later-round target in superflex leagues.
Wilson is my WR1 for the class of 2022. He posted an 11% dominator rating as a freshman and nearly broke out with a 29.5% dominator rating as a sophomore, but his 35.3% share of yards has a slightly higher weight in my evaluation.
With Olave exiting, Wilson should see an increase in targets and yardage. He appeared to flourish in his role in the slot this season. He ranks inside of my top five prospects for devy drafts.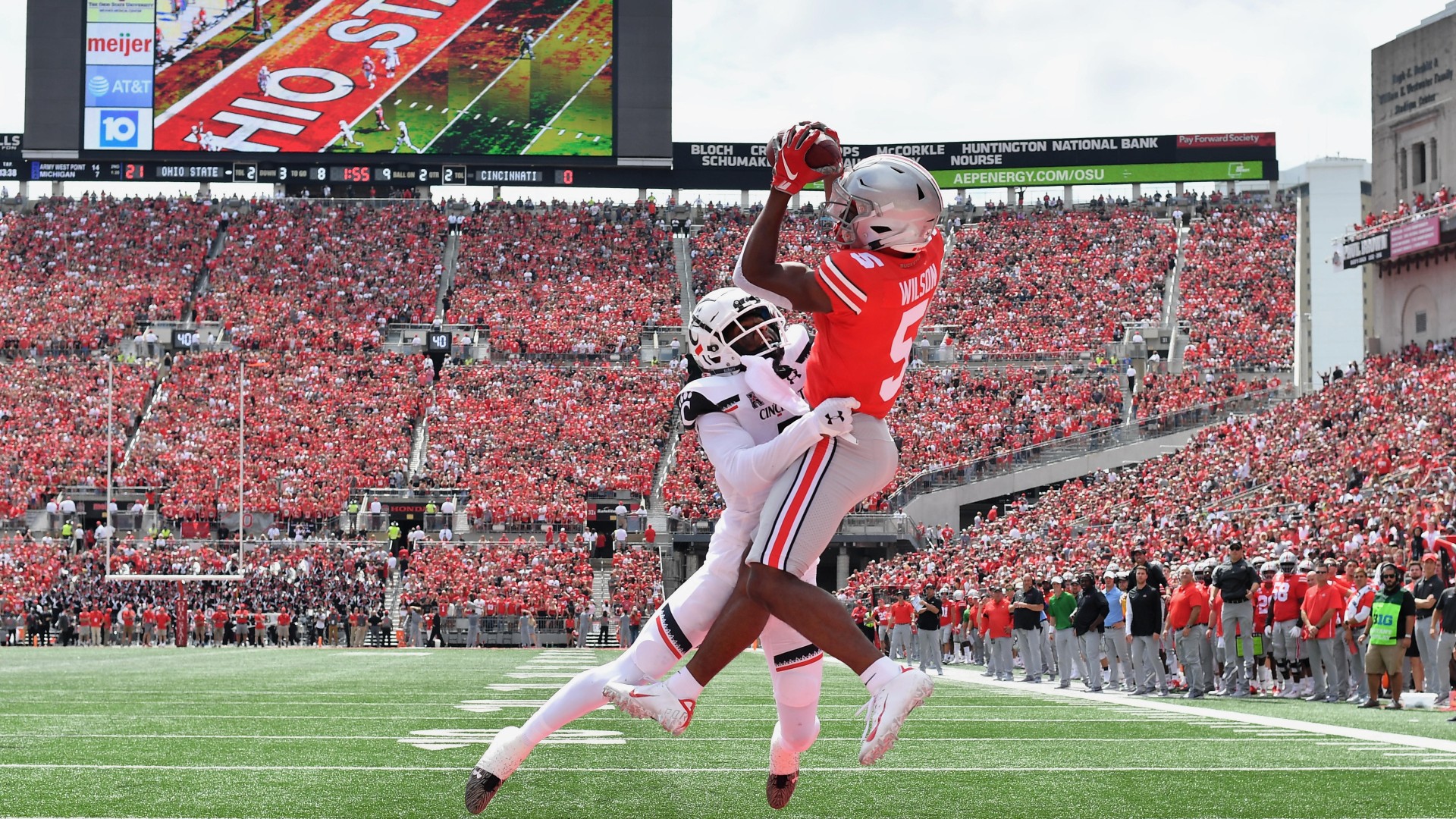 The class of 2023 is going to feature multiple Ohio State wideouts, as the Buckeyes signed four top-100 prospects. Mookie Cooper exited the program, but that leaves Jaxon Smith-Njigba, Julian Fleming, and Gee Scott Jr.
Smith-Njigba made the highlight reels with his early-season touchdown, but he finished with only 29 yards and that lone touchdown for the year. He was a highly productive high school prospect with 2,132 receiving yards and 34 scores as a senior.
He's expected to be a consistent rotation player in 2021 and should be among the top wide receivers in the class of 2023.
Fleming was the top WR in the class of 2020. His scouting report identified him as slightly more raw than Smith-Njigba but with outstanding athleticism. He only saw limited action this season with 74 receiving yards on seven receptions.
With a hopefully more normal offseason Fleming is expected to be a big contributor in 2021 and should be among the top WR prospects in the class.
Gee Scott Jr. didn't record a reception during his freshman season. Had it been a full schedule with full offseason training, I would have expected him to see the field more consistently, but as it stands, his high school profile is the only way to rank him as a devy prospect.
He was a top-10 wideout in the class who dominated in camps. He's outside of my top-10 WRs for the class of 2023 currently, but if he can earn playing time, that could change quickly.
How would you rate this article?
This site contains commercial content. We may be compensated for the links provided on this page. The content on this page is for informational purposes only. Action Network makes no representation or warranty as to the accuracy of the information given or the outcome of any game or event.