Akron vs. Ohio Betting Odds & Picks: Value on Over/Under in Tuesday's MAC Football Matchup
Credit:
Justin Casterline/Getty Images. Pictured: Timothy Scippio (88).
The Akron Zips take on the Ohio Bobcats for an in-state rivalry edition of MACtion on Tuesday night.
The Zips were the worst team in the conference last season and didn't look much better last week, leaving plenty of room for the Bobcats to take advantage.
Collin Wilson breaks down the game below and shares a betting pick based on his analysis.
Akron vs. Ohio Odds
---
Akron Zips
Akron kicked off the 2020 campaign with an onside kick, signaling the start for gamblers' most beloved conference.
There were plenty of negatives for the Zips in a 58-13 loss to Western Michigan, including a 19% Success Rate in passing downs and gaining 14% less than the national average in available yards. Quarterback Zach Gibson did not do the Zips any favors with a pick-six late in the first quarter.
If there is a positive note from the loss, the Zips' running back stable posted a successful night. Jeremiah Knight and Teon Dollard combined for over 140 yards on 27 carries, putting Akron on the board as the 17th-most explosive rushing attack. Knight produced six avoided tackles and 3.55 yards after contact.
---
Ohio Bobcats
The Bobcats took an opening loss to Central Michigan despite owning a 69% post-game win expectancy. Freshman Kurtis Rourke played well in his debut with 231 yards passing and two touchdowns. The little brother of Ohio legend Nathan Rourke did not throw a touchdown but fumbled twice. There was explosiveness in the passing game, as Ohio recorded six catches exceeding 20 yards.
Senior De'Montre Tuggle made the two biggest plays in the game, returning a kickoff for a touchdown to start the second half and later fumbling at the Ohio 16-yard line for an easy Central Michigan score.
The defense held up for the Bobcats, which now ranks 25th in opponent passing Success Rate and ranks sixth against the explosive run.
Betting Analysis & Pick
Our Action Network projection makes the game Ohio -25.5, but a case can be made for either side with the market shifting in the dead zone.
Ohio posted a 62% rush rate in its opening game, showing plenty of run explosiveness. While Akron had a 50% split in offensive play calling between the rush and pass, it did have a top-20 effort in rush explosiveness. The more interesting stat is that Ohio went 23% in two-plus first down percentage. The Bobcats are an explosive offense but have not proven the ability to sustain drives.
---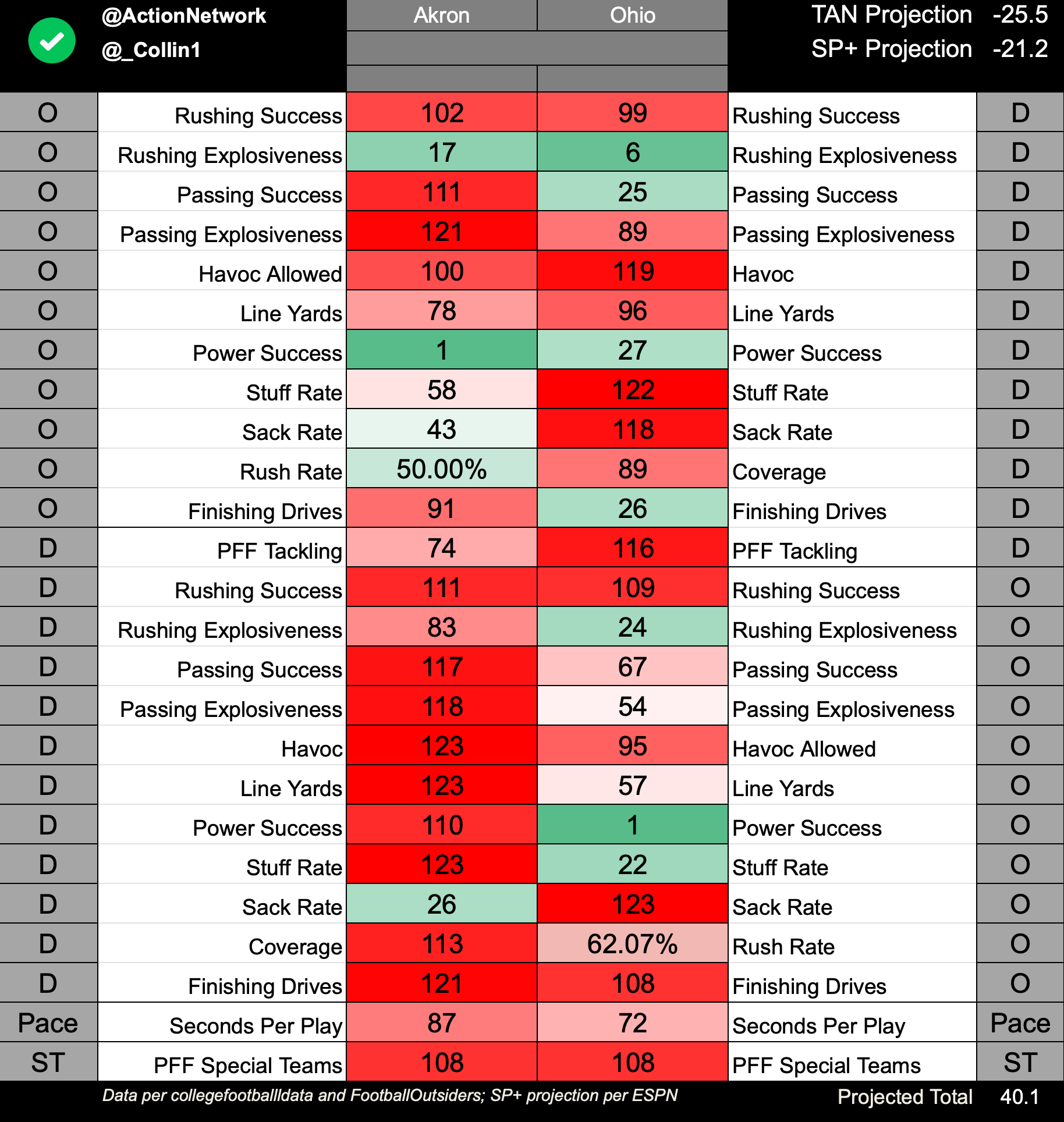 ---
There are reasons to think scoring may be an issue in this game. Central Michigan was limited to just one run over 12 yards against the Bobcats; Ohio should limit Akron's lone weapon on offense. With Ohio running at a rate of 62% with a pace that ranks 72nd, there should be plenty of clock burned. The Bobcats struggled to put points on the board in scoring opportunities with an early rank of 108th in Offensive Finishing Drives.
Akron may cover, but it would come at the summation of a slow-paced game in which Ohio has no sustainable drives. Akron does plenty in special teams and in the passing game to deny itself a cover, but a pace of 87th on offense should help minimize the points.
Pick: Under 57 or better
How would you rate this article?