2021 NHL Betting Preview: 3 Teams to Fade, 2 Teams to Buy Ahead of the New Season
Credit:
Kyle Ross/Icon Sportswire via Getty Images. Pictured: Jakub Voracek, Carter Hutton
One exercise that I find helpful before the NHL season starts is to circle a few teams that could be mispriced heading into Opening Night. This is not necessarily for finding value on a futures bet or for an Over/Under, but more to identify teams that could be worth backing or fading on a game-to-game basis, especially in the early part of the season.
Overrated
Philadelphia Flyers +1600
I think the Philadelphia Flyers are the most overrated team in the pre-season betting market. The Flyers are a solid team, but there's nothing extraordinary about them and it's a bit perplexing to see them priced as one of the favorites to win the Stanley Cup.
There are a couple of factors driving up this price. The Flyers were red hot before the hiatus and used a 9-1-0 stretch to vault themselves into the top four of the Eastern Conference. That earned Philadelphia a spot in the seeding round robin in the bubble and the Flyers took that opportunity and ran with it. Philadelphia swept the round robin to become the No. 1 seed in the Eastern Conference.
The Flyers eked by the 12th-seeded Montreal Canadiens in Round 1 and then fell to the Islanders, 4-3, in the Conference Semifinals. Philadelphia was out-played in both series, but got timely goaltending from Carter Hart to make it 13 games into the playoffs. To the naked eye, getting within one game of the Conference Finals looks impressive, but a deeper look reveals that the Flyers were quite fortunate to get that deep into the tournament.
The other reason this price could be this short is that the Flyers are well-followed in Pennsylvania and Southern New Jersey, two places where online sports betting is fully legal. The good ol' local tax.
On the whole, the Flyers are an above-average team. Their statistical profile in 2019/20 was a good reflection of the type of team I project the Flyers will be in 2021 — good, but not great.
| Stat (5-on-5) | Regular Season (69 games) | Postseason (16 games) |
| --- | --- | --- |
| Goals per 60 | 2.77 | 2.41 |
| Goals Against per 60 | 2.4 | 1.99 |
| Expected Goals per 60 | 2.43 | 2.02 |
| Expected Goals Against per 60 | 2.34 | 2.49 |
---
Expected goals (also known as xG) is a predictive statistic that gives an indication of whether results are based on sustainable factors like a steady creation of scoring chances, or whether it is down to aspects such as shooting luck or outstanding goaltending.
Simply put, an expected goals rate (xGF%) above 50% is considered good because it means a team is creating the majority of the scoring chances. Anything below 50% is usually a sign that a team is struggling to control play.
xG numbers cited from Evolving Hockey.
---
The Flyers were fifth with a +0.37 Goal Differential per 60 minutes, but their xGD per 60 was 13th at +0.09. Those kind of numbers don't leave much room for error in terms of goaltending or goal-scoring, so the Flyers could become overly-reliant on Hart to play at a high level.
That could be an issue with a jam-packed schedule and I don't have much faith in No. 2 goalie Brian Elliott, who posted a -6.77 Goals Saved Above Expectations (GSAx) in 31 starts in 2019-20.
Philadelphia is slated to play in the East Division with the Bruins, Penguins, Capitals, Islanders, Rangers, Devils and Sabres. I think you can make a better argument for the Flyers being the fifth-best team in that set than you can for them being at the top.
If these odds are any indication of how the Flyers will be priced in the early going, I think they will make great fade material out of the gates.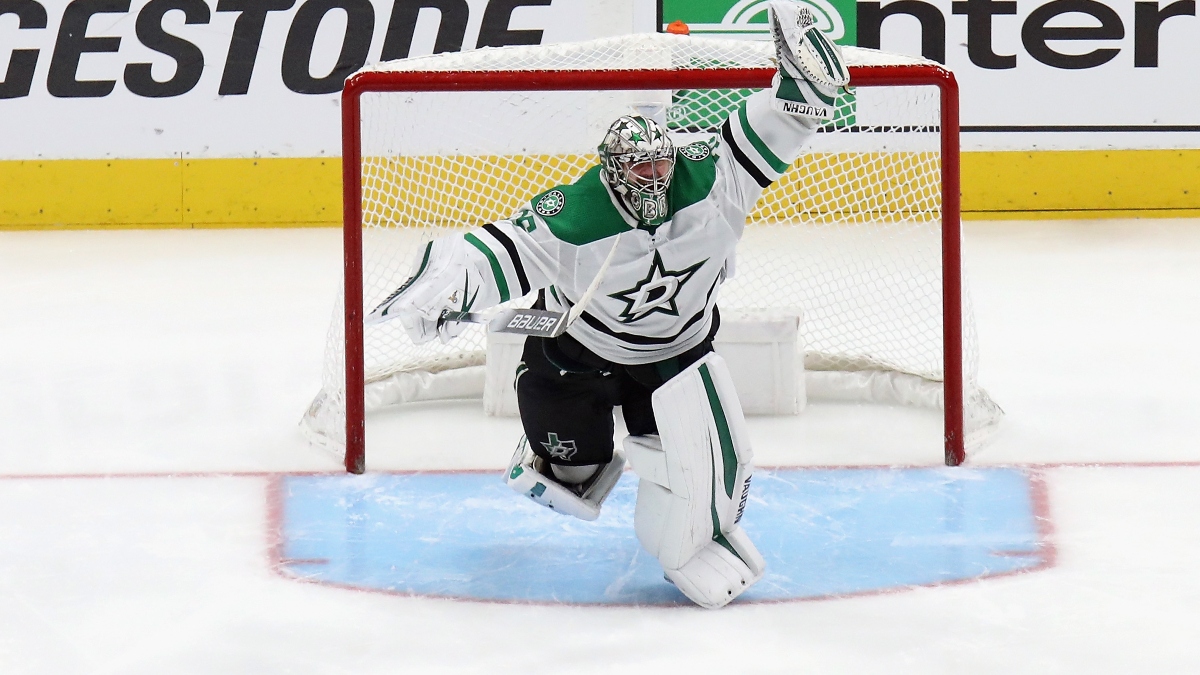 Dallas Stars (+2200)
The Stars were a wonderful story in the bubble. An adorably scrappy underdog that took down Colorado and Vegas before running out of steam against the Lightning, Dallas captured the hearts of casual fans around the NHL universe in 2020.
That type of story has the tendency to carry over into the next season and even though 26/1 isn't a short number, I am skeptical that the Stars will be able to get enough results in the early part of the season without Tyler Seguin and Ben Bishop.
As a team, the Stars are built to score just enough goals, play good enough defense and get the big saves from either one of their star-caliber goaltenders. Anton Khudobin was the Stars' MVP in the bubble and rates out as one of the NHL's best goaltenders, but if he falters or goes down in a jam-packed season, the Stars will need to turn to Jake Oettinger until Bishop returns in March.
Injuries, especially those to top-of-the-roster players, will be especially detrimental in this environment. Losing a player like Seguin for two months in a normal season is survivable, but it could be pretty disastrous when you consider he's going to miss about half the season. That's a big knock against a team that already lacks scoring punch.
Without Seguin to lead the line, the Stars will need Joe Pavelski to be the lynchpin between Jamie Benn and Alex Radulov. Those three veteran producers still provide Dallas with a legitimate first line, but bumping Pavelski up leaves the middle-six wanting. If there was such a thing, Denis Gurianov and Roope Hintz could be part of an All-Underrated Team, but outside of those two there are more questions than answers down the lineup.
With Seguin and Bishop out, this team's success will hinge on its defense and how effective the Stars are at limiting scoring chances. The good news is that Dallas was one of the league's best teams at doing just that in 2019-20 and its defense is led by star-in-the-making Miro Heiskanen and the impressive John Klingberg.
| Stat (5-on-5) | Regular Season (69 games) | Postseason (26 games) |
| --- | --- | --- |
| Goals per 60 | 1.96 | 2.43 |
| Goals Against per 60 | 1.99 | 2.42 |
| Expected Goals per 60 | 2.42 | 2.38 |
| Expected Goals Against per 60 | 2.17 | 2.51 |
As you can see from the numbers above, Dallas struggled to score in the regular season but was bailed out by a defense that led the Western Conference in GA/60. Dallas executed that low-event style of hockey well enough to earn a bye to Round 1 in the postseason.
It may seem startling that the Stars' numbers ballooned across the board during the playoffs, but when you consider that they played three best-of-7 series against Colorado, Vegas and Tampa — perhaps the three best offensive teams in the NHL — it starts to make sense.
I'd expect Dallas' statistical portfolio this season to fall back towards where it was in the regular season, but that style of hockey leaves little margin for error and prevents the Stars from being the team that would be able to easily swat aside bottom-feeders like Detroit or Chicago.
The last time that hockey fans saw the Stars they were in the Stanley Cup Final. It's only natural that a performance like that will inflate the price on Dallas out of the gates and provide astute bettors with the opportunity to fade the reigning Western Conference Champions at a decent price.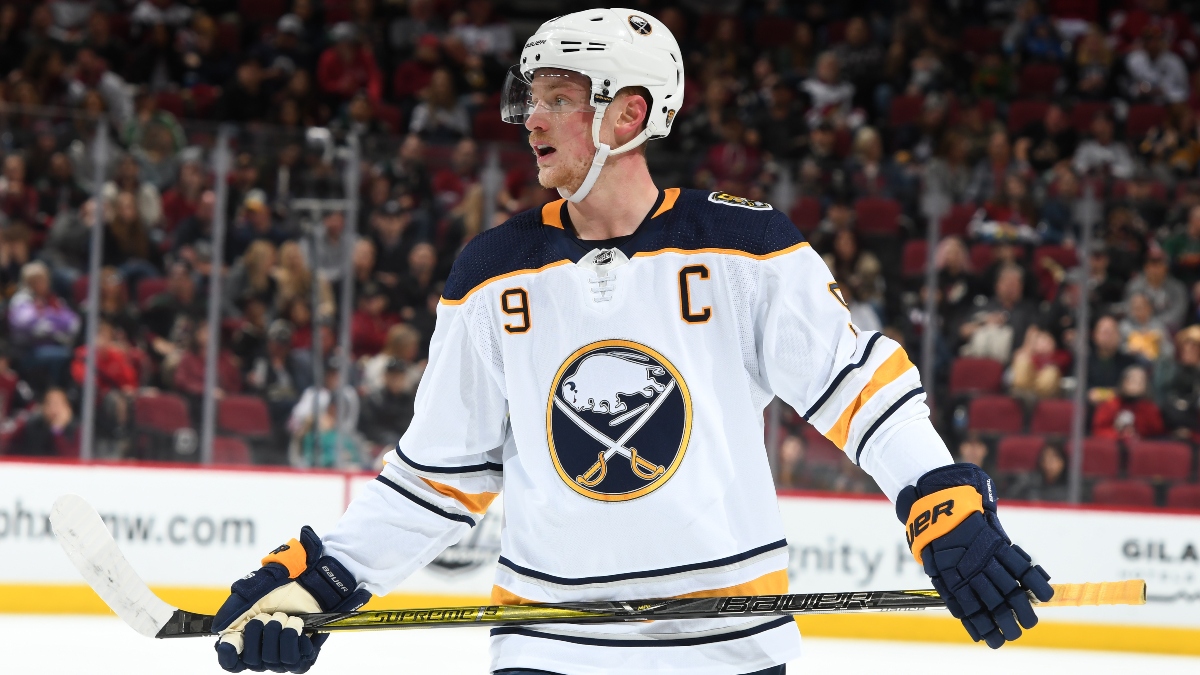 Buffalo Sabres +5000 
It may sound weird to say a team that is a +5000 longshot is overrated, but I think the market is a bit too high on the Buffalo Sabres.
The Sabres did get better during the offseason. They made perhaps the biggest splash of the offseason by signing 2017-18 MVP Taylor Hall to a one-year deal. Hall and Jack Eichel give Buffalo a dynamic first line.
The Sabres were also able to improve their center depth by acquiring Eric Staal, who will slot in nicely behind Eichel. Buffalo's top-six, which also will include Jeff Skinner, Victor Olofsson and Sam Reinhart, is a real strength and should provide a boost to a team that ranked 30th with a 2.05 xGF/60 in 2019-20.
The influx of talent makes Buffalo a better team, but I think the betting market overreacted to a flashy offseason without taking other factors into account.
The biggest red flag is in goal, where the Sabres don't seem to have a reliable starter. Carter Hutton and Linus Ullmark split duties in 2019-20, as neither netminder established himself during the season. Hutton struggled to a -13.49 GSAx in 31 games last season, while Ullmark was better, but still not impressive with a -4.81 GSAx in 34 games.
Buffalo played a relatively strong defensive game last season, allowing 2.37 goals and 2.26 xG per 60. That said, Buffalo's defense is still a work in progress with no clear-cut top pairing. Rasmus Dahlin could become a true No. 1 rearguard in 2021, but the rest of the unit leaves something to be desired.
My biggest concern for the Sabres is not something that is within their control. The East Division figures to be a true gauntlet and the Sabres will open the season as the seventh-favorite in the eight-team set.
I can see how bettors can get infatuated with the Sabres. It's been a while since Buffalo has been successful and it always looks like the Sabres are close to taking the next step. I think that sentiment, combined with a noteworthy offseason, is causing a few too many people to buy the Sabres as a sleeper and is inflating their price in the futures markets.
I think Buffalo's profile is closer to an 80/1 longshot than a 50/1 team on the fringe.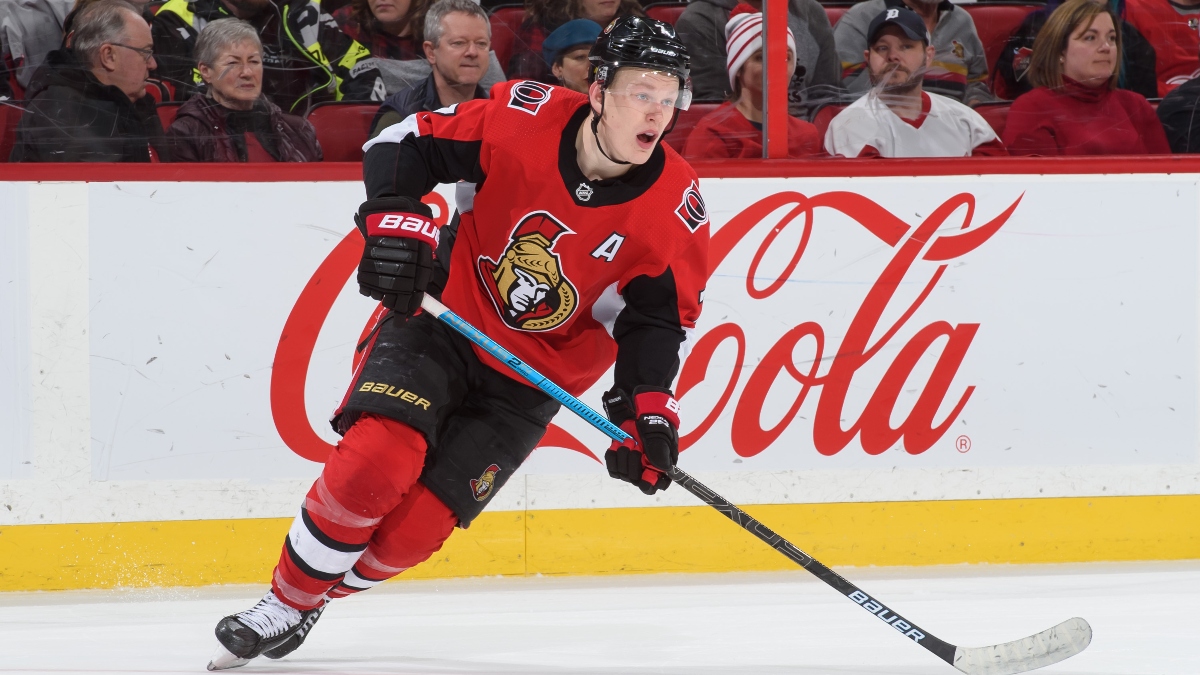 Underrated
Ottawa Senators +20000 
Here are two pre-season predictions I know will come true: 1) I will be betting the Ottawa Senators quite often over the next four months. 2) It will not be fun.
I don't say that because I think the Sens will be good, but rather because I don't think they will be as bad as people think, which should create some buy-low value on Ottawa in 2021.
When you're betting on a sport consistently, you need to pay attention to every team. Just because a team is out of contention doesn't mean you should put a line through them. Most casual bettors and fans have no time for a team that is headed for the lottery and that often creates quite a bit of value on the clubs near the bottom of the table.
The Senators were 30th out of 31 teams in the NHL in 2019-20, but their 5-on-5 numbers largely improved in D.J. Smith's first season behind the bench. Ottawa's statistical profile was still underwhelming, but the Sens finished 11th in xGF/60 and boasted a better xGA/60 than seven teams, including the Jets, Canucks and Rangers.
Those may seem like modest successes, but those are the type of datapoints you want to look out for on a team that most other people will overlook.
| Stat (5-on-5) | 2018-19 | 2019-20 |
| --- | --- | --- |
| Goals per 60 | 2.5 | 2.23 |
| Goals Against per 60 | 3.23 | 2.71 |
| Goals Differential per 60 | -0.73 | -0.48 |
| Expected Goals per 60 | 2.31 | 2.43 |
| Expected Goals Against per 60 | 2.68 | 2.54 |
| xG Differential per 60 | -0.38 | -0.11 |
The Senators will likely still struggle to score and their center depth is a real issue, but there are enough high-ceiling players on this roster that they could be a pesky underdog.
The biggest question mark for Ottawa will be in goal. The Senators are making a bet that two-time Stanley Cup winner Matt Murray can find his championship form after two down seasons. Murray was near the bottom of the league with a -13.98 GSAx in 2019-20, but it's not all that rare for goaltenders to go through peaks and valleys in their careers. A resurgent season from Murray and all of a sudden Ottawa becomes pretty interesting.
Ottawa is the second-biggest longshot in the market ahead of Detroit, but I don't think there's all that much that separates the Sens from teams in the tier above them on the oddsboard like the Kings, Blackhawks, Coyotes, Sabres, Devils and Ducks.
The Senators should also benefit from the unique circumstances in 2021. A 56-game season will create more variance and the All-Canadian projects to be the most wide-open group in the league, so there are a lot of winnable games on the schedule for a team that will be consistently offered at a big price.
Get ready to bet the Ottawa Senators every night.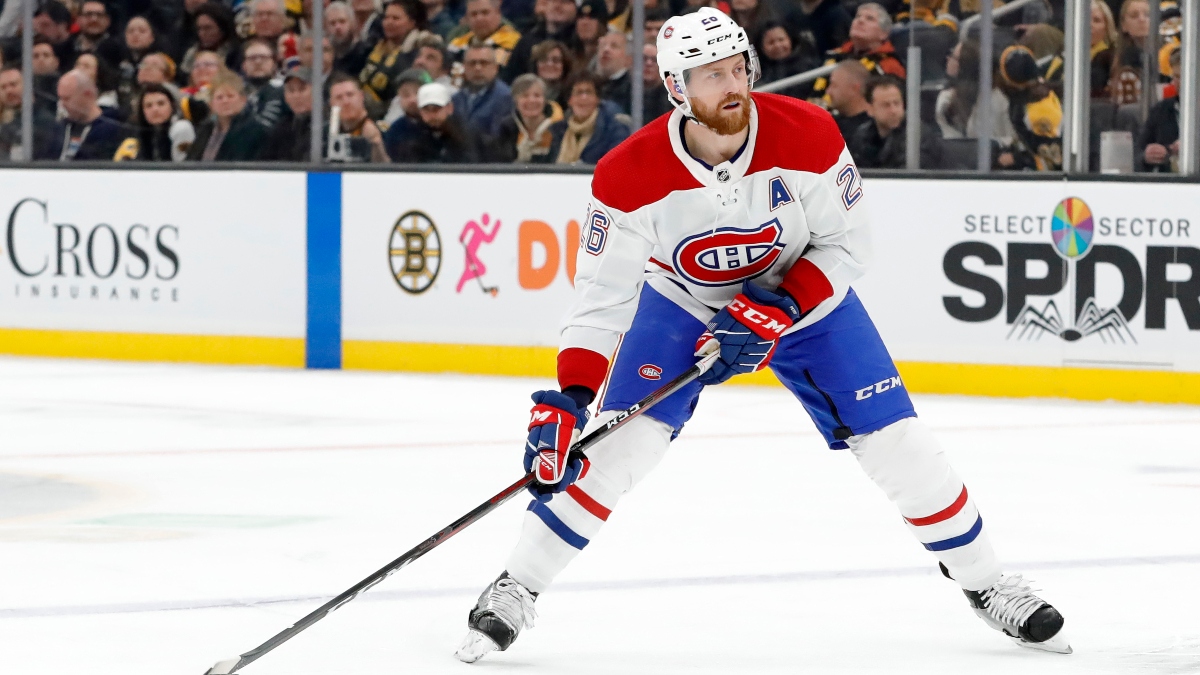 Montreal Canadiens +3000
I've only made one bet so far this offseason and it was on Montreal to win the Stanley Cup at 50/1. That number is gone now, but I still think the Habs are worth keeping tabs on. I have them as the second-best team in the North Divison, while most sportsbooks have them behind Edmonton and on level pegging with Calgary.
On the surface, the Habs looked like a picture of mediocrity in 2019/20. They finished 31-31-9 with 71 points and a -9 goal differential in 71 games.
Under the surface, Montreal looked like a team that should be a contender. The Habs had the second-best xG differential per 60 minutes during the regular season, finishing just behind Vegas and slightly ahead of Tampa Bay. Not bad company to keep.
| Stat (5-on-5) | Regular Season (71 games) | NHL Rank |
| --- | --- | --- |
| Goals per 60 | 2.54 | 17th |
| Goals Against per 60 | 2.45 | 13th |
| Goal Differential per 60 | +0.08 | 13th |
| Expected Goals per 60 | 2.66 | 3rd |
| Expected Goals Against per 60 | 2.34 | 11th |
| Expected Goals Against per 60 | +0.41 | 2nd |
Driving play is never a bad thing, but Montreal's terrific possession numbers never really led to sustained success because of a roster flaw: The Habs lacked scoring talent.
The Canadiens finished 26th overall with a 7.45% shooting percentage at 5-on-5, and that lack of scoring put more pressure on the defense and goaltending to make the chances they did convert stand up. That didn't happen, as Carey Price struggled to a -11.04 GSAx over the regular season.
Part of Price's struggles seemed to be workload related. The former league MVP played in 58 of Montreal's 71 games in the regular season, tying him with Connor Hellebuyck for the most appearances in 2019-20. But after a five-month hiatus due to the pandemic, we saw the return of "Vintage" Carey Price as he returned to form in the bubble.
Price posted a +7.92 GSAx in Montreal's 10 postseason games and carried the Habs to an upset over the Pittsburgh Penguins in the Qualifying Round. Montreal probably deserved to pull off another shocker in Round 1, as the Habs thoroughly outplayed the Flyers but didn't score enough to get through the series.
Montreal still doesn't have the game-breaking finisher that you'd think it would need to contend, but the Habs bolstered an already strong group of forwards by signing Tyler Toffoli and trading Max Domi for Josh Anderson. When Domi was on, he was a force, but the team is betting that Anderson will give this group the consistent finisher it has sorely lacked.
If Anderson and Toffoli provide even a little bit of scoring oomph, the Habs could have one of the deepest rosters in the league, and the ceiling could be pretty high considering middle-six centers Nick Suzuki and Jesperi Kotkaniemi are 21 and 20 years old, respectively.
Things check out on defense, too, as Jeff Petry and Shea Weber give Montreal two No. 1 defensemen and the rest of the unit projects to be fine, too.
That brings us back to Price. Goalies are always the elephant in the room because of their importance and volatility, but I think there's reason to be confident that Price will provide the type of netminding needed for this team to compete.
Not only did Price recapture his old form during the postseason, but the Canadiens acquired Jake Allen from the Blues in the offseason and that should take some of the burden off their franchise goalie during a jam-packed regular season. Allen struggled to become a true No. 1 goaltender in St. Louis but he flourished as a backup to Jordan Binnington in 2019-20, posting a +7.03 GSAx in 24 games last season.
The Canadiens should also benefit from playing in the wide-open Canadian Division. You can make a case for or against every team in the set outside of Ottawa. The Maple Leafs will enter the season as the favorite but they are far from perfect and every other contender has serious flaws, too. Montreal isn't a surefire bet to make the playoffs, but I think the Habs have a pretty high ceiling and their depth gives them a bigger margin for error than the other teams in this division.
There is a feasible path to success for the Montreal Canadiens in 2021 and that's all you're really asking for out of a team in this range.
How would you rate this article?