Leboff's NHL Betting Guide (March 13): Picks, Analysis for Five Games on Saturday, Including Rangers-Bruins & Capitals-Flyers
Credit:
Andy Devlin/NHLI via Getty Images. Pictured: Edmonton Oilers teammates Connor McDavid, left, and Leon Draisaitl.
You know who I think would appreciate betting on the NHL? Albert Camus.
Camus, who played soccer growing up in Algeria and France, once noted, "Everything I know about morality and the obligations of men, I owe it to football."
However, it's another quote from the French philosopher that makes me think he would get the absurd existence of a hockey bettor: "The struggle itself toward the heights is enough to fill a man's heart. One must imagine Sisyphus happy."
In this instance, Sisyphus — the dude from Greek mythology who just rolls a huge stone uphill for eternity — is us, the hockey punter.
On Tuesday, I placed six NHL bets. They were as follows:
Islanders (+100) over the Bruins
Stars (-130) vs. the Blackhawks
Panthers (-127) against the Blue Jackets
Devils (+168) vs. the Capitals
Sabres (+220) over the Flyers
Predators (+185) against the Hurricanes
While the Stars and Panthers took care of business without much fuss and the Isles won a coin flip against the Bruins, the other three games were bonkers.
Buffalo blew a two-goal lead in the third period and was taken to overtime. The Devils clawed back from 4-1 down to drag the Caps to overtime. And the Predators blew a two-goal lead, then missed several A+ chances in overtime to go to a shootout.
Watching them felt like being at a really fun high school party that you knew was about to get busted up by the cops. This had the potential to be a big night, but it also had the potential to go awry. And awry it went.
Within a matter of moments all three underdogs (and the Red Wings who were close to +300 against the Lightning) lost in OT or the shootout.
Watching promise evaporate into anguish in the blink of an eye is taxing, but it didn't stop me from going right back at it the next day. I like betting on hockey. I like pushing the boulder up the hill. I imagine Sisyphus happy.
Saturday's NHL slate gets underway with a 1 p.m. ET showdown between the just-how-good-are-they Bruins and the improving Rangers. It ends 10 games later, with a pair of 10 p.m. ET puck drops out West. Let's dive in.
Odds current as of Friday night. Follow me on The Action Network App to see what I'm betting. 
Early Games
New York Rangers (+158) at Boston Bruins (-186) — 1 p.m. ET
Dallas Stars (-125) at Columbus Blue Jackets (+102) — 5 p.m. ET
There are only two games before 7 p.m. ET, but I have interest in both of them.
The Boston Bruins hosed the New York Rangers as -182 favorites on Thursday, so I'd imagine we'll see a similar, if not shorter, line on Boston again.
As the odds indicate, there is a pretty sizable gap between these clubs, but the Bruins have scuffled a bit of late. Not only are the Bs just 4-4-2 in their last 10 games, but their 5-on-5 numbers are unimpressive, especially considering where we usually see Boston in the xG charts.
The B's are not getting enough production from their middle six. Jake DeBrusk, David Krejci, Craig Smith and Charlie Coyle have collected just 12 goals and 36 points in 84 combined games. The Bruins have the luxury of having one of the NHL's most effective lines (Brad Marchand, David Pastrnak and Patrice Bergeron), but if you can find a way to contain "The Perfection Line," you open up a path to success against the Bruins.
Of course, figuring out Boston is still easier said than done. The Bruins are very solid defensively, ranking fifth overall in goals against at 5-on-5 and eighth in expected goals allowed per 60 minutes, and they have two reliable goaltenders. This is still one of the league's best teams; they are just going through a bit of a dip right now.
---
Expected goals (also known as xG) is a predictive statistic that gives an indication of whether results are based on sustainable factors like a steady creation of scoring chances, or whether it is down to aspects such as shooting luck or outstanding goaltending.
Simply put, an expected goals rate (xGF%) above 50% is considered good because it means a team is creating the majority of the scoring chances. Anything below 50% is usually a sign that a team is struggling to control play.
xG numbers cited from Evolving Hockey.
---
The Rangers still have too many holes on their roster to be a contender, but they've been playing decent hockey and boast an expected-goals rate above 51 percent. The Blueshirts don't have any depth up front, their defense still needs a lot of work and Keith Kinkaid scares the lights out of me in goal, but at least the Bruins aren't playing like a team that would be able to take advantage of those flaws at the moment.
I like the idea of taking on Boston in this spot. The Bruins aren't generating a ton of offense, so I'm confident the Rangers will be able to drag this game out. At this price, that's all you're asking.
Note: Artemi Panarin is a game-time decision for the Rangers. If he goes, I like this number down to +145 odds.
The Columbus Blue Jackets are quite the soap opera. You'd have thought that things would have settled down after they ended the Pierre-Luc Dubois saga by trading him to Winnipeg for Patrik Laine, but that only turned up the heat at Nationwide Arena.
There are rumors head coach John Tortorella wants to get fired, which I think is ridiculous, but there's definitely a "where there's smoke, there's fire" feeling to this team right now.
That has also manifested in the Blue Jackets' statistical portfolio, which reads like a disaster. Only the Sabres have a worse expected-goals rate than Columbus and no team is generating fewer expected goals per hour at 5-on-5 than the Jackets are this season.
Columbus has never been a tour de force on offense under Tortorella, but its defense has been good enough to make whatever offense they do manage hold up. That isn't the case this time around as the Jackets are bang-average defensively.
The Dallas Stars might not be an offensive force, either, but at least Dallas is controlling play at 5-on-5. The Stars have the seventh-best xG% in the NHL this season, plus they're allowing the fewest xGA (1.82) per hour at 5-on-5.
I thought Dallas would be one of the more overrated teams in the early part of the season, but I think that narrative might have flipped a bit. The Stars certainly have a lot of work to do to become relevant down the stretch, but I think they should be favorites over a bad Blue Jackets team.
I like Dallas at -130 or better.
The Main Slate
Washington Capitals (+100) at Philadelphia Flyers (-117) — 7 p.m. ET
Pittsburgh Penguins (-210) at Buffalo Sabres (+175) — 7 p.m. ET
Edmonton Oilers (-121) at Vancouver Canucks (+102) — 10 p.m. ET
I'll hop right back on the Washington Capitals as slight underdogs against the Philadelphia Flyers on Saturday.
While the Flyers have improved their 5-on-5 numbers of late, their season-long numbers are still below average. Philadelphia ranks 18th in expected goals rate, 20th in shot share and 23rd in high-danger scoring chance percentage.
Those numbers paint a picture of mediocrity, so it's no wonder that the Flyers have skated to a pedestrian 5-5 record over their last 10 games and now find themselves with the fifth-best points percentage in the East Division.
Perhaps most concerning thing for the Flyers is Carter Hart has been abysmal this season. Hart, 22, was supposed to take a leap forward into stardom. Instead, he has the third-worst Goals Saved Above Expectation (GSAx) and is in danger of losing his starting gig to Brian Elliott.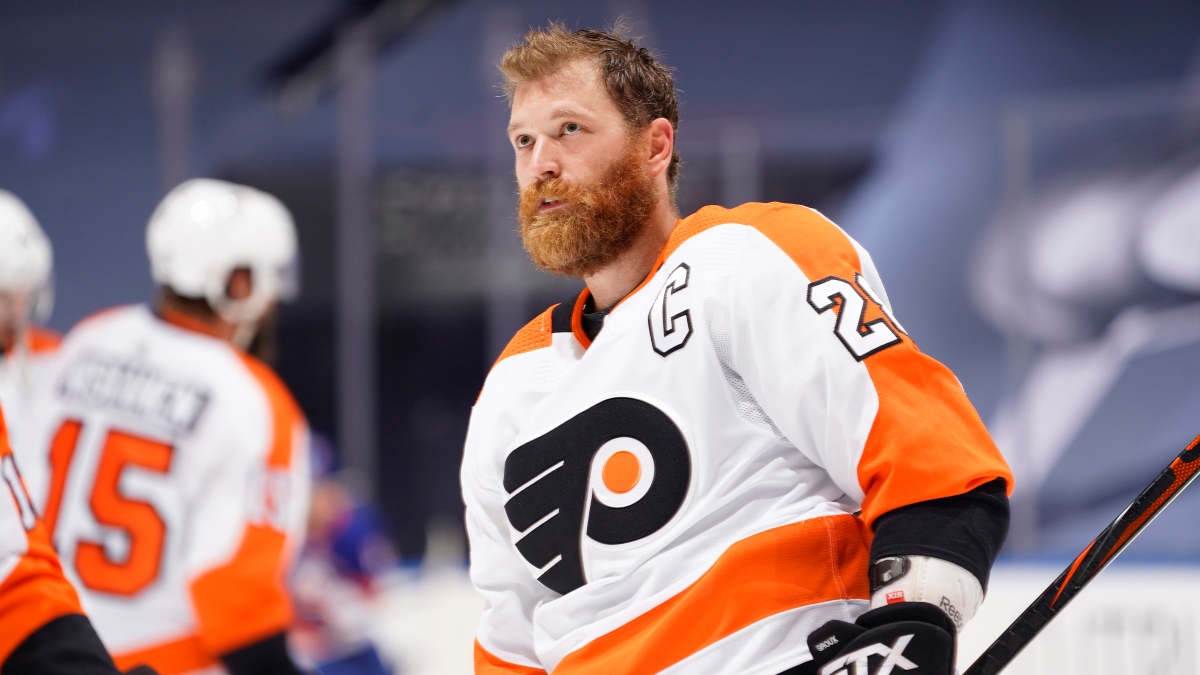 Elliott has been a great fall-back option for Alain Vigneault, but it's hard to rely on a 35-year-old goaltender coming off back-to-back poor campaigns.
While I think the Capitals are also a bit overrated, I think their high-end talent separates them from the Flyers. Washington has never been an analytical darling, but the Caps' expected goals rate is above 50% on the season and sits at 55.6% over their last 14 games.
With players like Alex Ovechkin, Nicklas Backstrom, T.J. Oshie, John Carlson and Jakub Vrana, the Capitals won't have many issues scoring. What did them in last season was their defense. That has been rectified under Peter Laviolette as Washington leads the NHL in expected goals against (5-on-5) since Feb. 9.
These two teams met in Philadelphia on Thursday and the Flyers closed at -124 odds. I'd be surprised if this line gets that high for Saturday (unless Washington starts Vitek Vanecek). I'd bet Washington at -115 or better if Ilya Samsonov gets the start in goal for the Caps.
OK, let me preface this by saying I do not expect the Buffalo Sabres to beat the Pittsburgh Penguins. Buffalo is the NHL's worst team by basically every metric. The Sabres are last in points percentage, last in expected goals rate and last in 5-on-5 goal differential. That should be enough, but there's more.
The Sabres will be without Jack Eichel, Rasmus Ristolainen and Dylan Cozens in this one, meaning Riley Sheahan will be their first-line center. For a team that already can't score, these injuries make them seem unbettable.
All that said, the Penguins are not a team I would trust at this number and I can't see many people backing Buffalo, so we could get to a point where you bet the Sabres at a huge price and hide behind your sofa.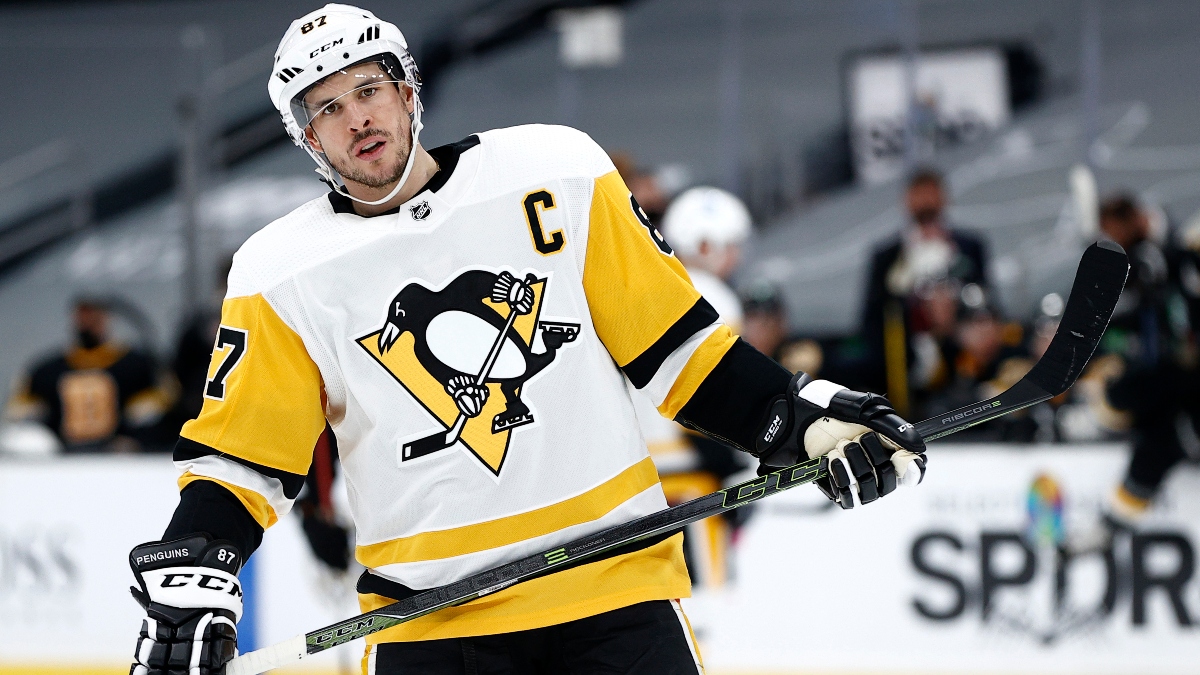 The idea of Sidney Crosby running roughshod over Buffalo is harrowing, but the Penguins have not been driving play this season. Pittsburgh is 20th in the NHL with a 48.2% expected-goals rate and over its last 15 games that number has come down to 46.5 percent.
You don't need to controll play when you have players like Sidney Crosby and Evgeni Malkin, but it does make you susceptible to the odd upset, especially since the Pens' goaltending situation isn't that great.
I'd be really surprised (and relieved) if this number doesn't climb. If it gets to +215 I would reluctantly have a bet on Buffalo.
The Edmonton Oilers are on the second of a back-to-back, playing their fourth game in six nights, but I think they have a smidge of value against the struggling Vancouver Canucks, especially if Braden Holtby gets the nod for Vancouver in goal.
The Canucks and Oilers are both built to win high-scoring, 5-4 type of hockey games. The thing is, the Oilers are just better at it:
| 5-on-5 Stat | Vancouver Canucks | Edmonton Oilers |
| --- | --- | --- |
| Goals for per 60 | 2.35 | 2.63 |
| Goals against per 60 | 2.88 | 2.61 |
| Goal Differential per 60 | -0.53 | +0.02 |
| xG for per 60 | 2.41 | 2.53 |
| xG against per 60 | 2.85 | 2.52 |
| xG Diffierential per 60 | -0.44 | +0.01 |
We should expect a high-event, volatile game between these clubs and I do get a little edgy laying juice in that type of showdown, but I trust the Oilers up to -130 in this one.
How would you rate this article?
This site contains commercial content. We may be compensated for the links provided on this page. The content on this page is for informational purposes only. Action Network makes no representation or warranty as to the accuracy of the information given or the outcome of any game or event.