Germany-Brazil Is Most Likely 2018 World Cup Final
The Highlights
Germany-Brazil is the most likely 2018 World Cup Final matchup at 12-1
A France-Brazil rematch of the 1998 World Cup Final is 25-1
A Germany-Argentina rematch of the 2014 World Cup Final is 40-1
---
We're nearing the start of the 2018 World Cup and just over two months away from one country lifting the trophy in Moscow, Russia on July 15th.
A World Cup Final matchup of Germany vs. Brazil is listed as the most likely scenario at 12-1 odds. It's hard to mention these two countries without remembering the 2014 World Cup semifinal when Germany embarrassed Brazil, 7-1, on their own turf, and it would be fascinating to see a rematch this summer to win it all. Brazil did get some redemption by defeating Germany for the gold medal at the 2016 Olympics, which was also played in Brazil.
Keep in mind that there's a predetermined bracket after the group stage, so Germany could face Brazil in the Round of 16 if either country fails to win its group.
I'll be rooting for an Argentina-Belgium World Cup Final matchup at 50-1 odds since I've got a futures ticket on both to lift the trophy.
To get a clear glimpse of every team's journey and tournament scenarios, here's a great visual breakdown via World Soccer Talk.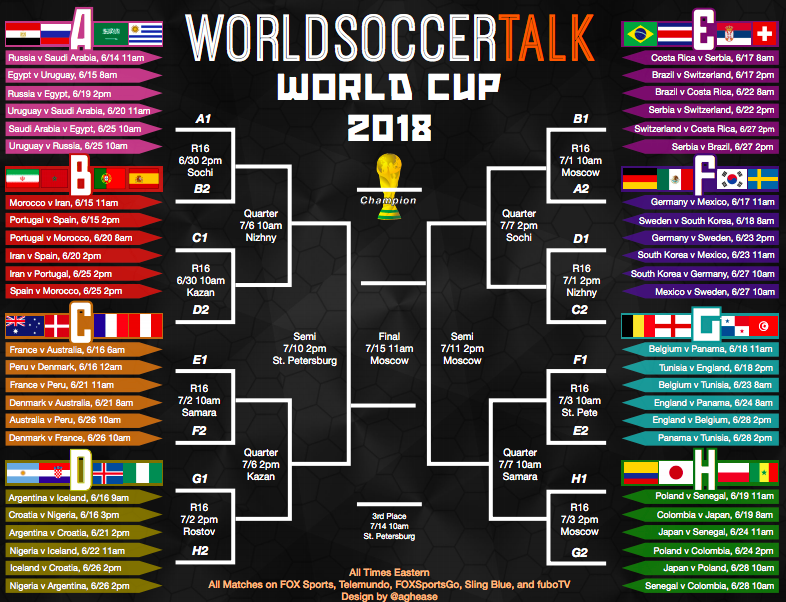 Cover photo features Germany's Sami Khedira and Brazil's Bernard battling for possession