WNBA Playoffs Odds & Betting Preview: Our Expert's Best First-Round and Title Bets Entering the Postseason
Credit:
David Becker/NBAE via Getty Images. Pictured: Sue Bird #10 of the Seattle Storm.
Looking to crush the WNBA postseason? Our hoops experts have you covered.
Matt Moore and Jim Turvey break down their top bets for a pair of Game 1s, first-round series matchups and title futures.
Continue reading for their postseason analysis.
The WNBA playoffs have arrived and with it a new format. Gone are the days of one-and-done first rounds, leaving great teams at the mercy of a good or bad night, and in are three-game series in Round 1 and five-game series in Round 2 and the WNBA Finals.
The Las Vegas Aces enter as the favorite after a midseason stretch where the Chicago Sky was at the top. Can anyone make a surprise run outside of those teams? How about the Seattle Storm in Sue Bird's last run? Or the Washington Mystics behind Elena Delle Donne? Is this finally the Connecticut Sun's year for things to go right?
NBA Senior Writer Matt Moore and WNBA and NBA analyst Jim Turvey give their favorite WNBA bets from title futures to first-round series props, to Game 1 plays.
BEST WNBA TITLE BET, PRE-PLAYOFFS
Moore: Aces +175 (BetFred) (2u)
Shop around, this is as short as +135 at some of the bigger shops.
So this is boring, the best team with the best record, the No. 1 overall seed. But with fewer teams in the W, the disparity between the great and the good is steeper.
On power rating, I have the Aces favored over the Sky. When considering the context of the season, that's really important. Vegas was the prohibitive favorite for much of the season, then hit a midseason swoon and absolutely nosedived for a month.
In that time, the Sky thrived (and I bet Chicago at +250 or better repeatedly, logged in the Action app). Then the Sky started to lose a little steam, and the Aces picked back up, finishing strong, including the final game vs. the Storm.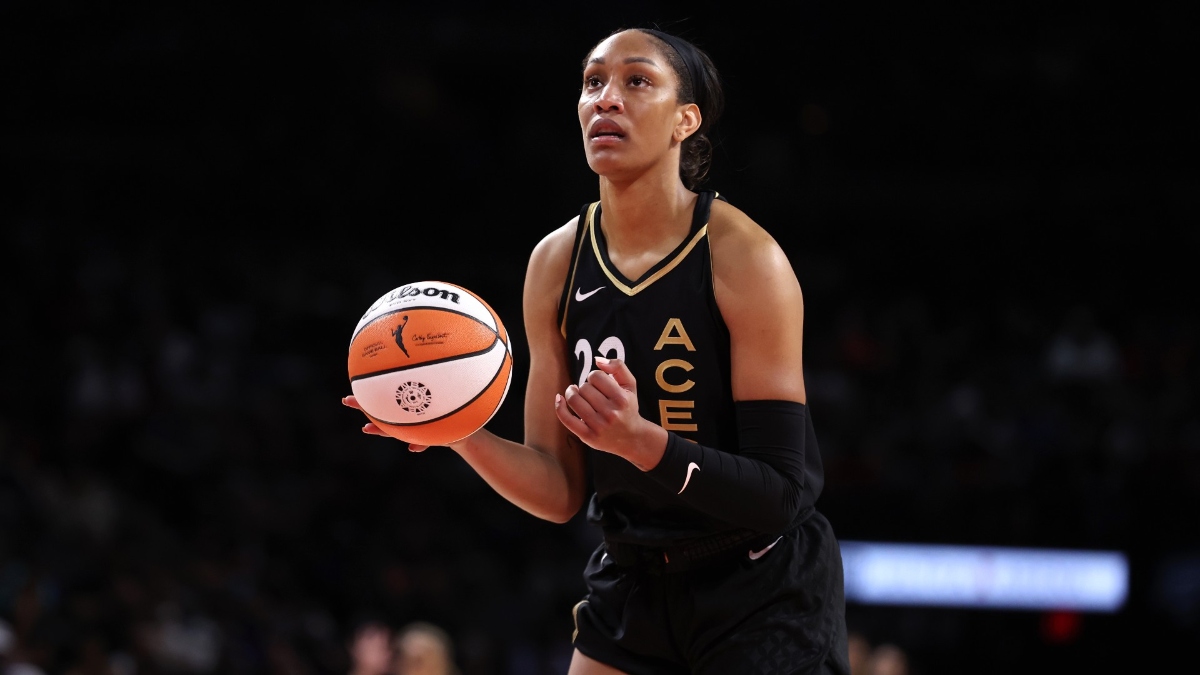 The Aces have a harder path than Chicago, given that Vegas has to play the winner of the Mystics-Storm gauntlet of doom. But Chicago will play a Liberty team with higher variance built in by its 3-point rate, and then a tough Sun team.
But ultimately, I'd still probably feel that the Sky (+250 or better) were the best bet if it weren't for the fact that I think the Aces match up so well. The Aces take about six more 3-point attempts per 100 possessions than Chicago, and based on halfcourt and transition matchup data, I have the Aces favored by considerably more (Aces -5.2 at home) vs. the Sky than even their power rating projects.
The Aces' problems the last few years were Bill Laimbeer's archaic, anti-three coaching and Liz Cambage. Both are gone. The time has finally come for Vegas, overhyped for so long, to finally earn their flowers and raise the banner.
Longshot bet (0.25u): Storm +500 or better 
If the Storm beat the Mystics, which they may not, that's going to be a brutal series, I have them as considerable dogs to the Aces, predictably. However, this is all based on their regular-season profile. And with the Storm's championship experience and grit, they may be able to outperform that profile in the postseason.
If the Storm look like a better half-court offensive team than they did in the regular season (seventh overall via Synergy Sports) by just relying more on Breanna Stewart, Jewell Loyd, and Tina Charles, they can make a run.
Not only that, but the Storm are third in 3-point rate per 100 possessions to keep pace with the Aces (who also allow the most 3-point makes per 100 possessions) and rank second in 3-point makes allowed per possession.
Then, the Storm would be dogs again to the defending champion Sky, but the gap is close enough in my matchup numbers (Sky -3.5 in the road games at Seattle) to give 5-1 some value.
Beyond the numbers and matchups, though, if there is one player I want to hitch my money to? It's Breanna Stewart.
Jim Turvey: Seattle +600 (FanDuel; would play at +500 too)
Before getting to the Storm, a quick sidenote: If I had to pick a team straight up to win the 2022 WNBA title, it would be the Chicago Sky.
Unlike my colleague Matt, I'm not as big a believer in the Aces. I have my doubts about their depth, and those doubts are raised even higher with the absence of Dearica Hamby to start the postseason.
This is a team that gets about 80% of their points from their starting five, and now with Kiah Stokes moved from the bench to the starting lineup, they have a grand total of one player averaging more than four points a game off the bench.
They also heavily rely on the three, which they excel at, but in the postseason, when easy looks dry up a bit, and even the best teams can go through extended cold streaks, that sort of variance from a favorite scares me.
I agree with Matt that the Aces match up very well with the Sky, but I fear they may not make it to that hypothetical championship game. That's due in large part to my best title bet here: The Seattle Storm.
The Storm finished the season as the fourth seed and as such, have a challenging road to a title. However, as will be touched on later, I don't see their road to be as challenging as these odds imply. I am a huge believer that the Storm will cruise through their first-round matchup with the Mystics (again: see below), which would almost certainly match them up with the Aces in the second round.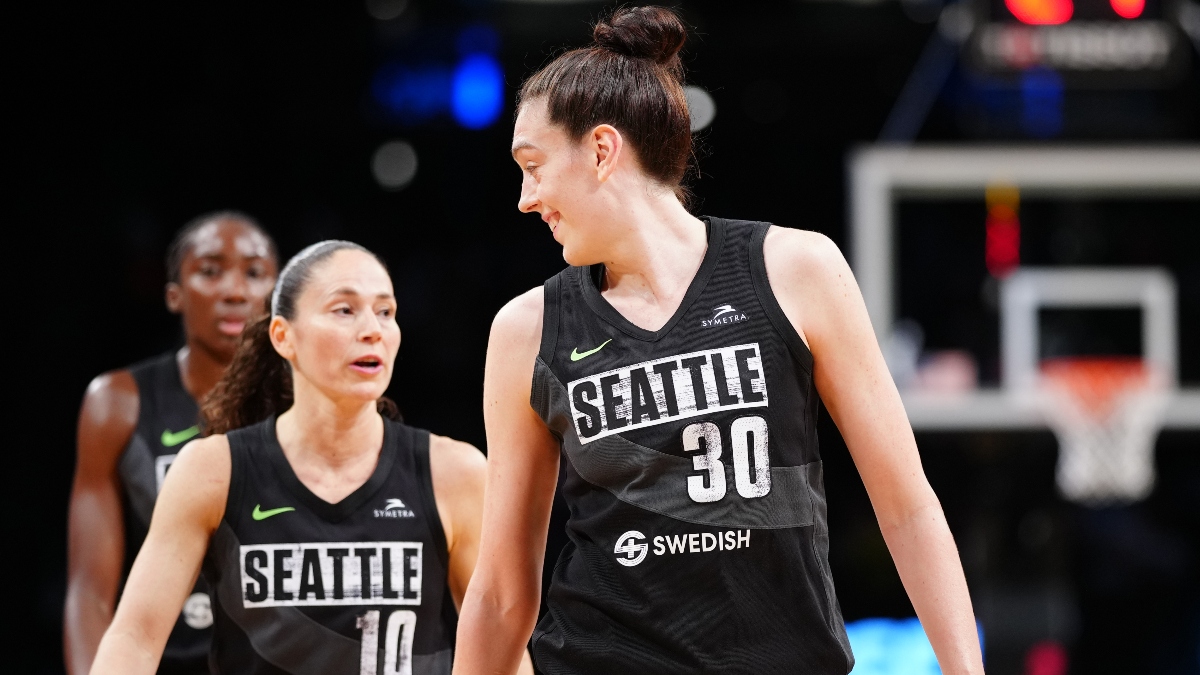 As Matt pointed out, this series could well pivot on 3-pointers. To underline the point he made above: Both teams are elite at taking and making threes (the only two teams in the top third of the league in both threes attempted per game and 3-point percentage), but the Aces struggle to defend 3s (in the bottom three in both threes allowed and 3-point percentage allowed), while the Storm finished the regular season with the best 3-point percentage defense in the entire league.
The Seattle defense is also elite at limiting fastbreak points (fewest allowed in the W), and they also don't send their opponents to the free throw line (fewest opponent FT per game). These are two areas Las Vegas is reliant on for their offense (ranking third in both fastbreak points and free throws attempted per game in the regular season).
If the Storm get past the Aces, it's not quite as perfect a matchup against the Sky (or Sun who should definitely not be slept on), but at that point, you're either in a perfect spot to hedge, or you can look to double down if the Storm look as strong through their first two series as I predict they will.
Plus, it's Sue Bird's last season, and a friendly reminder to go look at the Career Highlights and Awards section of Breanna Stewart's Wikipedia page if you want to look at what a GOAT in the making truly looks like. It's more common for her to win the title of whatever league she is in than not when she's healthy, which is an absurd sentence to type.
WNBA FIRST-ROUND SERIES BETS
Moore: Storm 2-1 (+260) over Mystics (.25u)
My numbers underrate a playoff homecourt advantage for the Mystics, I think, and normalizing it would put the Mystics at home at around a pick'em.
I do believe the Storm are better, both baseline and in a playoff environment, but Elena Delle Donne and company are not going out like lambs; they're going out like lions. If the Mystics were to steal Game 1, I have absolute confidence in the Storm responding in Game 2.
Turvey: Liberty series exact total 2-1 +490 | Sun series exact total 2-1 +300
Two picks here with a little different logic to them.
Yes, I did say above that if I could pick a champion without odds to win this year, it would be Chicago, but as we all know, value is value. And the Liberty are incredibly dangerous (and thus valuable) in a three-game series — especially one with as funky a set-up as this year's first round.
A friendly reminder that the W is having the higher seeds play the first two games at home before sending a potential third game to be played at the home court of the lower seed if necessary. I can see the blowback to this coming from a mile away — and the Liberty feel like the best team to cash in on it.
For one, as any Liberty fan will tell you, they are about as high variance as any basketball team ever created. Part of that is the fact that over 40% of their shots come from three, but part is just the personnel.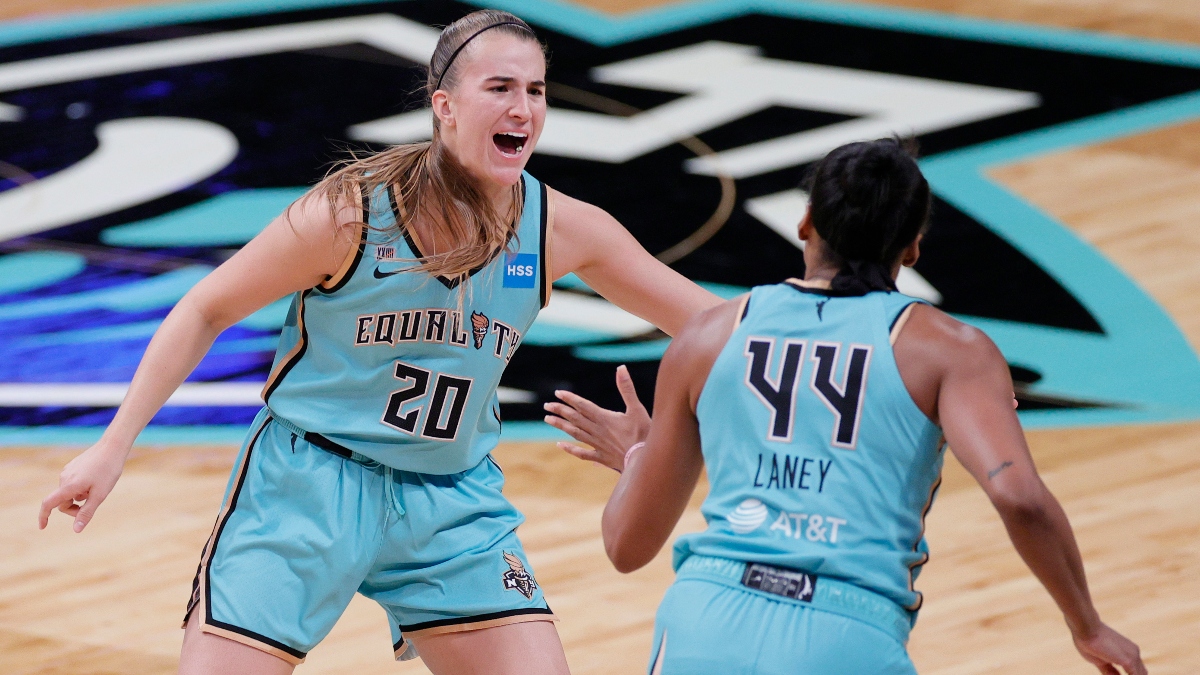 Sabrina Ionescu has some of the highest highs seen in this league, but she still has weirdly off games. They also have been in and out of health all season and enter the postseason with Betnijah Laney still shaking off the rust and Natasha Howard reportedly nursing a bit of an ankle injury.
However, all they need to do is get hot from three in one of the two first games of the series to make things really interesting with a Game 3 in what should be a lit Barclays Center. (Not to mention giving us an elite hedge opportunity if they get to Game 3.)
This series exact price is nice as well because there's almost no way the Liberty go into Chicago and win back-to-back games, so you're basically getting an amped-up version of the Liberty series price, which caps out at +360 at Caesars.
(By the way, I could almost all this same logic on the Mercury to win their series, 2-1 at +1700. Now, I don't have the gall to actually recommend it here, but all I'm saying is that the Mercury take almost as many 3s as the Liberty, the Aces struggle to defend 3s, as noted, and if it gets to Game 3, all the pressure will be on the Aces. Plus, the Mercury have been great at home all season. I'll be putting a dollar on this because I like to set my money on fire from time to time.)
For the Sun series, this is the one that lots of folks are targeting as their potential first-round upset. And only part of the reason for that is that everyone is angry at Curt Miller for ruining Mama Syl's final game.
I do think this series will be close — Dallas took two out of three during the regular season and have Teaira McCowan, once of the few bigs in the league who can stand up to Connecticut's formidable frontcourt — but I don't have faith in the Wings if it comes to a Game 3 in Dallas.
The Wings have been better on the road than at home this season, and while I do somewhat subscribe to the Arike Ogunbowale Ewing Theory that has been playing out, a win-or-go-home playoff game is when those types of theories are put to their strictest tests. That's when you want an Arike to close out the heavily favored team.
At +300, this exact bet holds solid value.
WNBA FIRST-ROUND GAME 1 BETS
Moore: Sun team total over 86.5 (-120, BetMGM, 1.8u)
I have this projected at 91.2 points, with the Wings having the second-worst half-court defense in the league and the worst in the playoffs by far. The Sun's team total is 5-3 in the playoffs when favored in the playoffs the last three seasons.
The Sun create the most points off turnovers per 100 possessions, while the Wings give up the most points off turnovers per 100. Dallas has problems on the glass and in transition, easy-points-opportunities where the Sun excel.
It's a high number based on pace, but totals are slightly higher in the WNBA playoffs relative to the regular season, and overs still hit at a higher rate.
Turvey: Seattle -165
Going back to the well, so let's lay out some of that logic I noted was coming. The Mystics, for reasons that were certainly not clear to me, decided to play Elena Delle Donne in their two final games of the regular season against the Indiana Fever when they had nothing to actually play for.
Now, EDD will have a commercial flight cross country to Seattle where she'll match up with a player I just called the GOAT in making. Seattle has been outstanding at home this season, and to reiterate the EDD-Stewie comparison, here are the stat lines from their games against each other this season:
EDD: 19.6 PTS, 5 REB, 0.7 AST per game on 48/30/100 shooting splits; +2 in 91 minutes
Stewart: 20 PTS, 6.3 REB, 4.7 AST per game on 50/43/80 splits; +45 in 99 minutes
Delle Donne is a great player; Stewart is an all-timer. In a three-game series between two elite defensive teams like this, that is going to be a differentiator.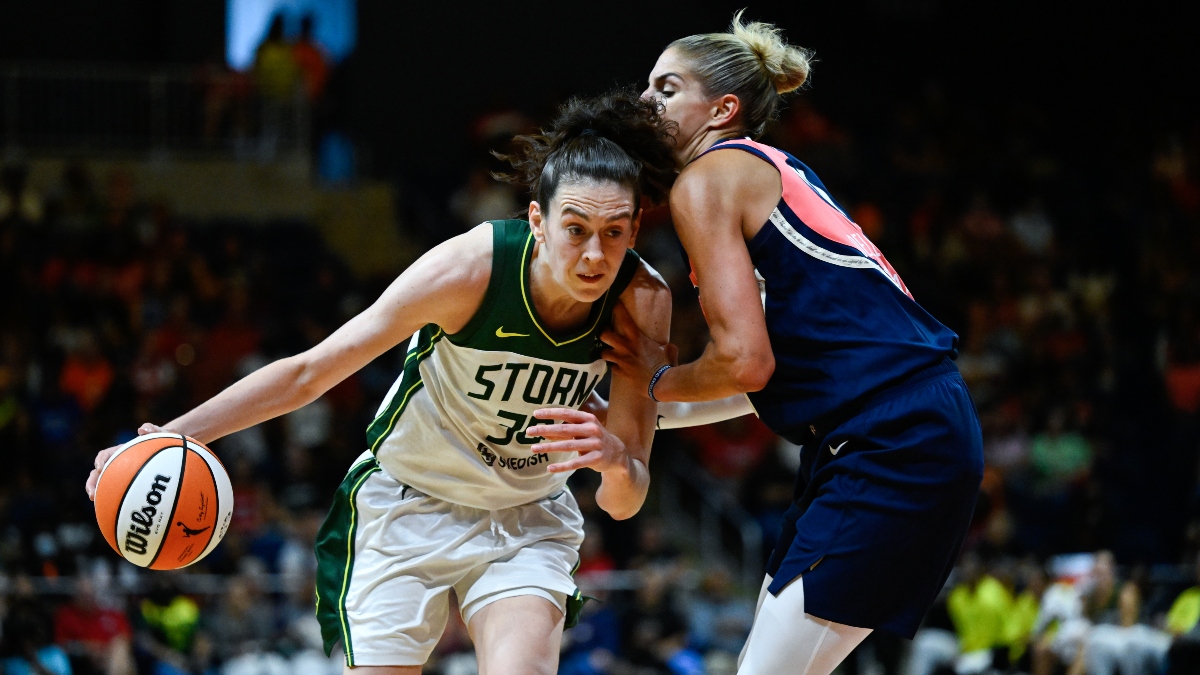 So, the way to play Seattle in the first round, if you are as confident in them as I am, is to do a mechanical parlay.
If you bet the Storm at -165 in Game 1, and then put all your winnings into a Game 2 moneyline bet (assuming the line stays the same), you'll come out turning one unit into 2.58 units with a pair of Seattle wins.
If you just bet one unit on them to just win the series, you get less risk of course, but you only turn that into 1.59. Even if you take the more aggressive approach because you believe in them as much as I do and bet them to win the series 2-0 exact, you turn one unit into 2.50 units — don't leave that extra money on the table!
The only way this route wouldn't be more profitable is if the books shift the game two line a lot after Game 1. However, even a big Seattle win likely wouldn't do this unless it came in part because of an injury.
As such, I'll be betting Seattle moneyline for Game 1 and then pouring all of that into a Game 2 moneyline if they do indeed get the work done in the series opener.
How would you rate this article?
This site contains commercial content. We may be compensated for the links provided on this page. The content on this page is for informational purposes only. Action Network makes no representation or warranty as to the accuracy of the information given or the outcome of any game or event.