Freedman's XFL Rankings: How I Stack All 8 Teams for Week 4
Credit:
Credit: Julio Aguilar/Getty Images. Pictured: P.J. Walker
Week 3 of the XFL confirmed that the Houston Roughnecks and St. Louis BattleHawks are legitimate title contenders.
It confirmed that the New York Guardians, Seattle Dragons and Tampa Bay Vipers are probably the three worst teams in the league.
The Dallas Renegades? They haven't looked great, but they are 2-0 with their starting quarterback and can't be discounted.
As for the DC Defenders and LA Wildcats, I can't explain what happened in Week 3. We're all still figuring this league out.
Here are my rankings and quick betting takeaways for all eight teams.
---
You can bet on the XFL at FanDuel. Get up to a $500 risk-free bet at FanDuel today or see more offers and reviews for the best online sportsbooks.
---
1. Houston Roughnecks (3-0, +31 Point Differential)
Even though the Defenders had shorter odds last week in the futures market, the Roughnecks were my No. 1 team.
And now I like them even more.
Under the head coach June Jones, the Roughnecks easily have a league-high 33 points per game.
Quarterback P.J. Walker is the early MVP frontrunner with a position-best 748 yards and 10 passing touchdowns with a 63.8% completion rate (per Pro Football Focus).
Wide receiver Cam Phillips looks like a future NFL player with his league-leading 324 yards and seven receiving touchdowns.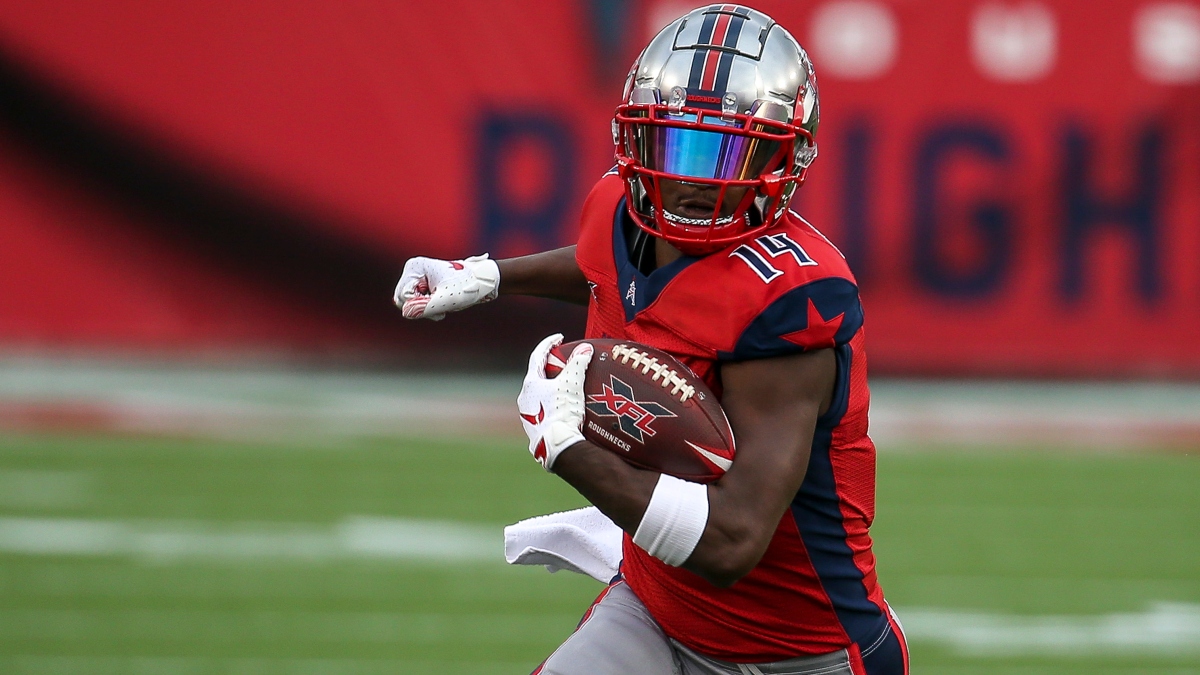 On defense, the Roughnecks are all about the big play. They've allowed nine touchdowns — no team has allowed more — but the Roughnecks are also No. 1 with 10 sacks and tied for No. 2 with five interceptions.
The defense isn't perfect, but it's exploitative.
As a result, Roughnecks games have been high-scoring affairs. All three Roughnecks games have hit the over.
I don't think that's a fluke.
Betting Takeaway: When the Roughnecks face a team without a strong quarterback, I'll probably like them to cover. And almost regardless of opponent, they have the offensive power to drive most games to the over.
2. St. Louis BattleHawks (2-1, +22 Point Differential)
We told you last week to bet on the BattleHawks when they were +1000 in the futures market.
I hope you listened.
They are now +450 to win the title at FanDuel. [Bet now at FanDuel. NJ, PA, IN and WV only.]
I still think there's a little value at that number. I just really like this team.
They are an immaculate 3-0 against the spread (ATS). They are No. 1 in the league with a 57.8% rush rate and No. 2 with 70.3 plays per game.
With their running attack, they take pressure off of rookie quarterback Jordan Ta'amu, who leads the league with a 75.6% completion rate, and with their fast pace of play, they increase their opportunities to score.
Head coach Jonathan Hayes seems like a hard-nosed no-nonsense strategy-focused thinker. His post-game press conferences are normally among the best in the league.
Despite having played against the high-flying Roughnecks in Week 2, the BattleHawks on defense are No. 2 with eight sacks and just 15.3 points allowed per game.
And the BattleHawks have a home-field advantage that might be the league's best.
They entered the league as a noted underdog, but the BattleHawks are a true contender.
They are also 3-0 to the under, which makes sense: They have a run-heavy approach and an above-average defense.
Betting Takeaway: Against poor quarterbacks, I will be inclined to bet the BattleHawks. And because of their ground-game commitment, I expect them to drive most totals to the under.
3. DC Defenders (2-1, +9 Point Differential)
Entering Week 3, the Defenders looked like perhaps the league's best overall team.
And then they suffered an embarrassing 39-9 road loss to the previously 0-2 Wildcats.
Ouch.
Quarterback Cardale Jones is still one of the top passers in the league — he's No. 3 with a 72.6 PFF passing grade — but in Week 3 he passed for just 103 yards while completing 50% of his 26 attempts and throwing four interceptions.
Wide receivers DeAndre Thompkins, Rashad Ross and Eli Rogers might be the league's best pass-catching trio.
But head coach Pep Hamilton needs to figure out what went wrong with his offense this past week, and the defense must figure how to get more pressure on opposing quarterbacks. Only the Vipers have fewer sacks than the Defenders do with four.
Betting Takeaway: I'm tempted to stay away till I have a better sense of this team — but I know deep down I'll probably still bet on the Defenders whenever they face a team without a good quarterback.
4. Dallas Renegades (2-1, +13 Point Differential)
The Renegades disappointed in Week 1 with a loss at home as big favorites, but they faced the tough BattleHawks and were without starting quarterback Landry Jones. Entering Week 4, that season-opening loss doesn't look so bad.
Since Jones returned in Week 2, they have won both of their games, scored a respectable 24.5 points per game and gone 2-0 ATS.
Running backs Cameron Artis-Payne (30-191-2 rushing, 15-75-0 receiving) and Lance Dunbar (19-92-0 rushing, 20-119-0 receiving) form one of the league's most productive backfield duos.
Tight end Donald Parham has emerged as a complete star (14-217-3 receiving).
And I love that under head coach Bob Stoops and offensive coordinator Hal Mumme, the Renegades run the Air Raid offense and have a league-high 69.7% pass play rate.
But Jones has been inconsistent. With a 71.6% completion rate, 7.1 yards per attempt and two touchdowns per game, he has numbers that look good.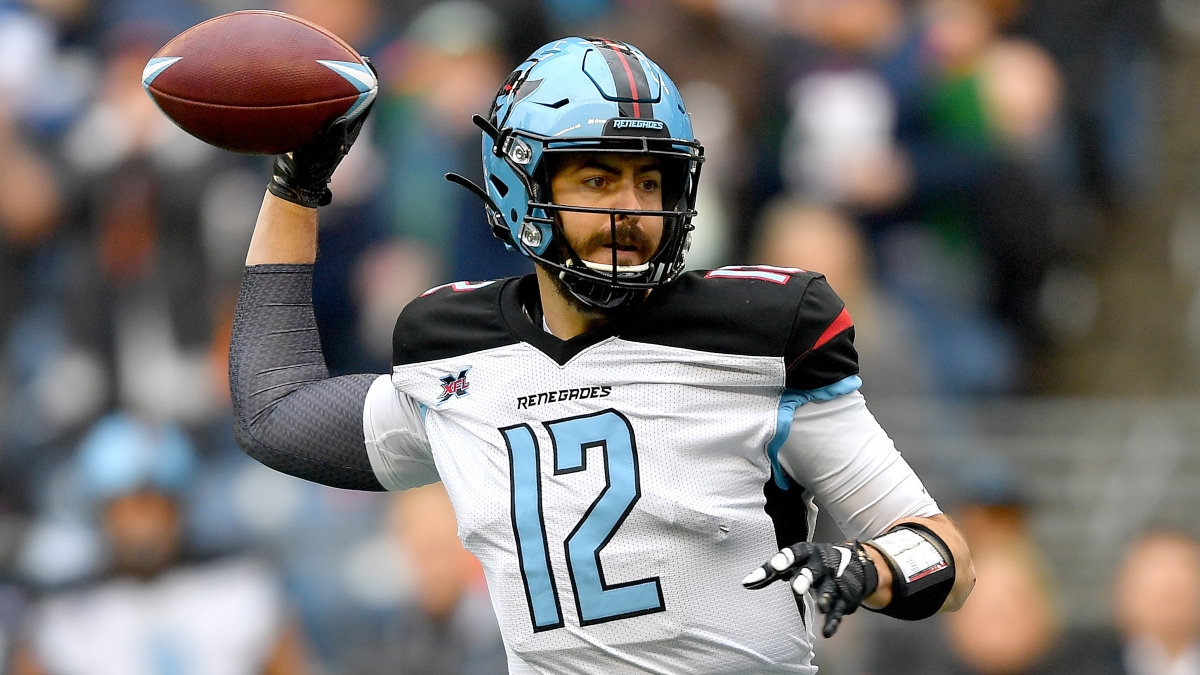 The problem is that he's also thrown four interceptions, and despite his positive numbers, he hasn't looked that good. It's not a coincidence that he has a below-average 59.3 PFF passing grade.
And sometimes Stoops and Mumme are too conservative, settling for field goals when they should go for it on 4th-and-short. It's not an accident that kicker Austin MacGinnis has the league's only attempt within the 20-yard line and leads the XFL with seven field goals.
On defense, the Renegades look about average. They're last in the league with just one interception and third-to-last with only five sacks.
But they're also No. 1 in the league with just 15 points allowed per game, and they're the only team to hold each opponent to fewer than 20 points in Weeks 1-3.
We need more time to evaluate, but the Renegades might have a real bend-but-don't-break unit on defense.
Betting Takeaway: Betting on the Stoops/Mumme duo makes me nervous, but with Jones back, I might be willing to invest in the Renegades when they face quarterback-deficient teams.
5. Los Angeles Wildcats (1-2, +3 Point Differential)
I don't know what to make of this team.
The Wildcats entered Week 3 with an 0-2 record and the league's worst defense. Starting quarterback Josh Johnson seemed hobbled by a lingering thigh injury and outmatched as a passer. Head coach Winston Moss looked like he hated his job.
And then the Renegades beat the almighty Defenders by 30 points. Johnson passed for 278 yards and three touchdowns and completed 72.0% of his attempts. In the post-game press conference, Moss smiled as if he'd just won the lottery.
Despite their early-season struggles, the Wildcats might challenge the Renegades for a playoff spot in the West Division: Since making his debut in Week 2, Johnson has averaged a league-best 7.8 yards per attempt, passed for five touchdowns to no interceptions and put up a position-leading 76.9 PFF passing grade.
The Wildcats allowed an embarrassing 37 points in Week 1, but that was to the Roughnecks, and since firing defensive coordinator Pepper Johnson early in Week 2, the Wildcats have allowed a modest 17 points per game.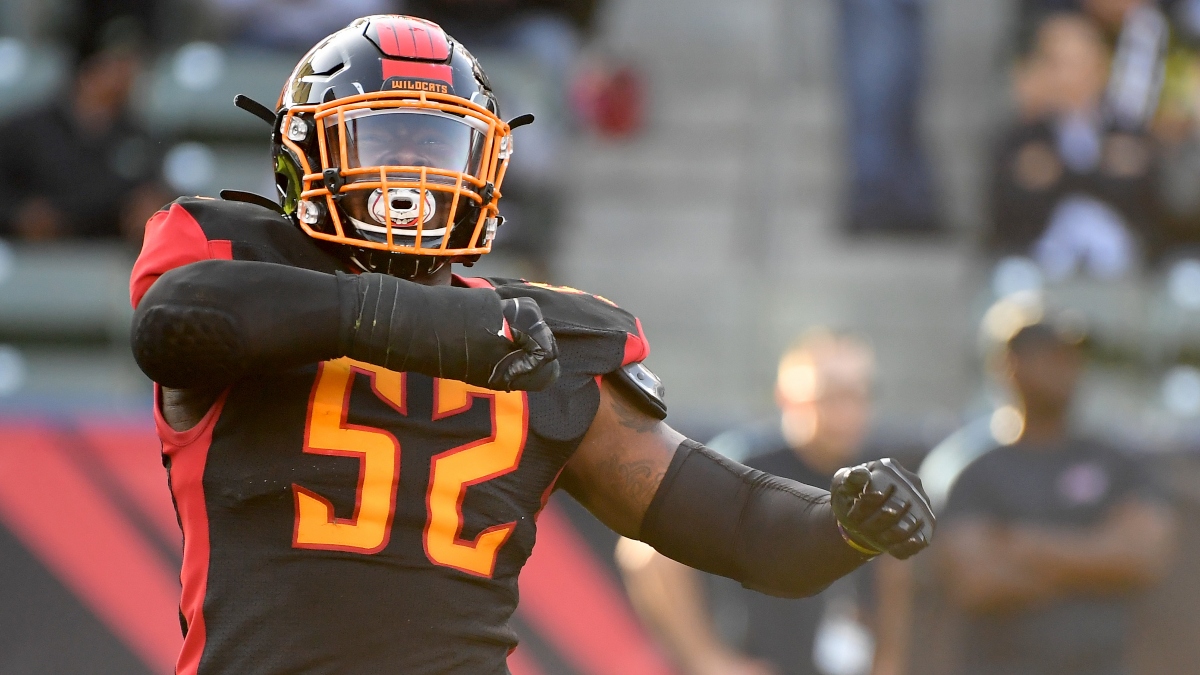 With a ball-hawking defense, they have a league-high seven interceptions.
This team is volatile, and that makes it extremely dangerous — for opponents and bettors alike.
Betting Takeaway: As I said last week, I'm still evaluating. It's worth noting that in a league that has leaned toward the under, Wildcats games are 2-1 to the over.
6. Seattle Dragons (1-2, -16 Point Differential)
The Dragons have maybe the league's best home-field advantage.
But head coach Jim Zorn has a tired offense that quarterback Brandon Silvers doesn't seem equipped to execute.
Among all starters, Silvers is last with a 45.5 PFF passing grade, and he's second-to-last with a 53.8% completion rate.
In the XFL, a team without a quarterback doesn't have a chance to win, and Silvers right now doesn't look like much of a quarterback.
The Dragons have yet to score even 20 points in a game.
That's not good.
It's not a coincidence they are 3-0 to the under.
Betting Takeaway: The only way I'd even consider betting on the Dragons is if they're at home. On the road or against a team with a league-average quarterback, I'd probably bet against them. And the Dragons under looks enticing.
7. Tampa Bay Vipers (0-3, -35 Point Differential)
Before the season started, Caesar's gave the Vipers a league-high win total of 7.5. On the award-winning Action Network Podcast, we recommended that you bet the under.
I hope you listened.
That ticket has already cashed.
Starting quarterback Aaron Murray (foot) has missed Weeks 2-3, and in his absence the Vipers have used a platoon of Taylor Cornelius and Quinton Flowers, who have subpar completion rates 55.2% and 53.3%.
On defense, the Vipers are last in the league with one interception and three sacks.
But at least they are No. 1 with 72.3 plays and No. 2 with 368 scrimmage yards per game.
And in Week 3, they finally started to convert yards into touchdowns, scoring 27 points against the Roughnecks in a competitive seven-point loss.
The Vipers aren't good. But they're probably not the league's worst team.
Betting Takeaway: As long as Murray is out and the team uses Cornelius at quarterback more than Flowers, I'll probably be looking to bet against the Vipers (assuming their opponent has a league-average passer).
8. New York Guardians (1-2, -27 Point Differential)
The Guardians are lucky to have scored nine points in the past two weeks.
They easily rank last with a sloth-like 48.7 offensive plays per game.
For the season, they are dead last with 10.7 points per game.
In Week 3, starter Matt McGloin, backup Marquise Williams and third-stringer Luis Perez all played significant snaps at quarterback.
Under head coach Kevin Gilbride, this team looks lost.
Against teams other than the Vipers, the Guardians are 0-2 ATS, and they are also 3-0 to the under thanks to their offensive inadequacies.
Watching this team play might not be fun — but it might be profitable.
Betting Takeaway: If the Guardians continue to struggle, betting against them and on the under could become the highlight of my week.
How would you rate this article?