Updated Jake Paul vs. Tyron Woodley 2 Odds, Fight Preview & Prediction: The Smart Bets to Make in Saturday's Rematch
Credit:
Jason Miller/Getty Images. Pictured (L-R): Jake Paul and Tyron Woodley.
Updated Jake Paul vs. Tyron Woodley odds list Paul as a -275 favorite ($27.50 wins $10), with Woodley at +220 ($10 wins $22).
Woodley is stepping in on late notice for this rematch after Tommy Fury withdrew last week.
Billy Ward has identified a betting angle he likes, playing two plus-money props for Paul vs. Woodley.
Updated Paul vs. Woodley Odds
Paul odds

-270

Woodley odds

+220

Over/Under

6.5 (-175 / +125)

Venue

Amalie Arena, Tampa, Fla.

Time

Saturday, Approx. 11:55 p.m. ET

Channel

Showtime PPV

Odds as of Thursday and via Caesars.
After his mildly controversial split decision win over Tyron Woodley, Jake Paul was set to face Tommy Fury as he worked his way up to more legitimate boxing competition. (The path is apparently: Youtube –> undersized retired NBA player –> MMA fighter with terrible boxing –> MMA fighter with solid boxing –> real boxer).
Of course, those plans went awry when Fury (the younger brother of heavyweight champion Tyson Fury) was injured before the bout.
Re-enter Woodley. The former UFC Welterweight champion has been clamoring for a rematch, and will get his wish.
There's been plenty of buzz between the fights, including rumors of a "no knockout" clause in Woodley's contract (and subsequent half-million dollar knockout bonus in Woodley's contract this time) and Woodley's "I love Jake Paul" middle finger tattoo. Fortunately, when the bell rings on Saturday night that will all be behind us.
Woodley will be eager to prove that the result of the first fight was due to him underestimating Paul. I'm not entirely sure that is the case, but it's certainly a compelling narrative. For Paul, stopping a potential trilogy against Woodley after two fights would be beneficial.
All antics aside, he seems eager to prove himself as a legitimate boxer. He's put in the work, but fighting retired MMA fighters and NBA players only goes so far. A convincing win in this one is another step towards being taken seriously as a boxer.
Let's break down how we should approach betting this rematch on Saturday night.
What We Learned in Fight 1
Woodley started the first fight characteristically slow in the first fight, throwing just 14 punches in the first two rounds to Paul's 41.
Paul won the first three rounds, before Woodley picked up the pace in the fourth. That's when Woodley rocked Paul, leading to all of the contractual shenanigans around whether or not he was "allowed" to knock Paul out.
Woodley did appear to let Paul off, but has since claimed a shoulder injury was preventing him from throwing at the time. Woodley carried that momentum through round five, but Paul rebounded in the last third of the fight. Paul won each of the final three rounds. He also out-struck Woodley in each of those rounds, though mostly through the jab.
Woodley fought like an MMA fighter, using the jab sparingly to set up big shots, instead of using it to score points and establish range. The height and reach discrepancy did Paul no favors here either.
The CompuBox stats paint a pretty clear picture of what I'm talking about. Round 4 — when Woodley hurt Paul — was the only round that "The Chosen One" threw with more volume than Paul.
That's not a terrible way to be in MMA.Damage is the first scoring criteria there, so you don't always need the volume to win rounds. However, boxing is a different animal. The more active fighter is (usually) rewarded on the judges scorecard. Even if that's mostly jabs, as we saw from Paul.
Check out the official scorecard for the first fight: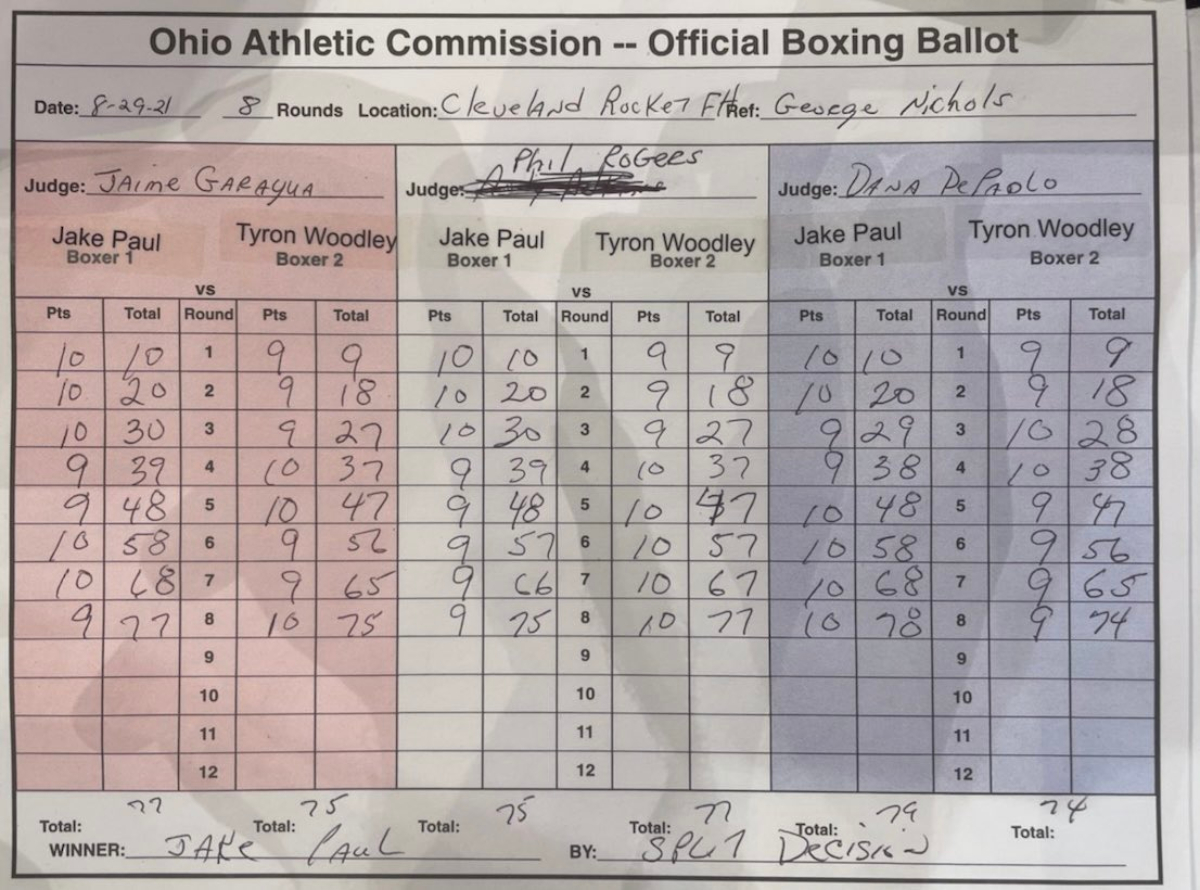 The only round Woodley threw more punches (Round 4), is the only round he won on every judge's scorecard.
Paul's Path to Victory
There's a lot working against Woodley in this rematch. While we can't be sure, it seems unlikely that he was training at a serious level before accepting the bout two weeks ago.
Given how he faded down the stretch, that's not a great sign this time. Paul has been preparing to fight an (arguably) tougher opponent, and seems to be taking boxing seriously. The cardio advantage definitely goes to Paul in this one.
There's also the historical trends on rematches, which favor the younger fighter as well as the fighter who won the prior bout. That's two more notches for Paul. He also has volume on his side, which has a dual purpose: Besides being valuable for damaging Woodley, it also plays better for the judges.
Woodley arguably did more damage than Paul in a few of the rounds he lost, but it's hard to win a boxing match while being out-landed 71-52. I wouldn't expect that volume disparity to change here, with Woodley being unable to get in a full camp in preparation for the fight.
Paul is also smart (or at least well-coached) enough to not engage in a pure firefight with Woodley. We saw this evolution from Paul in their first fight. Paul threw wildly against earlier opponents, but took a more measured approach against Woodley, throwing 122 jabs compared to 85 power punches. Woodley threw just 48 jabs and 115 power punches.
The odds of Woodley suddenly developing the ability to out-box Paul are slim, and Paul should win a "clean" fight if he gets one.
Woodley's Path to Victory
Woodley's best chance in this one is following the Rocky Balboa vs. Mason Dixon game plan: Good old fashioned, blunt force trauma.
Woodley fairly clearly had the heavier hands in their first meeting, as he's shown time and time again. Paul hasn't shown much power against anyone that could be considered a legitimate puncher, while Woodley has knocked out (with his hands) some very tough opponents.
Hopefully for Woodley's sake, he lets his hands fly early in this one. From a judging standpoint, Woodley can't afford to give up a couple of rounds to Paul by circling him while being picked apart by his jab.
Assuming Woodley's conditioning is lacking, he also can't afford to bank on a late knockdown to save his night. This isn't Woodley's MO historically and he needs to be out for blood early in this one. It might not work, but it's his best chance.
Paul vs. Woodley Pick
The diehard MMA fan in me won't let me bet on Paul straight up in this one. His moneyline odds, which are as high as -250, seem a bit long for my liking. A motivated Woodley has enough of a puncher's chance to make that unappealing. To be clear, Paul should be the favorite, but perhaps not quite to this degree.
However, both men's routes to victory diverge enough here that there's value to be found. At BetMGM, Paul is +140 to win by decision for a second time. I don't see Paul finishing Woodley here, short of a total gas out from the former UFC champ.
Woodley is extremely durable, and Paul's best game plan involves not swinging for the fences. Woodley's toughness should, at minimum, carry him to the final bell.
On the other hand, Woodley probably lacks the cardio, and certainly lacks the boxing skills to outpoint Paul here. With the additional bonus money being paid to Woodley for a knockout, there's no reason to think he won't be hunting for one. We can get Woodley by knockout at +350 on BetMGM right now.
It does feel a bit weird betting on the smaller fighter to be the one to take it with a knockout. However, we've seen Woodley hurt Paul in the past. It's hard to imagine him letting Paul off the hook again, shoulder injury or not.
With both bets being plus money, I'll be placing both. This way we can profit with either man winning. Woodley's cardio is a concern, but his toughness should carry him to the final bell if he's unable to put Paul away early.
The Pick: Paul by Decision (+140) | Woodley by KO/TKO (+350)
How would you rate this article?
This site contains commercial content. We may be compensated for the links provided on this page. The content on this page is for informational purposes only. Action Network makes no representation or warranty as to the accuracy of the information given or the outcome of any game or event.