Tyson Fury vs. Deontay Wilder II Odds & Betting Picks: How to Bet Boxing's Most Anticipated Rematch
Credit:
Harry How/Getty Images. Pictured: Deontay Wilder, Tyson Fury
Deontay Wilder vs. Tyson Fury II Odds
Deontay Wilder odds: -110
Tyson Fury odds: -110
Draw: +2000
Over/Under: 10 Rounds (-139/+100)
Location: MGM Grand Garden Arena, Las Vegas
Time: Card starts at 9 p.m. ET; Main Event approx. 11:30 p.m. ET
TV: ESPN+ PPV/FOX PPV
---
Betting Wilder vs. Fury II on Saturday? You can win $200 with BetMGM if the fight lasts one round.
---
Deontay Wilder vs. Tyson Fury Odds Movement
It is very rare for boxing odds to be this tight and it's even more rare for a fight of this magnitude to be priced like this. The razor-thin odds are part of what makes this fight so monumental.
Not only are two of the greatest heavyweights of this generation meeting in the rematch of a fabulous first fight, but the odds suggest that anybody can win.
Wilder vs. Fury II Fight Analysis
As the famous chant goes, there's only one Tyson Fury. "The Gypsy King" is a boxing enigma, a combination of speed, size, skill and bravado rarely seen before. He is a generational talent, a master of mind games and, perhaps most importantly for this fight, very hard to gameplan for.
Fury's feints and movements are one-of-a-kind, especially for a heavyweight, and his willingness to spend time taunting his opponent makes this as much a mental battle as a physical one.
When people think of heavyweight boxing their minds immediately go to one-punch knockouts, but Fury's path to success here is to box Wilder, to get in, score and get out without feeling the Bronze Bomber's power.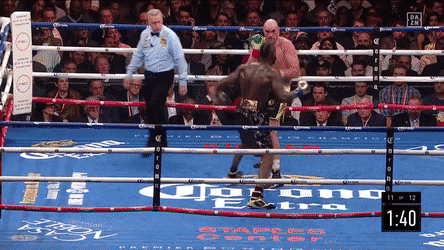 The Gypsy King has it in his locker to out-box Wilder, he did it for 11-plus rounds in the first fight, but he also showed what is true of any Wilder fight — you need to be perfect for all 36 minutes to beat the most powerful puncher on the planet. Fury was nearly perfect in the first fight, but that was only good enough to earn a draw.
There is only one Deontay Wilder, too.
As hard as it is to prepare for a stick-and-move fighter like Fury, it is damn near impossible to prepare for Wilder and his once-in-a-lifetime power. The Bronze Bomber's combination of timing and power is such that the tiniest mistake will earn you a spot on the canvass.
In his last fight, a rematch against Luis Ortiz, one of the best technical boxers in the division, Wilder looked outmatched for the first 18 minutes. The Bronze Bomber was dangerously patient while Ortiz continued to score and win rounds. It was nerve-wrecking to watch, but then the Alabama native found an opening and it was curtains.
That wasn't the first time that Wilder bailed himself out of trouble with his legendary right hand. In 2016, Wilder stopped Artur Szpilka, a crafty southpaw, with an out-of-nowhere hook in the ninth round. In his first fight with Ortiz, a bout that saw Wilder in a heap of trouble, Wilder landed several big punches in the 10th Round to KO the Cuban to end an iconic fight.
What those results, along with Wilder's knockdown of Fury in Round 12 in 2018, show us is that The Bronze Bomber's power doesn't fade. Most fighters lose the zip on their punches by the end of fights, Wilder's punches seem to stay thunder through the championship rounds.
Throughout his career, Wilder has been knocked for his technical skill and relying too much on his power. His critics said that when the time came to face another great fighter Wilder would be found out to be a one-trick pony and start to struggle.
While still not as polished as Fury, Wilder's boxing has improved and his chin has passed plenty of tests, so I don't think his lack of technical skill is a big deal and his power provides more than enough cover for his flaws.
Malik Smith: Room for Improvement?
It's pretty amazing to think that this Wilder-Fury saga has been going on for four years when Fury jumped in the ring and called Wilder a bum after the Bronze Bomber knocked out Szpilka.
Over that span of time Fury lost his belts, essentially retired from the sport altogether and then came back in dramatic fashion to compete at the top of the heavyweight division. But in his most recent fight, Fury was anything but spectacular against Otto Wallin who should have been light work. This new version of Fury seems to flip the switch when he's facing higher level competition.
Wilder, on the other hand, has been the absolute model of consistency outside of the ring and inside as well. Whether he's facing a guy who is totally out of his league (Dominic Breazeale, Bermane Stiverne) or a real threat like Ortiz, Wilder has a very similar approach. The only time we saw that approach change was against Fury.
Fury appeared to get into Wilder's head the first time around. The Gypsy King played the jester role so well that it forced Wilder — a man know for his very unorthodox punching angles — to be highly undisciplined with his punches.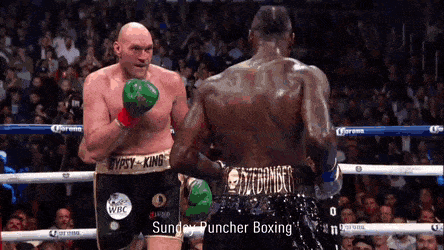 But despite the fact that Wilder landed just 17% of his power punches — after landing 55% in his previous eight fights per CompuBox tracking — it's pretty clear that Wilder's big shots were more impactful. His two knockdowns in the fight are what made the fight a draw.
It seems like an obvious statement, but this rematch will simply come down to who can improve their game plan most.
---
Wilder-Fury II Betting Picks
One thing I always like to think about before betting a boxing match is what is the least likely outcome for each fighter. For Wilder, it would be a win on points. For Fury, it would be a victory via stoppage. That should open more betting avenues for you.
For example, if you think Wilder is worth a bet to win at -110, what about getting +150 on Wilder to win inside the distance? Same goes for Fury. If you want to bet the Brit at -110, what about +150 on Fury to win via decision? Of course, it would suck to have the fighter you backed win and not get paid, but it's just something to keep in mind.
That being said, my money will be on Wilder to win this fight. Not only do I think he wins this fight more than 50% of the time (the odds imply this is a coin flip), I also remain skeptical of Tyson Fury's strategy for the rematch.
Fury has seemingly become obsessed with the notion that he won't be able to win this fight on the cards and thus switched trainers, swapping Ben Davison for SugarHill Steward 10 weeks ago. The Gypsy King says the decision was made because Davison was more of a technical trainer, refining Fury's agility and movement, while he expected Steward to improve his power.
Who knows whether Fury's antics are just that or if he actually is going for broke with his "I'm going to knock him out in the second round," chatter, but if you're taking Fury at his word, it's a weird decision and one that will be criticized if The Gypsy King bites off more than he can chew.
In my mind, Fury's best path to victory was to deploy the same stick-and-move strategy that earned him his famous upset over Wladimir Klitschko and the draw with Wilder. Trying to brawl with the best power-puncher the sport has ever seen? Doesn't seem smart for anybody, especially someone who built his career on boxing more than punching.
As for Wilder, I'm confident he will find his moment in this fight. Whether it comes in the early going or towards the end of the fight, The Bronze Bomber has shown us 41 times that all it takes a split-second for him to find a home for his right hand.
I expect Wilder to be aggressive from the opening bell and will take a half-unit shot on him to win inside the first three rounds. If Fury is really thinking about trying to shut the lights out on Wilder in the first two rounds that means he will take a risk and I'm happy to take these odds on him paying for that risk.
Since I'm taking the 9-1 on the early KO prop, I'll forego the added risk on betting Wilder to win inside the distance and just take -110 (MGM) on Wilder to win. — Leboff
The Bet(s): Wilder (-110) | Wilder To Win in Rounds 1-3 (+900)
Fury proved that he has heart and skill in the first fight, but Wilder is a generational talent in the heavyweight division. He has already defended his WBC heavyweight title 10 times, which puts him in impressive company.
More importantly, though, Wilder has more ways to win this fight. As noted above, Wilder's inaccuracy hindered him in the first fight. Part of that was Fury's movement, but it was also Wilder's flawed approach. Wilder has a reputation of learning from his mistakes in rematches — Stiverne, Ortiz.
I like Wilder to win and I like Wilder to win by knockout, but I'm also betting the draw, because that first fight showed how unpredictable things can be if a fight goes to the cards. — Smith
The Bet(s): Wilder to win (-110) | Wilder by KO (+125)
[Bet now at BetMGM to win $200 if the fight lasts one round. NJ & WV only.]
How would you rate this article?