What Is a Ladder Bet in the NBA? How to Bet Alternate Line Player Props
Credit:
AAron Ontiveroz/MediaNews Group/The Denver Post via Getty Images. Pictured: Jamal Murray (27) of the Denver Nuggets.
As sports betting continues to grow each year, the approach to wagering on player props is evolving. With new bettors come new ideas and one method gaining popularity is to "Ladder" player props and truly exploit an edge in the player props market.
What Is a Ladder Bet?
The "Ladder" bet or method is fairly simple: you're betting several player prop lines for the same player, each with a higher line and payout. Like a ladder, each rung you go up, the lines and odds increase exponentially. For betting, "Ladder" can also be referred to as an "Escalator".
When placing bets for player props in the NFL, NBA or MLB, bettors will do research, projections and analysis for angles on which one may have the best edge in a given matchup. In some cases, an edge for a player might be so glaring, sportsbooks may have underestimated the potential output. This is the moment when bettors start to consider "Ladder" bets for player props.
How Do You Place a Ladder Bet?
To place a ladder bet, the first thing you must do is find a player prop you like to go OVER. For this example, let's use Jamal Murray 3-point props:
Murray Over 3.5 3-pointers (+142)
Murray Over 4.5 3-pointers (+350)
Murray Over 5.5 3-pointers (+750)
In this instance, if you project Murray to have a great game and hit at least six 3-point shots, you would then go to your sportsbook and place bets for the over for each line/offering.
As you can see, the odds increase as each rung of the prop ladder goes up. The key for why bettors ladder these props is the payouts increase for each adjusted line. This could lead to great rewards for your research.
Does Every Sportsbook Offer Ladder Props?
Laddering player props isn't an option at every sportsbook, so shop around to see which ones carry these markets, the odds offerings and house rules associated. The most popular options currently to offer alternate lines on player props are sportsbooks like Bet365, FanDuel and DraftKings.
Each book will look different. For example at Bet365 has a tab for milestones under each prop that you can ladder.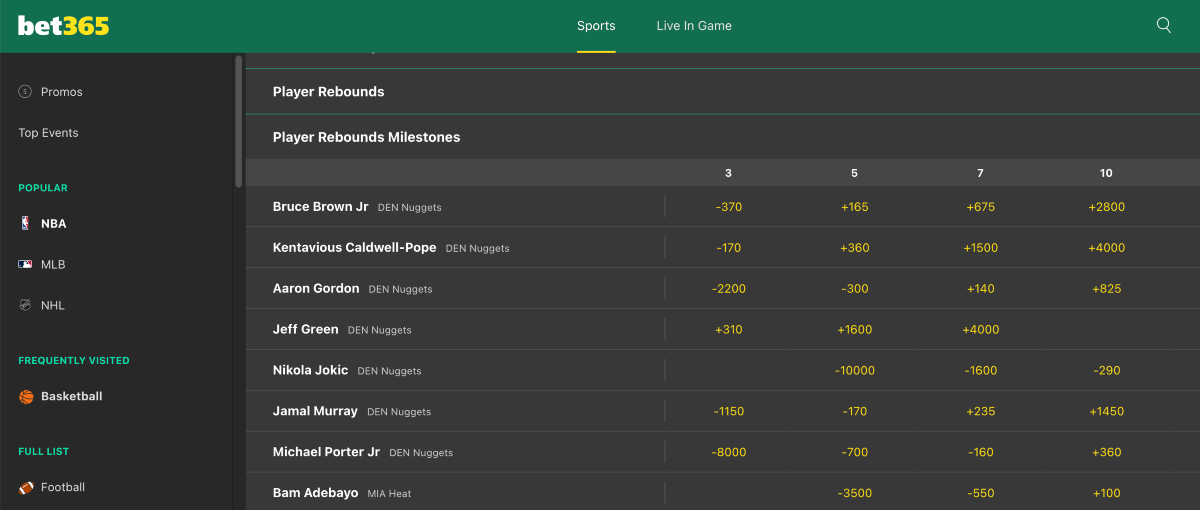 At DraftKings, you'll go to the player props category you want — in this case we'll look at 3-pointers — and scroll down to find the alternate options for that prop.
Check to see if these sportsbooks are available in your state and take advantage of new sign-up bonuses.
Best Strategy For Ladder Props
When laddering player props, here are the main things you should consider before placing your wager:
One of the things that's most important when looking at alternate lines is the associated implied probability with a given event. For example, most player props open at (-110) odds for over or under, which has an implied probability of 52.38%. That means we need to hit these props at a higher rate than that implied probability in order to be profitable long term.
Another important factor for laddering player props is to consider each prop with the implied odds for the event to happen. For reference:
| Odds | Implied Probability |
| --- | --- |
| +150 | 40% |
| +200 | 33.33% |
| +300 | 25% |
| +400 | 20% |
| +500 | 16.67% |
| +1000 | 9.09% |
| +2000 |  4.76% |
In order to sustain long-term profitability, you would need to win your bets at a percentage better than the implied odds. So if you made 30 player prop wagers each at +200, you'd need to win at least 10 of them to breakeven (10-of-30 = 33%)
Player Props To Target For Ladder Method
One of the most popular ladder spots in the NBA is for 3-pointers. These player props have binary results so there is less debate about whether or not it actually happened.
With other statistical categories like assists or rebounds, those metrics can sometimes be subjective, which can lead to disputes about whether a player recorded a stat or if it was attributed to someone else. Not for 3-point props. Those are seemingly always alive because players can get hot for a few possessions and cash an entire ladder in one quarter or half.
The Miami Heat's Jimmy Butler is a great example of a player who performs differently in the playoffs as opposed to the regular season. In Game 5 of the Eastern Conference semifinals against the New York Knicks, Butler's 3-point prop line was set like this:
2+ 3s (+135, 42.5% Implied Probability)
3+ 3s (+430, 18.8% Implied Probability)
4+ 3s (+850, 10.5% Implied Probability)
5+ 3s (+1600, 5.8% Implied Probability)
Bettors should look at his success rate on those 3-point lines for the season but also against the opponent. For example, during the regular season, Butler has only exceeded two 3s in 10-of-70 games (14%), three 3s in 3-of-70 games (4%), four in 2-of-70 games (3%), and no games at five or more.
However, his playoff numbers are astoundingly better in the postseason, especially against teams like Milwaukee, New York and Boston. In the Heat's First-Round series against the Bucks, Butler notched zero, two, four, and three 3s despite making only two 3-point shots combined against them during the regular season. The spot is different and Butler's volume and playing-style has changed dramatically in the playoffs.
How would you rate this article?
This site contains commercial content. We may be compensated for the links provided on this page. The content on this page is for informational purposes only. Action Network makes no representation or warranty as to the accuracy of the information given or the outcome of any game or event.