Sobel's Genesis Open Preview: Thomas Tops Our List of Ball-Strikers for Riviera
Credit:
Kyle Terada-USA TODAY Sports. Pictured: (From left) Tiger Woods, Justin Thomas and Rory McIlroy.
Dustin Johnson (+800) and Justin Thomas (+1200) are the favorites to win the 2019 Genesis Open at Riviera Country Club.
Jason Sobel breaks down the field for the tournament and makes a case for his favorite bet for the weekend.
I've been watching a lot of "Deal or No Deal" lately. That's an admission, not some kind of strange humblebrag.
Don't get too jealous of my glamorous life, but NBC brought the show back recently and it's been re-airing late at night, so I've watched a bunch of 'em.
First things first: It's not a great show. I'm sure there are people out there who are still binging The Wire or Mad Men and enjoying a much better viewing experience than me.
But … I also can't look away.
Every single episode starts with an overenthusiastic contestant, their overenthusiastic family standing nearby, telling host Howie Mandel some semblance of the following: "I came here to win the million and I'm not going home without it!"
---
>> Sign up for The Action Network's daily newsletter to get the smartest conversation delivered into your inbox each afternoon.
---
Of course, this is idiotic. If the contestants were actually being truthful about it, that would mean they'd never take a deal and each show would last about three minutes as they open every case, finally seeing what's in their own and simply hoping for the seven-figure payday.
That never happens, though. Instead, some guy who started the game by so adamantly insisting he was going to win a million dollars suddenly realizes that walking away with $67,000 is a pretty good deal.
A simple Google search shows multiple internet sites devoted to game theory and risk assessment within the show, which makes sense; the entire concept is like one constantly changing math equation.
What doesn't make sense is how the show consistently finds contestants who have no understanding of these basic principles and wind up winging it in front of audience hooked on the adrenaline of pushing forward.
Anyway, the entire concept makes me think of betting every time — and more specifically, golf betting.
Too often, many golf bettors — you know who you are — are simply looking for the big hit, putting all of their allocated cash into an individual player to win. Essentially, they're hoping that guy opens his suitcase and shows 'em the million.
That's not how the game is supposed to be played, though. Over the long-term, it can be smarter to hedge, or simply find lower-risk bets despite the lower potential reward.
Anyway, let's move on to the Genesis Open, which can't start soon enough, so I can stop watching these overenthusiastic contestants on this damn game show.
In my picks below, you won't find Tiger Woods, who has curiously never won at Riviera, nor will you find Phil Mickelson, fresh off a Monday victory at Pebble Beach.
You will find a bunch of ball-strikers, players whose games should fit the course nicely this week.
Favorites
Justin Thomas (+1200)
The second-favorite in the field was also my favorite entering the week, fresh off third-place finishes in two of his last three starts. And it felt like he figured out Riviera last year, his first top-10 in four tries. So, why do I write "was" instead of "is"?
When the PGA Tour announced its featured groups, they offered up a sequel to last year's opening 36-hole trio of Thomas, Rory McIlroy and Tiger Woods.
That didn't go so well, prompting JT to say of the experience afterward, "The hardest is definitely the crowds and just getting everyone to turn their phones on silent and stop taking pictures and moving."
It should come as little surprise that he was three strokes better during the final two rounds than the first two, and I expect a similar result this week.
I still think he can win and like him in all formats, but that Tiger grouping could hurt –if not in the rowdiness itself, then in a potentially negative attitude about right from the start.
Bryson DeChambeau (+1600)
A guy who idolizes Ben Hogan playing on a course — OK, one of the courses — known as Hogan's Alley. It's not like BDC needs any further motivation these days, but even just a little more fuel could spell big things this week. Considering he hasn't finished outside a top-20 since last August, there's not much risk here, either.
Hideki Matsuyama (+2800)
The 11th name on the board this week might be my favorite in the field. Finally, Hideki is trending in the right direction, finishing T-15 and T-3 in his last two starts. There's some sneaky course history at play, too.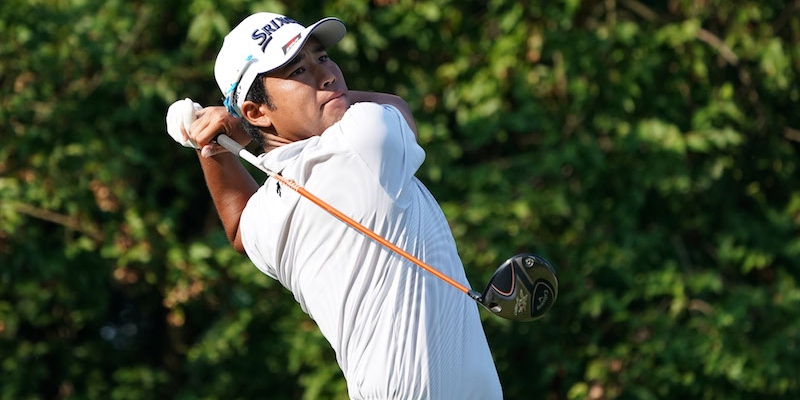 While he didn't play last year due to injury and MC'd the previous year fresh off a win, he finished 11-4-23 in the three years before that, proving that Riv suits his eye.
Tony Finau (+3000)
There will be a week, sometime, when Finau's name won't be featured in the preview. This is not that week. I don't think he's quite on top of his game right now, but at a venue where he was first-round co-leader and finished T-2 a year ago, I'm scared to leave him out.
A win is coming, at some point. I don't want to miss it.
Paul Casey (+3000)
Ten years ago, I had written an entire breakdown of the Masters field the previous week, just getting it out of the way before it would run that Wednesday.
My predicted winner was Casey … and then he went and won in Houston, making me look like a frontrunner if I didn't move him further down the list. (He finished T-20 at Augusta.)
Truth be told, I've had him targeted for this week … then he went and finished solo second at Pebble. I promise this one isn't reactionary; I actually would've liked him better if he hadn't gone through four-and-a-half days of serious title contention. But he's still playing well and heading to a track that I've always believed should suit his game.
Cameron Smith (+3500)
Yet another one of my faves who simply shows up week after week, like a mini-DeChambeau. Smith has proven himself as one of the game's better wedge players and Riv is a place where a deft touch comes in handy everywhere.
Mid-Tier
Charles Howell III (+6600)
Chucky Threesticks plays a lot of golf. Like, as much as anyone. But this week, he's fresh off a two-week break, one of very few he'll take all year. I was hoping to spot some trends in these situations, but they don't really exist: In just four starts last year after two-weeks off, his results were 37-21-71-5.
So instead, I'll simply offer him as a solid plug-and-play for all DFS formats, the type of guy who might not contend, but should give you four full rounds and something in the neighborhood of 12-15 birdies.
Jason Kokrak (+8000)
Don't be scared off by his late WD last week; he was simply following the crowd of players who didn't feel like getting pneumonia at Pebble. Kokrak has turned himself into a consistent player with some firepower.
This might not be the best venue for him, but he's posted some nice results in the past and should be riding some solid momentum.
Sung Kang (+8000)
Welcome to the portion of the preview where I'm completely befuddled by player odds. It's not that Kang is such a value at 80/1; it's just that some players slotted both in front of and behind him don't seem quite right.
Anyway, he's finished top-20 in three of his last four starts and should continue to fly under the radar on a course where he's finished 16-22-8 in the last three years.
Scott Stallings (+8500)
I'm listing Stallings here as an obvious choice, but he comes with a warning label attached. One week ago, Chez Reavie was a similarly obvious choice, having finished T-4 in the previous tourney and T-2 at Pebble last year.
This time, it's Stallings who was solo third last week and T-4 at Riviera last year. All signs point toward another big week, except for this one: In that similar situation, Reavie finished a disappointing T-38. I can see a parallel fate for Stallings this week.
Longshots
Ryan Moore (+15000)
Minutes after Moore opened with a 2-over 73 in his last start in Phoenix two weeks ago, his caddie J.J. Jakovac casually told me that was the best he's seen his guy hit the ball in five years. That explains a second-round score that four strokes better and suggests we shouldn't be scared of three straight MCs heading into an event where he's finished top-20 in two of the last three years.
Brandon Harkins (+20000)
Continuing to prove himself as a West Coast specialist, Harkins owns top-30 finishes in each of his last two starts and should be able to build on those. I love him as a low-cost DFS option or a top-20 bet at +675.
John Senden (+50000)
The rap on Senden was always that he'd be amongst the top ball-strikers on the PGA Tour each year, but rarely made many putts. These days, he's gone through personal anguish, lost some of those ball-striking skills, is 47 years old and hasn't put together many strong recent results.
It's hard to believe he'll find it at Riv, but if you're seeking a super-sleeper type who costs close to the minimum in DFS, he might not be a terrible play.
My Favorite Bet
Cameron Smith top-20 (+125)
I need to make another admission: I've been getting too cutesy with this section every week.
Instead of finding a near-sure thing, I've been trying to find a bet that pays 5/1 or so and has some inherent value. It's worked a few times, but more often than not, my "favorite" bet hasn't paid off.
I need to stop being so greedy.
Look, there ain't nothing wrong with cashing an even-money wager once in a while. This week's bet pays a little better than even-money, so let's get after it.
Smith is a guy I've been targeting for his last few starts, just because he's so consistent. He's finished 22nd or better in 10 of his last 12 worldwide starts and was T-9 at Riviera last year, a course which should suit his vaunted wedge game.
If you really want to get greedy, you can take Smith for a top-five (+750) or top-10 (+315), but I'm done being greedy.
Well, for this week, at least.