2019 Greenbrier Classic Betting Preview: Which Young Guns Will Hit the Board?
Credit:
Kyle Terada, USA Today Sports. Pictured: Robert Streb
The ink has hardly dried on Rory McIlroy's $15 million check for winning the FedEx Cup, but the new PGA Tour season starts this week, as the schedule commences in alphabetical order with A Military Tribute at the Greenbrier.
You can find my season preview tiered rankings here, which analyzes where we can find separation between players.
As for this week – and throughout the fall part of the schedule – I'll be offering a truncated version of my usual tournament preview. Which basically means less blowhard stuff in the intro, so we can get to the picks more quickly. You're welcome, guys.
One quick note on my philosophy for this week: It's not a hard-and-fast rule, but I tend to prefer younger players over veterans during the first few fall events. Two reasons for this. The first is that veteran players understand the marathon-not-a-sprint mentality and are often content to ease their way into the season, as opposed to first-timers who are motivated to excel in their first opportunity. The second is that many of the vets in this week's field, at least, haven't competed for more than a month, while those straight off the Korn Ferry Finals last played only 10 days ago.
With that in mind, let's get right to it, looking into a field that includes a grand total of one top-20 player in the OWGR and just about everyone who received a recent promotion, meaning there's plenty of value available.
Outright Winner
One player to win the tournament.
Sungjae Im (+2500)
It might sound a little strange, but Im just finished up his rookie campaign and some people are asking, "Why hasn't he won yet?" Yes, he's that good. Perhaps a better question was posed to me on the SiriusXM PGA Tour channel earlier this week: "What has Sungjae been doing with himself during the few weeks in between seasons?"
This is a guy who played 35 events during the 2018-19 campaign, barely missing a single week for which he was eligible. Even if it was forced upon him, I like the fact that Im had a few weeks of downtime to rest up and recharge. I expect it'll help him this week, as he begins his sophomore season with hefty expectations.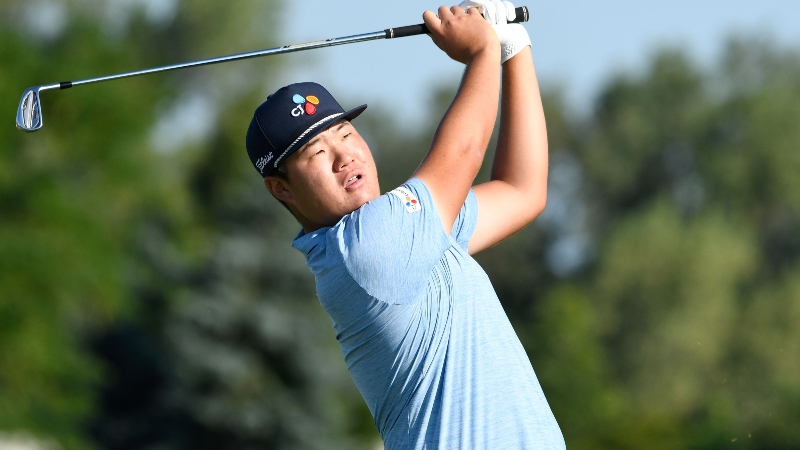 Other OADers
Potential selections for one-and-done options.
Viktor Hovland (+1400)
Speaking of players who are going to win soon… Hovland is already behind fellow recent college studs Collin Morikawa and Matthew Wolff, but we shouldn't expect that to last much longer. Fresh off cruising through the Korn Ferry Finals so easily that he sat out the last event, this guy is going to win and win a lot over the next two decades.
How much do I like him to make an immediate impact? Well, I've got him ranked above Jason Day and Jordan Spieth for the upcoming season. That's how much.
Grayson Murray (+10000)
Look, they can't all be favorites in this category. There's a history of surprise winners at this tournament, from Ted Potter Jr. to Danny Lee, so if you're seeking another guy to fit the pattern, Murray might be the one. He's the quintessential high-ceiling, low-floor player – at his best, Murray has proven he boasts the talent to hang with the game's best; at his worst, he erratically misses cuts in bunches. Based on finishes of 7-11-23 in the Korn Ferry Finals, it's safe to believe he'll be at his best when the season begins this week.
Top-Five
One player to finish top-five.
Scottie Scheffler (+900 for top-five)
Last week, I spoke with NBC/Golf Channel analyst Justin Leonard and asked which player he liked to break through in the upcoming season. Before I could even finish the question, he was chuckling, because he couldn't get Scheffler's name out of his mouth quick enough. For what it's worth, I completely agree with him.
A native of Texas, Scheffler feels like a can't-miss prospect after a brilliant season on the developmental circuit. With finishes of 7-11-1 in the Korn Ferry Finals, he's primed for not just a breakthrough, but an immediate impact.
Top-10
One player to finish top-10.
Sepp Straka (+725 for top-10)
Before his season ended at the first FedEx Cup playoff event, Straka finished 12th-or-better in three of his final seven starts. OK, so only one of them would've cashed this top-10 wager, but Straka appeared to be gaining confidence as the season continued, which should carry over to the Greenbrier.
I expect him to make some gradual steps forward this season, contending for a few titles along the way.
Top-20
One player to finish top-20.
Sam Ryder (+600 for top-20)
You're going to see Ryder's name pretty frequently in my preview columns this season. In the days before the strokes-gained statistic was an official thing, I always examined the all-around category for hints as to which players were ready for bigger and better things. If you haven't heard of it before, it's exactly what it sounds like: An overall tally of a player's rankings for a handful of important stats.
It's pretty true to form, too. Last season, Rory McIlroy ranked first, followed by Brooks Koepka, Justin Thomas, Jon Rahm and Xander Schauffele. Decent list, right? The truth is most in the top-20 are already household names and all of them have won on the PGA Tour except for two.
The first is Im, whose potential we've already discussed. The other is Ryder, whose results haven't quite caught up to his skills yet, but if the all-around is indicative – and it usually is – that will change this season.
DFS Free Bingo Square
A safe plug-and-play option for DFS.
Joaquin Niemann (DK $9,700; FD $11,000)
There are a few different categories in which I could place Niemann this week, but I like him here based on the fact that he finished 31st-or-better in 10 of his final 11 starts last season. Like many others I've mentioned above, I'm extremely high on the Chilean. He can win at this level – soon. In this one, though, he might be best used as a safe DFS option, thanks to his ability to continue grinding out solid results nearly every time he tees it up.
DFS 'Dog
A lower-priced option for DFS.
Chase Seiffert (DK $6,500; FD $7,700)
If you're trying to figure out where you've heard this name before, well, Seiffert was in contention heading into the weekend at the Travelers Championship two years ago, only to fade to T-43 during the weekend, then returned there last year and thrived in those final two rounds, finishing T-9. There's something to be said for players who aren't scared of competing at the game's highest level, and I think Seiffert is a guy who could thrive against stiffer competition.
First-Round Leader
One player to post the low score Thursday.
J.B. Holmes (+7000)
OK, cue up your jokes now. Like this one: Holmes is so slow that it'll take him until Saturday to be first-round leader. Or this: Holmes is so slow that he can't even climb a leaderboard quickly. Got that out of our system? Good. Now let's focus on the facts.
Nine years ago, J.B. posted a 60 in the third round of this event – and it still wasn't the low score of the week, as Stuart Appleby fired a 59 the next day. He owns a propensity for going low and while he's hardly predictable, this could be a good spot for him to open with a strong number once again.
Matchup Man
One player who should beat comparable players.
Robert Streb
That's right, Strebber Nation: Your guy is getting a mention in the preview this week. It's no secret that Streb loves playing the Greenbrier; he owns two career runner-up finishes here. With a new lease on his professional life after getting through the Korn Ferry Finals, I expect Streb to put together a nice start to this season.
Most books have him matched up against Tom Lewis, a talented Englishman who won the final KF event, but one who's barely played any golf in the U.S. so far. This should be a smash matchup for Streb on a course he loves.
The Big Fade
One top player to avoid at this tournament.
Bubba Watson (+2800)
Bubba usually plays his best golf when he's at his most comfortable – and he's very comfortable at the Greenbrier, where he serves as an ambassador and owns a house on the property. So why is he a fade this week? Well, besides the fact that he's fresh off a season during which he posted just three top-10s in 19 starts, there might be too many distractions for him.
Watson loves taking his kids fishing and canoeing and doing other activities with them, especially at this event, which has always felt like a glorified summer camp for those who aren't playing to keep their jobs. I think he'll have a great week. He'll enjoy himself, the family will have a blast and he'll serve as a worthy ambassador. I just don't think the scores will follow suit.
Off Tour
My favorite non-PGA Tour play of the week.
Europe to win the Solheim Cup (+187)
I went back and forth on this one for a while, but in the end, U.S. captain Juli Inkster inability to think outside the box and find some fresh-faced wildcard selections was too much for me to overlook.
I would've loved to have seen, say Jennifer Kupcho and Kristen Gillman chosen for this roster; instead, Inkster gave the nod to Morgan Pressel, and Stacy Lewis a few players who have been there-done that – and a move which has already backfired, as Lewis withdrew this week with a back injury, paving the way for Ally McDonald to join. That might not sound like a big deal, but it more tumultuousness than this team needs right before teeing it up.
As a result, the U.S. doesn't feel nearly as strong as it has in recent years. Throw in the fact that the team owns a losing record on European soil and I think this one is ripe for the home 'dogs at Gleneagles.
If nothing else, there could be some lingering bad vibes from the 2014 Ryder Cup, when U.S. captain Tom Watson was outmaneuvered by counterpart Paul McGinley. Expect the young blood of Charley Hull, Georgia Hall, Bronte Law and Anne Van Dam, each buoyed by the crowd support, to put on a show and help the Europeans to a big win at plus-money for bettors.
How would you rate this article?