Sobel: Thoughts on Rose, Tiger, Rickie, More After U.S. Open First Round
Credit:
Michael Madrid-USA TODAY Sports. Pictured: Justin Rose during the first round of the 2019 U.S. Open golf tournament at Pebble Beach.
Justin Rose is leading after the first round of the U.S. Open with Rickie Fowler (lurking just behind.
Jason Sobel runs down the notable storylines from Thursday's opening round.
PEBBLE BEACH, Calif. — Tons of stuff to discuss from the opening round of the 119th U.S. Open and what it all means moving forward. Let's get right to it.
If you're waiting for the carnage, if you're expecting the proverbial other shoe to drop, if you're assuming the USGA will ramp up green speeds to a 94 on the Stimpmeter this weekend … guess again.
Unlike last year, when tournament officials were able to let the Shinnecock greens get baked out, making conditions much tougher, there's not a whole lot of defense at Pebble Beach. The weather should remain similar for the final three days, which should lead to a continuation of soft-ish greens.
And then there's this: USGA executive director Mike Davis stepped down from his previous role setting up the course before this U.S. Open. I just don't believe John Bodenhamer, now staked with that job, wants to become Public Enemy No. 1 in his first year. I'd expect the USGA to err on the side of caution to avoid another revolution from the players (not to mention fans and media).
Really, it doesn't matter. One thing I've learned over the years is this: When a course is either unfairly difficult or uncommonly easy, if it elicits a big-time leaderboard with drama at the end, nobody cares too much.
The problem is when either of those scenarios produces a four-stroke victory by the world's 289th-ranked player. Then it's suddenly the organizing body's fault.
I don't know for sure, but you could probably put about five Merions inside Pebble Beach. Maybe more. And so while it seems there might not be many correlations between the two, there's not completely dissimilar. Each course requires players to keep their tee shots in the fairway and aim small at the relatively tiny greens.
So maybe we shouldn't be surprised that Justin Rose is the first-round leader. There's still plenty of golf left to be played, but I'd be surprised if he's not still in the mix come Sunday evening.
---
Rickie Fowler is now 20-under in the first round of the last 11 combined majors. Of course, that's only led to more criticism that he hasn't won one yet. As I said during a SiriusXM interview this week, it's almost unfair that Fowler draws such disapproval for consistently coming close.
If he finished T-43 in every major, we'd rarely talk about him not winning one. I spoke with Fowler about this theory before the PGA Championship and he acknowledged, "The first one will be the toughest."
Maybe it'll happen this week, maybe it won't. If it's the latter, expect him to hear more criticism, even if it's not totally warranted.
---
Louis Oosthuizen's full given name is Lodewicus Theodorus Oosthuizen. The first-round co-leader's results are even more confounding.
He won the 2010 Open Championship and is one of eight players with the career runner-up slam, yet he's somehow, incredibly, never won a single tournament in the United States.
To quote the great philosopher Ron Burgundy, "I'm not even mad, that's amazing!"
---
I've often said that Tiger Woods treats the opening round of majors much like a heavyweight fighter treats the opening round of a title bout.
Throw a few jabs, play some defense, don't get knocked out too early. At the Masters, this strategy worked perfectly; for the fourth time in his career, he parlayed a first-round 70 into a green jacket.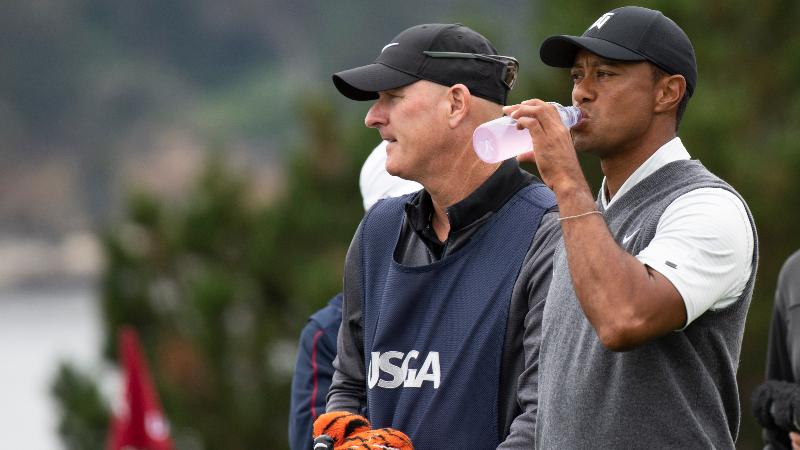 At the PGA Championship, it didn't; he posted 72 and missed the cut one day later. I think his 70 on Thursday implemented the same strategy, but was closer to the former than the latter.
---
You want a Friday fade? I've got your Friday fade right here.
As reported by Golf Channel's Will Gray, everything about this exchange is amazing:
"After shooting -2 Sergio [Garcia] said he was feeling 'horrible.' I asked him to expand. 'I can say it louder, but not clearer.' Shared that his game is currently a mess and despite the start he doesn't believe he has a chance to win this week."
I mean… what?! That's the type of response you expect from a guy who just shot 80, not one who posted a 69 and is only four strokes out of the lead. I usually don't know what's going through that man's head and I have even less of a clue right now, but I know this much: It ain't good.
Whomever you can get in a second-round matchup against Sergio, who's MC'd in seven consecutive major starts, take it.
---
I think Rory McIlroy would be just fine picking off a non-U.S. Open U.S. Open every eight years or so. Remember: He won on a soft, soggy Congressional course with a tournament-record 16-under total.
And with this one playing easier than usual, it again might be playing right into his hands. He's often said publicly that he's glad he got a U.S. Open victory out of the way when he did, implying that he believes it's the major which least suits his game, but this venue could be more suitable than most.
---
Six holes into the U.S. Open, it looked like this could be another Brooks Koepka runaway, but it appears he's going to let others have a chance this week, too. The two-time defending champ closed with a 2-under 69, which means there could be some value if you still think he's going to win. Not so fast, my friends. Instead, he's actually listed at a smaller number now than pre-tournament, despite being outside the top-10.
---
I'll readily admit I've been a longtime Jordan Spieth apologist, insisting everything would be fine when he was quote-unquote "slumping" this year and suggesting that his recent torrid putting streak might actually be sustainable.
I can't, though, stick up for him when he caddie-bashes like he did on the eighth hole Thursday. "Two perfect shots there, Michael. You got me one in the water and one over the green."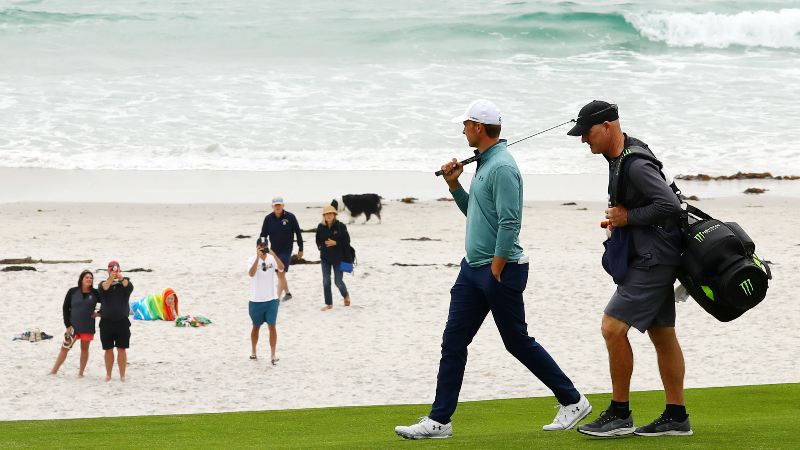 For a guy who so often speaks about his performance in terms of "we," I know he's being critical of Michael Greller's caddying there in the same way a quarterback yells at a receiver for running the wrong route, as opposed to an owner or coach yelling at a player.
Even so, playing the blame-game is a bad look. It's not helping him, or Greller, or their collective reputation. Not that Spieth knows or is even thinking about the TV cameras on him at the time, but he shouldn't have to be. He hit the shots. If they really were "perfect," the results would've been better.
---
If this whole golf thing doesn't work out for Brooks Koepka, I could probably hook him up with a prognostication gig here at The Action Network. Earlier this week, unprompted, he spoke about playing practice rounds with Aaron Wise.
"Watching Aaron hit the ball, it's super impressive. He's going to be super talented when he figures it out and understands his game. I think he's going to be a hell of a player."
---
Since everyone is asking, the answer is: No, Viktor Hovland cannot turn professional in the next three days and collect a paycheck this week. He would've had to do that before the tournament — and the Catch-22 here is that he was only exempt as an amateur from winning last year's U.S. Am.
If he'd turned pro, he would've had to qualify. So he's playing for free this week. That'll change next week, when he turns pro on Monday before playing the Travelers Championship.
---
I don't like being the I-told-you-so guy when I get one right, because I also get plenty wrong. But I was pretty confident in the hole-in-one prop that I wrote about before the opening round.
Sorry you guys had to sweat it out for a few hours before Rory Sabbatini, now of Slovakia, made one on the 12th.
They'll be drinking for free tonight at Golfový klub Borša in Hrubá Borša!
How would you rate this article?