Sobel: The Meaningless Trend That Could Give Us a Hint at the PGA Championship
Credit:
Gregory Shamus, Getty Images. Pictured: Phil Mickelson
Everybody's got a price.
Yes, this statement even applies to filthy rich professional golfers, those with millions in the bank who compete for millions more on any given week.
How do we know? Just look at their heads.
Or more precisely, what's on top of their heads.
There's a reason why none* of your favorite pros ever compete lid-less. (*Note: Unless your favorite pro is Robert Rock. If you own's Rock's head of lettuce, it can never be covered, by punishment of law.) It's the same reason why none of 'em ever wear a hat of their favorite sports team or some terrible mall-bought headwear given to them for Father's Day, even to keep a promise to the kids.
While you walk into a pro shop and pay hard-earned cash for a cap which touts TaylorMade's latest "longest driver ever," pros are paid great gobs of money to rock the same thing.
It's not hard to figure out why: With four days of television coverage, these guys are essentially walking billboards. The better they play, the more times they're shown on TV; the more times they're shown on TV, the increased marketing value for their sponsors.
It all makes sense, sure, but here's the rub: When is it all too much? When does looking into the mirror and seeing so many obscure logos also obscure a player's chance of winning big tournaments?
The old axiom "look good, play good" might be grammatically incorrect, but maybe there's something to it.
In fact, I'm about to prove it. I'm going to determine that players with the "cleanest" hat branding win more majors, more frequently, than those repping consulting companies or hawking financial firms.
Is this the dumbest analysis you'll read all week? Unequivocally.
But is there maybe, just maybe, some correlation? Probably not.
And yet, I'm still writing and you're still reading, so let's see where this takes us.
The most recent major champion is Shane Lowry. (Believe it or not, since it already feels like his victory at The Open happened a decade ago.) During the final round at Royal Portrush, he wore a standard black lid with the name of equipment manufacturer Srixon written across the front. Was he essentially selling product while winning? Of course, but it wasn't anything garish – just a standard golf hat for a pro golfer's related golf company.
In the major before that, it was Gary Woodland at the U.S. Open, who wore a similarly standard white cap for Wilson, another club manufacturer. That was preceded by Brooks Koepka at the PGA Championship in a Nike hat where the letters were turned 90 degrees, but otherwise nothing irregular. And in the first major last year, it was some guy named Tiger Woods in a Nike hat that featured nothing but that familiar swoosh logo.
No banks, no systems analysts, no service providers. Basically, nothing you'd have to Google in order to figure out what the heck a major winner was wearing on his head.
We can keep going, too.
In 2018, Koepka won two of the four majors, each time finishing with a Nike swoosh on his hat. Same thing for Francesco Molinari and Patrick Reed, who made it a clean cap sweep for the company.
In 2017, Koepka won his first major, also with that swoosh. Justin Thomas rocked a standard Titleist cap, Jordan Spieth wore one featuring UnderArmour and Sergio Garcia donned an Adidas.
That's a dozen straight majors claimed by guys representing only golf-related companies on their hats – and even though Koepka might've tilted the odds in their favor by winning one-third of those events, there's a definitive pattern here.
[Looking to bet on the 2020 PGA Championsip? Check out DraftKings. CO, NJ, PA, IN and WV only.]
We have to go back to the final major of 2016 for the last player to win one of golf's four biggest tournaments with a business name on his head that had nothing to do with golf.
If you knew the answer to this question nobody asked was Jimmy Walker, who was repping Insperity (a company which provides human resources and administrative services to small and medium-sized businesses) when he won that year's PGA Championship, well, you just might be Darren Rovell.
So, what does it all mean as the world's best golfers head to TPC Harding Park for this week's PGA, the first major in 13 months?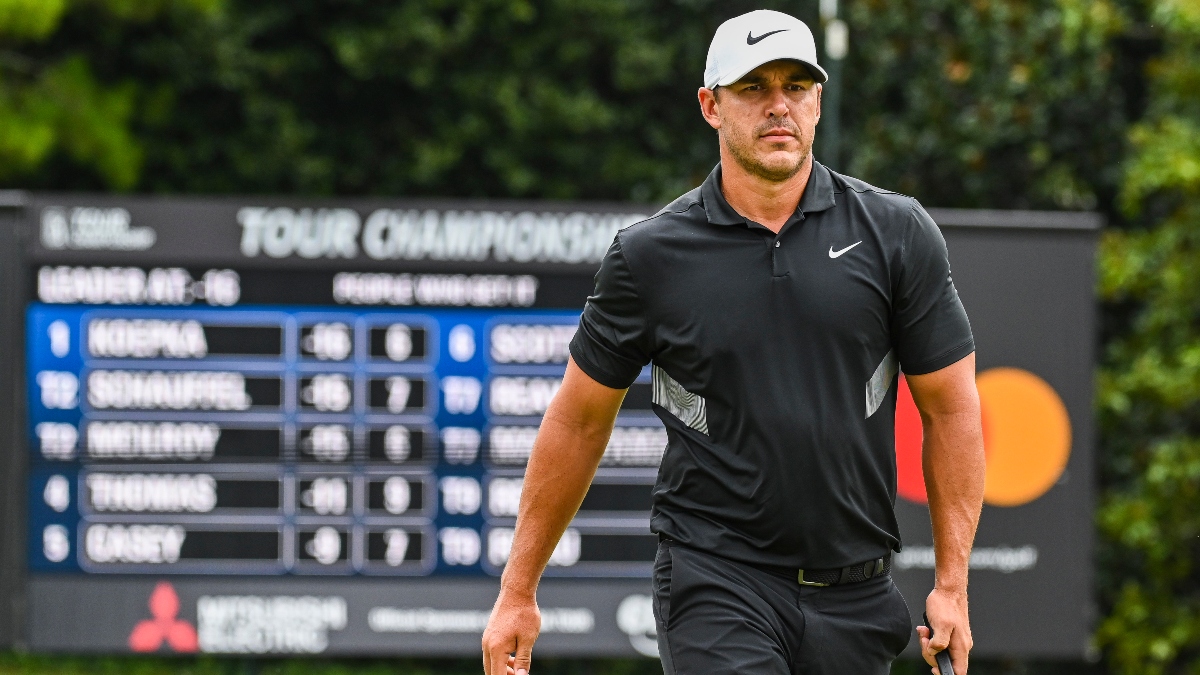 Either we should fade the players doing a little extra advertising or risk tempting the golf gods.
There are plenty of 'em, too.
Nine players in the current top 50 on the world ranking suit up for each round in hats featuring companies which have nothing to do with golf, including Patrick Cantlay (Marcus by Goldman Sachs), Justin Rose (Morgan Stanley), Matthew Fitzpatrick (Workday), Sungjae Im (CJ), Henrik Stenson (Mutual of Omaha), Ryan Palmer (Unisys), Chez Reavie (Cisco), Brendon Todd (Cisco) and, of course, Phil Mickelson (KPMG).
Other potentially viable contenders? Brandt Snedeker (Workday), Jazz Janewattananond (CP) and Matthias Schwab (Red Bull).
What does all of it mean? As I wrote earlier, absolutely nothing. OK, probably nothing.
Then again, I wrote this much and you – for some reason – read this much.
You wouldn't have gone this deep unless way down inside you believed there might be something to it.
Keep this in mind when making picks for this week's major championship. The winner will need to have the right mindset, but hey, it could be what's on top of his head which matters most.
How would you rate this article?