Masters 2021 Betting Odds Draft: 24 Players With the Best Value, Drafted Snake-Style
The 2021 Masters begins on Thursday, April 8 at Augusta National Golf Club in Augusta, Ga.
There are plenty of elite players in the field at Augusta, but we challenged our GolfBet experts to rank their favorite outright bets ahead of the Masters in a snake draft, with outright odds as the driving factor.
We here at GolfBet are proud of the fact that we cover every golf tournament like it's a major championship, but the truth is that The Masters is a betting event unlike any other and should be treated as such.
Thus, we decided to gather some of our brightest minds to participate in an odds draft where they picked out their favorite bets fantasy draft-style, with price being the main driving force.
Below are the results from our 2021 Masters Odds Draft:
Round 1
Jordan Spieth (+1150)
How do you fade Jordan Spieth after his win at Valero? He gained more than 10 strokes on the field in 4 of his last 6 events. His game looks to be close to what we are used to seeing from the former wunderkind. He's always been an elite ball striker at Augusta, leading the field in Strokes Gained: Approach in 2015, 2016 and 2018.
The last time Jordan won the Masters (2015), he finished T2 at Valero the week prior. He already has 4 top-5 finishes in his last 6 starts, including his win in Texas.
Rory McIlroy (+1900)
This is strictly a "bet the number" value play for me. Rory is a perennial favorite at The Masters and clearly loves the course as he is almost an automatic top-10 at Augusta throughout his career.
He's not in peak form which is the reason he's the sixth-favorite on the board, but he isn't playing as poorly as people may think. At his best, he is as good or better than any golfer on the planet. I'm betting on Rory to finally complete the illustrious career grand slam this week.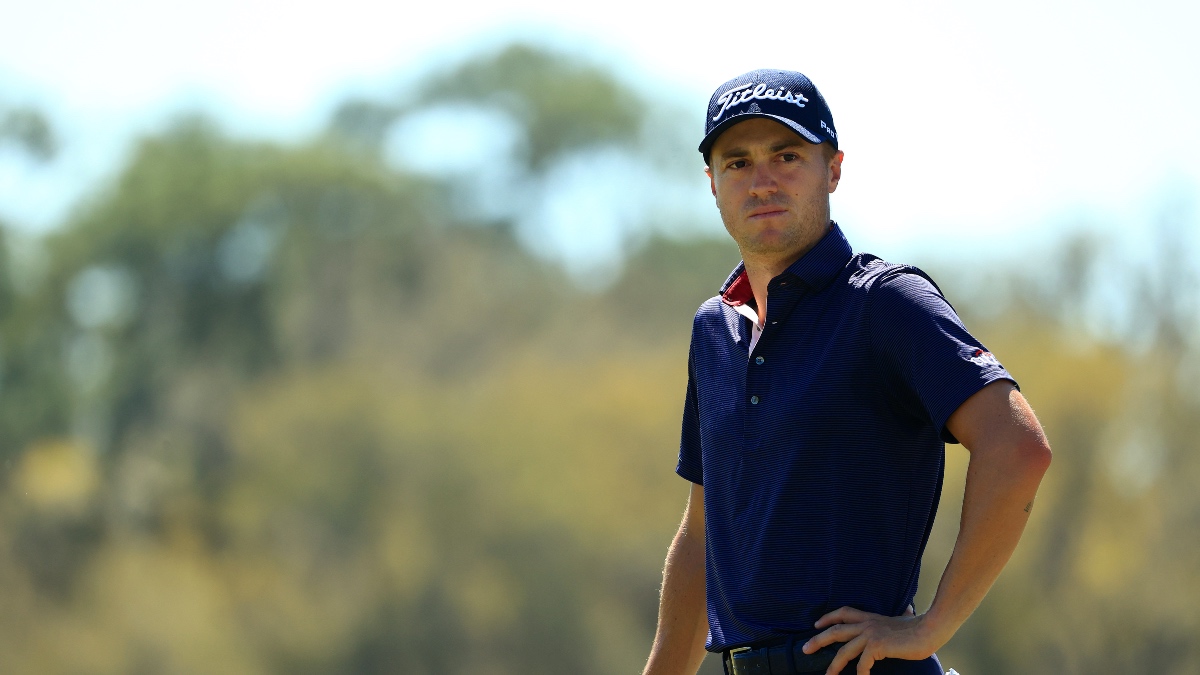 Justin Thomas (+1100)
Outside of Bryson DeChambeau, JT is really the only player at the top of the board coming in without any warts. McIlroy and Schauffele have been out of sorts of late, DJ hasn't been his dominant self for about four tournaments now, and Rahm just welcomed his first child into the world so who knows where his head is at.
Enter Thomas, who is didn't win his group at the WGC match play but is coming off a historic win at THE PLAYERS. He's improved his finishing position at Augusta every year he's played it, going 39th, 22nd, 17th, 12th 4th respectively since 2016.
He's arguably the best long iron player on the planet and his approach game has been locked of late, as he ranks No. 2 in this field in SG: Approach over his past 16 rounds in this field. JT is a serial PGA TOUR winner and very well may add a second major to his trophy case this week.
Patrick Cantlay (+2200)
Cantlay is my pick to win this week as he has all of the attributes I am looking for in a player to find success at Augusta National. He comes in with great form to start the year with top-15 finishes in four of the five stroke-play events he has played, including runner up at the AMEX and a third at Pebble Beach. The Californian was also the best player in the field through three days of group play at the Dell Match Play but was held out from advancing in a playoff loss to Brian Harman.
I fully expect to see Cantlay improve on his best Masters finish, 9th-place in 2019, and put himself in contention down the stretch. This is the best chance of his career to capture his first major win, and I won't be surprised to see him slipping on the green jacket come Sunday evening.
Jon Rahm (+1200)
I arrived in Augusta on Sunday evening with Xander Schauffele slotted as my favorite outright selection this week. I woke up Monday morning with Jon Rahm atop that list. Funny how these things work.
Rahm owns a great cross-section of recent form (top-10 finishes in seven of his last nine starts), course history (three straight top-10s at Augusta) and aligning metrics (14th this season in strokes gained on approach shots).
Throw in the fact that he's got a serious Danny Willett vibe, as he, too, was planning to skip the Masters in 2016 if his child wasn't born yet, but he not only made it here, he made some history. Rahm can certainly duplicate that feat.
Xander Schauffele (+2600)
Schauffele is too enticing to pass up at this number. Last fall at The Masters, he ranked 5th in the field in strokes gained tee-to-green, but lost more than half-a-stroke per round putting. This season, Schauffele is rolling it better than he ever has (ranked 10th in strokes gained per round), and that ball striking prowess won't escape him.
Schauffele is not only a big game hunter, playing his best golf in the biggest events – but has been impressive on courses with uneven lies, like Kapalua.
Dustin Johnson (+950)
I'm still too new to understand how the defending champion and No. 1-ranked golfer in the world tumbles all the way down to me, but I don't care. The rule of all drafts is to select the best talent on the board in the first round. Done and done.
Matthew Fitzpatrick (+4000)
I'm playing Fitz based on his current form. He's had four starts in stroke play events on the PGA TOUR in 2021 and has finished 11th or better in all of them. Fitzpatrick has never tore up Augusta — though he has a top-10 finish to his credit — but this will be his seventh start here so he should have a good feel for the course by now.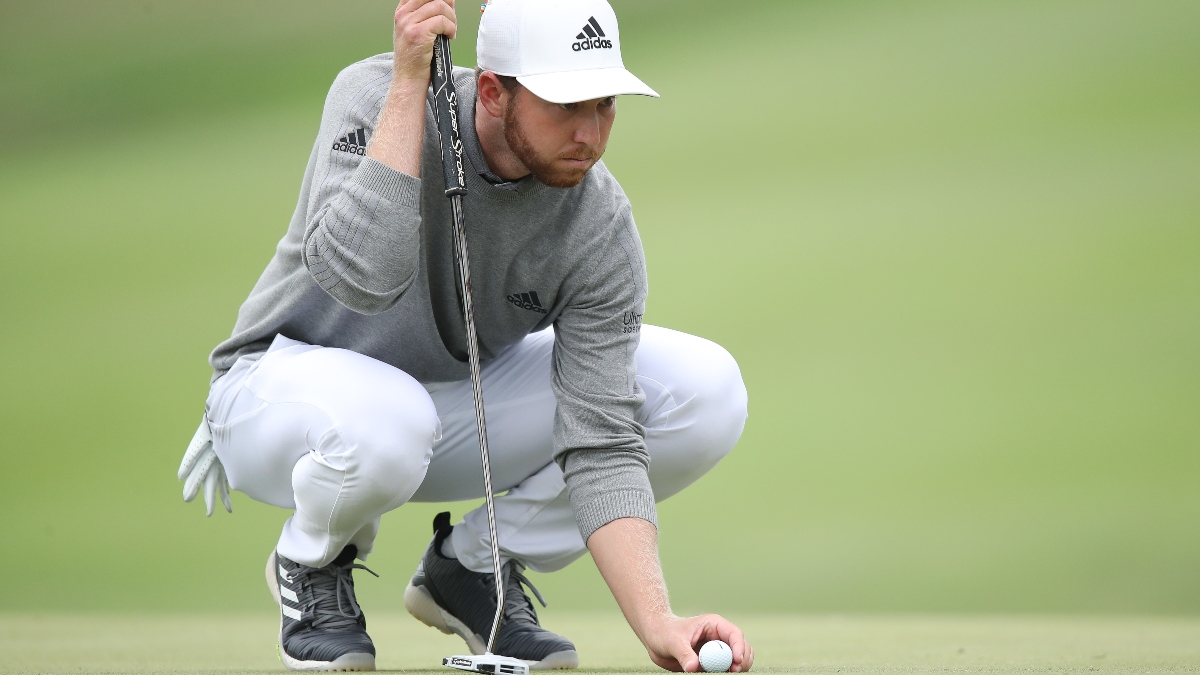 Round 2
9. Josh Perry
Daniel Berger (+3500)
Berger's game is right where we'd want it to make a run at Augusta. He's a great iron player and putter and has gained strokes off the tee in every event in 2021.
10. Rob Bolton
Patrick Reed (+3500)
Although Bryson DeChambeau still is on the board, it's worth sitting him and his short odds out at the Masters until he proves that he can contend on the course. Pivoting to Reed is natural because he's a former champion (2018) and already a winner in 2021 (Farmers Insurance Open).
11. Justin Ray
Collin Morikawa (+3150)
His debut last fall at Augusta National was underwhelming (T-44th), but Augusta National rewards elite approach play as much as any venue in championship golf.
Morikawa leads the PGA TOUR in strokes gained approach this season after ranking second in that statistic a season ago. The last five times the Masters has been held in April, the average finish of the strokes gained approach leader that week is 1.8.
12. Jason Sobel
Paul Casey (+3500)
At 43, Casey is playing perhaps the best golf of his career these days. He's finished in the top-five in three of his last six worldwide starts — including a victory in Dubai, which was a precursor to Masters wins for Danny Willett and Sergio Garcia.
He also tends to play well at Augusta National when he's on his game, which has resulted in four finishes of sixth-or-better in the past. His biggest weapon this week might be his high trajectory with his irons, which could be essential on such firm greens.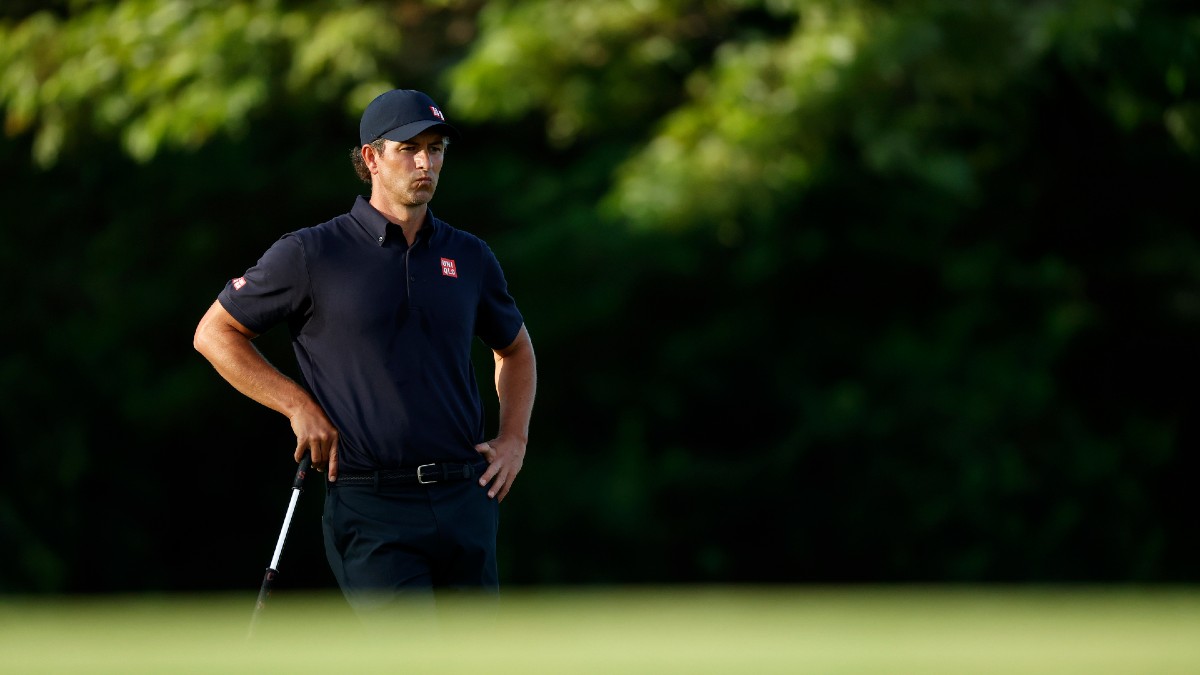 13. Chris Murphy
Adam Scott (+7500)
It's time to grab some value. Former Masters Champion Adam Scott has seen his odds drift out further as we've gone through the day, and I simply can't let him slide any further. He hasn't missed the cut at Augusta National in 11 straight Masters, and has four top-10 finishes in that span, including his win in 2013.
Scott will be one that benefits from the projected firm and fast conditions, and it appears he may be finding the groove in his game. He had struggled a bit with his normally sharp ball-striking through the start of the year, especially off the tee, and oddly enough, was relying on a hot putter to carry him to some solid finishes.
Scott seems as though he may have found something a few weeks ago at the Honda where he gained 9.8 strokes on the field ball-striking, which was split with 2.6 off the tee and 7.2 on approach.
Those are the numbers we are used to from Scott, and I will happily grab the +7500 on the chance the Australian figured it out during the last stretch of the Florida Swing, making him one of the best values on the board in my eyes.
14. Landon Silinsky
Sungjae Im (+4150)
Im finished in a tie for second on debut this past November, and has shown serious chops when competing in big boy fields. He's a cut-making machine and has the requisite long iron game to play well at Augusta.
I'm not one for trends, but Im does check a lot of boxes this week if you care about that sort of thing. Per fellow Action Network contributor Mr. Chris Murphy, each of the last 10 Masters' champions were ranked inside the top 30 in the official world rankings the year of their victory (Im ranks 19th).
Also, if you were worried that he's only played Augusta once, Jordan Spieth, Danny Willett and Charl Schwartzel all won this event in their second career start. Im has been locked in off the tee and with his putter right now and at 41/1 he's very much worth backing.
15. Matthew Vincenzi
Sergio Garcia (+6000)
The three categories I am heavily focusing on this week are approach play, current form and course history.
Sergio Garcia is a golfer that checks all of those boxes. Sergio has gained 6.7 and 8.3 strokes on approach in his last two measured starts, and although the WGC Match Play didn't have official statistics, it was easy to tell Sergio's ball-striking was elite. While the putting is a major concern, we know he can get it done around Augusta National as evidenced by his 2017 Masters victory.
The Spaniard is playing some of the best golf of his career and has the crucial course knowledge to become the 18th player in TOUR history to win multiple green jackets.
16. Amanda Rose
Corey Conners (+8000)
The Canadian won his first event after Monday qualifying for the Valero in 2019 and has been on a great trajectory ever since. Augusta is a second-shot golf course and Connors' Strokes Gained: Approach stats have been phenomenal.
He's also in great form, finishing third at the Arnold Palmer Invitational and 7th at THE PLAYERS back in March. Conners finished 10th at Augusta in November, his best finish at The Masters.
With his great ball-striking stats, he's poised for another good finish in 2021.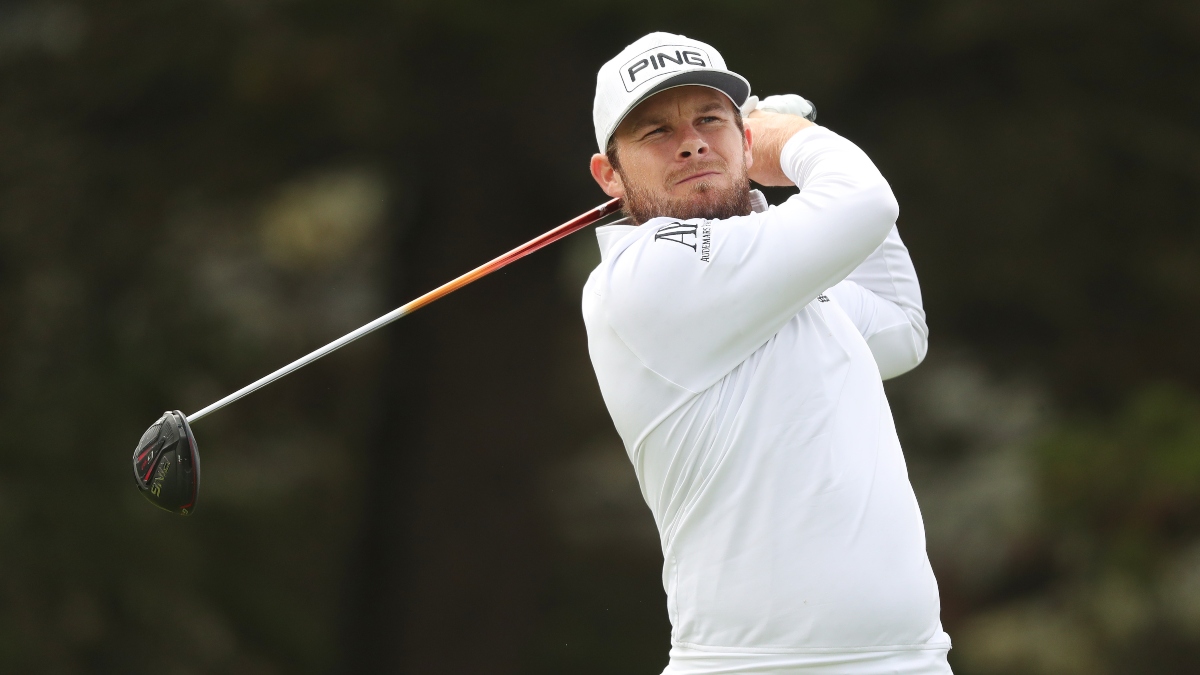 Round 3
17. Amanda Rose
Tyrrell Hatton (+5000)
The fiery Englishman is one of the hottest players on the planet over the last 16 months. He has a win on the PGA TOUR and a handful of other European Tour wins, the most recent of which win was in Abu Dhabi in January against a strong field.
His best finish at Augusta is a T-44 in 2018, but his game is in a great spot right now heading into golf's hallowed grounds. His ball-striking stats are solid and it wouldn't surprise me to see him slip on the Green Jacket at week's end.
18. Matt Vincenzi
Webb Simpson (+3500)
It is not unusual to see a player trend towards a win at the Masters. In the years leading up to his 2020 victory, Dustin Johnson finished 5th, 4th, 10th and 2nd in his four most recent starts at Augusta.
Similarly, Webb Simpson is a golfer who has had some recent success at The Masters and may be trending towards a green jacket of his own. In his past three starts at Augusta Webb has finished 20th, 5th and 10th after 6 consecutive seasons of finishes of 29th or worse. There is a reason why first-timers generally don't win the Masters; golfers must learn the course before emerging victorious.
While not the longest off the tee, Webb is one of the best players around the green and that is a paramount trait at Augusta National. In his past 50 rounds only Si Woo Kim has gained more strokes around the green than Simpson.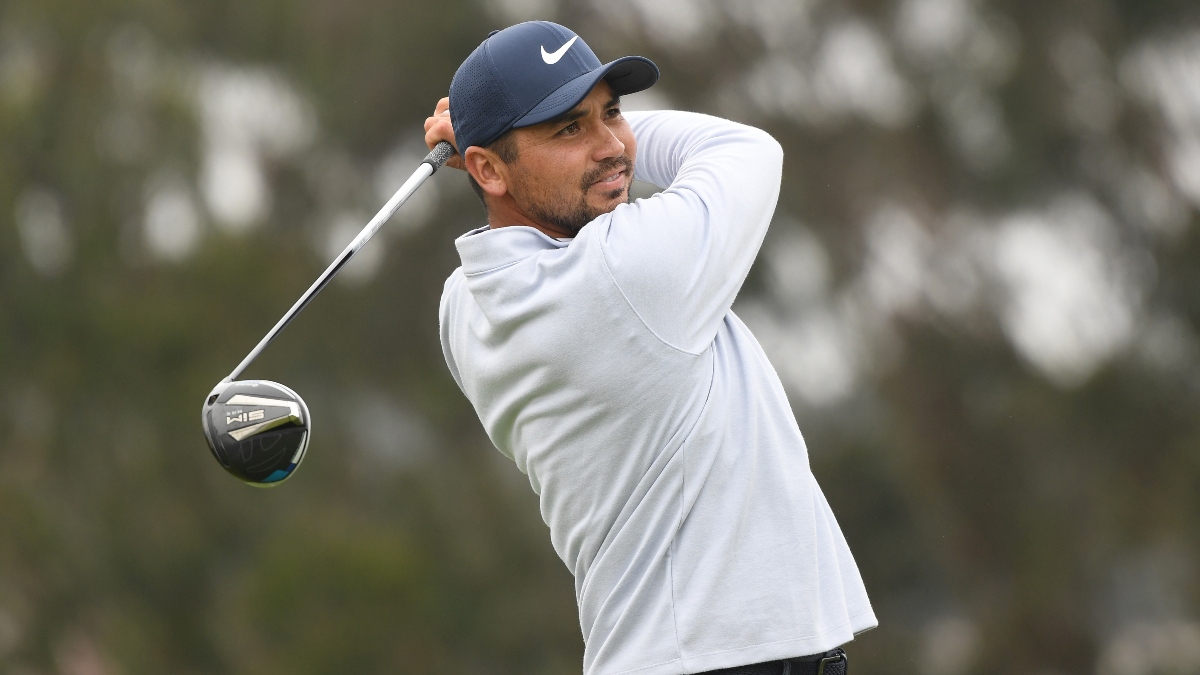 19. Landon Silinsky
Jason Day (+5500)
You'll have a hard time finding many people with better Master's history than Day, as he's finished inside the top 28 in six of his past 10 starts with four top-10s in that span.
The Aussie has not been his old dominant self in quite a while due to the myriad of injuries he's dealt with, but it does appear he's relatively healthy right now. He looked really good at THE PLAYERS, gaining strokes tee-to-green in every round. He finished 35th due to awful putting, which we know is normally his greatest strength. Day ranks 11th in this field in SG: Ball-Striking and 84th in SG: Putting over his past four rounds, demonstrating how close he is if he just starts sinking some putts.
He will surely putt better this week on the familiar Augusta bentgrass greens and at 55/1 he very well might be in contention come Sunday evening.
20. Chris Murphy
Bryson DeChambeau (+1150)
I'll close out my portfolio of picks with a big name up top. Bryson DeChambeau was the story of the week heading into The Masters in November as all of the talk was around him bombing and gauging through Augusta National on what he called a Par 68. Fast forward five months and early in the week it seems he is being overshadowed a bit, despite showing great form in his last two stroke play events. DeChambeau won the Arnold Palmer Invitational and was in the final pairing on Sunday at THE PLAYERS before eventually falling short of Justin Thomas.
Everything aligns for him to be set up for a big week, possibly the one we were expecting from him in the fall when his odds were set in the single digits. The bump in odds is a nice bonus on a player that could certainly come out and overpower this course en route to his second major victory.
21. Jason Sobel
Brooks Koepka (+2600)
Hey, BK! You see this? Man, you're a four-time major champion, but a third-round pick. Must make you mad, right? If I were you, I'd tweet a GIF showing just how pissed off you are. Then I'd attach that Bryson-sized chip to my shoulder as I walked to the first tee Thursday, knowing everyone was doubting me. They thought I couldn't do it. They didn't believe I could come back this soon. And then I'd prove 'em wrong. But I mean, that's just what I'd do.
22. Justin Ray
Louis Oosthuizen (+7500)
I mentioned earlier the significance of SG: Approach at The Masters: since 2015, only Jordan Spieth has averaged more SG approach per round than Oosthuizen. His week-to-week volatility can often leave him out of the spotlight entering big events, then by Friday afternoon half the world is wondering why they didn't pick him in the first place.
With six top-three finishes in majors and seven consecutive made cuts at Augusta, nobody should be shocked to see Louis in the mix this weekend.
23. Rob Bolton
Cameron Smith (+4000)
After grabbing chalk with my first two picks, I'll lean on the 27-year-old Aussie to round out the roster. He shared B Flight honors in November and he's thrived on other big stages, especially of late.
That suggests that he's gravitating away from a streaky profile and into a consistently strong level of success. Also finished T5 in his second appearance at the Masters in 2018.
24. Josh Perry
Joaquin Niemann (+5500)
Niemann was one of the last guys cut off my card, but if you're looking for someone who can just ball strike for 4 days and take this down like Sergio Garcia and Adam Scott then he's a guy I'd look at. He's taken a bit of a downturn since his hot start in Hawaii to begin the year, but overall, the talent and style of play should be a good fit here.
How would you rate this article?
This site contains commercial content. We may be compensated for the links provided on this page. The content on this page is for informational purposes only. Action Network makes no representation or warranty as to the accuracy of the information given or the outcome of any game or event.