Sobel: Cooling Off Some of Golf's Hottest Takes
Credit:
John David Mercer-USA TODAY Sports
The Highlights
Think Dustin Johnson doesn't care? Think again. He's won a tournament every season since turning pro. 
Tiger should stop hitting his driver? So misguided. That'd put him at an immediate disadvantage.
Jordan Spieth has lost his magic touch? Stop. He's just nine months removed from his most recent major.
---
PONTE VEDRA BEACH, Fla. — The bigger the event, the worse the hot takes. And there are plenty of terrible takes around this week's Players Championship.
Good thing there's also plenty of water here at TPC Sawgrass.
You guys have fired off your hottest takes. I'm gonna stand on the 17th green and chuck 'em into the surrounding water. You're welcome!
Hot take: Dustin Johnson doesn't really care that much about golf.
I love this one, since it summarizes the uninformed straw man arguments from every 19th hole. Sorry, but just because a guy refuses to yell at his golf ball or slam his putter against the turf hardly means he doesn't care.
Even better, the notion that a guy who doesn't care much about his chosen profession could ascend to No. 1 in the world and win in every season since turning pro is ridiculous. DJ won a U.S. Open at Oakmont, for goodness sake. That's the territory of guys like Jack Nicklaus and Ben Hogan. I wonder if anyone ever accused them of not caring enough.
And yet, because DJ is forever in chill mode and never gets too emotional, people actually believe he just isn't that into this whole golf thing.
Here's a better take: Maybe it's because he never gets too emotional that he's owned some staying power as the world's No. 1 player.
Frankly, he should be commended for the way he approaches the game, not criticized for it.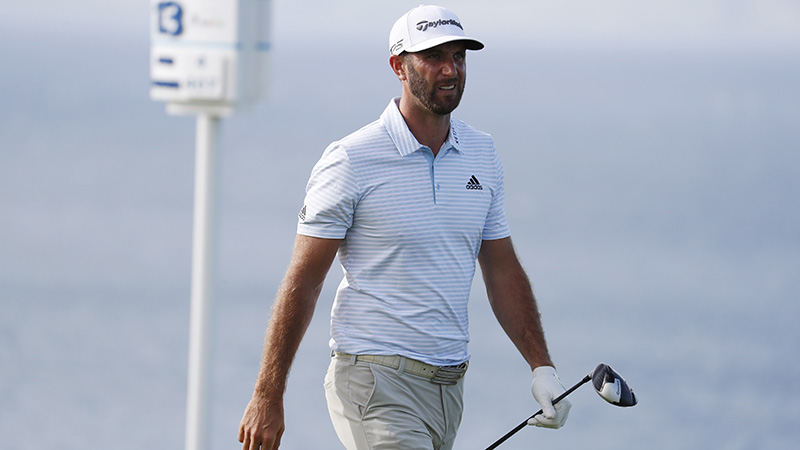 Pictured: Dustin Johnson. Credit: Brian Spurlock-USA TODAY Sports
Hot take: Tiger Woods needs to stop hitting the driver.
Ohhh, this one might be the GOAT of all golf hot takes. We've heard it for years — even when Tiger was piling up trophies in his prime, he was never the straightest driver of the golf ball.
And so, the theory was born: If he keeps his driver in the bag — or his trunk — he'll hit more fairways, and if he hits more fairways, he'll give himself more chances for birdie, and if he gives himself more chances for birdie, he'll make more of them.
Decent theory. Too bad it's so misguided.
The truth is, with distance being such a major factor in today's game, any golfer forgoing the driver on a consistent basis is placing himself at an immediate disadvantage.
Woods currently ranks 24th on the PGA Tour in driving distance at 306.6 yards per pop. That's a solid number, but if he decided to stop hitting the driver, even a stinger 3-wood would leave him well behind the average.
Sure, poor drives are always going to potentially lead to bogeys. But the solution — for Tiger and everyone else — is to start hitting the driver straighter, not stop hitting it altogether.
Hot take: Golfers should wear golf shirts, dammit.
Look, we didn't have a problem when professional golfers were wearing mock turtlenecks or blade collars. To each his own, we said.
We somehow didn't have a problem with this: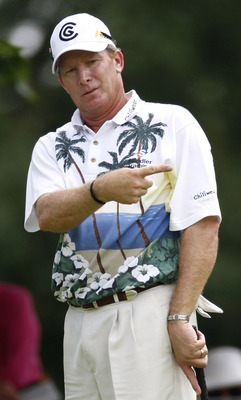 Or this: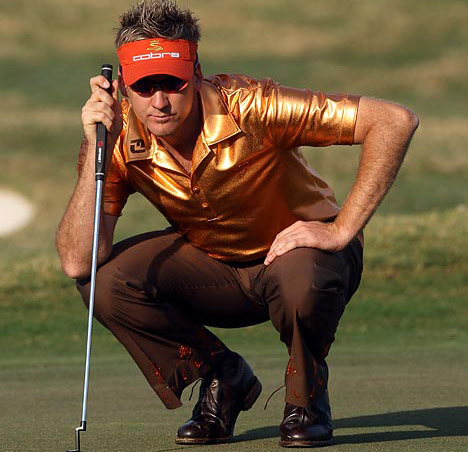 And certainly not this: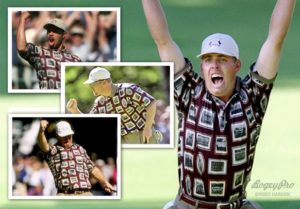 Now that Phil Mickelson has apparently decided to wear a sponsor's button-down dress shirt during tournament rounds, though, people seem to believe he's committing some sort of fashion faux pas.
Welp, I've got news for you: Most golfers don't dress well. And if you don't believe that, you just might be a poorly dressed golfer yourself.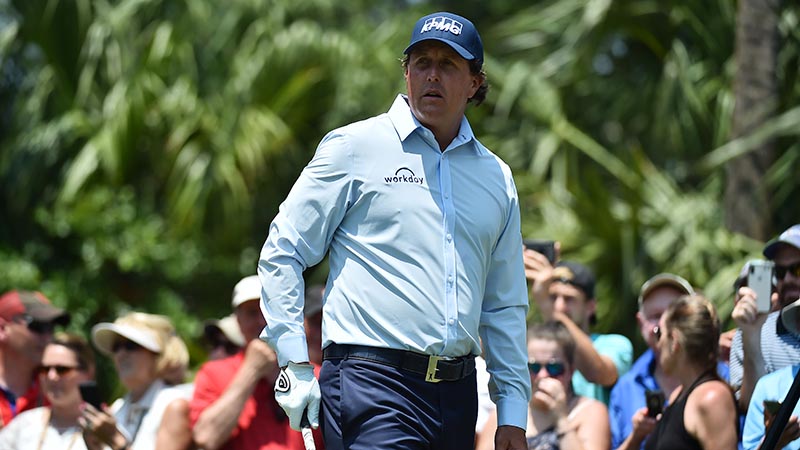 Credit: Jasen Vinlove-USA TODAY Sports
Hot take: Jordan Spieth has lost his "it" factor.
Over the first few years of his young career, Spieth has shown an uncanny knack for playing his best golf in the biggest moments. He might not own the athleticism of Dustin Johnson or the extra gear of Rory McIlroy, but that only makes his accomplishments that much more impressive.
There's growing sentiment, however, that Spieth has lost it. That his putter is no longer the magic wand it once was. That his intangible sense for making birdie when he most needs it has vanished.
This notion somehow ballooned Thursday morning, as he posted an ugly 3-over 75 at a tournament where he's missed the cut for three straight years. Quite honestly, it's unfathomable that people are offering some longview judgment of Spieth based on this poor round and two late water balls to miss the recent cut at the Zurich member-guest hit-and-giggle.
Let me remind you of a few Spiethian facts: One, he's a mere nine months removed from his last major victory. Sorry, but a player going 0-for-the-past-2 majors isn't much of a slump. Two, he's only 32 days removed from very nearly posting the greatest round in golf history. I'm not exaggerating. If Spieth's final tee shot on Masters Sunday didn't clip the branch and if he made birdie there — granted, two big ifs — he would've shot 62 at Augusta National to very possibly come from behind and win. And three, we're only three months away from Spieth going after the career grand slam, when he could erase this lazy narrative by winning the PGA Championship.
Just in case all of that didn't cool off your take, try this: If you're going to play one major poorly every year, make sure it's the one that isn't really a major.
Which brings me to…
Hot take: The Players Championship is, or at least should be, a fifth major.
I'll never understand why people automatically think more of something makes it better.
The LPGA added a fifth major just a few years ago and now each feels watered down. Same goes for PGA Tour Champions, whose five majors I defy even the most diehard of golf fans to name without Googling. (And by the way, it hurts my eyes just to read "PGA Tour Champions," which might be the worst rebranding since New Coke.)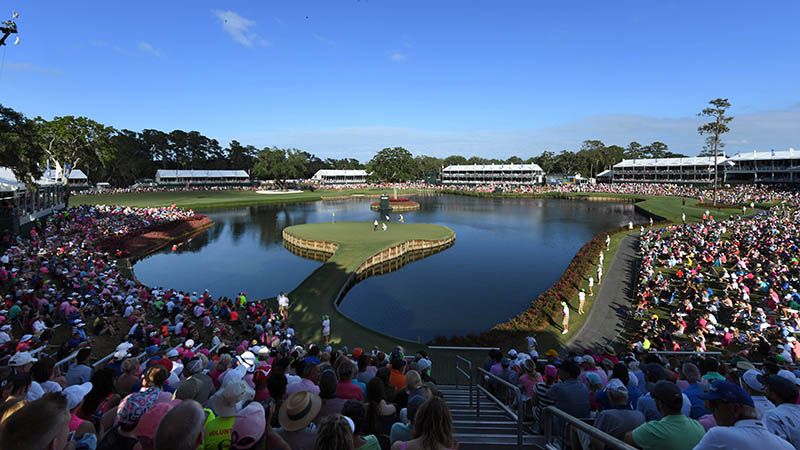 Credit: Michael Madrid-USA TODAY Sports
There were four Horsemen of the Apocalypse, there were four Beatles, and there are four majors. I mean, would the Final Four be better if we made it the Final Five? Of course not.
Some people believe we should simply replace the PGA Championship with The Players, which makes little sense from a historical standpoint and even less sense from a future perspective. There's a reason why the PGA of America will move their championship to May next year, pushing The Players back to March. It's to give the game four consecutive months with majors.
The Players? That'll serve as a mere appetizer for the main courses.
Hot take: The 17th hole at TPC Sawgrass features an island green.
I mean, this isn't even a bad opinion. It's just plain wrong. Think about it, kids: If the green was an island, players and caddies would have to boat or swim across. As much as I'm in favor of eliminating the isthmus and offering these options, it ain't happening — and that ain't no island.
Hot take: There's no way a golf writer could ever work the word isthmus into a column.
OK, so that was my own hot take. It's all wet now.