What We Learned at the British Open: Tiger's Time Is Coming Soon
Credit:
Ian Rutherford-USA TODAY Sports. Pictured: Tiger Woods
Francesco Molinari won the 2018 British Open. Perhaps the most impressive thing about his victory? He did it playing alongside Tiger Woods.
Speaking of Tiger, it's a matter of when, not if, he will win again. Sunday's performance got him into the upcoming WGC-Bridgestone Invitational.
Xander Schauffele deserves to be on the U.S. Ryder Cup team after falling just short of his first career major win.
What a week. What a final round.
Even if you were rooting for Tiger Woods to rekindle the old magic with a 15th career major or Jordan Spieth to rise from his recent depths and successfully defend his title, The Open Championship checked all the boxes for what we want to witness on a Sunday afternoon — a packed leaderboard with some big names, some major swings with each birdie and bogey, and a worthy champion in Francesco Molinari.
There are plenty of takeaways from the week at Carnoustie. Let's get right to 10 of 'em, starting with a winner who stayed hot.
1. Francesco Molinari is riding an incredible heater
Over the years, we've seen players get unbelievably hot for a few weeks or a month at a time. Almost universally, though, it's only the best of the best who can sustain such torrid play for extended periods. With his past six worldwide finishes — WIN, 2, T-25, WIN, T-2, WIN — Molinari has proven he's not just capable of winning, but sustaining that pace and keeping his foot on the gas pedal. It will be interesting to see just how long he can keep this going.
Other first-time major champions have endured a post-victory lull while enjoying the fruits of their labor, but it'll be even more impressive if Molinari can parlay this into further success.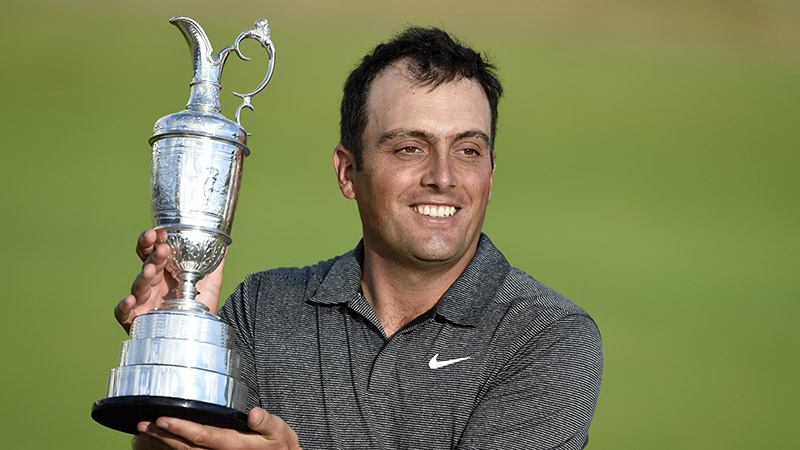 Ian Rutherford-USA TODAY Sports. Pictured: Francesco Molinari
2. Tiger Woods is going to win again
As I wrote before this week started, I still think Tiger needs to win somewhere before he wins a major again, a notion also proposed recently by Jack Nicklaus. But I think it's now apparent and inevitable that he claims an 80th career PGA Tour title and continues the process about which he speaks so frequently. And, yes, it'll be pandemonium.
Woods gave us a wild ride Sunday afternoon, at one point grabbing sole possession of the lead — and having his odds against the entire field drop all the way to +110 — before faltering down the stretch. Some will view that finish through a pessimistic lens, but I think his personal disappointment will be offset by the optimism that he knows he can do this on the game's biggest stage again.
3. Tiger's game will travel
Think Tiger can only contend on a golf course that takes driver out of his hands? Think again. First of all, that would be neglecting his top-five performances at the Valspar and Arnold Palmer Invitational earlier this season. Secondly, he's about to quash that myth anyway.
---
>> Sign up for The Action Network's daily newsletter to get the smartest conversation delivered into your inbox each morning.
---
It appears that Tiger's T-6 finish moved him to exactly 50th in the world ranking, which will get him into the final WGC-Bridgestone Invitational at Firestone, a goal he's had for the past few months. Doesn't mean he'll win there for a ninth time in his career, but in golf — as in life — it's all about making the best of the opportunities you're presented. Getting into the Bridgestone is a big opportunity for him, and I expect him to take advantage.
4. Tiger's intimidation factor isn't quite what it used to be
Molinari stood side-by-side with Tiger for 18 holes on Sunday, enduring the largest and most vocal galleries on the course, and never flinched. Now, at 35 and with years of experience, Molinari isn't exactly the kind of bright-eyed youngster whom we'd expect to falter in this type of situation, but it's still relevant that the player paired with Woods is the one who emerged from a deep pack of contenders. Somewhere, Y.E. Yang is nodding and smiling softly to himself.
5. Jordan Spieth remains confounding
The takeaway from Jordan Spieth is that there is no takeaway. Sorry, guys. There's just no burn-down-the-house hot take fresh off his week. He was struggling — for a player of his caliber, at least — entering this tournament and was able to make slight pretournament adjustments with his swing and his putting stroke that helped him get into contention.
Nothing I saw from him, even the birdie-free final round, suggests that he's destined to forever be stuck on three major titles; nothing I saw suggests that he's ready to open the floodgates and start winning a bunch before season's end. I think his game is in a better place now than it was three weeks ago, but if you're trying to extrapolate this performance into some long-term analysis, you're doing it wrong.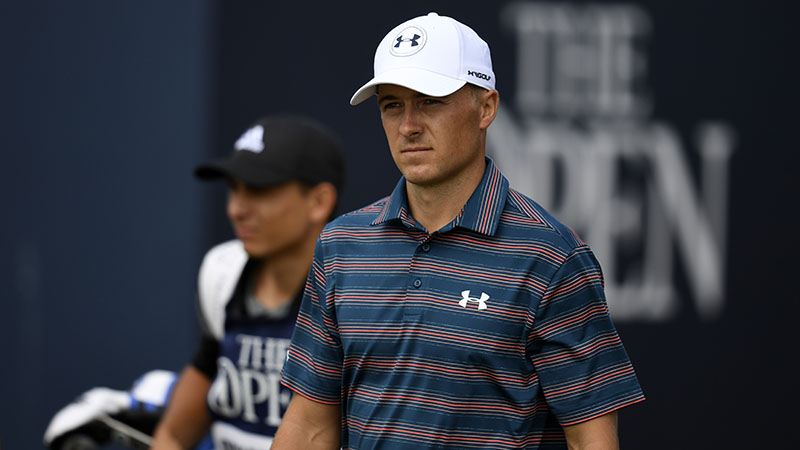 Thomas J. Russo-USA TODAY Sports. Pictured: Jordan Spieth
6. Xander Schauffele should be a Ryder Cup lock
I started the rallying cry for Schauffele to be a member of this year's U.S. Ryder Cup team ever since he won last year's Tour Championship as a rookie, and his performance this week just might put him over the edge. Until now, he's been a guy who's much better than he's ever given credit for.
I mean, he already owns as many wins as Tony Finau and Patrick Cantlay combined. And yet it's felt for the past year as if he doesn't get he recognition he deserves.
---
>> Download The Action Network App to get real-time odds, track your bets and follow all of our experts' picks.
---
This probably stems from the fact that he's hardly a polarizing personality and, more importantly, doesn't do anything great but instead does everything really well. Let's assume U.S. captain Jim Furyk was paying careful attention this week. Even if Schauffele doesn't qualify via points, he deserves to be named to the team.
7. Rory's run might just be getting started
Years from now, we'll look in the record books, see Rory McIlroy's runner-up finish and perhaps misremember how it all played out. He was extremely consistent, posting scores of 69-69-70-70, but it never quite felt like this was ever his tournament to lose, even after that 14th-hole eagle to grab a share of the lead.
That said, this is the time of year when McIlroy traditionally starts heating up. I think he'll absolutely be a factor at the upcoming PGA Championship and could make a run at another FedEx Cup title. He's motivated to remain in that discussion of top players and has been asked too many questions about his four-year drought in majors. It never quite seemed like he had his best stuff this week, but finishing second in this event with something less than that only shows just how talented he really is.
8. The Open setup > U.S. Open setup
We should all really, really, really hope that USGA officials sat in their Far Hills, N.J., offices this week, watched how the R&A set up Carnoustie and collectively whispered to themselves, "Ohhh."
For Sunday's final round, greens were running at exactly 10.1 on the Stimpmeter, which compares favorably to your local muni. And yet, the champion was a mere 8 under, and not a discouraging word was uttered by the competitors about this venue. What a stark contrast from what we witnessed at Shinnecock Hills last month.
This was golf as it was meant to be played — great shots were rewarded and poor shots were penalized. It was difficult but fair, which is a point the USGA seemingly struggles to grasp on an annual basis.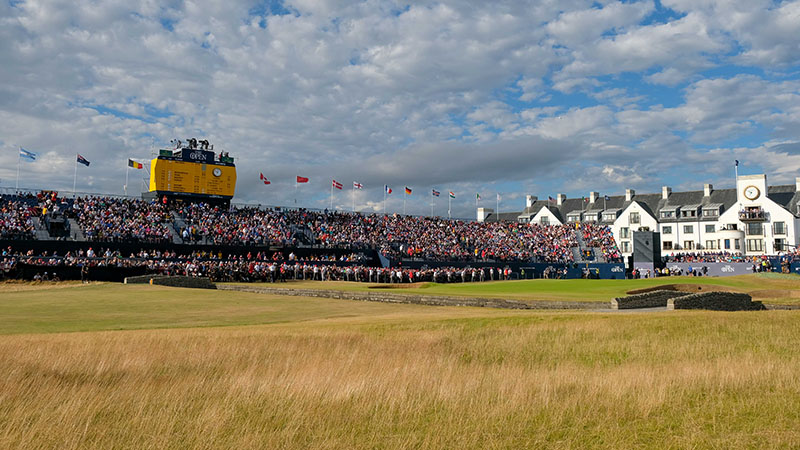 Steve Flynn-USA TODAY Sports. Pictured: Carnoustie's 18th hole
9. It's a good time to be a golf fan
How great is the talent level at the game's highest level right now? Dustin Johnson, Justin Thomas, Sergio Garcia, Jon Rahm and Bubba Watson all missed the cut this week — and if you told me those players would comprise the top five at the PGA Championship in three weeks, I'd absolutely believe it.
Needless to say, much like I wrote about Spieth above, there shouldn't be much of a takeaway from this fivesome enduring a two-and-out trunk-slam. It's slightly jarring that Rahm's major record includes just one top-20 in nine starts, but that's going to change very soon. Let's remember: He's still only 23 years old.
10. More mixed bags coming soon?
Great point by PGATour.com's Jonathan Wall on Twitter after Molinari's victory. Just like Masters champion Patrick Reed and U.S. Open winner Brooks Koepka, Molinari doesn't have an exclusive equipment deal with any club manufacturer (except for his putter).
Sure, these guys are leaving an automatic paycheck on the table, but it frees them up to play whatever equipment best suits their game — and based on this trio's success, it's obviously working.
With these professionals competing for millions of dollars every week, don't be surprised if this trend continues. It's a copycat sport, after all, and you can bet their peers are paying close attention to this not-so-subtle detail.