Does Brooks Koepka's Caddie Give Him An Edge in 2019 British Open at Royal Portrush?
Credit:
Eric Bolte, USA Today Sports. Pictured: Ricky Elliott and Brooks Koepka
Brooks Koepka's caddie, Ricky Elliott, grew up less than a mile from Royal Portrush and thinks he's played the course about 1,000 times.
Does that give Koepka any edge in the 2019 British Open?
Ricky Elliott has returned this week to Royal Portrush, where he lived during his formative years.
OK, so technically Elliott resided with his family about a quarter-mile down the road, but you wouldn't know it by how much time he spent at the course.
When they were junior golfers, Elliott and his buddy — some kid named Graeme McDowell — worked a job share. Elliott would spend the morning helping the pro, cleaning clubs and tending to whatever else he needed, while McDowell would practice and play the course. Then in the afternoon, they'd switch, as McDowell worked and Elliott played.
"We used to hang out there all day," Elliott recalls. "My mom would drop us off down at the course, usually around 8:30, she'd go to work and pick us up at 5."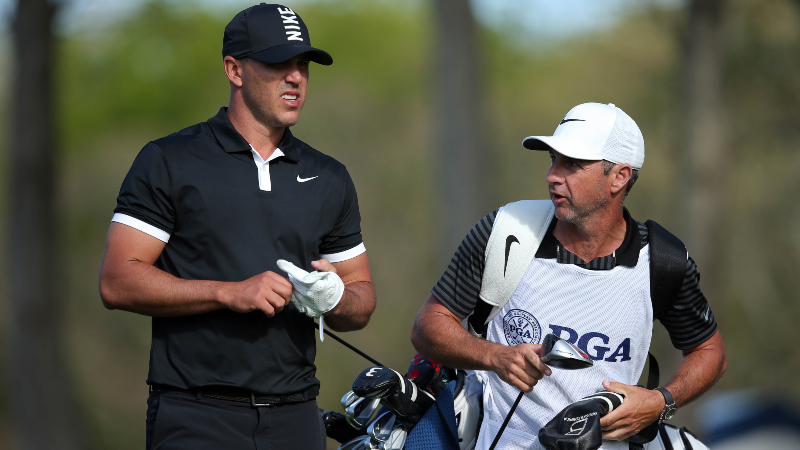 Now the understated — and underrated — caddie for Brooks Koepka, Elliott has enjoyed a front-row seat for some major championship history over the past three years, helping his man to four quick titles.
It'll be different, though, when that history is unfolding at The Open Championship, literally in his own backyard.
"I'm just pumped," he says. "We're a community out here, a traveling circus. Most of my friends, other caddies and players, are out here. I'm just pumped that they're coming to my hometown."
Elliott is staying at his parents' house for the week, sleeping in his childhood twin bed with junior golf trophies still dotting the bedroom. "My mom and dad don't throw anything out," he admits, again chuckling at the prospect of caddying for the world's No. 1-ranked player while receiving some home cooking.
He's also suddenly become the most popular man around Portrush, as ticket requests for this week have started piling up.
"I'm probably going to need about 50 tickets," he explains. "Like most Irish families, ours doesn't tend to move very far. My dad's got four brothers; my mom's got four sisters; we've got cousins and nephews. I'm not saying they all want to go, but the whole extended family is all in the area."
Save for his pal McDowell, nobody inside the ropes this week will know the course better than Elliott. His best score there is a 64. Asked to estimate how many times he's played it, he laughs, then pauses and says, "A thousand times, maybe? Probably right around there."
As such, few are better qualified to offer a detailed scouting report of what we should expect during the four tournament rounds.
"There's not very many blind tee shots," he begins. "The fairways are relatively flat compared to the majority of links courses, but probably 10 of the 18 greens are risen, which I think is going to give the R&A an ability to set some difficult pin positions — front-lefts, front-rights, where there are runoffs. They're not going to bring the rough in, they're trying to grow it up. But they can hide the pins. If it's going to be calm and soft, they'll need to do that."
And if Koepka asks about the one aspect of his game that needs to be dialed in for this place? Well, he won't receive a specific answer.
"You've got to do everything," Elliott continues. "I know that sounds a bit stupid, but there isn't one particular thing. It's not particularly long; there's going to be a ton of 3-woods and irons off the tees and there's no real secret to it. It's a very, very fair course."
He then shakes his head, beaming with pride as he adds: "There's no secret. It's going to be a really good test. There's no quirkiness about the place. It's going to be a great championship."
As for whether there is any tangible way that Elliott's experience could positively impact Koepka's performance, the caddie demurs.
"I might be able to line him up for a few putts," he says, then laughs and adds, "but his lines off the tee are a little bit different than I took back in the day."
Koepka, too, smiled when asked how much of a secret weapon Elliott might be this week.
"I don't know, we'll find out," he says. "Hopefully enough."
As for the man who grew up at Royal Portrush, working with the pro and beating balls on the range and endlessly playing the course, Elliott can allow his mind to wander to thoughts of Koepka winning in his hometown.
Even if it's his childhood friend McDowell, he says, there will be an awfully big celebration in store.
"I don't know what I'm going to do," Elliott insists. "I don't think I'll show up for work for the rest of the year. Maybe the Presidents Cup, I might've sobered up by then."
How would you rate this article?