Sobel: Handicapping Brooks Koepka's Odds of Holding on to the No. 1 Ranking
Credit:
Jeff Curry-USA TODAY Sports. Pictured: Brooks Koepka
Brooks Koepka vaulted to No. 1 in the world for the first time in his career after winning the CJ Cup this past weekend.
To retain the crown, Koepka will have to hold off a host of worthy challengers over the next year, including Tiger Woods, Justin Thomas, Rory McIlroy, Justin Rose and Dustin Johnson.
Brooks Koepka is now the No. 1-ranked golfer in the world.
In case you hadn't already heard that news, it might come as a little bit of a surprise.
His victory at this weekend's CJ Cup was just his second non-major title on the PGA Tour (he also owns one on the European Tour) and even though he won both the U.S. Open and PGA Championship this year, he was hardly the picture of consistency, his overall resume still paling in comparison to many of his highly-ranked peers.
Koepka's new placement atop the list is even more impressive considering he spent the first four months of this year recovering from a wrist injury that rendered him an afterthought as recently as just a few weeks prior to the U.S. Open.
But of course, there's no debate here. It's just math. Nobody voted for Koepka to be ranked No. 1; it was the byproduct of a long-standing formula which — right or wrong — gives him more points than any other player in the world.
Whenever the subject of No. 1 becomes a hot topic, the popular response from fans is: Why should we even care?
Hey, it's a valid question. Other than individual pride and possible monetary incentive from sponsors, there's no tangible benefit to being the world's best golfer. Other numbers, such as top-50, can seal a player's fate for inclusion into majors and other invitational events.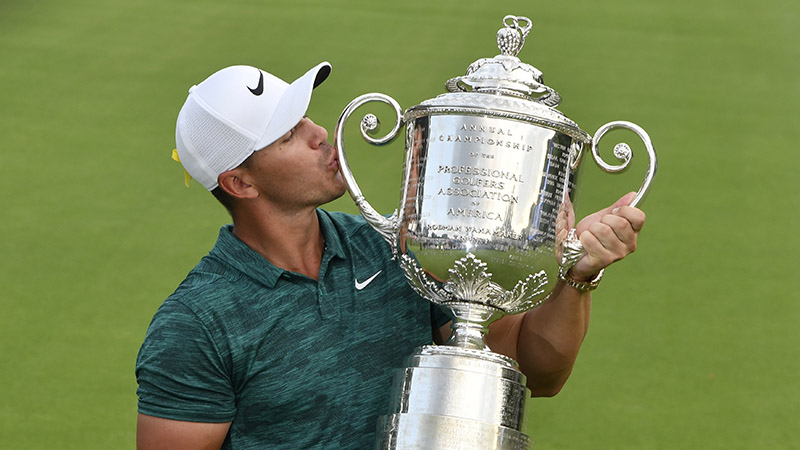 So, why should we care?
My usual answer is that since the players themselves care, then those who follow their careers and pay attention to the game should similarly care.
Upon ascending to No. 1 on Sunday, Koepka said, "It's unbelievable. Look at where I started, my first pro start was in Switzerland and I don't think I could've said six years later that I'd be No. 1 in the world. … I'm so happy right now, I don't even know what to say."
For a guy who so often appears nonchalant when collecting major championship trophies, this served as a rare display of emotion. Officially becoming the world's best golfer obviously means something to him, so it should mean something to anyone who cares about what the top players care about.
That said, there's always a way for it to mean even more for the rest of us.
I scoured the books after Koepka's victory and couldn't find any prop bets on how long he'll hold the ranking or who might surpass him.
No problem. I created my own.
Let's take a look at the odds for Koepka staying at No. 1, a ranking he could lose as early as this week.
Next Monday: -600
I know what you might be thinking: He just got to No. 1, he leads by nearly one-half average point over the next contender and there's no way he'll only hold this position for a single week — this is easy money.
Oh, really?
On April 20, 1997, Tom Lehman became No. 1 in the world for the first time; seven days later, Greg Norman wrestled it back.
Lehman would finish his career with a total of one week atop the ranking. Yes, Koepka is competing at this week's WGC-HSBC Champions event, but so are the next two highest-ranked players.
Dustin Johnson won this tourney five years ago and was T-2 (along with Koepka) last year, while Justin Rose is the defending champion.
There are indeed scenarios in which either of these players could overtake Koepka just seven days after he first became No. 1.
Top contenders: Johnson, Rose
Dec. 31, 2018: -150
There's a built-in advantage to owning the No. 1 ranking late in the calendar: With fewer events and fewer big-name players competing, there's less volatility among those top spots.
Then again, Koepka doesn't control his own destiny quite as much. If he mirrors his late-season schedule from last year, Koepka will follow the WGC-HSBC with starts at the Dunlop Phoenix (which he's won each of the past two years) and the Hero World Challenge.
Meanwhile, players such as Rose, Rory McIlroy and Francesco Molinari will ostensibly be chasing more points at the three-event Race to Dubai finishing series on the European Tour.
The latter two players might be too far behind to pose a serious threat, but once again, Rose should be a factor.
Top contender: Rose
April 8, 2019: +235
Why this specific date? Because it's the final weekly ranking leading into the Masters. Koepka obviously holds the upper hand going into the year's first major, but there's some history going against him here.
He's only claimed one tournament victory between January and April during his career and, somewhat quizzically, the Florida native hasn't played great in his home state.
He'll own the benefit of not losing points from his early-2018 injury absence, but a hot start from a player who's won on the West Coast swing (Justin Thomas) or the Florida swing (McIlroy) or both (Johnson) could push him down a few notches.
Top contenders: Johnson, Thomas, McIlroy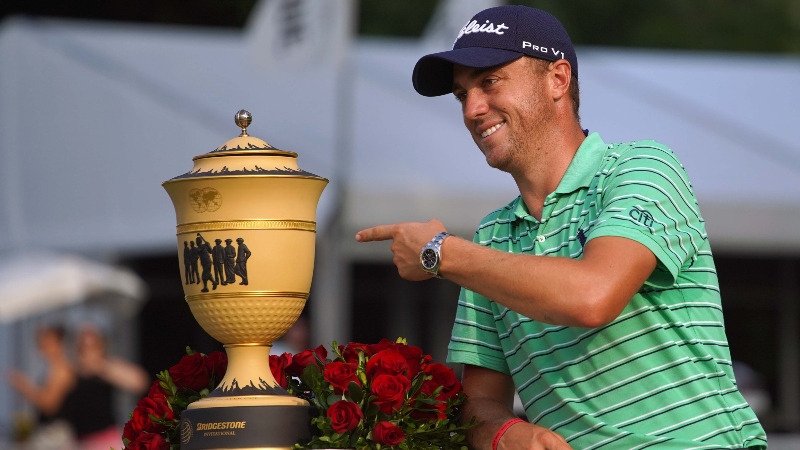 Oct. 21, 2019: +550
Now might be a good time to qualify this wager: Koepka doesn't need to just be No. 1 at this point next year in order to hypothetically cash. He needs to STAY at the top spot for a full year.
For a guy who insisted Sunday that he'd like to limit his schedule to 22 events, he might have to rely more on consistency than brief bouts of greatness on the biggest weeks if he's going to remain there for 52 straight weeks.
Really, though, this might be less about Koepka himself and more about the competition. With so many superstar talents right now, all it takes is for one player to get hot for a month to overtake the No. 1 ranking.
I've mentioned plenty of those candidates already, but we shouldn't rule out potential bounce-back seasons from players like Jordan Spieth or Hideki Matsuyama, either.
Oh, and one other guy I should note: Less than one year ago, Tiger Woods returned at the Hero World Challenge as the 1,199th-ranked player in the world. Now he's 13th.
With virtually no points being lost from 2017 in the two-year rolling calendar used by the ranking's formula, Tiger should continue piling up points and moving higher in the ranking — possibly even reaching No. 1 again for a 684th week in his career and the first time since May 17, 2014.
Top contenders: Everyone in the current top-20 … including Woods