2 U.S. Opens Down, What's Brooks Koepka's Major Championship Ceiling?
Credit:
Dennis Schneidler-USA TODAY Sports
The Highlights
At 28 years old, Brooks Koepka now has three PGA Tour wins, two of which came at U.S. Opens.
But believe it or not, Koepka's performance might not have caught up to his potential.
How many more majors will Koepka win? It's easy to think big after such an impressive victory, but the reality is probably somewhere around two or three.
---
SOUTHAMPTON, N.Y. — Perhaps more than in any other sport, those who pontificate about the outlook of professional golfers — media, fans, even the players themselves — are continually guilty of recency bias.
Go ahead: Test out my theory. Tune into Golf Channel or grab a barstool at any 19th hole on a Monday morning, and you'll undoubtedly hear people surmise, "Boy, if (Guy Who Won Yesterday) plays like that every week, he's going to win an awful lot of tournaments!"
Well, yeah. If someone repeats their commanding performance each week, then it stands to reason that the results will follow suit. But that's pretty much the whole point of sports: Performances aren't very easily repeatable; varied results are offered on a regular basis.
The reason I'm diving down the recency bias rabbit hole is because the newest Guy Who Won Yesterday, in the parlance of Monday morning, is Brooks Koepka, who's going to receive huge heapings of optimistic praise from the "if he plays like that every week …" crowd.
If you were building an ideal new-age professional golfer, Koepka might be the guy you'd sculpt out of the mold.
He hits the ball a mile-and-a-half off the tee. He putts with a unique blend of finesse and confidence. And his nerves are so steely, he makes Dustin Johnson look jumpy.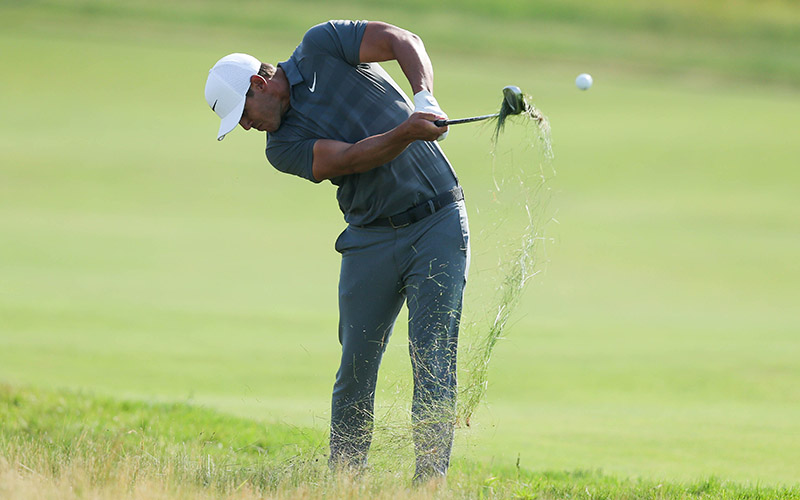 Brad Penner-USA TODAY Sports
All of which makes it look easy to believe that anything is possible for the 28-year-old going forward.
But, of course, everyone has a ceiling.
Jack Nicklaus had a ceiling — one that rose higher, resultswise, than any other golfer. Tiger Woods has a ceiling — and, yes, we can still debate how close he might be to reaching it.
So, let's get to the question: What is Koepka's ultimate ceiling?
It's a fascinating question for a player who has taken a circuitous route to success. Following his college career at Florida State, he toiled — if we can actually call it toiling — on the Challenge Tour, winning three times and earning a promotion to the European Tour, where he also won.
His ability to learn how to win at an early age shouldn't be understated when examining his current development. Playing in dozens of countries halfway around the world certainly wasn't the easy route to pushing his way toward professional relevance, but it might've offered a superior blueprint to those young American-born players who tried to make that leap through their own country's minor leagues.
Koepka now resides in a place where his performance still might not have caught up to his potential.
Based on results alone, he's Andy North — a three-time PGA Tour champion who just happened to win the U.S. Open for two of 'em.
Then again, if anyone actually believes Koepka is done winning at this point in his career, they should be forced to watch endless re-airs of the final round from Shinnecock.
And so, instead we can start ranking him against his peers — of which there is plenty of star power, which Koepka knows all about.
"I always feel like I'm overlooked," he said after his latest win. "I could care less. It doesn't bug me. I just kind of keep doing what I'm doing, keep plugging away, kind of hide behind closed doors sometimes, which is nice, kind of the way I'd like to keep it. Sometimes it's kind of impossible."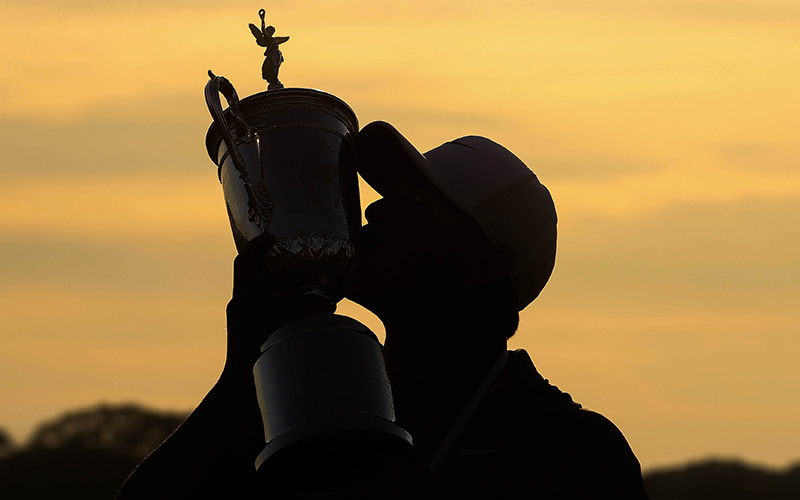 Brad Penner-USA TODAY Sports
Recent travails notwithstanding, Rory McIlroy and Jordan Spieth, with four and three major titles, respectively, have to lead any highest ceiling list, but the margin isn't what it was even just one year ago. Dustin Johnson, who finished solo third Sunday, is as talented as anyone in the world, and Justin Thomas, last year's PGA Championship winner, isn't far behind.
That leaves Koepka — at least for now — on a level playing field with players like Patrick Reed and Jason Day, just above Rickie Fowler, Jon Rahm, Tommy Fleetwood and Hideki Matsuyama, each of whom still hasn't won that elusive major.
Among those names just mentioned — and I could go even deeper, with names like Patrick Cantlay, Tony Finau and Matthew Fitzpatrick — there are 11 players of similar ages who appear primed to at least win one more major (or in those specific cases, a first major).
If we liberally assign those 11 players to half of the majors in the next, say, 11 years – and yes, that's a liberal designation – we're looking at an average of two per player.
They don't all have the same ceiling remaining in their careers, of course. Some will win just one, others will win three or more. If we're to put Koepka, at least for now, in the median of this group, his threshold might contain two more majors.
Considering he seems to play his best golf in the biggest events — as evidenced by those two majors in three overall PGA Tour wins — maybe we can give him three more. But let's be a little careful here: With a total of five major titles, we're getting into some hallowed ground, joining the likes of Seve Ballesteros and Phil Mickelson.
That's where those breathless Monday morning takes will ring a bit hollow.
Yes, after watching Koepka seem so unflappable during the final round, it's easy to sit around afterward and think, "If he plays like that every week …"
He won't. That's not a knock on him, either. Nobody does. Nobody follows a victory with another and another and another — well, at least nobody since Tiger Woods was in his prime.
Koepka's ceiling probably includes a few more major championships, based on everything we already know about him. Just be cautious about that recency bias, which too often afflicts those who view the past weekend's golf tournament as a predictor for each one afterward.