Bryson DeChambeau Insists There's No Ceiling to His Success
Credit:
Credit: Dennis Schneidler-USA TODAY Sports. Pictured: Bryson DeChambeau (USA) celebrates winning The Northern Trust golf tournament at Ridgewood Country Club.
On the heels of back-to-back PGA tournament wins, Bryson DeChambeau is 200-1 to win the BMW Championship.
The 24-year-old is using his intelligence on and off the golf course to move up the world rankings this season.
NEWTOWN SQUARE, Pa. – Bryson DeChambeau has answered a lot of questions over the past two weeks.
Literally, yes, as the act of having to speak incessantly about oneself is the usual aftereffect of winning two consecutive titles.
But he's also answered plenty of figurative questions, ones which have been proffered since he became a PGA Tour member.
Can his quirkiness equate to success?
Does he tend to overthink everything in scientific terms?
Is he too smart for his own good?
There's something to be said for the see-ball, hit-ball philosophy employed by so many world-class players. There's a certain freedom in allowing the mental side of the game to relax while the physical takes over — a strategy that seems too uncomplicated but tends to result in a lot of victories.
---
>> Sign up for The Action Network's daily newsletter to get the smartest conversation delivered into your inbox each morning.
---
There's also something to be said for the fact that there's no singular way to find success on the game's highest level.
DeChambeau has proven that in recent weeks, winning the first two FedEx Cup playoff events while using a more cerebral approach than many — if not all — of his peers.
So yes, he's answered plenty of questions lately, but during his Wednesday interview session with the media in advance of this week's BMW Championship, I had another one:
"You obviously have high expectations for yourself. What is your ceiling? How good do you think you can be?"
His answer was one of the best I've heard to a question all year.
"I don't know if there is a ceiling, to be honest with you. The reason I say that [is] because we can always fine-tune things little by little to a lower tolerance level — if you want to say it, a lower range. I look at the game of golf as a range, not as a standard deviation, because that one spot you hit out of standard deviation could affect you tremendously. I can't have that.

"I'm always trying to take account of what the range is and decrease that and just understand all the variables that are around it that can influence where that range is going to be, if that makes sense."
If you simply read without comprehending the words, it might not make any sense. It might serve as yet another example of the 24-year-old thinking he's the smartest person in the room and trying to show off by speaking over his audience's head.
But if you really pay attention, it makes perfect sense.
No professional golfer should have a ceiling, because that limits them to a certain personal best that they can't overcome. When Jack Nicklaus was winning 18 major championships, he wouldn't have said he couldn't play better. Same with Tiger Woods during his prime years.
Everybody who's ever played the game — from elite-level professional to 18-handicap — walks off the golf course after each round and considers the shots they could have played better and the putts they wished had found the bottom of the cup.
Brandt Snedeker shot 59 at the Wyndham Championship last month, then lamented the lone bogey on his scorecard, knowing it easily could've been a 58.
Is DeChambeau a bright guy? Absolutely.
I mean, he used the terms "parasympathetic responses," "frequency emissions" and "high beta ratios" during his news conference on Wednesday.
Is he too smart, though? No way.
If he's proven anything during this torrid run, it's that intelligence can help win golf tournaments for some players, just as playing with a clear mind can help others.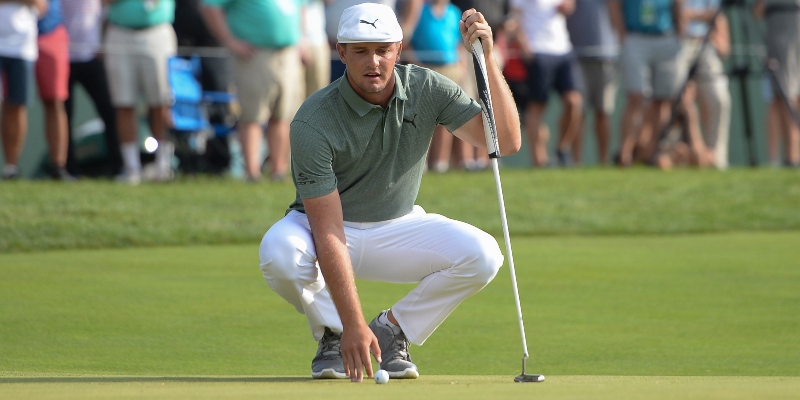 "I think he phrases stuff differently than he needs to at times," explained Jordan Spieth, "but the belief in what he's doing is very important in this game and when you're that exact on what you're trying to do, the aim-small, miss-small type mentality. When you're that exact and you feel the slightest bit off, you're trying to fine-tune to the nth degree. That's what it's about, the best miss in this sport."
Spieth then offered a take which only reinforces the opinion that DeChambeau isn't some fluke who's somehow parlayed science into three wins this summer.
"I wouldn't look for anything to change soon with Bryson," he said. "I feel like he's really figured out what he's doing right now."
DeChambeau now owns as many career victories as Brooks Koepka and Rickie Fowler this season. He's ranked ahead of Rory McIlroy and Jason Day.
He might approach the game from a different standpoint than others, but that doesn't mean he's doing it the wrong way. In fact, if we've learned anything in the past few weeks, it's that he's doing it the right way — for him, at least.
Many players in his position — young players with a few wins under their belts, riding a wave of momentum against the biggest fields — might insist that their ceiling is a certain number of wins or a tangible goal to cross off their list.
That's not DeChambeau. He understands that there is no ceiling, that multiple variables can lead to constant improvement.
It makes perfect sense. And it makes sense that he should only keep improving while using this knowledge to his advantage.