Why Does Dustin Johnson Play Well at the U.S. Open? The Answer Is in the Numbers
Credit:
Dennis Schneidler-USA TODAY Sports.
SOUTHAMPTON, N.Y. — What a novel concept: Here at Shinnecock Hills, an actual U.S. Open has broken out.
One year after 16-under claimed this championship on a nontraditional Erin Hills setup, the classic brutality of this course reared its head Thursday, rendering the type of leaderboard carnage so often associated with this event.
Before we offer the USGA too much credit, the real star of the show has been Mother Nature, producing gusting winds more penal than initially forecasted.
What we're left with is a good ol' fashioned U.S. Open, the kind of tournament that can theoretically only be won by a Retief Goosen or Corey Pavin — plodders who methodically outlasted the competition in the last two editions held on this venue.
That's because we've already learned something: The prevailing attribute of a player's game that will most benefit them this week isn't driving distance or putting.
It's patience.
Conventional wisdom among those in the game's inner circles is that these plodding types are also the most patient. Of those in this week's field, Matt Kuchar, Zach Johnson and Jim Furyk would seemingly fit this profile. Guys who don't overpower a course, but "know how to get their ball in the hole," as the old adage reminds us.
Why, though, should we rely on conventional wisdom when we have actual data at our disposal? OK, so there might not be a "strokes gained: patience" metric, but there are analytics that can help us better understand which players are most patient on the golf course.
Early in Thursday's opening round, I identified the two statistical categories that I believe best illustrate the patience of players — and you'll just have to trust that it was early in the round because the evidence you're about to read serves as a pretty strong barometer.
The first stat is bogey avoidance. Think that comes in handy at a brutally difficult U.S. Open? The ability to stay away from mistakes is the backbone of any successful strategy at this tournament.
Of the top 10 players on the PGA Tour's bogey avoidance list this season, eight are competing in this week's event.
Sure, the ability to avoid bogeys directly correlates with being, you know, really good at golf. But there's also an inherently mental and psychological component to this statistic. It shows us those players who are willing to grind their way around the golf course — and it proves that, no, they aren't all of the plodding variety.
The other category I correlated to this tournament is the bounce-back statistic. This offers us a tangible percentage as to how often players recover from a bogey with a birdie on the very next hole. This might not prove patience as much as gumption, but again, it measures a player's mental and psychological abilities as much as physical and technical.
Of the top 10 this season in the bounce-back category, nine are playing this week.
By now, you should have noticed a few patterns here.
First, each category is largely populated by talented players. Hey, as it turns out, avoiding bogeys and bouncing back from them tend to be beneficial to a player's overall results.
Second, there is a quartet of players on each of these lists who are still hanging in, including Stenson (one back), Rose (one back) and Stricker (four back), each of whom should be viewed as a player worthy of a wager to stick around on the leaderboard for the remaining 54 holes.
But still, I'm burying the lede. The most glaring correlation between these two statistics and what we witnessed Thursday at the U.S. Open is that Dustin Johnson, who opened with a 1-under 69 to share the overnight lead, tops one category and is second in the other.
Johnson is too often explained away as the non-thinking man's golfer — a player who employs a see-ball, hit-ball strategy that is more about power than finesse and more about physical gifts than mental acumen.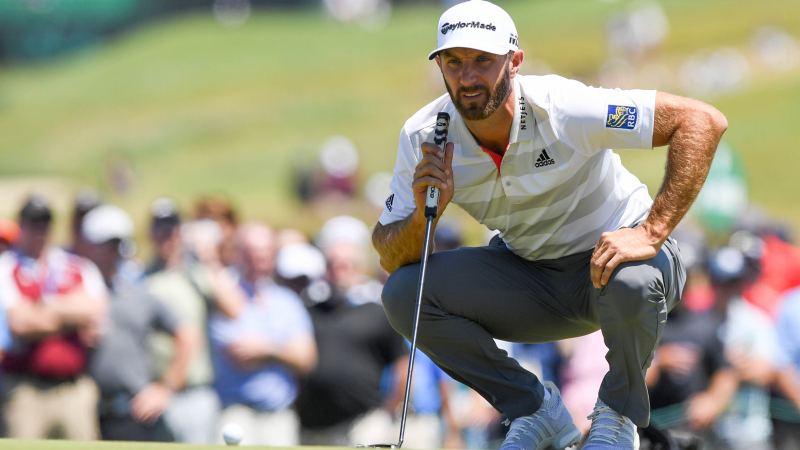 Credit: Dennis Schneidler-USA TODAY Sports
Those beliefs, though, do him a major disservice. It would be a stretch to refer to Johnson as a plodder, but he obviously owns the qualities of a successful U.S. Open competitor.
We witnessed that two years ago at Oakmont, the last time this tournament was held on a classically difficult course, when Johnson prevailed in convincing fashion. And we just might be on the verge of further evidence this week.
He may not fit the stereotype of what a U.S. Open player should be, but there's proof in the stats — and on the leaderboard — that Johnson excels in the proper areas to succeed in this tournament.